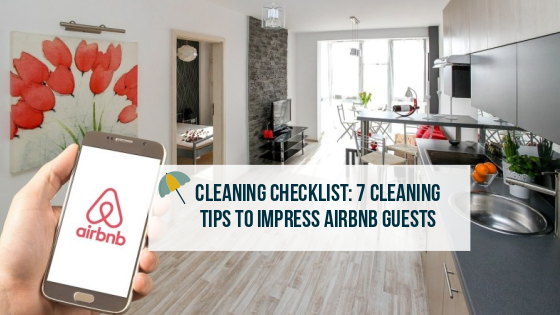 Cleaning Checklist: 7 Cleaning Tips to Impress Airbnb Guests
When you're managing an Airbnb unit, one of the things that you should keep track of is the cleanliness of your Airbnb. Since you are unlikely to have any staff with you as a five-star hotel chain does, you should personally check up on its cleanliness.
With that in mind, below are some cleaning tips that you should know when cleaning your Airbnb unit and make it shine bright like it's brand new.
1. Vacuum first
The first step you need to take when you're cleaning your Airbnb is to vacuum the rental space first. All of the rooms need to be vacuumed so that you don't have to clean as much as you would if you had left it alone and started cleaning other areas.
Instead of sweeping your floors, it's much better to vacuum it since the results are the same in the end. However, you'll have cleaner floors and it's more efficient and faster to vacuum the floors than to sweep them.
2. Wipe off dust
Aside from vacuuming the place, you should also wipe off dust on surfaces and hard to reach areas. Having dust all over your Airbnb unit can trigger people's allergies. Plus, even if you're not allergic to dust, you'll still wind up sneezing all over the place if you're in a dusty environment.
When dusting your space, make sure that you use a slightly wet cloth to wipe the surfaces. That way, you aren't just pushing off dust everywhere instead of actually cleaning it.
Ideally, you should wipe off dust first before vacuuming so that the vacuum can pick up the ones that fell to the floor.
3. Get rid of stray hairs
Speaking of getting people sneezing and triggering their allergies, hair should also be removed as much as you can when cleaning your Airbnb rental.
From the sheets to the furniture, you should get rid of any stray hair that you can find, especially if your Airbnb rental is advertised as pet-friendly. Make sure that you also get rid of hair inside the bathroom drain too.
This added touch may not be as appreciated nor obvious to your guests but stray hairs all over the rental are not attractive to anyone.
4. Keep the bathroom sparkling and clean
One of the most important areas in your Airbnb unit is the bathroom. It is important that you make this as clean as possible.
Make sure that you wipe the mirrors, refill the toiletries, and have some extra toilet paper lying around. Also, if you plan on providing towels, then do replace them after each booking so that everything is sanitary.
When cleaning your Airbnb bathroom, you can consider using green cleaning products so that you not only keep the bathroom clean, but you also ensure that it's not harmful to you, your guests, nor the environment.
5. Clear the drainage
Speaking of keeping the bathroom clean, make sure that you keep the drainages clean as well. Of course, the bathroom drainage is one of the more important ones especially if there are hairs that might be blocking it.
Do make sure that the sinks are also clear so that you don't have any problems with your guests who can't use them. While you're at it, might as well scrub the tubs and the sinks.
6. Deep cleaning
During the peak seasons, you might not have the opportunity to clean as thoroughly as you could. Thus, once it's your off-season then you should take this opportunity to do some deep cleaning.
According to Maid Sailors, top Airbnb cleaning service, deep cleaning is important because it keeps clean areas that you otherwise wouldn't have had the chance to clean in a short amount of time.
If you don't know how to do a deep cleaning your self, then it is advisable that you get a professional cleaning service to do it. They are likely going to be more efficient and effective and faster in cleaning the place.
7. Mop the floor last
The last thing you should do when cleaning the house is to mop the floors. Since you're going to get the floors wet if you dust after you mopped then the dust is going to end up sticking to the floors.
You want your floors to be free from dust and other clutter before you consider mopping it. Plus, if you're cleaning other areas of the house, it will be harder to go to and from rooms if you've just mopped an area.
Conclusion
Cleaning is a skill in and of itself, so you should definitely make use of some of the tips highlighted here. Thay way, you are able to clean your Airbnb unit until it looks new.
By keeping your Airbnb rental clean in between bookings, you are able to provide the best service for your guests which will reflect on your record. Thus, making your rental more attractive to lodgers.
Given the variety of guests that you can have, from solo travelers to family holiday travelers, keeping a clean Airbnb unit is definitely important.