When you think of a British holiday, many of us will think of a holiday park where you spend a week enjoying the typical British weather, the local surroundings, and a bit of entertainment.
Caravan holidays or heading to holiday parks are still just as popular as they were back in their heyday. While many people love a jaunt overseas, you just can't beat that traditional British getaway.
Parkdean Resorts is one of the most popular holiday park companies to choose from. With 66 distinct holiday parks all over the country, as well as extensive land for exploring, camping, and touring, it is easy to see why this is one of the first choices for many families.
But how do you make the most of your holiday with Parkdean Resorts? I wanted to share with you some of the top tips for booking and enjoying your stay at Parkdean Resorts.
Tips For Booking A Parkdean Resorts Holiday 2023
Let's start with one of the most important elements of a holiday, the actual booking part. You want to ensure that you book the right thing for your family and, of course, only have to pay what you need to.
Here are some of the tips to help you book your next Parkdean Resorts Holiday 2023
Much more than just a caravan holiday
The great thing about a holiday with Parkdean Resorts is that it is much more than just a caravan holiday. You can enjoy so much onsite within the park, but you also have other accommodation options.
There's lots of choice when it comes to your accommodation ranging from budget-friendly and traditional, to spacious and modern. Not only that, but you can also enjoy a camping holiday, bring your own campervan, or even stay in one of the lodges.
All these options will have varying price points so make sure to look on the Parkdean Resorts website to see which option is best for your family, and your budget.
Be flexible with your dates
It is really important to be flexible with your dates. The more flexible you are, the better deal you will get.
This means that you might need to consider the month you travel, whether it is a school holiday or not, or choose to enjoy a mid-week break rather than one over the weekend.
Choose a Park up North
If you can, it is often a little more budget-friendly to choose a park up north than it is to enjoy one in the south.
If you are flexible with your location but stuck with your dates, this is a great way to try and find the cheapest possible deal for a holiday.
Sharing caravans
If you are travelling with a big party, then why not consider trying to share caravans to keep the cost down?
This can often mean you need fewer caravans and can split the costs between families rather than having to foot the bill yourself.
It may be worth the extra investment to have the bigger caravan if you can because it will give you more space, but when sharing with another family, it could still help bring down the overall cost of your trip.
Consider Camping
If you can, why not consider camping? Camping means that you get to enjoy the on-park facilities included in a holiday with Parkdean Resorts whilst considerably bringing down the overall cost of the holiday.
Camping is cost-effective, but it does mean you need all of your own gear, so it is only viable if you have the tent and everything you need.
Touring Holidays are also an option
You could also bring with you your campervan or touring caravan. Much like camping, this means you get to experience the resort but don't have the big outlay for accommodation.
Why not consider buying a Holiday Home?
Are you a Parkdean Resorts veteran? They actually sell their caravans and lodges as holiday homes, and while this is a very big purchase to make, it can be a great option if you do holiday there quite frequently.
Plus you can let your friends and family members use it.
Bring the furriest family members
With dog-friendly accommodation available at all 66 parks, bringing your pet with you on holiday is a great way to avoid the cost of alternative pet-sitting options.
Parkdean Resorts make it really easy to find a dog-friendly accommodation when you book online, simply keep an eye out for the paw symbol to see which caravan, lodge and pitches are pet-friendly.
Parkdean Resorts also has 7 holiday parks with specially designed agility courses (or 'Woof Parks' as they are described online), which is great for energetic dogs and their owners.
Check out the Latest Offers
Last of all, make sure you check out the offers page for any discounts and offers.
Parkdean Resorts is a great company for offers and discounts that can only be found on their website.
It is also worth remembering that if you book your holiday directly with Parkdean Resorts you get the best price and your entertainment passes are included.
Tips for while you are enjoying your Holiday At Parkdean Resorts
Now that you have made the most of your booking and got the very best deal and holiday for you and your family, you might now be wondering how you can make the most of your time at Parkdean Resorts.
When you head to one of their holiday parks, the aim is to have an enjoyable time with your family, but if this is your first time, you might not know what to expect. So here are some of the tips for while you are enjoying your stay.
Plan your trip
A great tip is to ensure that you plan your trip as much as possible. Planning your trip will help you make the most of your days at a Parkdean Resorts holiday park.
There will be daily activities that you can book and get involved in, but you can also plan to explore the local area or enjoy the beaches if you are close to one.
Make The Most Of Your Entertainment Passes
When you book directly, Parkdean Resorts includes the cost of your entertainment passes.
Make sure that you register each member of your family on the 'Manage My Booking' section of the website after you have booked so that every family member gets their own pass.
Facilities vary by park, so depending on where you stay you could make use of the on-park swimming pool, arcade, adventure playground and much more.
Passes will also allow you access to the live entertainment by the Starland Troopers, although each park's entertainment schedule is different so make sure to check what's on offer at the park for your booking dates to avoid disappointment.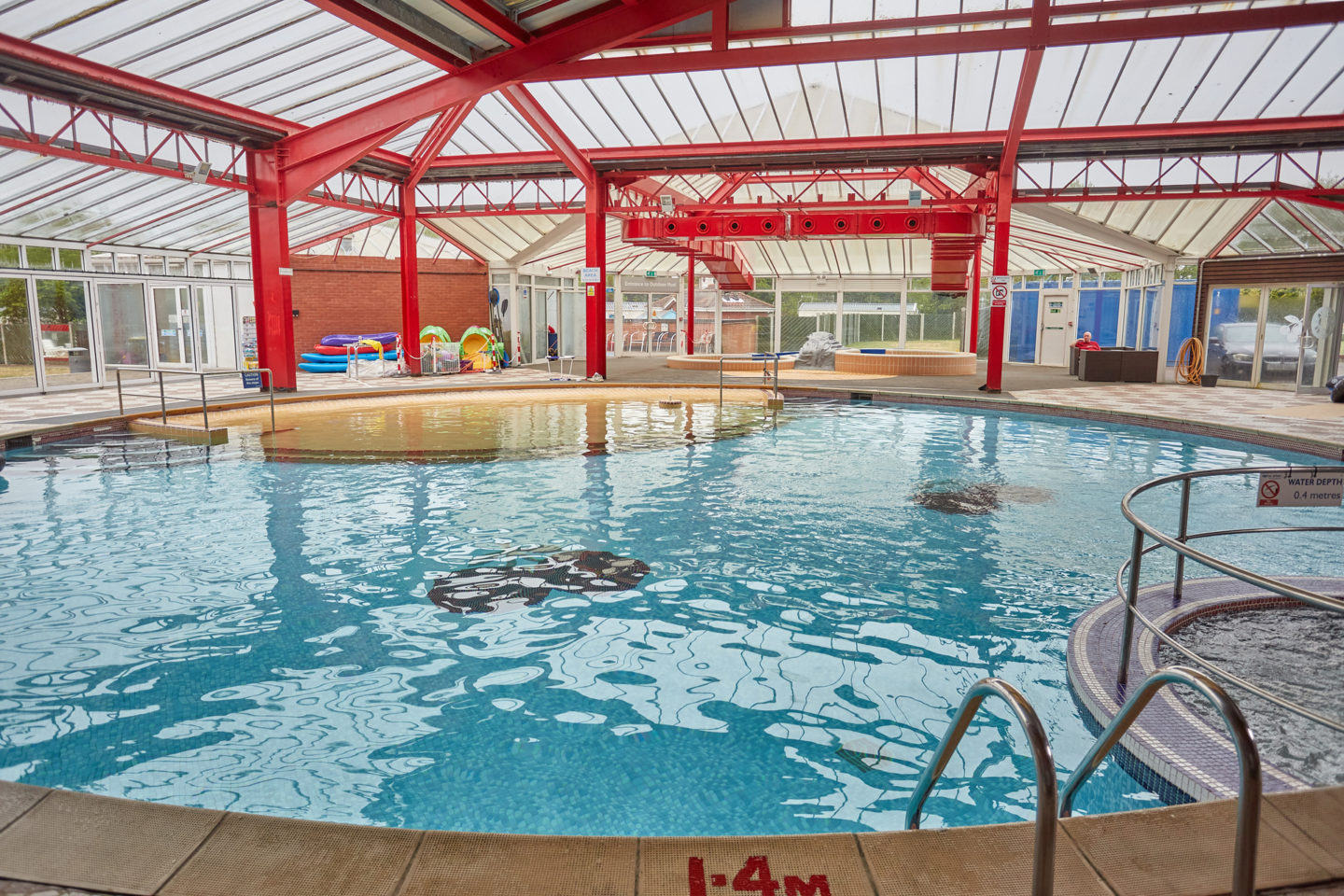 Have fun without leaving the park
When it comes to family holidays, Parkdean Resorts has lots of activities to keep all ages entertained.
Each park is unique and will have different facilities, so whether you'd like to enjoy a leisurely game of crazy golf, or take on the high ropes, zorbing, or indoor skiing there is something for everyone.
Just keep in mind that some activities will not be included in the entertainment pass, so there will be an extra cost, however since you are not leaving the park you are saving on the cost of travel to similar attractions in the area.
Take advantage of free things to do
Parkdean Resorts' holiday parks are ideally located in many of the UK's loveliest costal and countryside locations, which means that you will be able to enjoy the surroundings of the holiday park for free and also head to the beach for a fun free day out.
Planning these things ahead of time means you could bring along with your bikes and scooters, and some of the things you might want to enjoy at the beach. You could also enjoy some free activities in the local area.
If you are travelling in a school holiday many towns will have free activities for your kids to enjoy. It might mean a little forward thinking and planning, but it will be worth it, in the long run, to enjoy what is on offer.
Explore the local area
Exploring the local area can be a great break for your holiday and many families choose to enjoy the local beaches or towns.
You can often find that there are free things to do locally with a little research, so this can be a great way to keep the costs down.
Make sure you pack for every eventuality
Like with any British holiday, it is important for you to pack for every eventuality. The weather can often change, so you might need to be prepared with summer clothes and ones suitable for winter.
Waterproofs can be a great addition to your holiday and help you to enjoy the facilities even when the rain decides to make an appearance.
I hope that these tips help you to book and get the most out of your next stay with Parkdean Resorts.
Which Parkdean Holiday Park Should I Stay At ?
Parkdean Cornwall
North and South Cornwall combined offer 8 Parkdean caravan holiday parks with over 1,000 caravans and lodges to choose from.
Crantock Beach – Crantock, Cornwall, TR8 5RH
Overlooking the sea, the caravan park is just 5 minutes' walk from the beach.
Holywell Bay – Near Newquay, Cornwall, TR8 5PR
Whether you want peaceful relaxation or family fun, you'll find it all with a caravan holiday or touring or camping break here.
Lizard Point – Lizard Peninsula, Cornwall, TR12 7LJ
This lively caravan park is set within pretty Cornish countryside and is ideal for discovering the nearby beaches and fishing villages.
Looe Bay – East Looe, Cornwall, PL13 1NX
Explore the rock pools on nearby Looe Beach or stroll the pier and cobbled streets of East Looe.
Newquay – Newquay, Cornwall, TR8 4HS
When it comes to golden sands, you're spoilt for choice at Newquay Holiday Park. Take a picnic, pack your Frisbee and enjoy any one of Newquay's 11 unforgettable beaches – all just minutes away
Sea Acres – Near Helston, Cornwall, TR12 7LT
Sea Acres, Cornwall is tranquil and quiet, so if you're looking for the opportunity to relax it's a fantastic choice. With a stunning cliff top location, it's a great place to spend time outdoors.
St Minver – Wadebridge, Cornwall, PL27 6RR
Set in the grounds of an old manor house, with an enchanting woodland setting in close proximity to 3 glorious beaches, including Rock Beach, Polzeath and Daymer Bay, there's something for everyone.
White Acres – Near Newquay, Cornwall, TR8 4LW
Set in 184 acres of rolling countryside, it's the ideal location for exploring all the attractions of characterful Newquay, just five miles from the park, as well as some of its world-famous beaches.
Holidaying with Parkdean Resorts is the ideal way to see all the idyllic region of Cornwall has to offer.
Parkdean Devon
With 4 stunning holiday parks in Devon to choose from, you're sure to find your perfect escape. All of the parks are situated on beautiful coastline – with Ruda and Bideford Bay on the north coast and Challaborough Bay and Torquay on the south coast.
Bideford Bay – Nr Bideford, Devon, EX39 5DU
Picturesque hillside setting offering spectacular sea views, the park features a heated outdoor swimming pool and is just a short distance from a Blue Flag beach!
Challaborough Bay – Near Bigbury, South Devon, TQ7 4HU
Challaborough Bay Beach offers unrivalled views of nearby Bigbury Beach and Burgh Island, which can be reached by sea tractor at high tide.
Ruda – Croyde Bay, Devon, EX33 1NP
Step into a surfer's paradise at Croyde Bay with a beach holiday at Ruda Holiday Park. Boasting a sweeping sandy coastline with spectacular scenery.
Torquay – Torquay, Devon, TQ2 8JU
Whether you want to enjoy uninterrupted views of the beautiful English Riviera, or fancy exploring the nearby golden beaches, Torquay Holiday Park has the perfect mix of on-park activities and local attractions, right on your doorstep.
Parkdean Dorset
Famed for its iconic landmarks along the Jurassic Coast, spectacular sights like Lulworth Cove and Durdle Door are within easy reach of the 3 holiday parks in Dorset.
Sandford – Poole, Dorset, BH16 6JZ
There's plenty to keep the whole family entertained – snorkelling, inflatable kayaks and water walkers are just a few activities you'll find at one of the two swimming pools.
Warmwell – Near Weymouth, Dorset, DT2 8JE
You'll find surprises around every corner at Warmwell Holiday Park. Whether it's the 110m all-weather ski slope, woodland walks perfect for spotting roe deer, or the peaceful fishing lakes, there's always something new to discover!
West Bay – Bridport, Dorset, DT6 4HB
Come for a holiday at West Bay Holiday Park, the perfect spot for exploring the amazing Jurassic Coast.
Hunt for fossils or enjoy picnics on the beach, just 200 metres from the park. Bring your own bike to explore and see the region from a different angle.
Parkdean Norfolk
Whether you want the bright lights of the seaside towns such as Great Yarmouth and Hunstanton, or you'd prefer a relaxing boat trip along the Norfolk Broads, there are lots of great Norfolk Parkdean Holiday parks to explore.
Breydon Water – Burgh Castle, Norfolk, NR31 9QB
Breydon Water Holiday Park in Norfolk has something for everyone and is just minutes from lively Great Yarmouth.
Offering two distinct parks, just a short 10 minute walk apart, Yare Village and Bure Village in one beautiful setting.
California Cliffs – Norfolk, NR29 3QU
You're guaranteed to have a bucket load of fun at California Cliffs Holiday Park – from classic seaside amusements at Great Yarmouth to the beauty of the Norfolk Broads, there's something for everyone to enjoy.
Cherry Tree – Great Yarmouth, Norfolk, NR31 9QR
In a lush green setting, holidays at Cherry Tree Holiday Park in Norfolk can be as active or as relaxed as you choose.
Between Great Yarmouth and Gorleston Beach, it's the perfect base for a seaside holiday.
Heacham Beach – Heacham, Norfolk, PE31 7BD
If you're looking for a beautiful seaside location where you can enjoy long walks on the beach, impressive scenery and plenty to do, Heacham Beach Holiday Park in Norfolk is the perfect choice.
Manor Park – Hunstanton, Norfolk, PE36 5AZ
Just a short stroll away, you'll find Hunstanton Beach and promenade, as well as the seaside resort's lively attractions and amusements.
Dating back to 1846 'Sunny Hunny' retains its Victorian character and is famous for its natural candy striped cliffs.
Summerfields – Scratby, Norfolk, NR29 3NW
Just a 10 minute walk from the golden sands of Scratby Beach, and the Norfolk Broads and Great Yarmouth a short drive away, you'll never be short of new and exciting places to explore.
Vauxhall – Acle New Road, Great Yarmouth NR30 1TB
The park is jam-packed with activities – under 12s will love such as the Den and the treehouse adventure playground.
Splash about in the Tropical Waterworld pool or tee off in jungle adventure golf. After that there's snooker and mini-bowling.
Parkdean Suffolk
Just across the border from Norfolk you will find the only Parkdean Suffolk Caravan Park, located just outside of Lowestoft in Kessingland.
Kessingland Beach – Kessingland, Suffolk, NR33 7RW
If you enjoy spending time in the great outdoors, you'll love award-winning Kessingland Beach Holiday Park in Suffolk.
With direct access to the unspoilt beach, it's the perfect spot for long walks, sunbathing and splashing about.
Parkdean Lincolnshire
There are two holiday parks within the Lincolnshire location, the traditional home of the great British seaside holiday, Skegness and Mablethorpe are both within easy reach.
Southview – Skegness, Lincolnshire, PE25 2LA
Enjoy the views of the surrounding parkland, or take the 10-minute drive to Skegness' award-winning beach to experience everything a British seaside town has to offer.
Sunnydale – Saltfleet, Lincolnshire, LN11 7RP
Whether you want to try your hand at fishing in the well-stocked fishing lake or go for a swim in the indoor pool, there's something for everyone to enjoy at Sunnydale Holiday Park.
Parkdean Essex
Known as the 'Sunshine Coast', with 350 miles of coastline, you're guaranteed a fun-filled beach holiday when you choose one of the caravan parks in Essex.
With 5 fantastic parks to choose from, Essex holidays provide the opportunity to experience seaside resorts like Clacton-on-Sea, Walton-on-the-Naze and Mersea Island are just a stone's throw away.
Coopers Beach – Mersea Island, Essex, CO5 8TN
When you really want to get away from it all, Coopers Beach Holiday Park on Mersea Island is the place to visit.
As soon as you approach via the causeway, you know it's going to be a holiday to remember! Estuary views, alfresco dining and heaps of activities await.
Highfield Grange – Clacton on Sea, Essex, CO16 9QY
Highfield Grange's location in Clacton-on-Sea makes this the ideal place to enjoy a traditional seaside holiday.
Paddle by the beach only a short drive away, walk the long pier at Walton-on-the-Naze, or take in the quaint seaside town of Frinton-on-Sea.
Naze Marine – Walton-on-the-Naze, Essex, CO14 8HL
Calling all families in search of a fun, energetic and thrilling holiday! Naze Marine has a bunch of exciting activities on park including laser quest, archery and Pirate themed crazy golf, as well as an Arts & Crafts Den.
Valley Farm – Clacton on Sea, Essex, CO15 6LY
Make sure you pack your bucket and spade because Valley Farm is just a five-minute drive from Clacton Beach and Pier.
Its also perfectly located for discovering the nearby attractions of Brightlingsea and beyond.
Weeley Bridge – Weeley, Nr Clacton on Sea, Essex, CO16 9DH
If your idea of a perfect holiday means total relaxation, you'll be right at home at Weeley Bridge Holiday Park, near Clacton-on-Sea.
Set in the countryside, Weeley Bridge is ideal for rejuvenating getaways, yet is close enough to the coast when you want to enjoy all the fun of the seaside.
Parkdean Isle of Wight
Just a 40-minute ferry crossing away, holidays on the Isle of Wight offer visitors a chance to experience a truly stunning destination. There's 4 holiday parks to choose from, so you're never far from the island's beautiful coastline, beaches and top attractions.
Landguard Holiday Park – Shanklin, Isle of Wight, PO37 7PJ
You'll find all the space and freedom you want at Landguard Holiday Park.
This quiet and attractive park has a leafy woodland feel and a relaxed atmosphere, making it just the place to unwind.
Lower Hyde Holiday Park – Shanklin, Isle of Wight, PO37 7LL
If you're looking for a scenic location with plenty of outdoor activities to keep everyone entertained, Lower Hyde Holiday Park is a great choice.
This wooded park gives you double the fun as you can also use all the facilities at the sister park, Landguard, meaning there's plenty to do on park.
Nodes Point Holiday Park – St Helens, Ryde, Isle of Wight, PO33 1YA
Uncover beautiful views when you visit Nodes Point Holiday Park, near Bembridge. This park offers something for everyone with a sports court, adventure playground and indoor heated pool with waterslide.
Beach walks are just minutes away with direct beach access so you can laze on the sands, or take the kids for a rockpool adventure.
Thorness Bay Holiday Park – Thorness, Nr Cowes, Isle of Wight, PO31 8NJ
Get back to nature at this beautiful countryside location. Situated on the north side of the Isle of Wight, overlooking the Solent.
Thorness Bay Holiday Park, sits on a woodland hillside with lovely views out to sea.
Parkdean Kent and East Sussex
Known as the 'Garden of England', Kent is home to some breathtaking sights including the peaceful Isle of Sheppey, dramatic White Cliffs of Dover and historic streets of Canterbury.
In neighbouring Sussex, you'll also find stunning Camber Sands Beach – featuring one of the largest sand dune systems on the South Coast!
Camber Sands Holiday Park – Camber, East Sussex, TN31 7RT
Beach lovers will be in their element at Camber Sands Holiday Park near Rye.
Discover seven miles of golden sand right opposite the park.
Romney Sands Holiday Park – Greatstone, Kent, TN28 8RN
Rediscover the great outdoors at Romney Sands Holiday Park.
Opposite one of Kent's finest sandy beaches and close to the wildlife-filled Romney Marshes, this natural hideaway offers endless adventures.
St Margaret's Bay Holiday Park – St Margarets-at-Cliffe, Kent, CT15 6AG
Discover a quieter pace of life amidst beautiful landscaped grounds at St. Margaret's Bay Holiday Park.
Located on Kent's south coast and close to Dover's famous white cliffs, this park has an enviable position, with plenty to do both on and off the park.
Parkdean Lake District
Fallbarrow Holiday Park – Windermere, Cumbria, LA23 3DL
You'll enjoy every moment spent at Fallbarrow Holiday Park in this area of beauty right by Lake Windermere and the town of Bowness-on-Windermere.
Enjoy the views across the water as the park sits right on the water's edge within wooded parkland.
Gatebeck Holiday Park – Kendal, Cumbria, LA8 0HL
Owners Only Park – Perfectly situated on the outskirts of Kendal, it's the perfect base for exploring the Lake District, the Yorkshire Dales, Arnside and Silverdale.
Limefitt Holiday Park – Windermere, Cumbria, LA23 1PA
At Limefitt Holiday Park near Lake Windermere you'll discover a relaxed park within some of England's most beautiful scenery.
It's perfect for walkers and a great base for exploring the towns and villages of the Lake District.
Located in the pretty Troutbeck Valley, the Troutbeck mountain beck passes right through the park.
White Cross Bay Holiday Park – Windermere, Cumbria, LA23 1LF
Whether you prefer to be active or sit back and relax, you'll find your own perfect escape at White Cross Bay Holiday Park in Bowness-on-Windermere.
It's located right on the shores of the lake providing the perfect destination for a family holiday or couple's getaway.
Parkdean Lancashire
Ocean Edge Holiday Park – Heysham, Lancashire, LA3 2XA
If you want to be close to the coastal waters of the North West, Ocean Edge Holiday Park near Heysham is a great choice.
As its name suggests, Ocean Edge is located right on the seafront, offering fantastic views of the stunning Irish Sea, plus there's plenty to do both on and off park.
Regent Bay Holiday Park – Morecambe, Lancashire, LA3 3DF
Morecambe promenade is just a fifteen-minute walk away from Regent Bay, where you'll find a lovely sandy beach, perfect for lazy days and family fun.
It's also less than an hours drive from the Lake District or the bright lights of Blackpool if you'd like to explore further afield.
Todber Valley Holiday Park – Gisburn, Clitheroe, BB7 4JJ
Tucked away in the Ribble Valley near Gisburn, Todber Valley is a perfect base for exploring locations such as the Yorkshire Dales and the Lake District.
Located in the heart of walking country – a perfect base for ramblers and close to historic towns such as Skipton, Harrogate and the City of Lancaster.
Parkdean Northumberland and County Durham
Church Point Holiday Park – Newbiggin-by-the-Sea, Northumberland, NE64 6DP
As soon as you arrive at Church Point Holiday Park in Newbiggin-by-the-Sea, you know you've found somewhere really special.
With a different atmosphere to the other parks, Church Point has no facilities or entertainment.
This means you can truly escape when you choose a holiday at Church Point, but when you want a little more activity, enjoy all the facilities and entertainment at Sandy Bay, just three miles away.
Cresswell Towers Holiday Park – Cresswell, Northumberland, NE61 5JT
Located in Druridge Bay, Northumberland. With miles of golden sands, lovely walks, and relaxed on-park entertainment, it's just what you need to switch off and unwind.
Druridge Bay is just a short walk from the park and is perfect for lazy strolls or rockpooling adventures
Sandy Bay Holiday Park – Ashington, Northumberland, NE63 9YD
Soak up the stunning clifftop scenery and views across the beach from Sandy Bay Holiday Park in Ashington.
Enjoy family walks on the beach, accessible straight from the park; it's the perfect spot for building sandcastles or exploring the rock pools.
For even more beach fun; you'll find the sandy beaches of Blyth and Whitley Bay nearby too.
Whitley Bay Holiday Park – Whitley Bay, Tyne & Wear, NE26 4RR
If you're looking for outdoor adventures, great walks and wonderful views, you'll find them all at Whitley Bay Holiday Park.
Discover miles of golden sands just a short walk from the park plus the famous St Mary's Lighthouse.
Crimdon Dene Holiday Park – North Hartlepool, Durham, TS27 4BN
Explore Durham's heritage coastline with a stay at Crimdon Dene Holiday Park near Hartlepool.
Discover lots of space to explore from the nearby sandy beach and sand dunes to pretty nature reserves.
Parkdean Yorkshire
Barmston Beach Holiday Park – Barmston, Yorkshire, YO25 8PJ
Ideal for getting in some relaxing quality time, Barmston Beach Holiday Park boasts beautiful views and from the cliff tops you can see as far as Flamborough Head.
If you fancy a day out and are feeling fit, then you can take the hour and a half walk or even a bike ride along the beach to the seaside town of Bridlington.
Cayton Bay Holiday Park – Cayton Bay, North Yorkshire, YO11 3NJ
Discover Cayton Bay Holiday Park, nestled in the heart of the beautiful Yorkshire coastline.
With a glorious sandy beach just a short stroll away and Scarborough and Filey a few minutes by car, seaside holidays don't get better than this.
Skipsea Sands Holiday Park – Skipsea, East Yorkshire, YO25 8TZ
Popular for its fantastic on-park facilities and amazing views over the North Sea, Skipsea Sands Holiday Park is located in the beautiful village of Skipsea in the East Riding area of Yorkshire.
There is a great range of entertainment features on the park itself and you're never more than a short drive away from one of the nearby beaches at Fraisthorpe, Bridlington or Hornsea.
Withernsea Sands Holiday Park – Withernsea, Humberside, HU19 2BS
Just a short walk from a Blue Flag sandy beach, Withernsea Sands Holiday Park enjoys a lovely location on the dramatic East Yorkshire coastline.
If you're looking for a fun-filled holiday, there is plenty going on both on-park and around the local area. From the fantastic indoor pool to the miniature golf course, this park has something for everyone.
Parkdean Scotland
Eyemouth Holiday Park – Eyemouth, Berwickshire, TD14 5BE
You'll find the peace and relaxation you're looking for when you choose a holiday at Eyemouth Holiday Park in Berwickshire.
With stunning views and a quiet atmosphere, Eyemouth is positioned on a dramatic headland, from where you can see across to the fishing town and sandy beach.
Grannie's Heilan' Hame Holiday Park – Dornoch, Sutherland, IV25 3QD
Discover a perfect beachside location at Grannie's Heilan' Hame Holiday Park with stunning views of the Dornoch Firth.
Enjoy lazy days relaxing on the park where you'll find activities for all ages. Adults can let their hair down at the entertainment venue while the kids enjoy the indoor pool or the sandy adventure playground.
Nairn Lochloy Holiday Park – Nairn, Inverness, IV12 5DE
Grab your bucket and spade and head to Nairn Lochloy Holiday Park where soft golden sand and a boat load of fun awaits you.
Set in one of the most picturesque parts of Scotland, Nairn is a truly beautiful beach location and it's a great spot for venturing out to the Highlands. With an abundance of castles, forests and country parks within your reach, you won't be short of days out.
Sandylands Holiday Park – Auchenharvie Park, Ayrshire, KA21 5JN
When you stay at Sandylands Holiday Park in Saltcoats, Ayrshire you'll enjoy a break packed with magical moments.
Pack a picnic and head to the nearby beach, just a 10 minute walk away – or why not spend the afternoon exploring charming Saltcoats? You've also got easy access to Glasgow, Ayr and Largs thanks to the railway line nearby.
Southerness Holiday Park – Southerness, Dumfries, DG28AZ
Set in a wonderful location, Southerness Holiday Park is right on the edge of the beach, offering lovely sea views across the Solway Firth.
Take a stroll on the sands or head into the local area to explore pretty market towns.
Sundrum Castle Holiday Park – Coylton, By Ayr, Ayrshire, KA6 5JH
Combining endless fun and relaxation, head to Sundrum Castle Holiday Park on your next family break and you won't want to come home!
Set in the picturesque Scottish countryside and within easy reach of the coast, you'll experience the best of both worlds.
Tummel Valley Holiday Park – Near Pitlochry, Perthshire, PH16 5SA
Take a holiday at Tummel Valley Holiday Park and you'll find a peaceful location beside the River Tummel within a pretty woodland setting.
Discover the great outdoors with fishing, golf, cycle routes and Highland walking trails all close by.
Wemyss Bay Holiday Park – Renfrewshire, Scotland, PA18 6BA
You'll love getting out and about with a lodge or caravan holiday at Wemyss Bay Holiday Park.
Make the most of the location as you enjoy views out across the Firth of Clyde or hop onto a ferry to explore some of Scotland's most beautiful islands.
Parkdean Wales
Brynowen Holiday Park – Borth, Wales, SY24 5LS
With its unique hillside location and great views across Cardigan Bay and the Cambrian Mountains, Brynowen is perfectly positioned for outdoor activities.
Explore the Welsh countryside or head to one of the nearby beaches for lazy days on the sands.
Carmarthen Bay Holiday Park – Kidwelly, Carmarthenshire, SA17 5HQ
With such beautiful scenery, you'll love spending your days outdoors with a holiday at Carmarthen Bay Holiday Park in Kidwelly.
If you fancy rockpooling or seaside walks, you'll find the shoreline right in front of the park.
Nearby there are forest walks that lead to a beach at Pembrey Country Park plus great footpaths and cycle routes nearby too.
Pendine Sands Holiday Park – Carmarthenshire, South Wales, SA33 4NZ
Nestled just steps from the shores of Carmarthen Bay and one of South Wales' most iconic beaches, Pendine Sands Holiday Park has all the ingredients for the perfect holiday destination.
With stunning Welsh countryside behind you, and miles of powder soft sand in front, you'll be spoilt for choice for things to do.
Trecco Bay Holiday Park – Porthcawl, Mid Glamorgan, CF36 5PW
As one of the UK's largest holiday parks, Trecco Bay Holiday Park certainly knows how to keep you entertained. Whether you're feeling sporty or prefer to relax, you'll find lots to do.
Plus, there's plenty to discover nearby, from pretty seaside towns and family attractions to the beautiful award-winning beach on the doorstep.
Ty Mawr Holiday Park – Towyn, Conwy, LL22 9HG
If you're looking for a caravan holiday that promises full on fun, you'll find it at Ty Mawr Holiday Park near Abergele.
With a stunning coastal location at the foot of a mountain, Ty Mawr is a lively park with activities for all ages.
So those are all the Parkdean Resorts Holiday Parks to choose from, which one will you be visiting first?