Last week I was invited to London for a very intriguing evening to celebrate the launch of National Camping and Caravanning Week 2019. I had no idea what to expect as the invite just said join us on a floating campsite on The Thames, hosted by Julia Bradbury.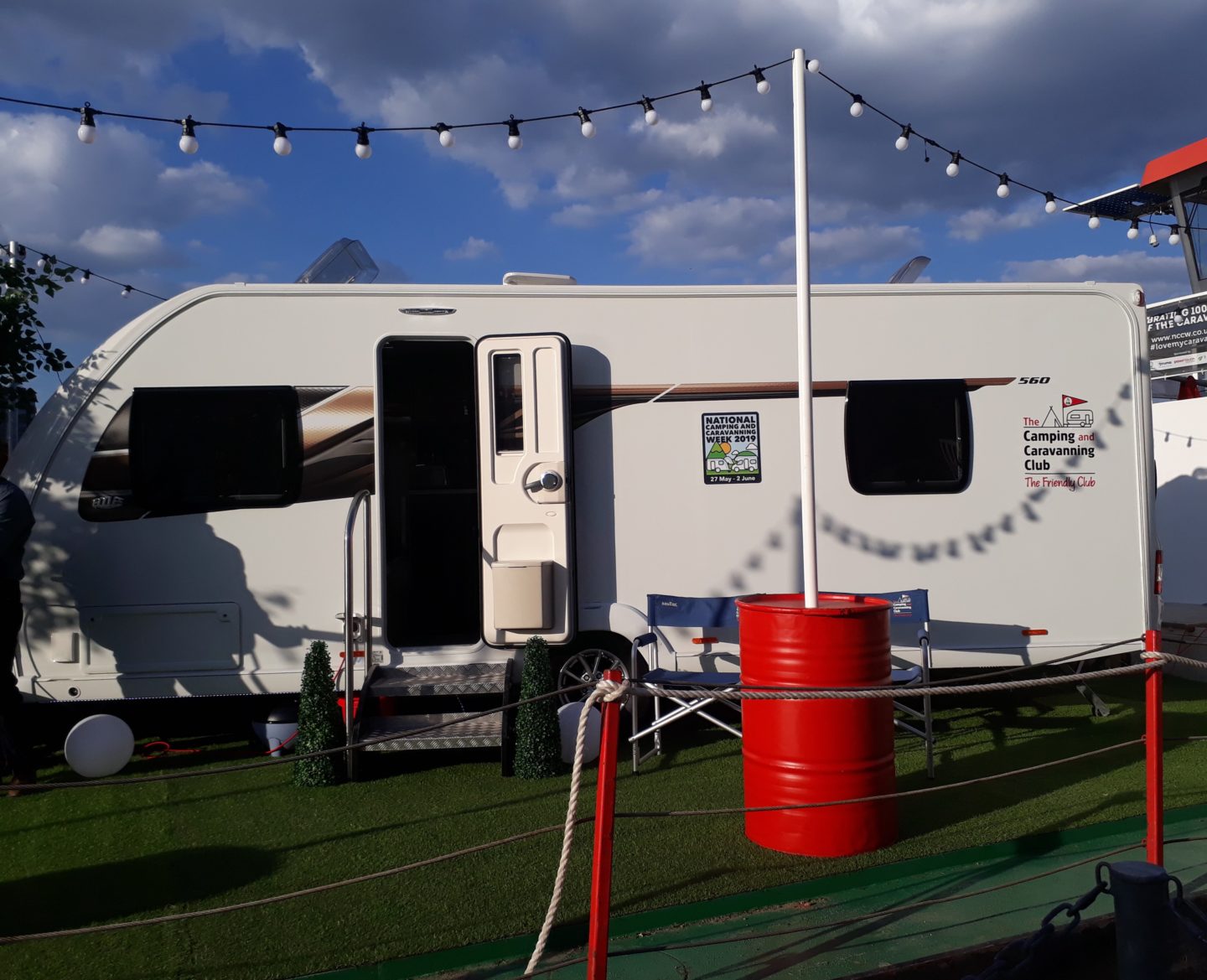 I went along with Xene and met up with Sabina from Mummy Matters at Kings Cross. Luckily she had the directions to get us to the campsite, my geography of London is horrific. She knew exactly where we were going and the weather was glorious. Making for a very enjoyable evening. What could be more enjoyable that spending an evening in the sunshine with my eldest daughter drinking cans of coke from camping mugs!

Celebrating 100th Anniversary of The Caravan
2019 marks the 100th anniversary of the first production caravan built to be towed by a car instead of a horse. The first caravan was an Eccles, which could be purchased for £90 when it launched in 1919.

Camping and Caravanning President Has a Staycation
After we had all left on Tuesday evening club President Julia Bradbury was staying on the floating campsite. Moored near Tower Bridge for one night only. Julia is no stranger to camping in unusual places. She launched the 2016 campaign by spending the night on top of the O2 Arena in a tent!

The Floating Campsite
When we first arrived at the mooring it was difficult to imagine an actual campsite floating on The Thames. But as you got closer you could see the Eccles Caravan (complete with all luxuries). A barbecue – a camping necessity, tables and chairs and a tent, by Field Candy featuring the World's Smallest Pub design. It was certainly a lovely way to launch National Camping and Caravanning Week 2019.
You Could WIN an Eccles 560 Caravan
If you would like to spend your holidays in your very own Eccles 560, a fabulous caravan with a large double bed with ensuite shower room, fully-equipped kitchen and state-of-the-art app for your phone which controls the interior lights, heating and hot water, plus a Vango awning worth in total £26,500. Then head on over to campingandcaravanning club website .
Caravanners are also invited to share photos of why they love caravanning on social media using #lovemycaravan for a chance to win an Outwell awning. Head to www.nccw.co.uk for further details.
Some Interesting Caravan Statistics
There are more than 870,000 caravans registered in the UK today
UK Holiday Parks and campsites generate £9.3bn in visitor expenditure and together they contribute £5.3bn to the UK economy each year.
Caravans cost anywhere from £1,500 for a pre-owned unit; a new starter caravan can typically set you back £14,000
The Camping and Caravanning Club's archive records suggest that caravanners were first welcomed on it's Club Sites as early as 1914
Considering Camping this year like us, check out Campfire Safety Tips and Campfire Safety Tips.