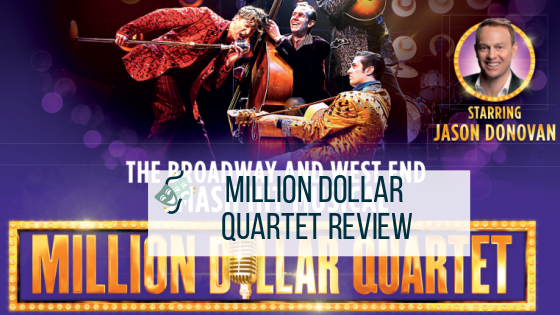 Million Dollar Quartet Theatre Royal Norwich
Last night I attended the opening night of Million Dollar Quartet at the Norwich Theatre Royal, starring Jason Donovan. The story centres on Sam Phillips (Donovan) the man who is known as the one who created Rock 'n' Roll, a radio DJ, record producer and label owner, who introduced the world to Johnny Cash, Carl Perkins, Jerry Lee Lewis and of course Elvis Presley.
Million Dollar Quartet tells the story of the afternoon that Elvis Presley, Johnny Cash, Jerry Lee Lewis and Carl Perkins recorded some of the most iconic rock 'n' roll songs of all time.
You will be transported to Memphis, Tennessee on December 4th 1956, where music was changed forever. The four musicians have a jam session at the famous Sun Records, where they created some of the most well-loved and upbeat songs of all time. The story has been brought to life by Colin Escott and Floyd Mutrux, and includes more than 20 well-loved songs from that night and that exciting era, such as Real Wild Child, Memories are Made of This, Fever, Hound Dog, Walk the Line, Matchbox, Blue Suede Shoes and many more.
Jason Donovan was excellent as Sam Phillips, although maybe a little more singing from him would have been well received! As his role was very much that of the man telling the story, we were not treated to any of his tunes, although he did rock out a few groovy moves at the end of the show (look out for those!)
Robbie Durham played the part of Johnny Cash to perfection, you could feel his emotion, torn between being loyal to Phillips, but also wanting to further his career with another record label.
Ross William Wild was fabulous as Elvis, he had the lip, he had the hips, what more could a girl want! I can certainly see what the appeal was when Elvis was in the building.
Matthew Wycliffe was brilliant as Carl Perkins, I always used to remember my dad telling me the story of Blue Suede Shoes. His portrayal of Perkins feeling annoyed that his song was constantly being associated with Elvis came over well, although nothing could compare to the animosity between Perkins and the new up and coming Jerry Lee Lewis, Ashley Carruthers was fantastic, very, very annoying, which fitted the part perfectly, and I have to admit, I could not take my eyes off him when he was playing the piano, absolutely amazing. Not forgetting the stunning voice of Katie Ray who played the girlfriend of Elvis.
The show will have you tapping your feet and clapping until your hands go numb, the final song had everyone on their feet, a thoroughly enjoyable evening that showcased some amazing talent, all four of those boys are truly talented and will definitely go far, the only criticism was that it was over too quick!
Million Dollar Quartet is playing at Norwich until Saturday 27th May and I would definitely recommend you grab your tickets before they all go. If you miss the show in Norwich, or you are not local check out Million Dollar Quartet UK Tour for all the upcoming dates and venues.
If you are looking for a modern day musical, why not check out The Band