Valentine's day is a time of sharing our love for the people we care about the most, and while many people love the idea of going out there is something quite special about cooking up something special.
Mickey Valentines Whoopie Pies
Disney is such a wonderful theme that many people love. It doesn't matter whether it is the Disney parks or you have an obsession with the latest films, Disney can make you feel all warm and comforted inside.
So when it comes to Valentine's day, using Disney as a source of inspiration to show someone you love them will always be a good idea.
When it comes to Valentine's day sweet treats are always going to be irresistible, am I right? This brings me to this incredible recipe that I think the whole family will love. The Mickey Valentine's whoopie pie is a taste sensation of gooey, chocolate, and a creamy filling.
A wonderful sweet treat that showcases a much-loved Disney character while embracing all of the themes of Valentine's day. Without further ado, here is everything you need to know to recreate this recipe at home.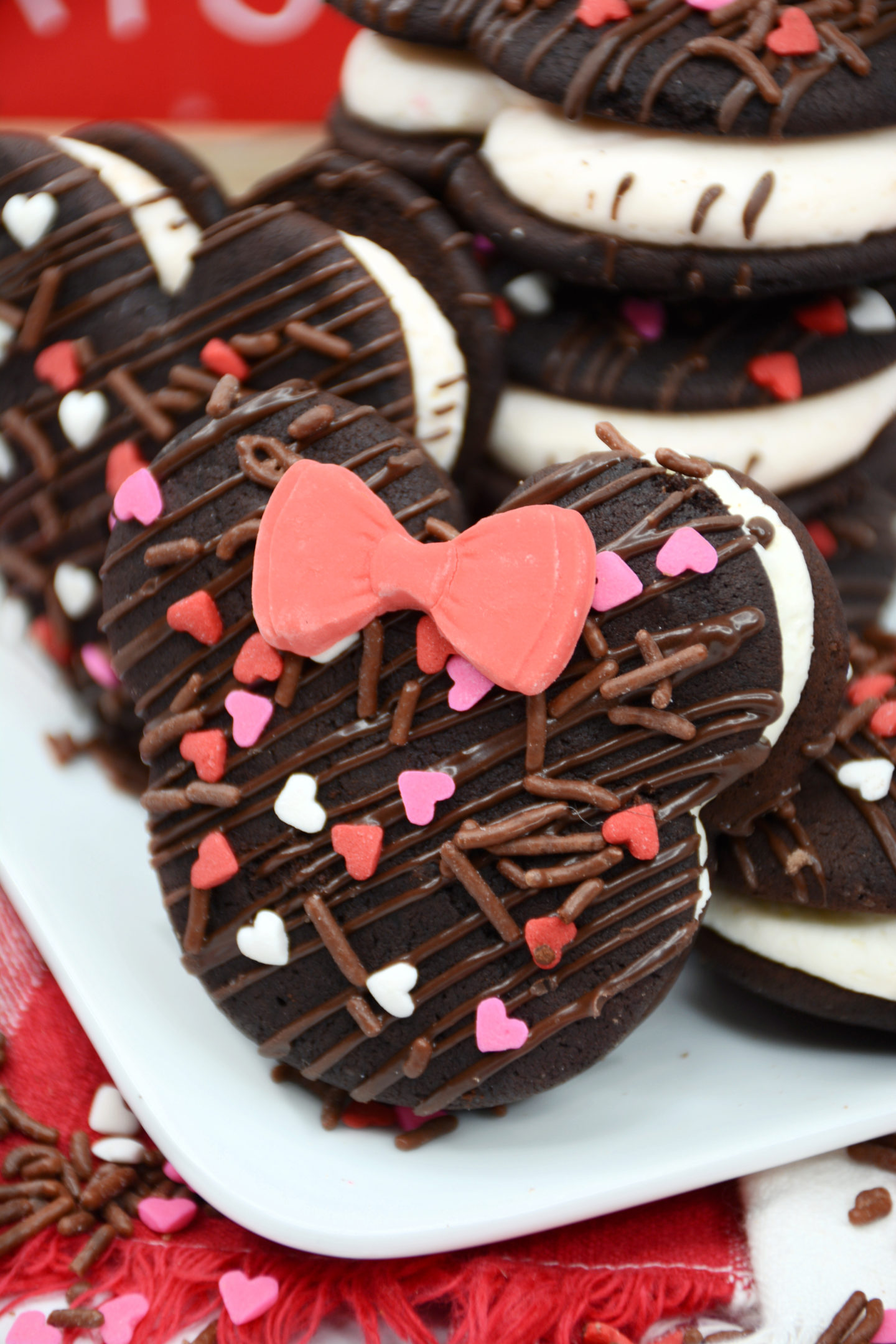 Ingredients needed to make Mickey Valentines Whoopie Pie
There are a few different elements to help you create this recipe. But here is a list of everything that you need to create these tasty treats.
1 ⅔ cup flour
⅔ cup Hershey powder
1 ½ tsp baking soda
½ tsp Kosher salt
4 Tbsp sweet cream butter, softened
4 Tbsp vegetable shortening
½ cup dark brown sugar
1 large egg
1 tsp pure vanilla extract
1 Cup whole milk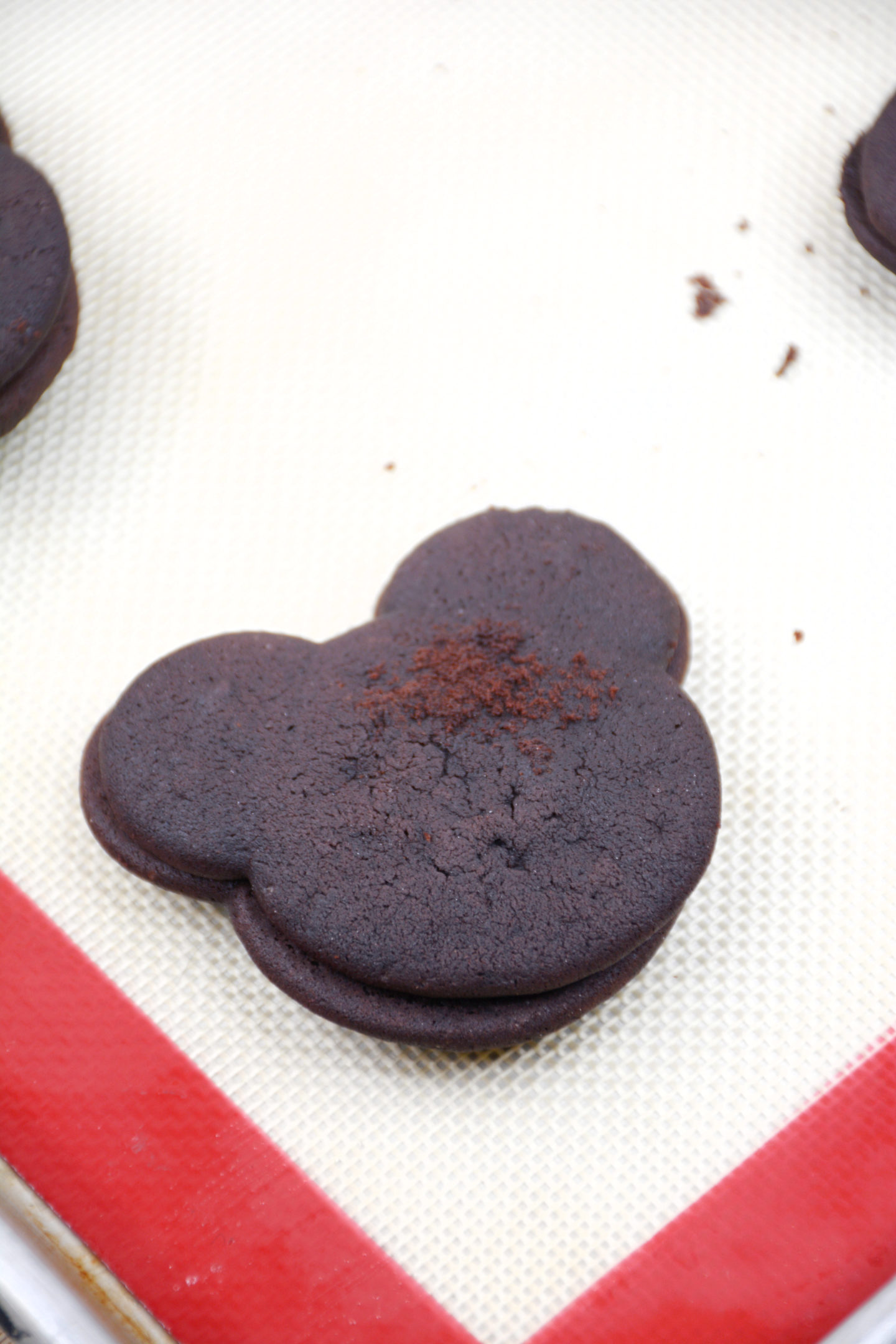 Vanilla Filling:
2 cup powdered sugar
4 tbsp sweet cream butter (room temp)
3 Tbsp heavy cream
2 tsp pure vanilla extract
1/2 tsp Kosher salt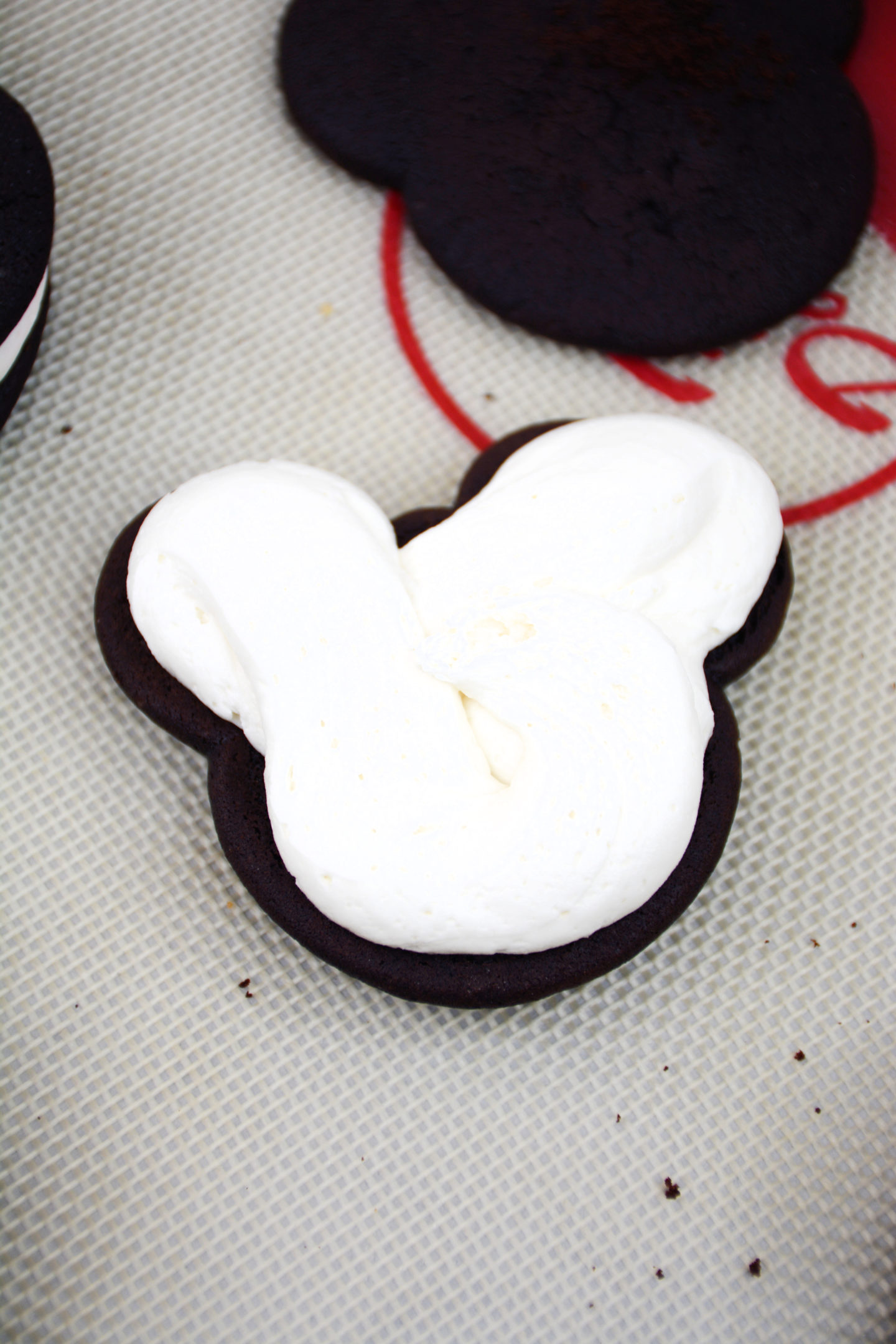 Garnish:
1 cup Melted Chocolate chips
1 disposable piping bags
Red icing bows to make some whoopie pies as "Minnie"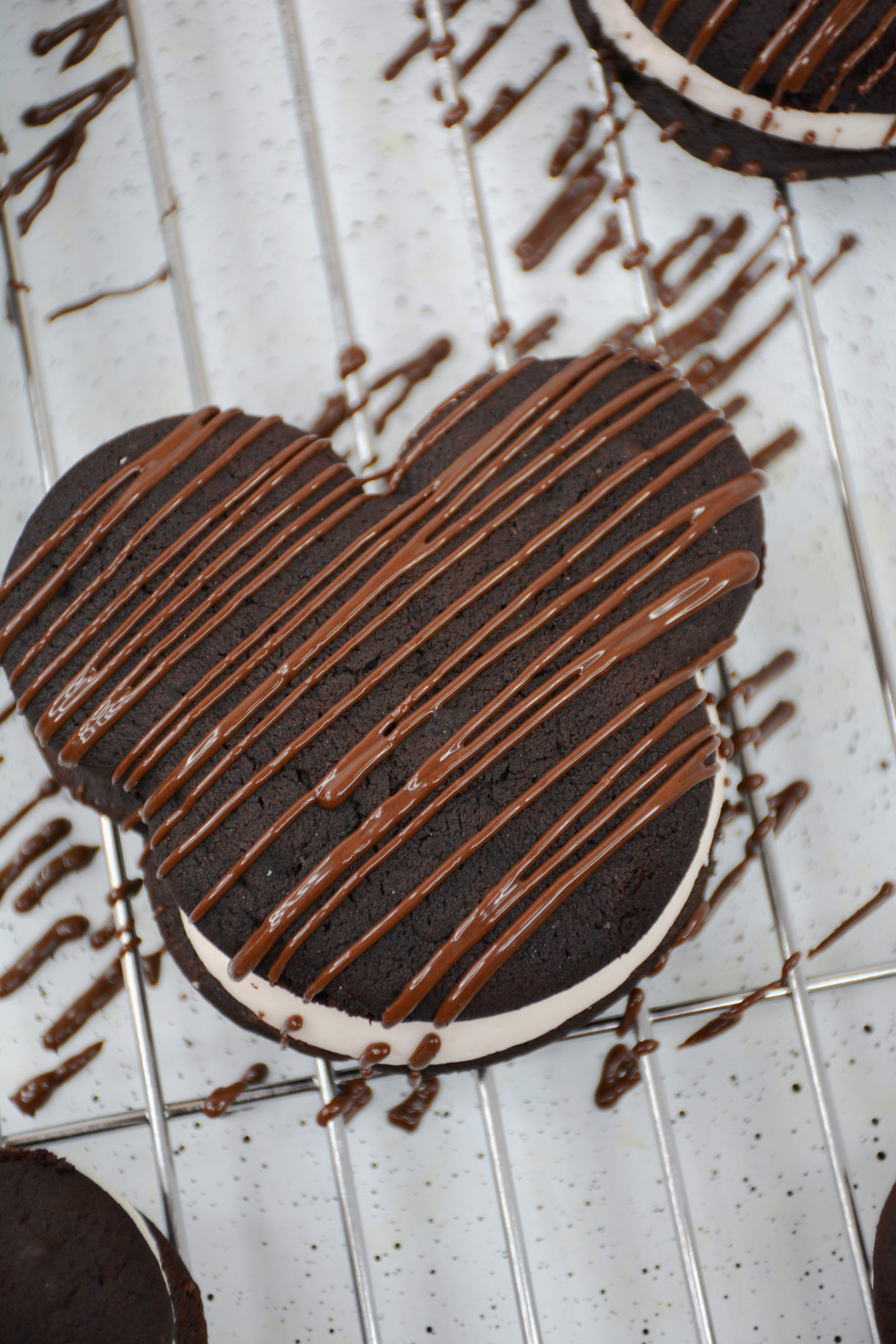 How to make Mickey Valentines Whoopie Pie
Prep Time: 20 minutes
Cook Time: 10 minutes
Total Time: 30 minutes
Makes: 24 whoopie pies
First of all you will need to preheat your oven to 350 degrees and line two cookie sheets with parchment paper.
Using a large bowl, whisk together the flour, cocoa powder, baking soda, and salt and then set aside.
Using a standing mixer, beat the butter, shortening, and brown sugar until combined and smooth. Then beat in the egg and vanilla until the mixture is combined.
Next up, grab the bowl of dry ingredients and your milk. Then alternate between the flour and milk and gradually mix until the mixture is fully combined and has a smooth consistency.
Scoop the batter into the piping bag and cut the tip off. Make sure you cut into it at about 1inch. That way you have a larger hole.
Pipe a big circle about 2 inches in width for the face of the whoopie pie Pipe and then two smaller circles for the ears.
Once you have completed all of your whoopie pieces then bake in the oven for about 10-12 minutes or until the tops are fluffy and bounce back when touched.
Allow the cookies to cool on the cookie sheets for 5 minutes. Then transfer the cooled cookies to a cooling rack so that they can cool completely before the next step.
Now we start on the filling. Using a standing mixer, beat the powdered sugar, vanilla extract, heavy whipping cream, and butter together until combined and smooth.
Continue to beat for another 5 minutes or until the filling is thick
Scoop into the piping bag
Now onto the fun part, building up the whoopie pie. Flip each half of the whoopie pies so the flat side is facing up.
Pipe filling onto the bottom of the whoopie pies and place the top whoopie pie on top. Drizzle the melted chocolate on top and sprinkle with valentine's day sprinkles.
You could also add some red icing bows to create "Minnie" versions.
Recipe notes and tips
This is a relatively straightforward recipe to follow and the chances are your children might want to get involved with it as well. I wanted to share with you a few extra notes and tips to ensure that you can recreate these at home with ease.
Make sure that you give the cookies enough time to cool before you move on to add the whoopie pie filling and melted chocolate. If they are not cooled enough the filling will melt and create a bit of a mess. Don't rush this stage.
If you don't have a stand mixer you could use a handheld electric mixer. If you have to do it by hand just be mindful that it may take a bit longer to move on from those steps.
Make sure you preheat the oven before placing the whoopie pies in there to cook. It ensures that the pies get a blast of optimum temperature so that they cook all the way through.
Variations to try
Like with many recipes there will always be variations to try. Here are a few suggestions.
You don't need to stick with Mickey or Minnie versions of these pies. You can get as creative as you like. Why not pipe out hearts so that they have a Valentine's theme. Or you could even use a cookie cutter in other Disney characters to create a few different options.
Edible glitter could really transfer the look of these whoopie pies.
If you prefer, you could use white chocolate to drizzle onto the whoopie pies instead of milk or dark chocolate for a different look.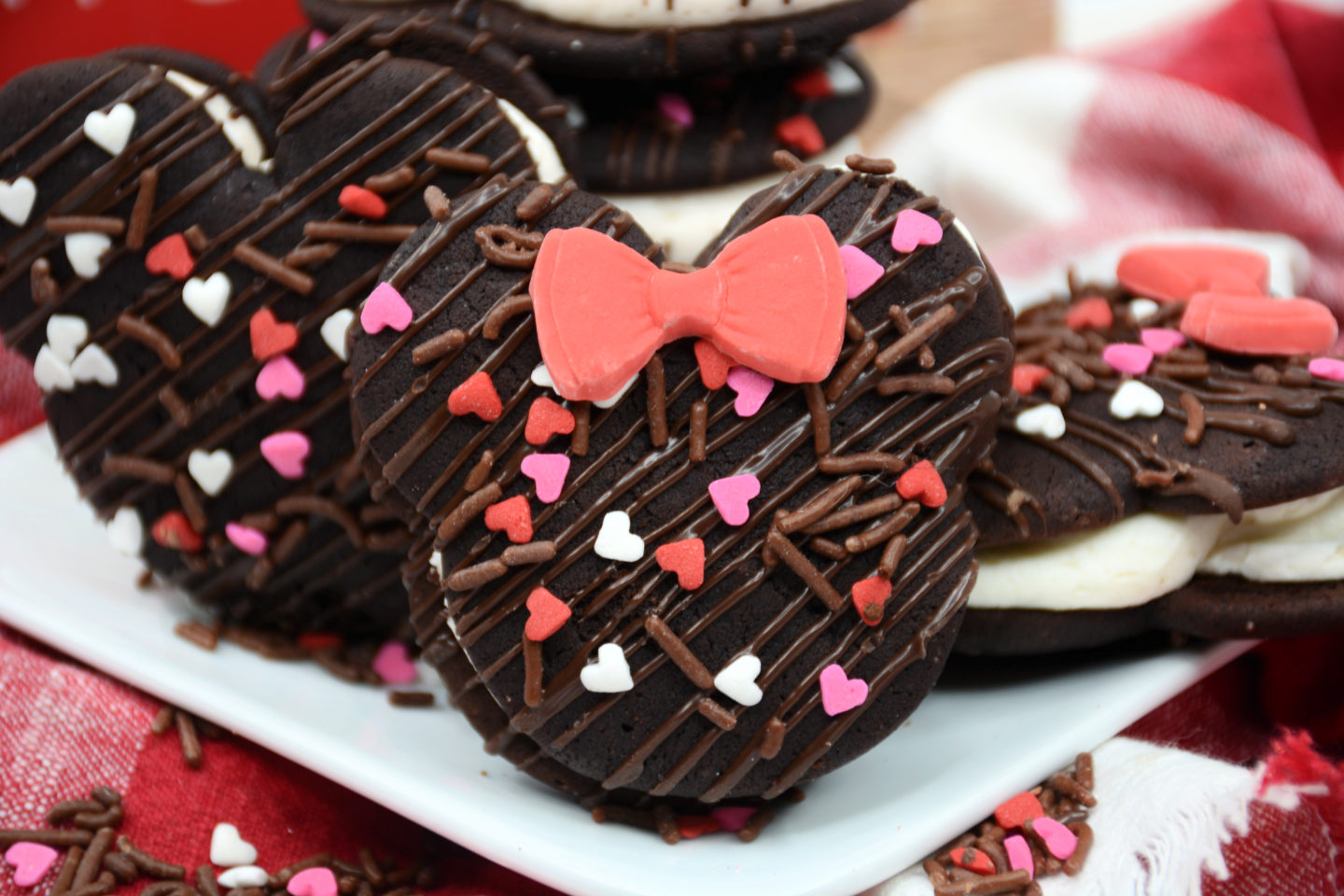 FAQs
Of course, there will always be questions that everyone might have when it comes to trying a few different recipes. With the Mickey Valentine's whoopie pie recipe here are some of the common questions that you might have.
Can it be made ahead of time?
They can be made ahead of time as they can last a few days in the fridge, but they are best served and enjoyed fresh so don't make ahead any more than a day to ensure that they taste the best they can.
How should I store the Mickey Valentines Whoopie pie?
They are best stored in an air-tight container and in most cases, it would be ideal to store them in the fridge rather than at room temperature just because of the filling.
Can I freeze the Mickey Valentines Whoopie Pie?
Yes, you can, they do work well frozen. You might want to decide if you are freezing a whole batch or individually. It can be easier to freeze individually as it is more convenient to only defrost the ones that you need. Enjoy your Mickey Valentine's whoopie pie.
Check out our other Disney Recipes