During July and August, bright yellow sunflower fields bloom across the UK, creating an extraordinary sight, some as part of an attraction, others more like actual Sunflower farms.
There are quite a few beautiful fields across the UK for visitors to explore (and pick) the sunshine-yellow flowers. Sunflower Fields are starting to become more popular as there have been further fields added to the ones already known, and you will find that many of them are located next to or near Maize Mazes.
The Sunflower's botanical name, Helianthus, comes from the Greek words, 'helios' which means sun and 'anthos' which means flower. They're so called because they always turn towards the sun, but it also aptly describes the shape of their blooms.
So if you are wondering if there's a sunflower field near me, check out these
Sunflower Update 26th August : Please check each sunflower fields website and social media to see if they still have Sunflowers available to pick, the different areas seem to have planted at different times, some are nearly finished, others only just blooming!
Sunflower Fields to visit in the UK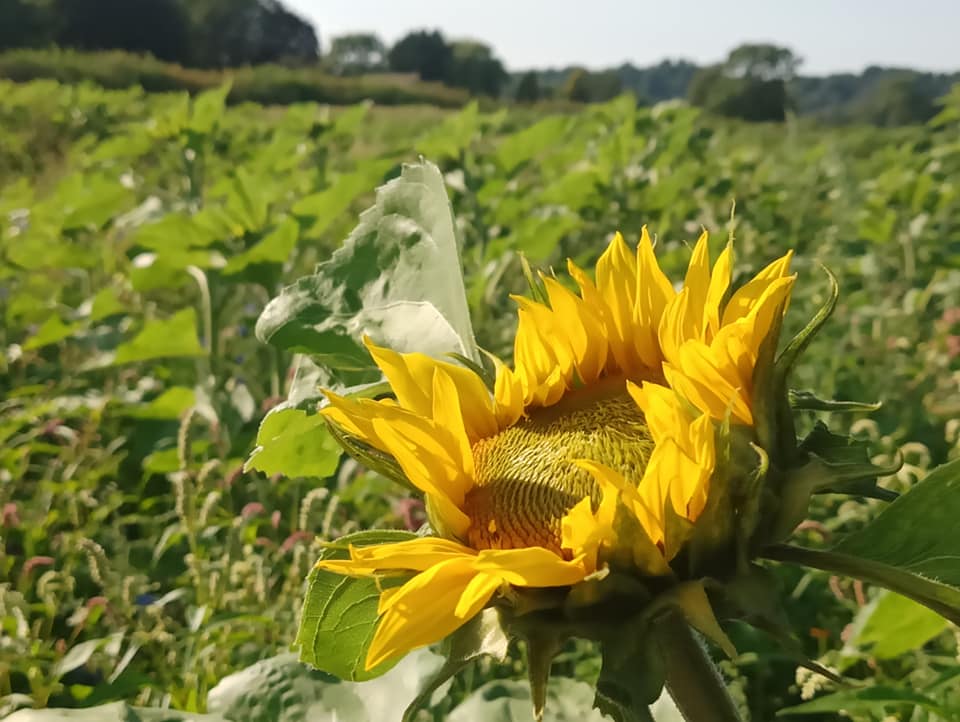 Location : Eastwood Lane, Ashover, Chesterfield, S45 0BD
Based in the country village of Ashover, they are a family farm that has diversified into pumpkins and sunflowers! In August there are 500,000 sunflowers to walk through, photograph and pick to take home!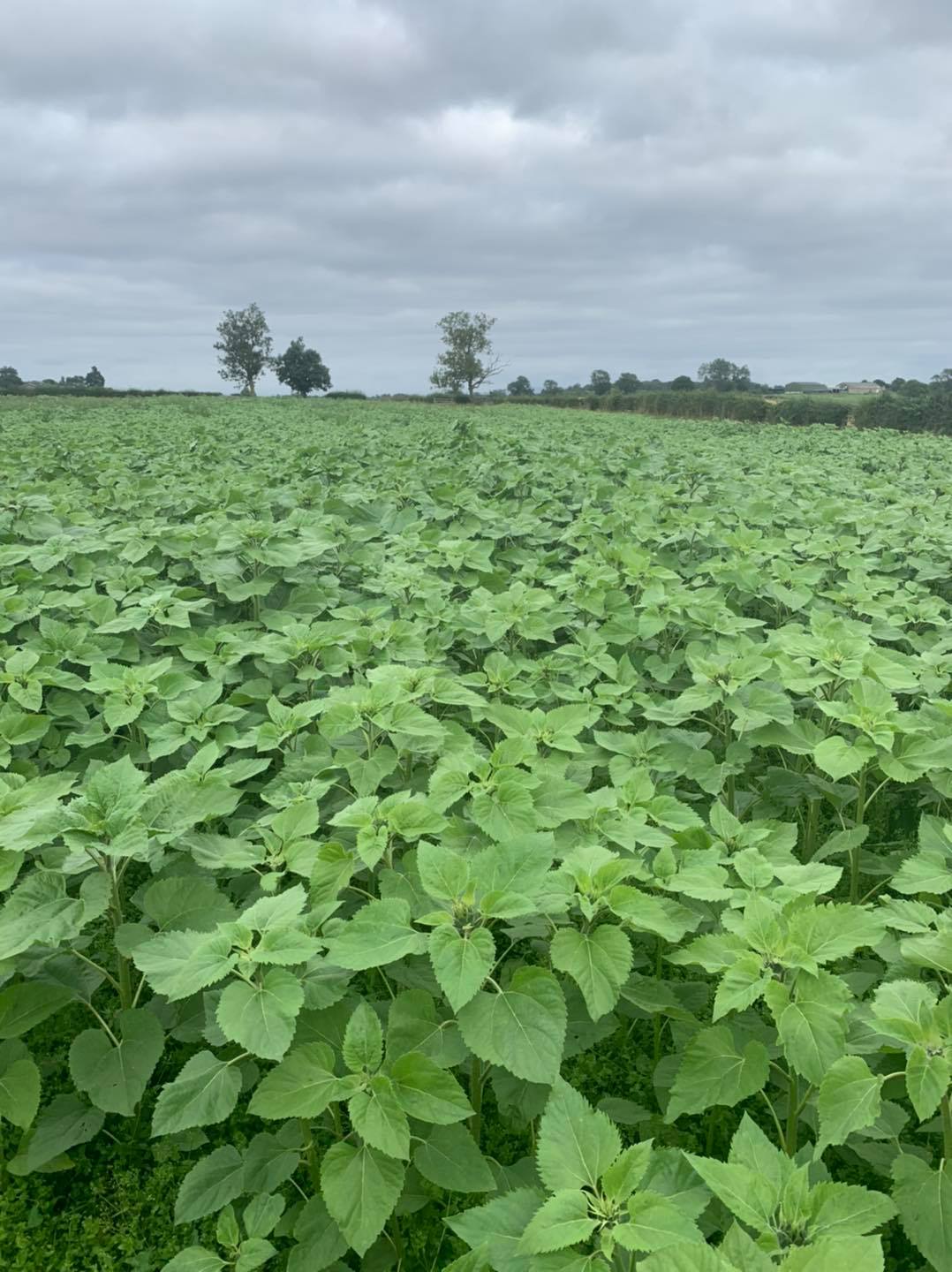 Location : Scorton road farm, Northallerton, Dl7 0JD
Usually known for their PYO Pumpkins, Astley Hill have planted sunflowers for the first time this year, but that cold Yorkshire air and a little less sunshine means they haven't opened yet, keep checking their fb page to see when they are in bloom.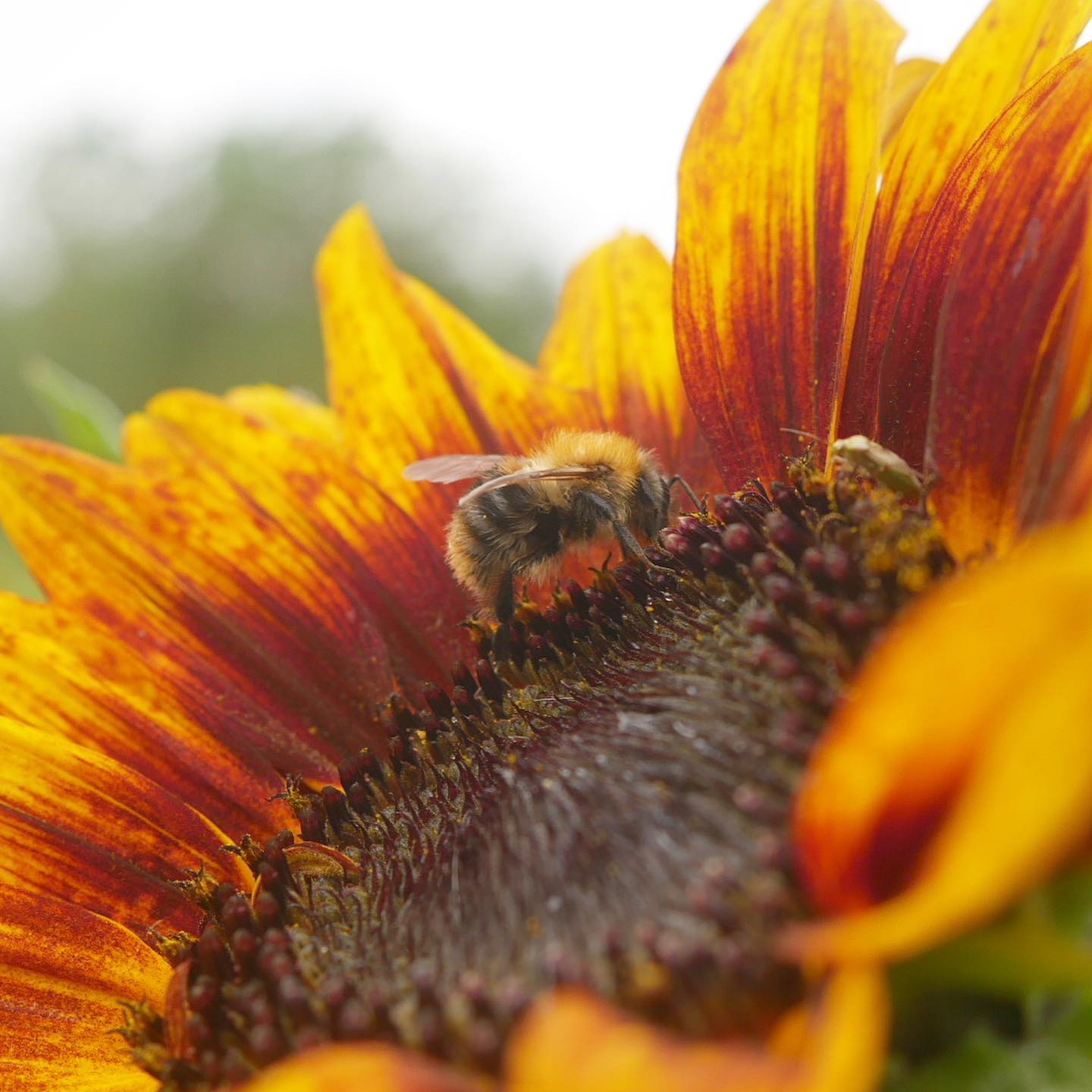 Location : Stamford Bridge Road, Gate Helmsley, York, YO41 1NB
This year Farmer Will 👨‍🌾 has been experimenting with some 🌻 PYO Sunflowers 🌻 and as you can see, some of them have come out beautifully!
We have kept it all very natural and the word experiment is definitely evident in our yield 🙈
Although the plants are not as plentiful as we'd have liked, they have attracted plenty of bees and insects which we love 🐝🐞🐛
We are pleased to say that this weekend we will have Pick Your Own Sunflowers available at £1 per stem!
🌻🌻🌻🌻🌻🌻🌻🌻🌻🌻🌻🌻🌻
Our PYO sunflowers aren't letting up yet
The field is still full of beautiful flowers for you to hand pick and take home
No bookings required, just head over to The Berry Barn and our team can help you with all your PYO needs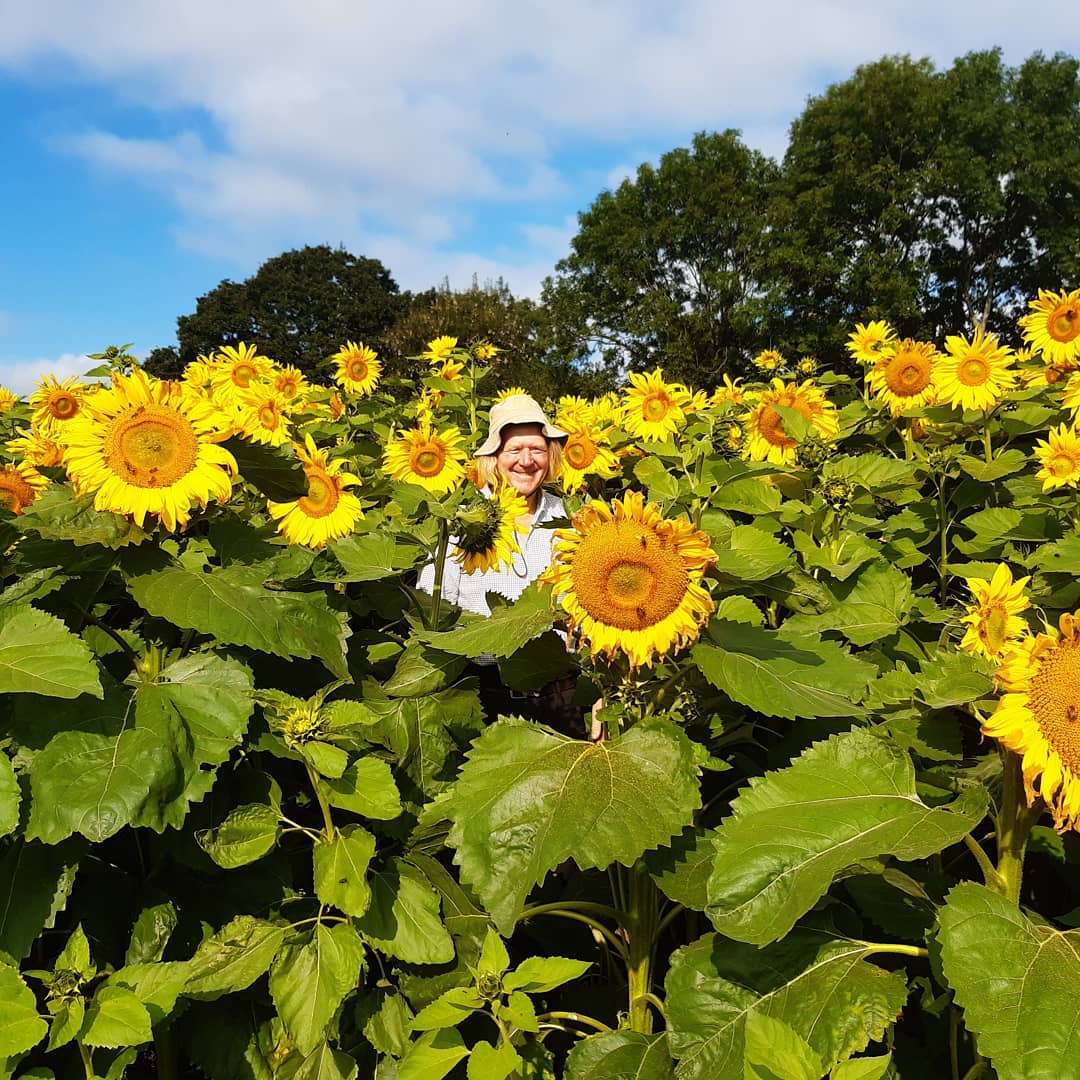 Location : Knighton, near Market Drayton, TF9 4HJ
PYO and Ready Cut Sunflowers available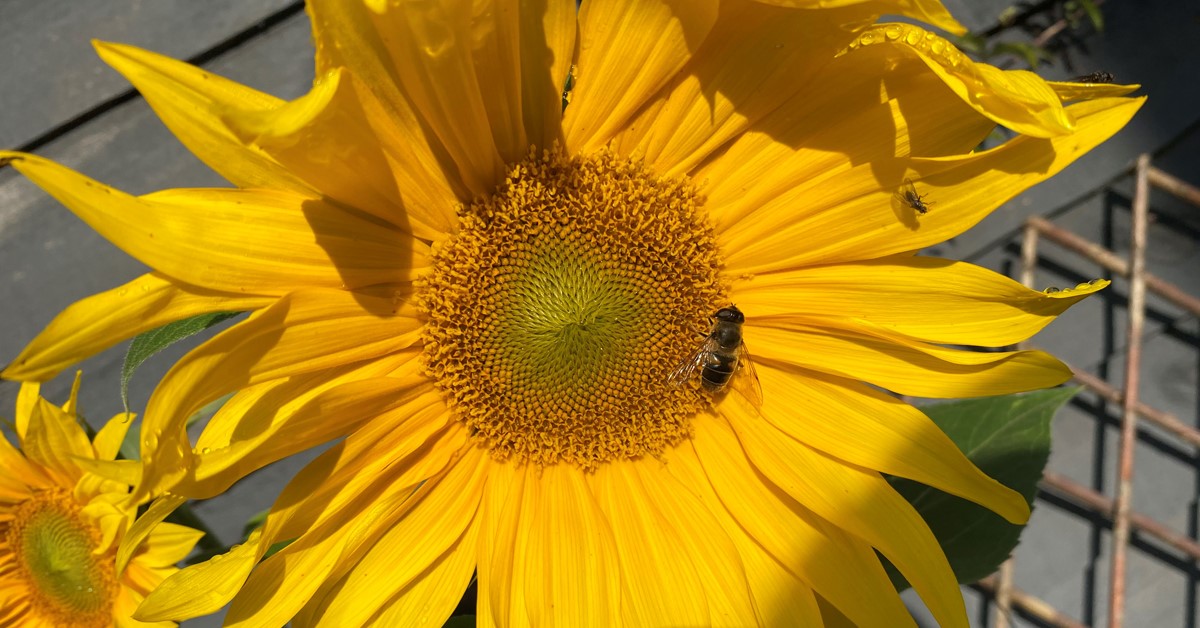 Location : Heath Farm, Alcester Road, Wythall, Birmingham, B47 6AJ
The first field of Sunflowers were destroyed by Jackdaws and Slugs, but they were not defeated, they went out and planted another field, which are coming along nicely and should be ready towards the end of August, keep checking their facebook page for the latest updates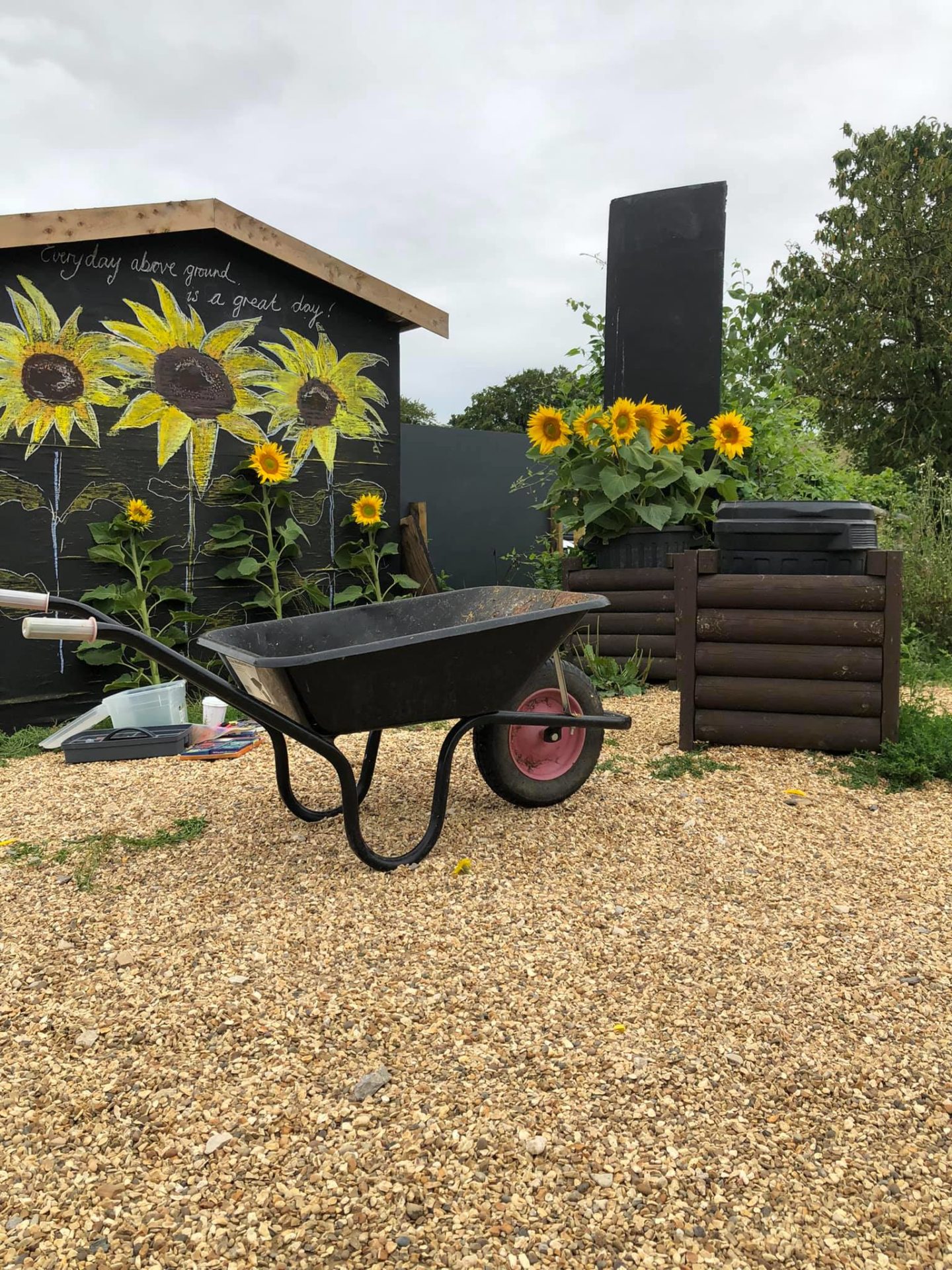 Location : Egbury Rd, St Mary, Bourne SP11 6DQ
The sunflowers are amazing and absolutely huge ! Great for decorating your home and projects. Bring the kids before school starts. Ready picked sunflowers available at the cafe £2 per stem.
PYO £5 admission per adult, to pick sunflowers, including 5 stems and free parking. No booking just turn up. If you are coming to pick wear boots or trainers and bring your secateurs. We also have a limited supply to hire.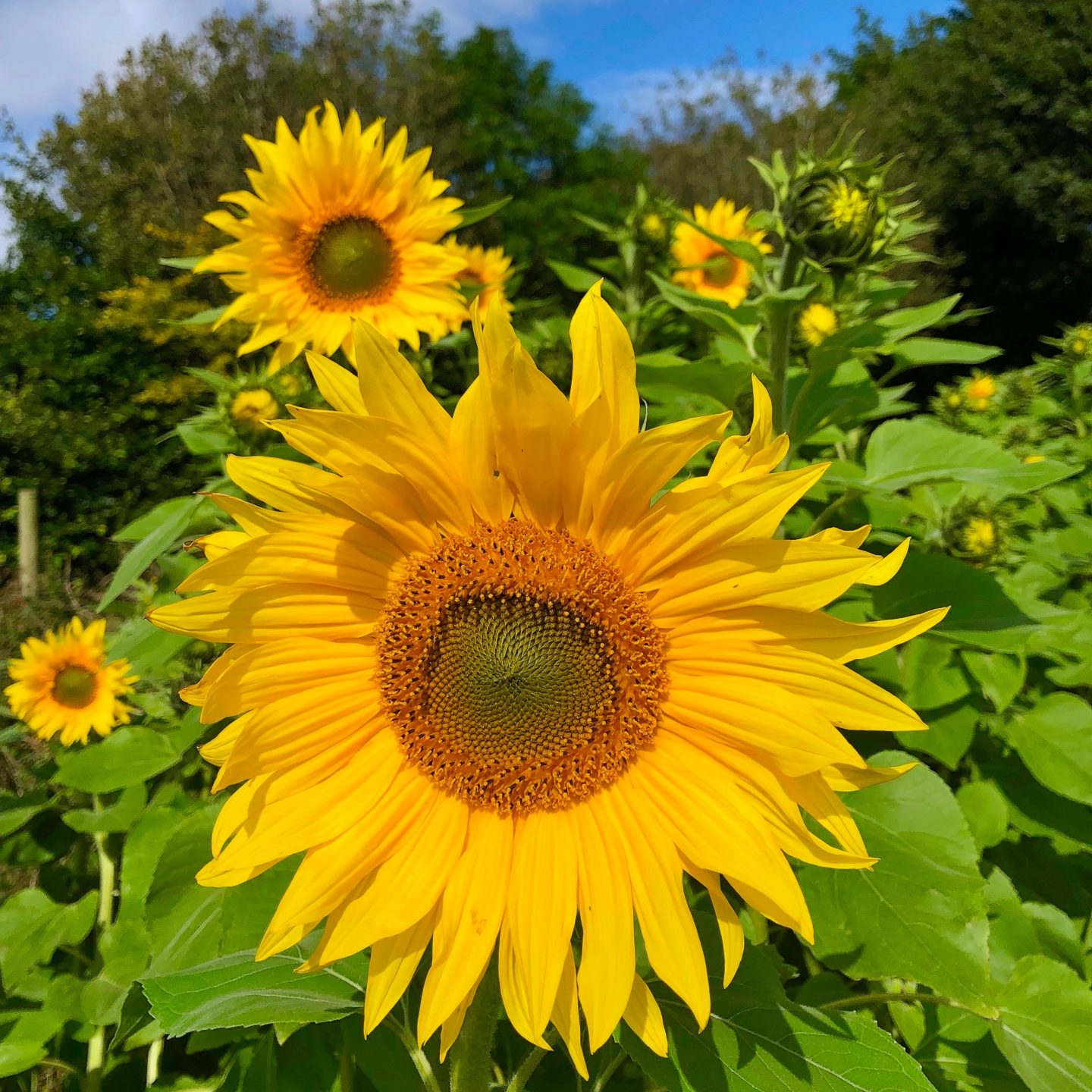 Location : Cairnie Farming Co., Cairnie, Cupar, Fife, KY15 4QD
Cairnie is one of the biggest fruit farms in Scotland, it has lots of PYO choices from strawberries to sunflowers and pumpkins in autumn.
From mid-August Cairnie has a stunning field of sunflowers which you can pay to pick if you wish, or you can just wander through the fields of yellow.
Check out all the latest news on their facebook page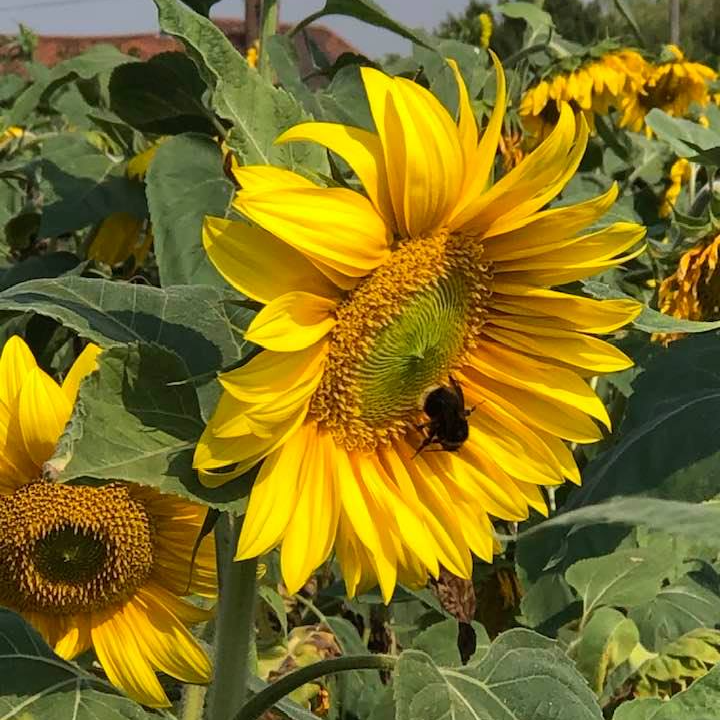 Location : Needham Green, Hatfield Broad Oak, Near Bishop's Stortford, Hertfordshire, CM22 7JT
Cammas Hall are delighted to announce that for this weekend they are trialling their first PYO sunflowers.
You will be able to enter the sunflower meadows where you can pick the flowers you wish to purchase as well as capturing lots of amazing photos amongst the blooms.
Entry must be pre-booked. Please visit the PYO page to book a slot. Each person who enters will need to purchase a PYO ticket. The value of the vouchers can then be redeemed against any sunflowers or fruit that you pick on the day.
They advise that you bring your own secateurs, although they do have a couple of sets available for you to borrow. Sunflowers are priced at £1.00 each or 7 for £5.00.
Please visit the ticketing page to book
Price: £1 each or 7 for £5
Available ready picked only in our farm shop.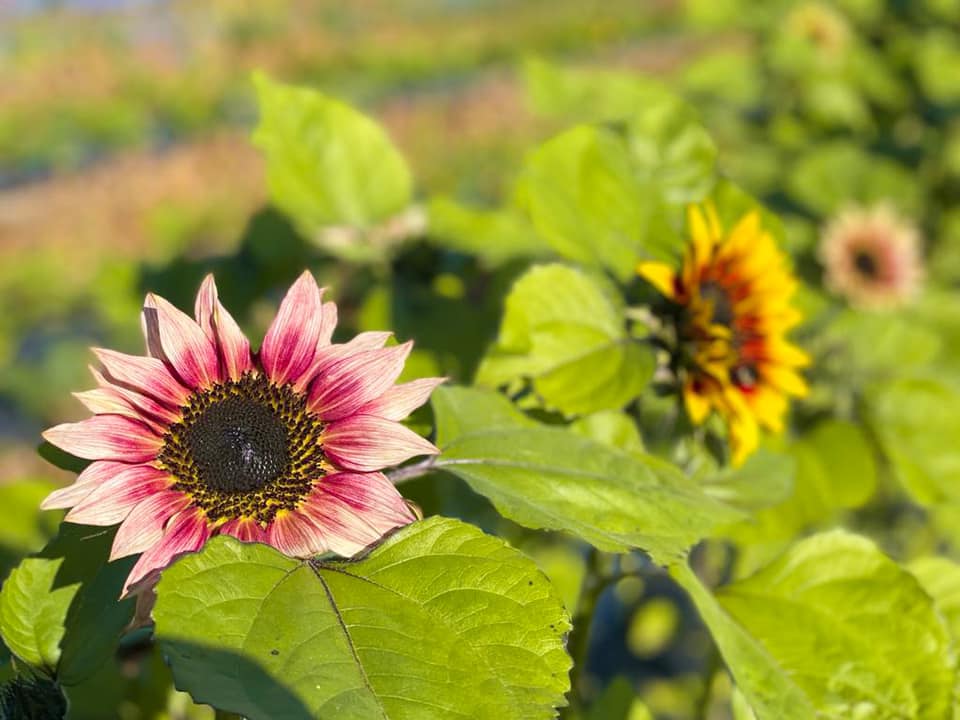 Location : Lyndhurst Road, Hinton, Christchurch, Dorset, BH23 7DS
Pick Your Own sunflowers available in standard yellow and also pink! You are welcome to take photographs in the stunning sunflowers fields, but make sure you also pick a bunch of Sunflowers to take home.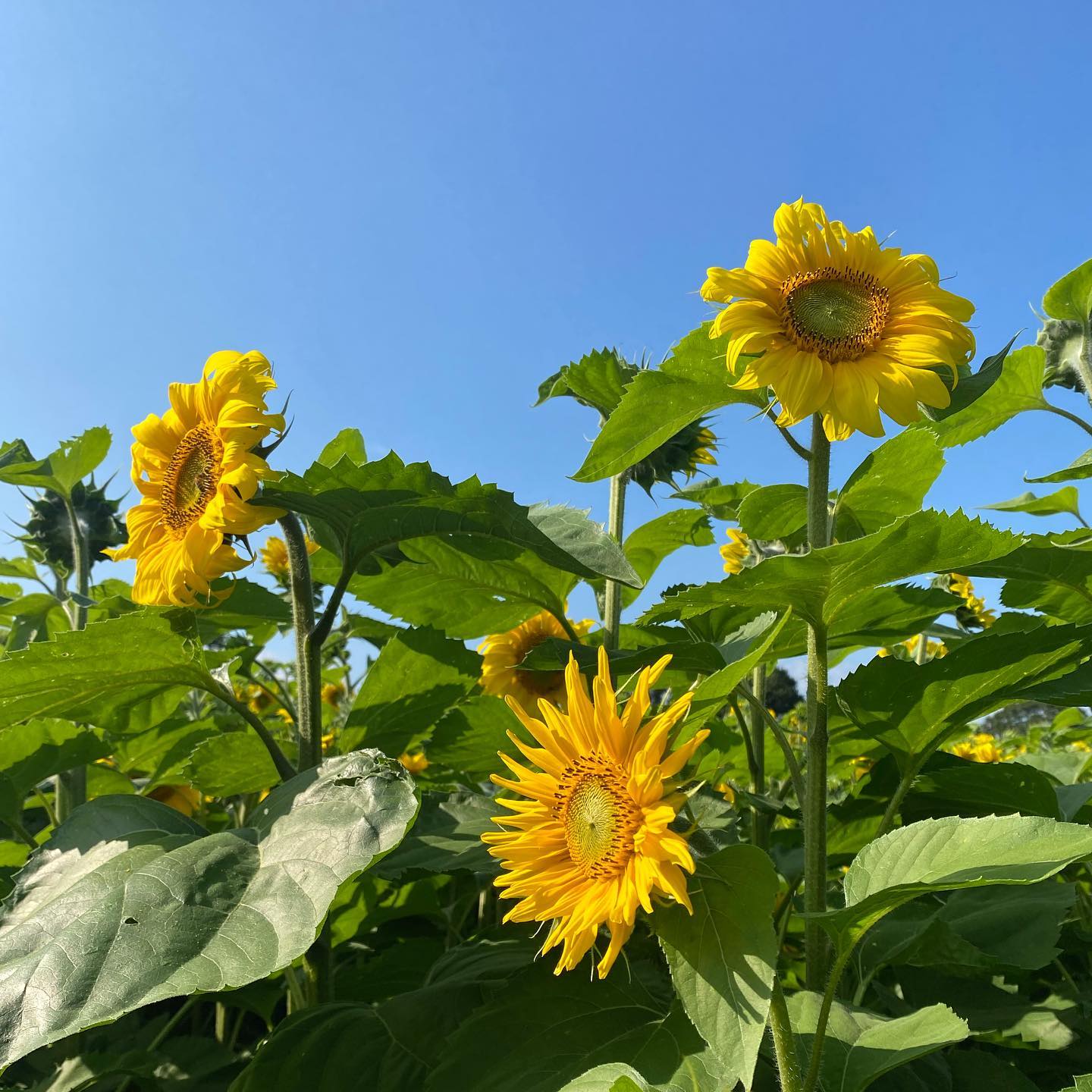 Location : Berkeley Heath Farm, Berkeley, Gloucestershire, GL13 9EW
The bees are in heaven, and we know our visitors will love the sunflowers too.
You'll find our Sunflower Patch at the entrance to the the Maize Maze. The first flowers are coming into bloom now and the rest will fill the field with colour over the coming weeks.
From Tuesday 24th August, you can pick your own sunflowers, or cut stems can be purchased from the Gift Shop at the top of the park. Our sunflowers are the perfect summer photo opportunity too!
Our Sunflower Patch is open 11am – 4pm every day
PYO or pre-cut stems available to buy for £1 each
Sunflower Patch entry is included in your Cattle Country tickets. Online booking is essential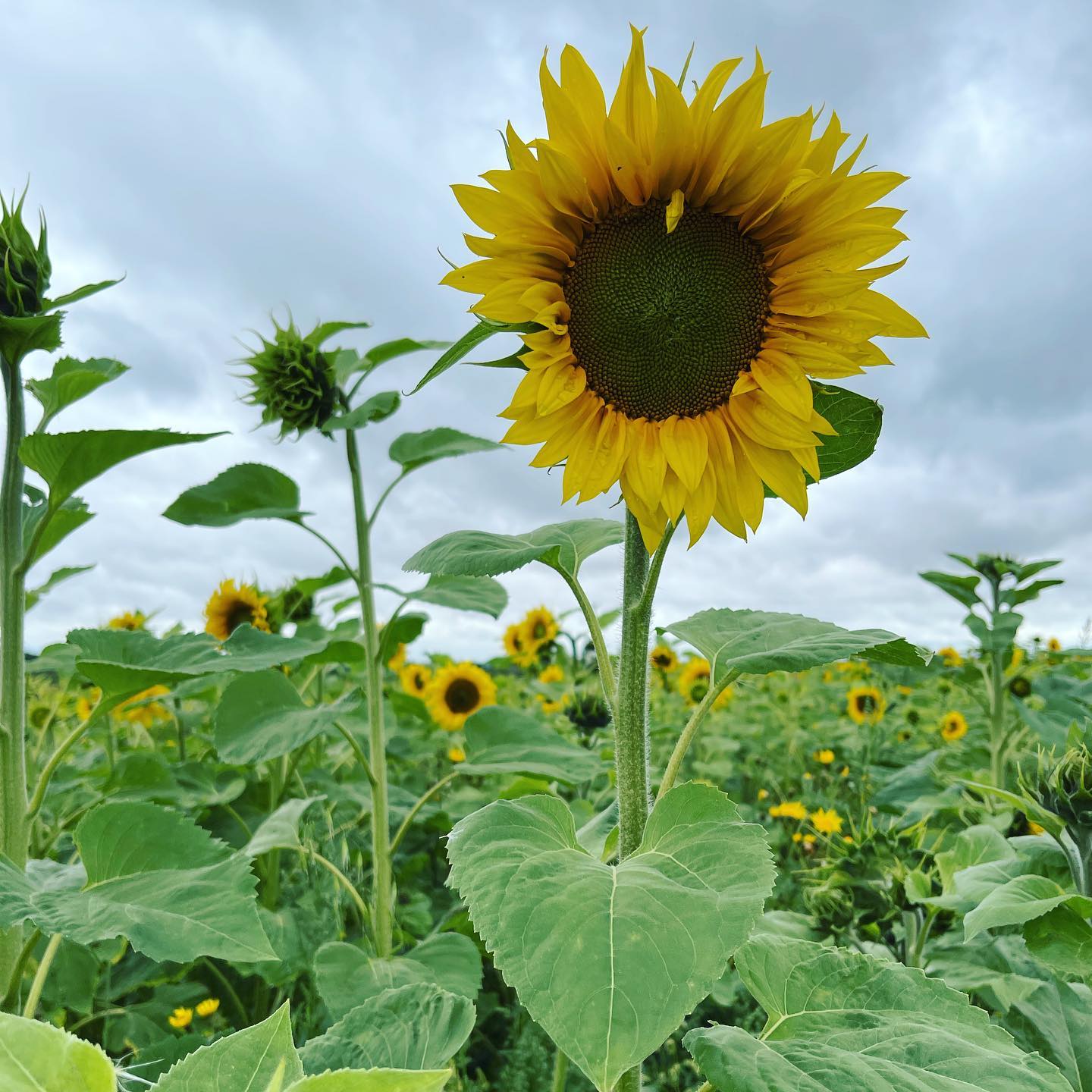 Location : Swepstone Road, Heather, Leicestershire, LE67 2RF
– Sunflowers are now available. 70p per stem, whilst you are there you could explore the corn maize and
– Handle and fly the Hawkwise broadening birds.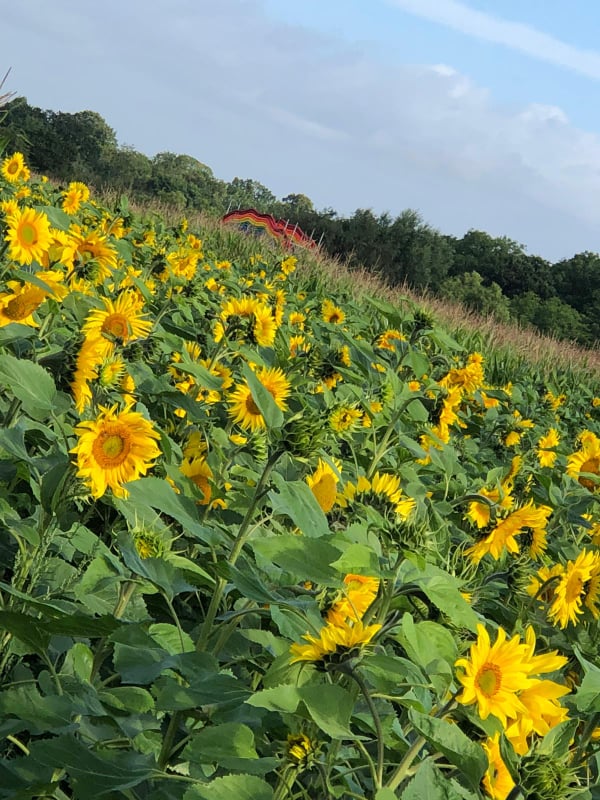 Location : Droitwich Spa, Worcestershire, WR9 0AF
The perfect way to brighten the day, great photo opportunities and pick your own to take home too! Entrance to the Sunflower Fields can be found at the Maize Maze.
Due to the natural flowering of the sunflowers the fields will be open for limited availability. Your ticket will include six stems, additional sunflowers will be charged at £1 per stem
Secateurs will be given to an adult upon arrival, these must be returned to our check in prior to departure, failure to do so will incurr a £5 per pair charge
Tickets are non refundable & non transferable – Please wear sensible footwear in the sunflower fields – in wet weather it will be muddy!
Children must be accompanied with an adult at all times.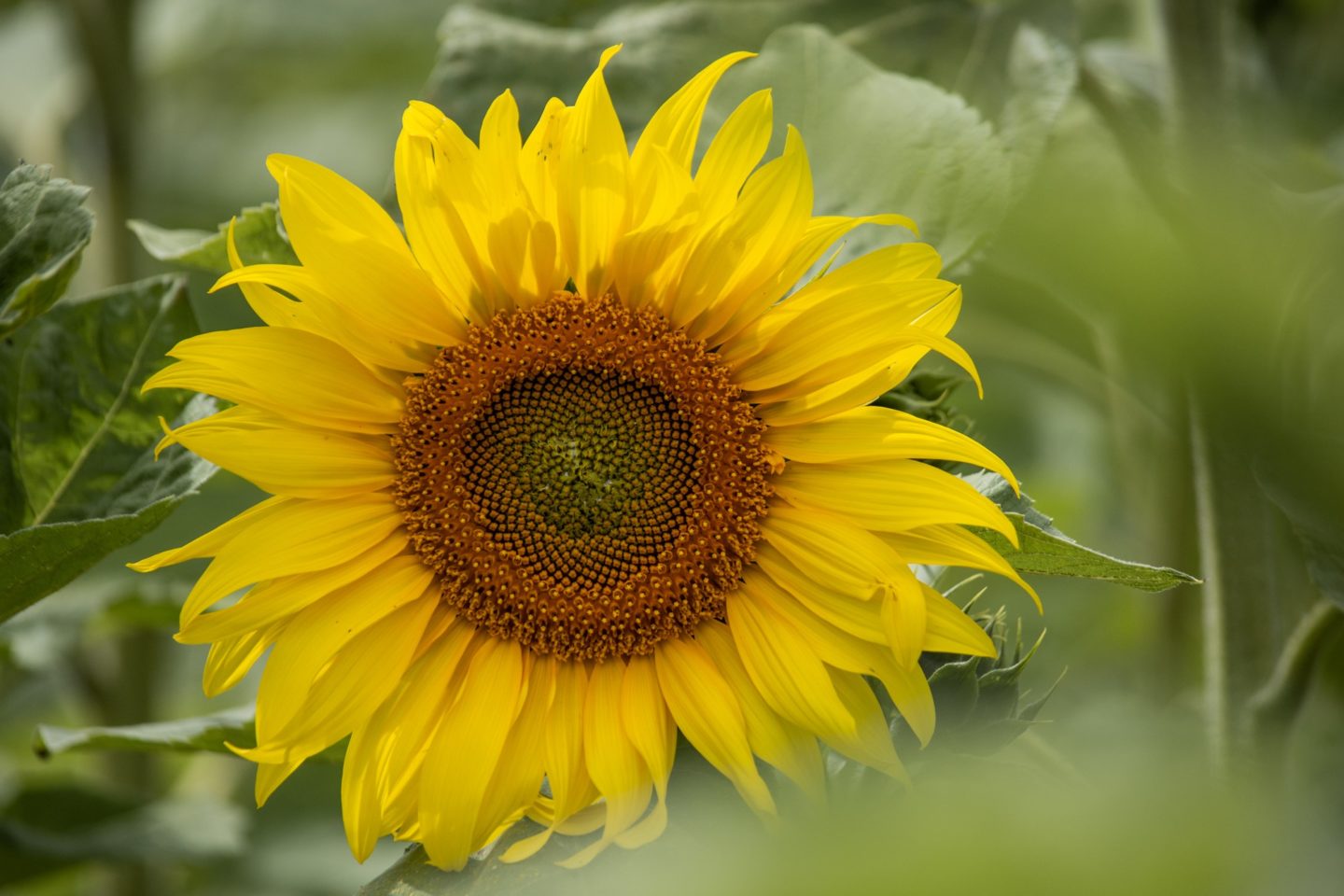 Location : Cotswold Farm Park, Guiting Power, Cheltenham, Gloucestershire, GL54 5FL
Cotswold Farm Park is a great day out for the whole family, as well as enjoying the Farm park you can also encounter a breathtaking sea of sunflowers for you to enjoy every Sunday. The park also has a viewing bridge to see the sunflowers from above, lots of photo stations throughout the field, and a walkway through the flowers for a more immersive experience, where you can get up close and personal and see the flowers from all angles.
You can purchase the Sunflower stems for £1.50 each, Check out all the latest news on their facebook page
Country Pumpkins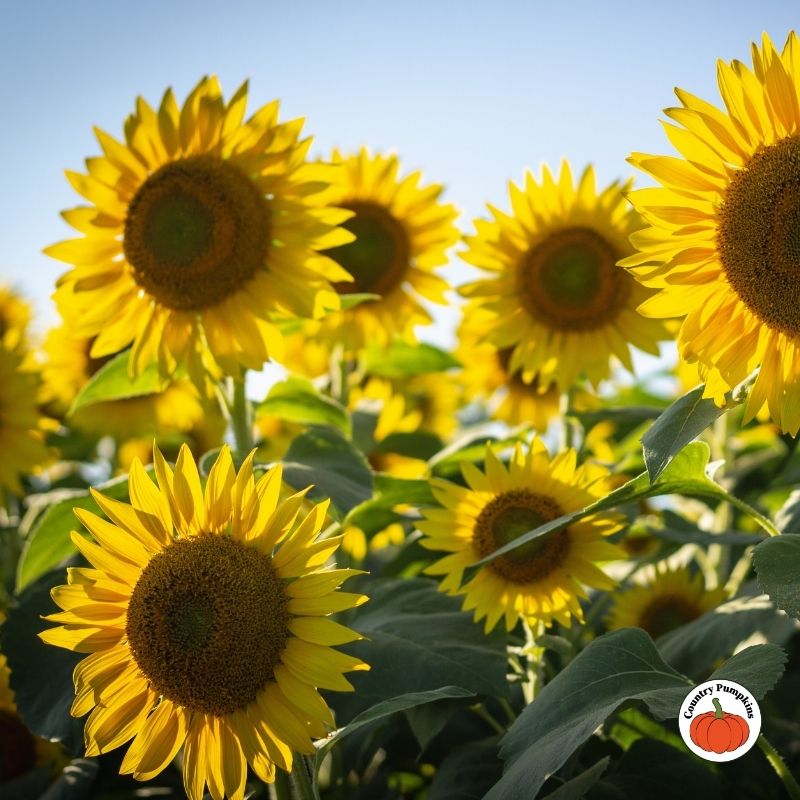 Location : Little Marcle, LEDBURY HR8 2LD
Country pumpkins have grown ten thousand sunflowers. Some are the 'Giants' variety – great for photo opportunities – and theye've grown an adjacent block of 'Sunrich Orange' variety (pollen free), ideal for the vase to cheer up a rainy August day!
Check out their facebook page for opening times and all the latest information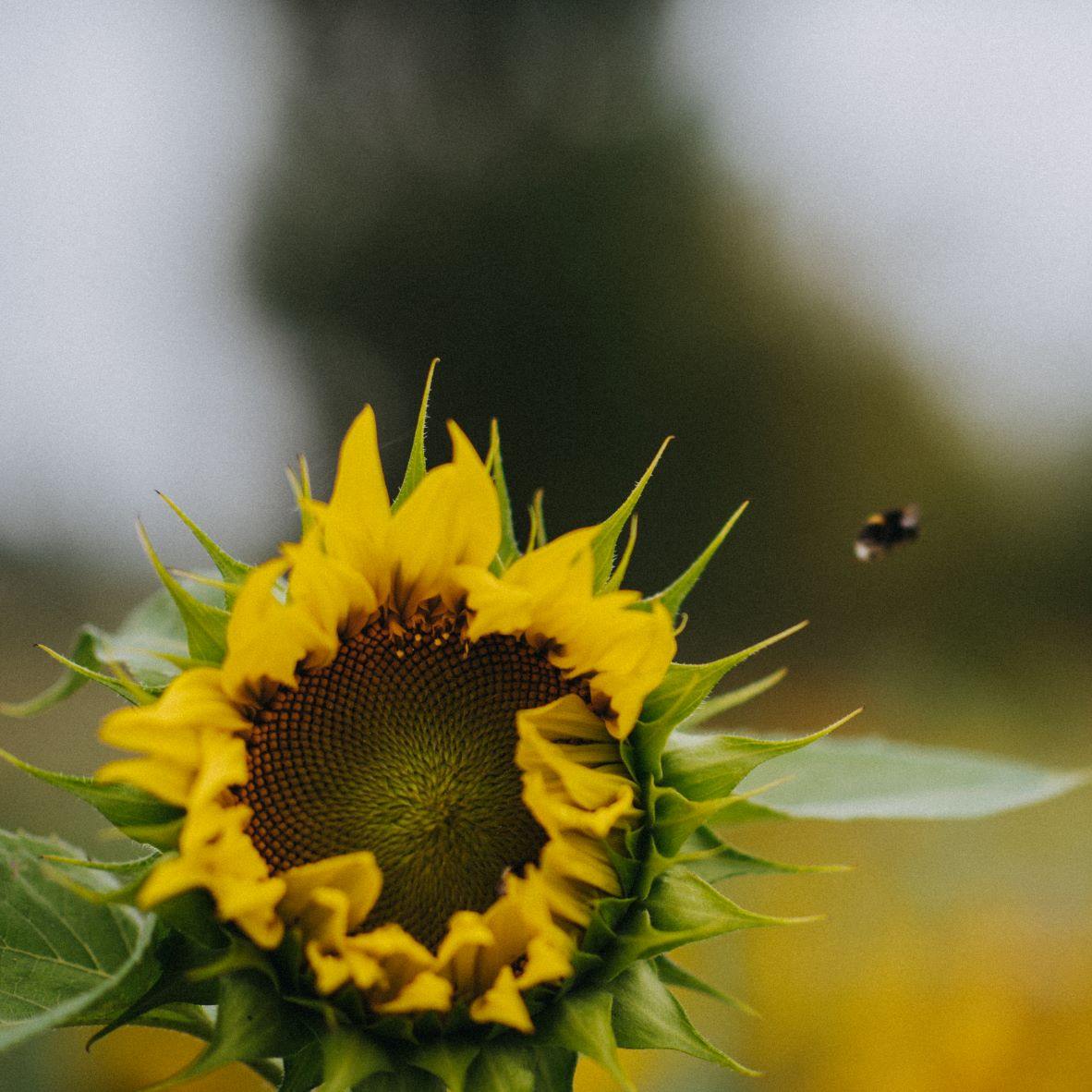 Location : Topsham, Devon, EX3 0QH
Our sunflowers are not quite ready, but please keep an eye on our social media as we will post updates on our pages!
SUNFLOWERS FOR HOSPISCARE
PICK-YOUR-OWN
Head to the entrance to the courtyard (near The Shack), collect your secateurs, follow the map to our sunflower field and have fun picking your own sunflowers. Don't forget to share your #DartsSunnySelfie whilst you're picking!
Return your secateurs and make a donation to Hospiscare in the main entrance, and then take your beautiful sunflowers home to enjoy!
All of the money raise from our Pick-Your-Own Sunflowers goes to an amazing local charity close to all of our hearts, Hospiscare.
Please make sure you wear sensible footwear, and be careful of any traffic.
Location : Ash Farm, Station Road, Dunham Massey, Altrincham, Greater Manchester, WA14 5SG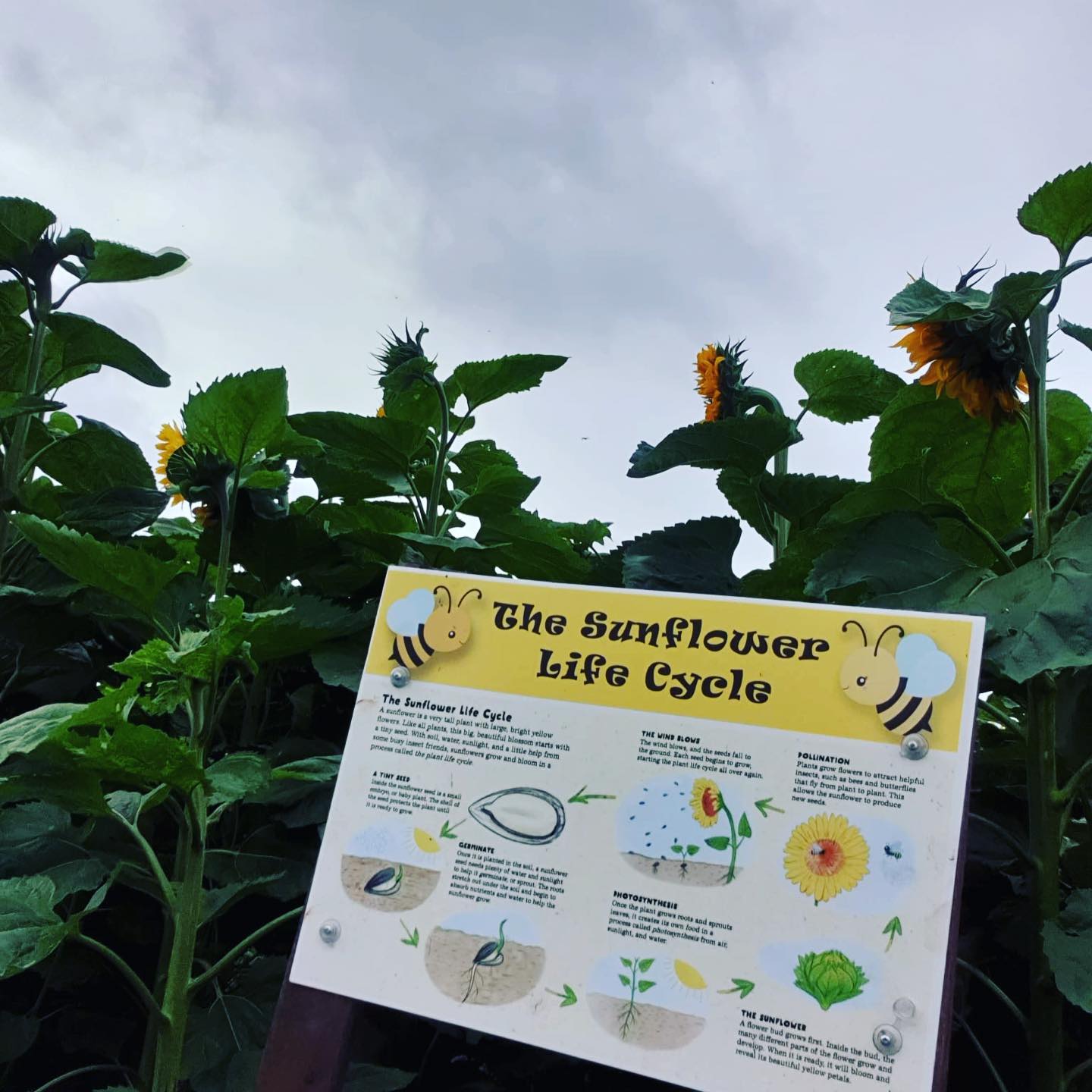 Take a walk through the Sunflower Trail, open daily from 12 – 5pm, Cost £2 per person, open until all the Sunflowers look sad 🙁
Take a stroll through the sunflowers- enjoy nature – photo opportunities – ice cream, pizzas – what more could you want!!?
Check out all the latest news on their facebook page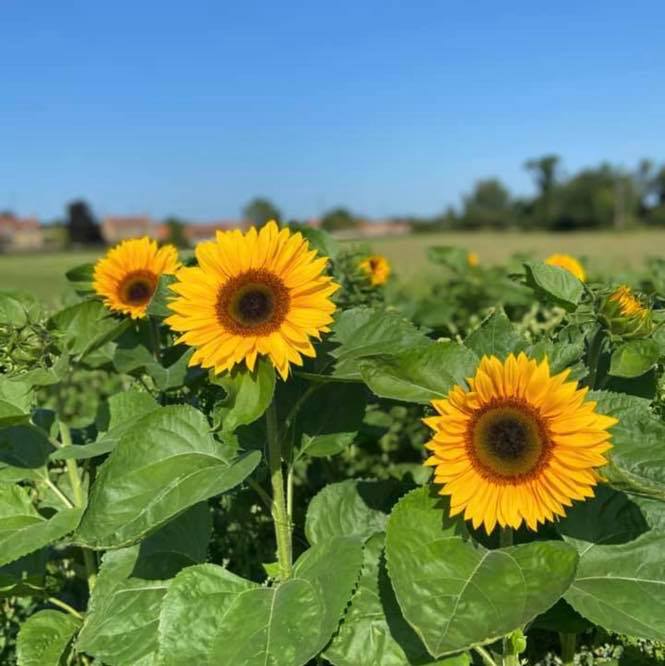 Location : Doncaster Rd, Tickhill, Doncaster DN11 9JD
There's SUNFLOWERS galore here at Eastfield Farm 🌻They make a brilliant photo opportunity, PLUS you get to take the sunshine home with you at only £1 per stem 🌻🌻🌻🌻🌻🌻🌻
Our tearooms and farm shop remain open as usual selling fresh produce and home made cakes so you can enjoy a full day out after the sunflower experience 🍰
🌻Sunflowers £1 per stem
🌻Please bring secateurs as we do not provide these
🌻DN11 9JD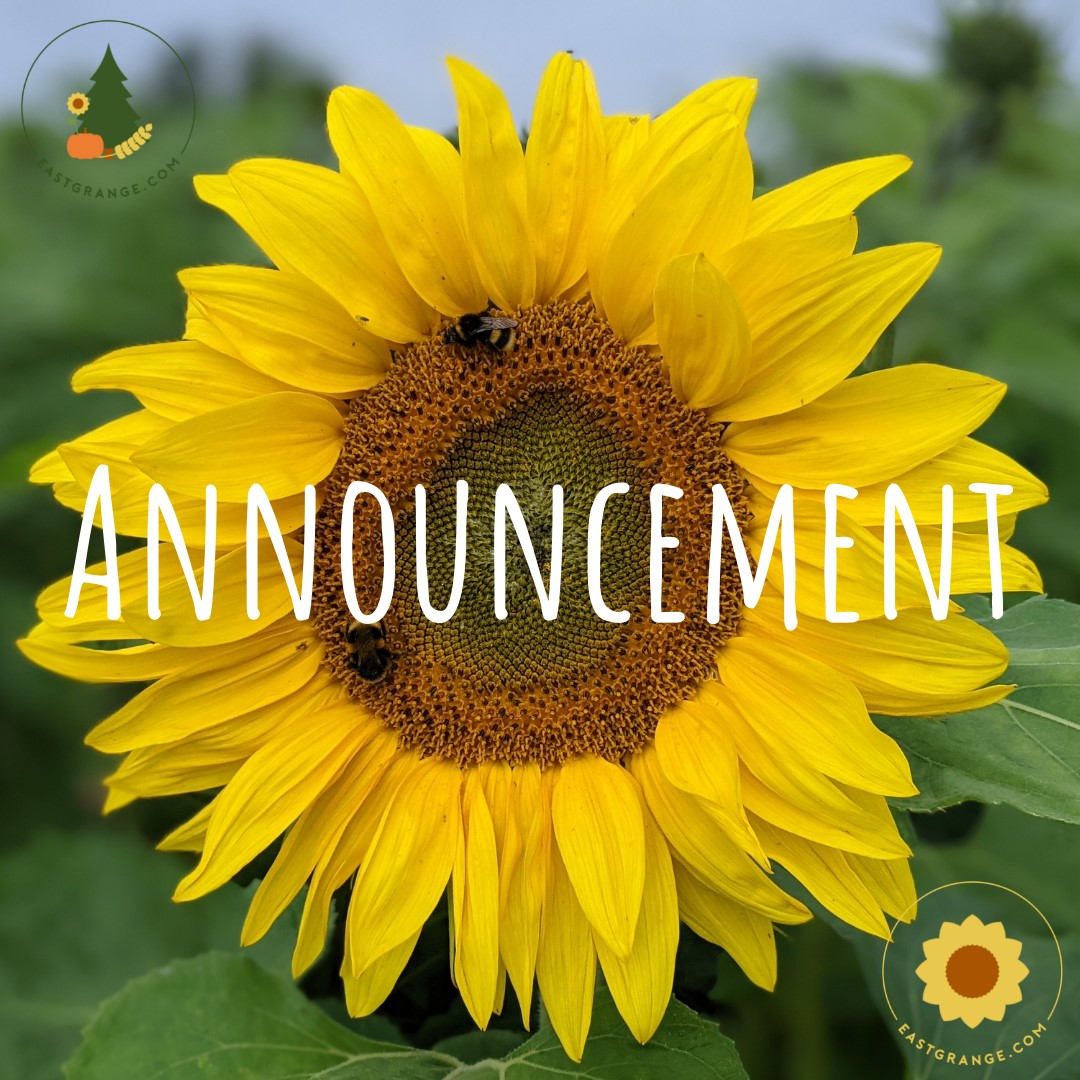 Location : East Grange Farm, High Shincliffe, Durham, DH1 2TB
This year we have planted 3 acres of sunflowers intending to open our sunflower field to the public
We have cut a trail through the sunflowers with fact boards and plenty of places to stop and get your photo with the sunflowers
We are aiming to be open on the 4th and 5th of September to start with and hope to add more dates depending on interest
Entry will be by pre-booked tickets only which will go on sale soon and we will post more info and keep you updated before they do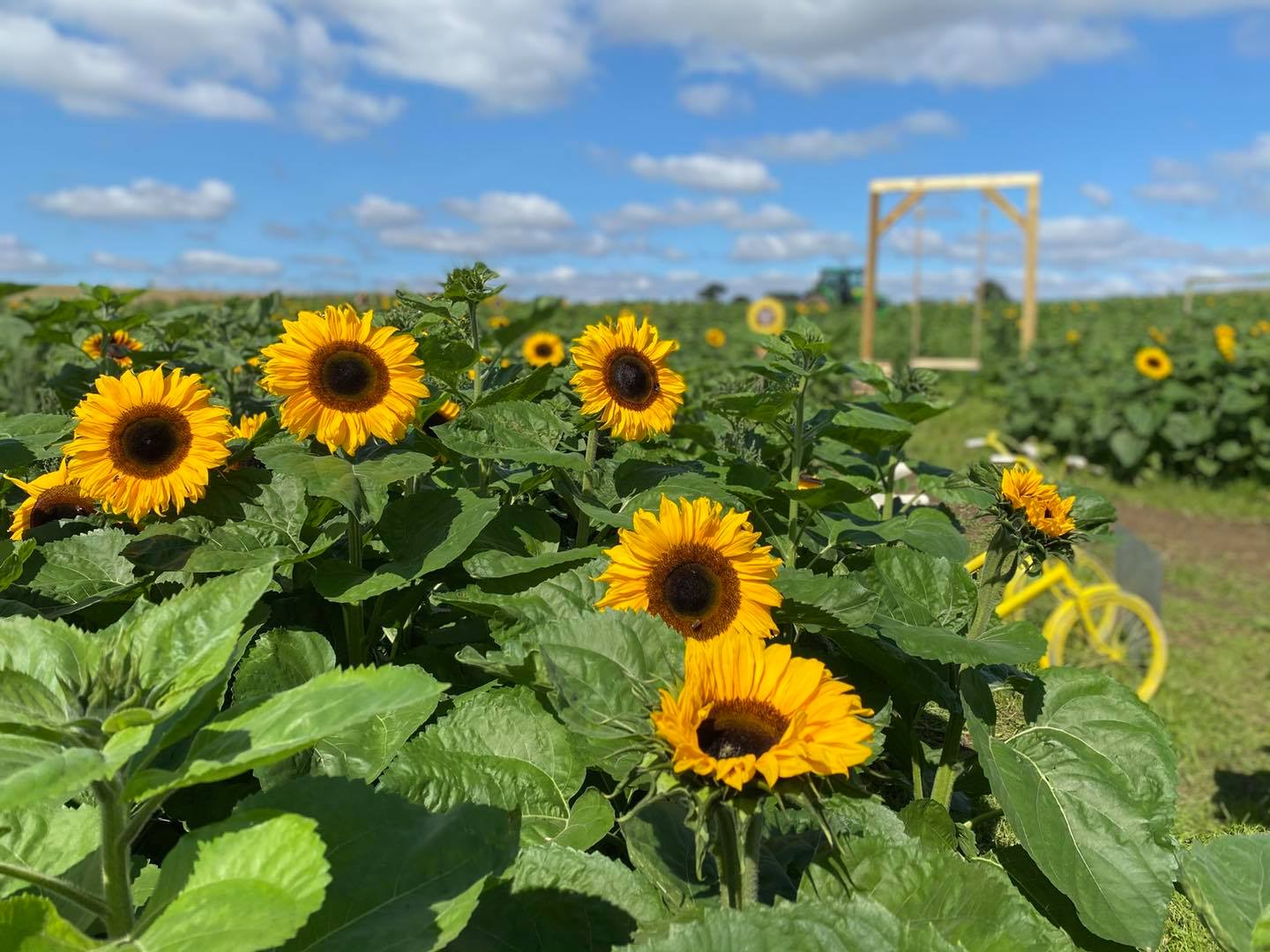 Location : Ravensknowle Farm, Pontefract Road, Pontefract, West Yorkshire, WF7 5AF
We've grown loads of sunflowers of different varieties. As usual we've got
loads of photo ops too including our classic Chevy and NEW giant swing…
Entry to our sunflower field is £4.99 which includes up to 3 stems. It is FREE for under 3's who won't require a ticket (this doesn't include any sunflower stems).
Extra stems are £1 each.
We will be releasing dates 2 days in advance as the Sunflower season won't last too long. Unfortunately the field isn't accessible for wheelchairs or pushchairs.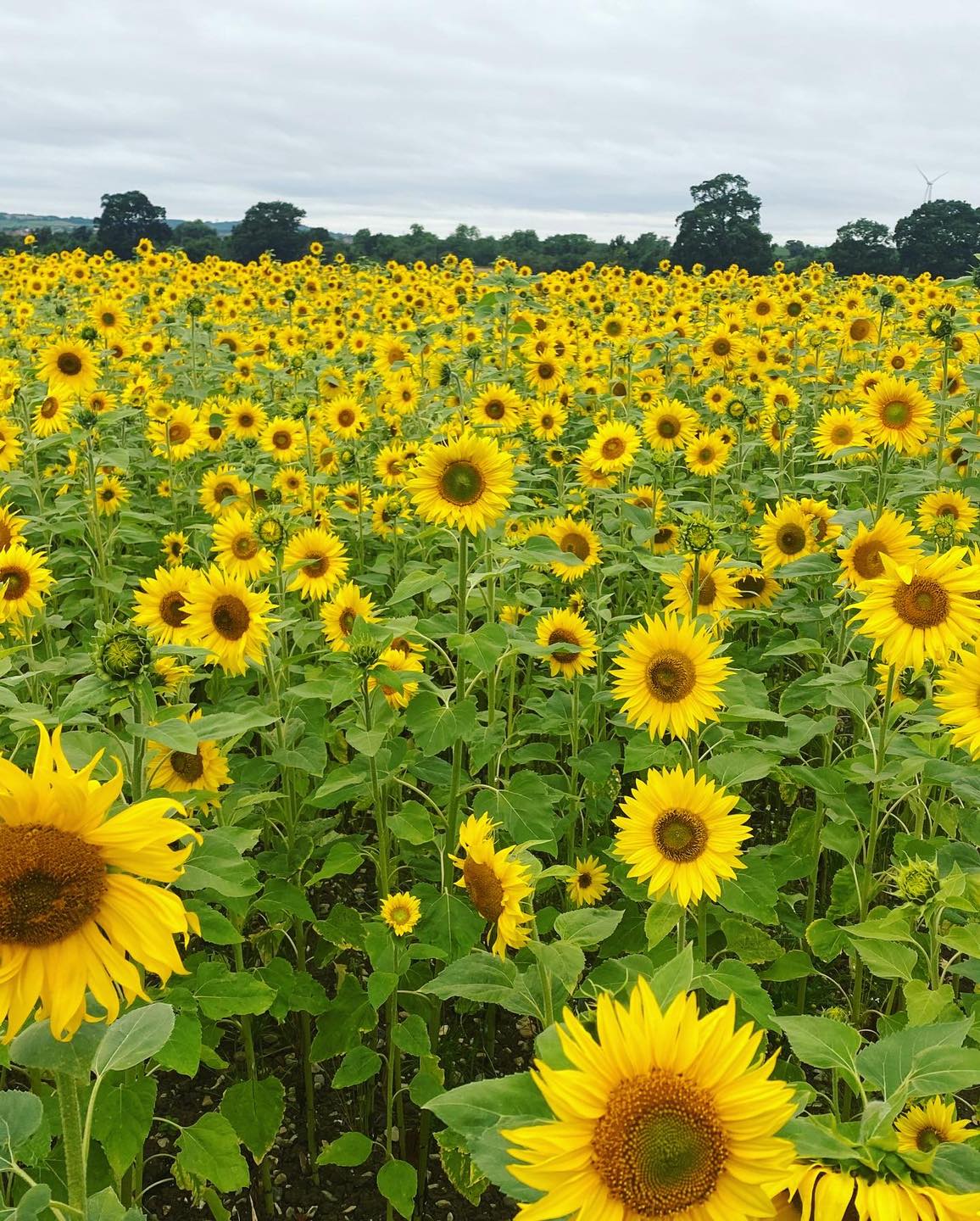 Location : Weedon Hill Farm, Buckingham Road, Weedon, Aylesbury, Buckinghamshire, HP22 4DP
OPEN 10th – 17th August 2021 9.30am – 4pm £2 per adult Children under 16 FREE
Check out their social media as they still have lots of Sunflowers in the field, so are opening longer
Come and enjoy a trip out to Farmer Paul's stunning Sunflower Field
A Sunflower Trail to enjoy through the field with a scavenger hunt for the children. The Trail is approximately 400m long but there is a short cut to the middle and a quick exit for those who don't want to walk that far.

A PYO Cutting area where you can choose and cut your own sunflowers to buy (please bring your own cutting Implements. Unfortunately they are not able to provide any secateurs for hygiene reasons)
Lots of photo opportunities with our famous straw bale painting, scarecrow, peep board, giant chair and lots more.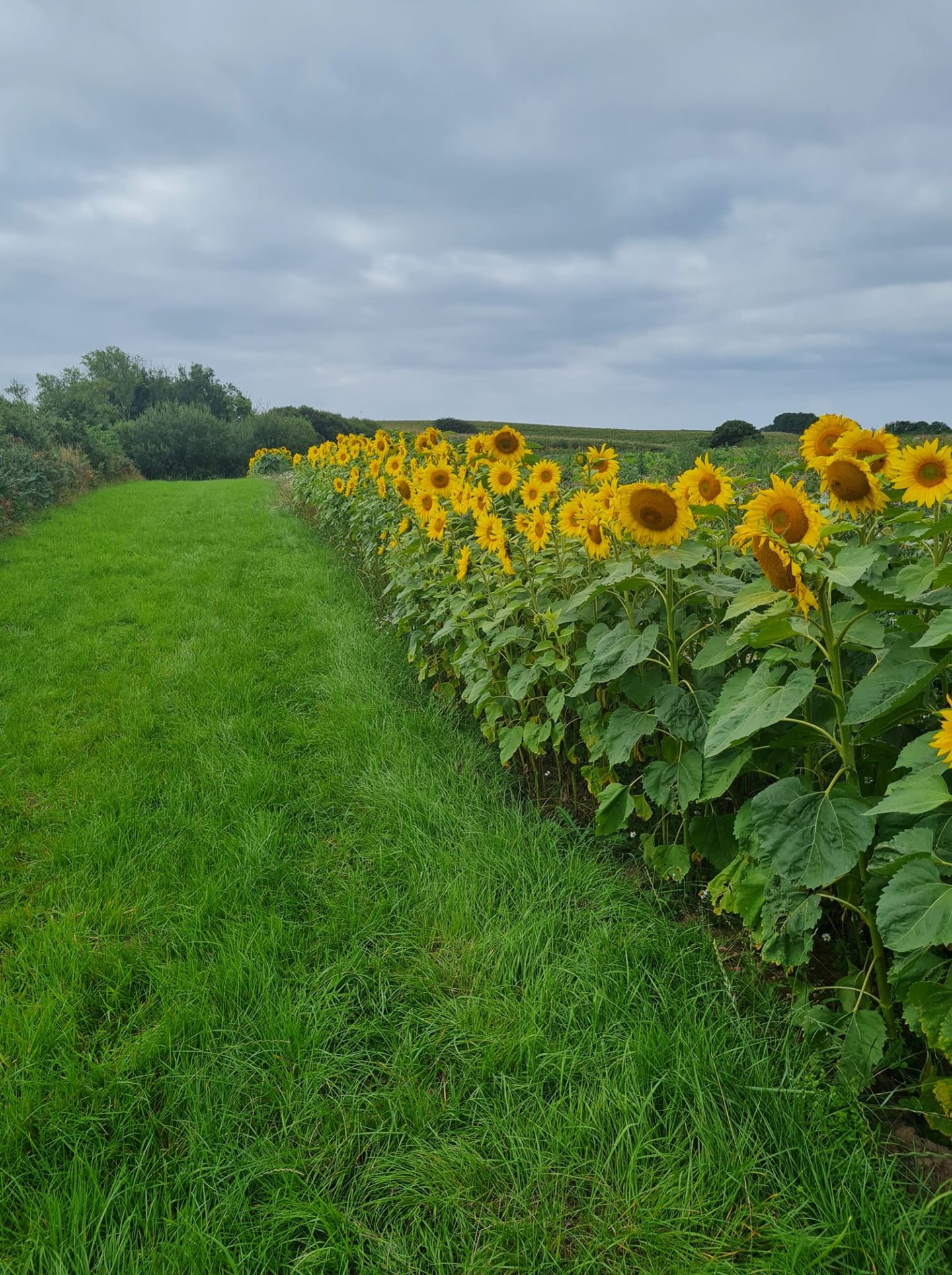 Location : Page Bank Farm, Rampside, Barrow in Furness, LA13 OQR
The Farm Gardens South Lakes.This is a unique pick your own experience for everyone to enjoy
Open till 5pm
💐Pick your own flowers
🥔Dig your own potatoes
🌻Follow the sunflowers and you can now pick them!
🥪bring your own picnic
LA130QR PAGEBANK LANE
COME AND ENJOY US WHILST THE SUN IS OUT 🌻🌻🌻🌼🌼🌷🌷🌷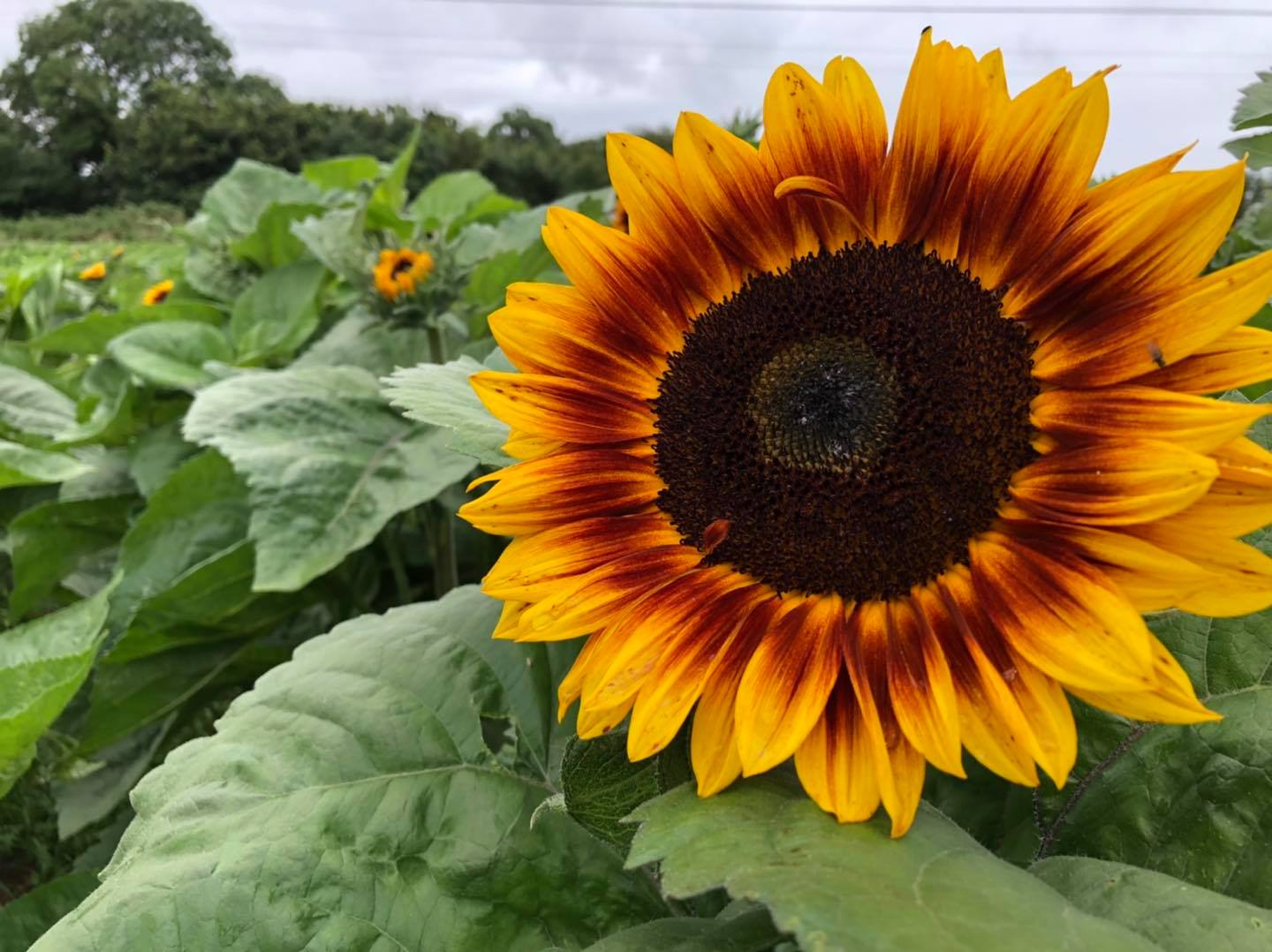 Location : Farrington Gurney, Bristol, BS39 6UB
They have planted acres of Sunflowers at Farrington's and are inviting you all to pick your own. They have lots of different sunflower varieties. including 'Giant Sungolds', 'Firecrackers' and 'Russian Mammoth' sunflowers so there is plenty to choose from.
They are open throughout August and into September. Tickets are available via the website and must be pre-booked in advance. Tickets are £5 for every five stems. You will need to book your tickets based on how many flowers you would like rather than how many people are in your group.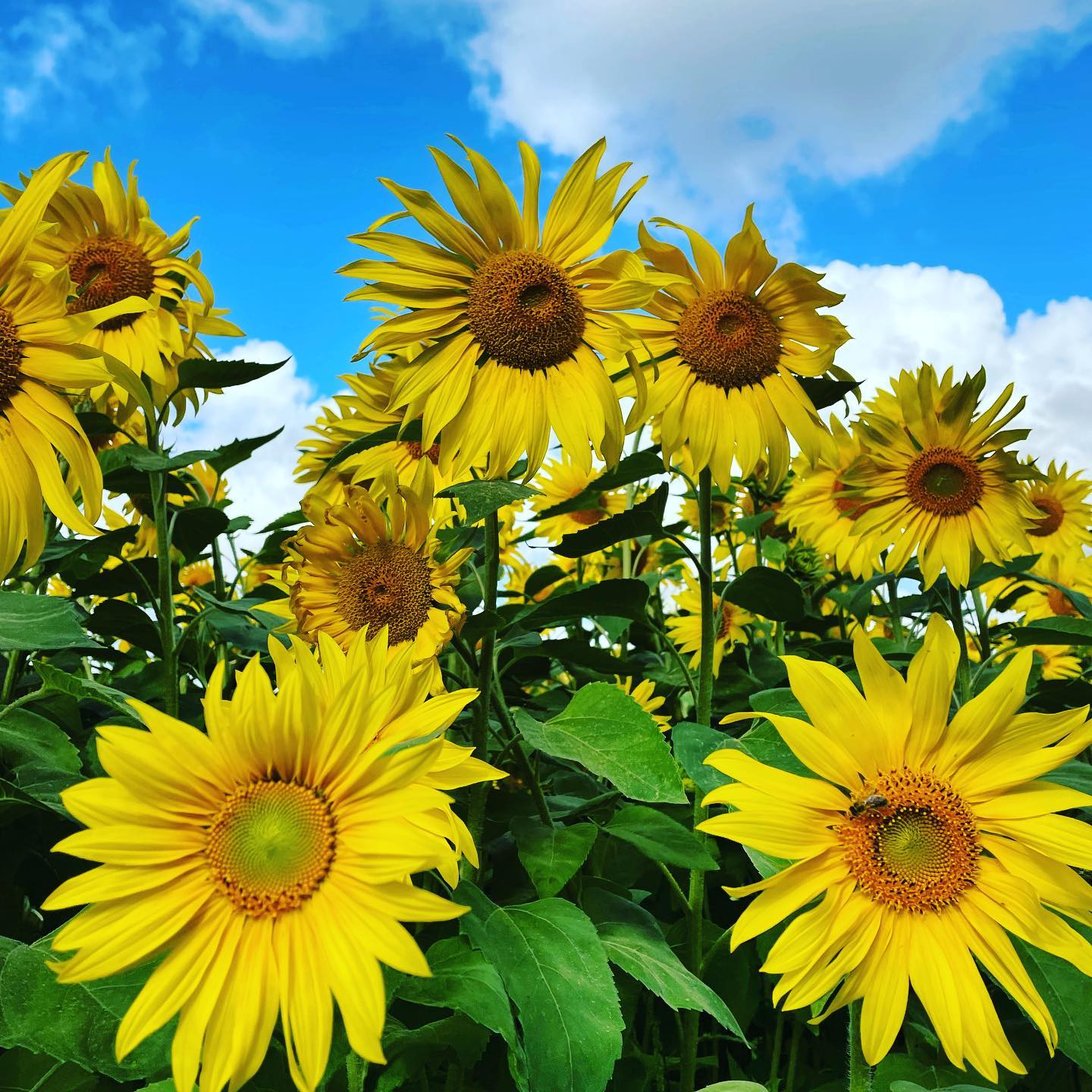 Location : Felderland Farm PYO, Deal Road, Sandwich, CT14 0BE
🌻🌻It's a Stunning Sunny Sunflower day here at the farm🌻🌻
🔆😁We are open 10-4 😁🔆
For Picking today we have: Strawberries, Sunflowers, Sweet Peas, Blackberries AND Apples.
And our "Pick Me Up" Coffee shop has lots of tasty cakes, barista coffee, ice cream and our own refreshing Juices!
While the children can enjoy our farm themed playground with our ever popular mini tractors!
🕙 Open 10-4
☀️No need to book
☕️Coffee Shop onsite
👭Farm Themed Playground
🍐New Car Park
🎃Pumpkins in October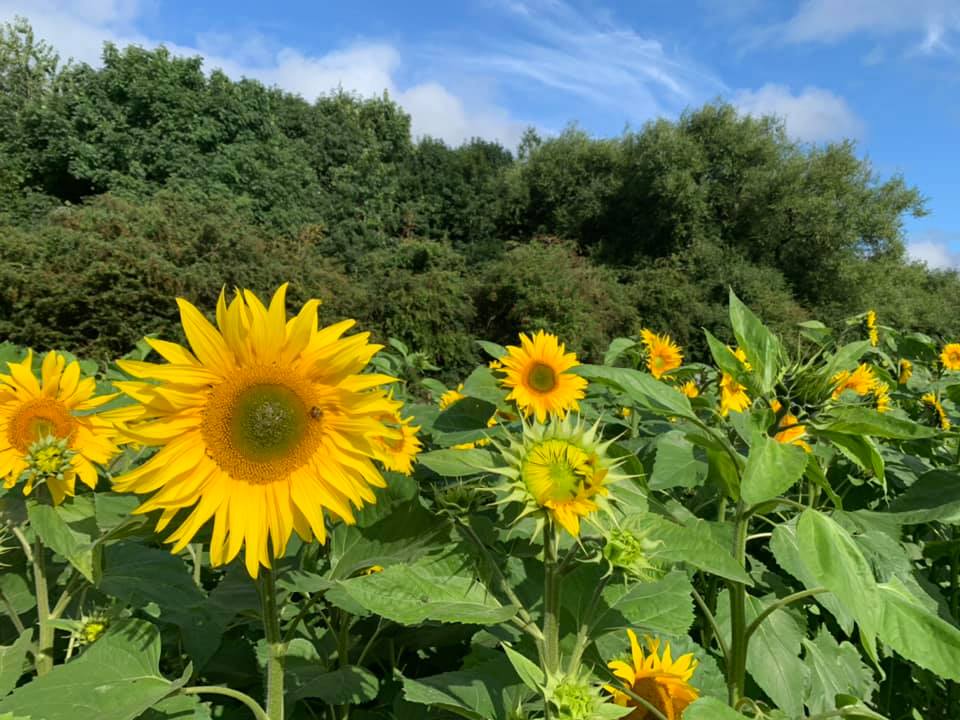 Location : Forge Ln, West Bromwich B71 3SZ
Sunflowers @ Forge Mill Farm
Opening Monday 23rd for at least 2 weeks
Sunflower Trail, Photo Opportunities and More
Entry included in Forge Mill Farm ticket price
The Field should be out in full bloom by the weekend if the sun keeps shining
This is a trial for Forge Mill Farm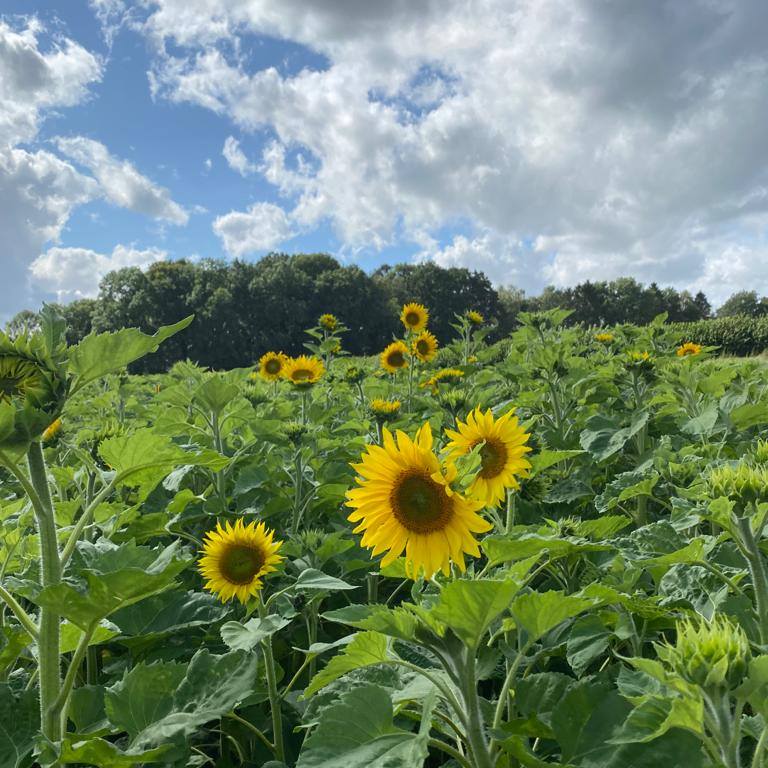 Location : Four Winds Farm, Penshurst Road, Bidborough Tunbridge Wells TN3 0LL
🌞The sun is out and so are the sunflowers!🌻
The field is looking stunning and in perfect time for next weeks Sunflower Trail 9-15 August🌻 Mini Maze and Sunflower Trail 🥔New – Potato Dig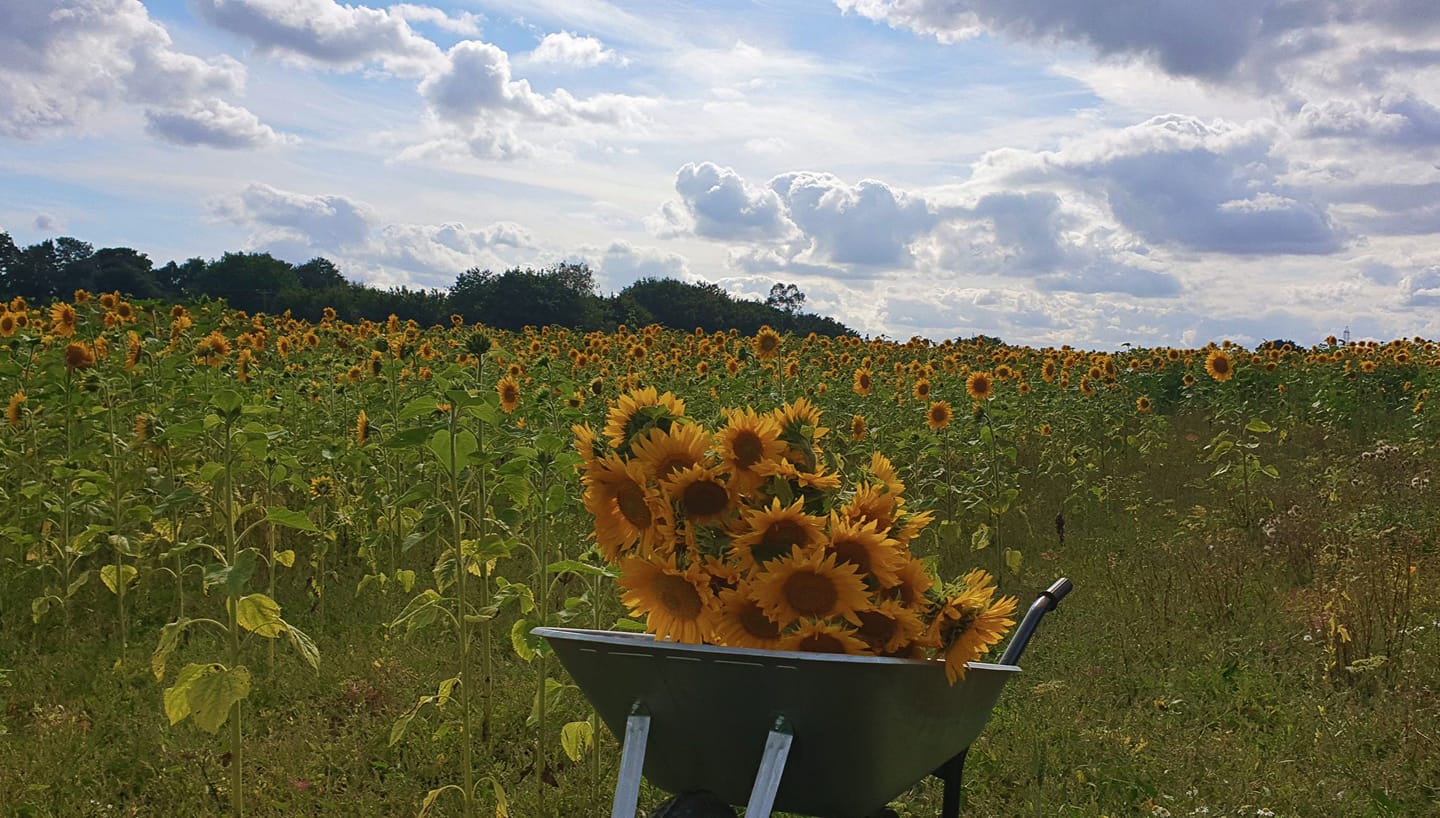 Location : Frog's Farm, Willow Farm Bungalow, Norwich Rd, Eye IP23 7ED
Farm on the A140 running pop up events through the year keep an eye on their fb posts for more details. This year they have a sunflower maze and a pumpkin patch.
Free Range fresh eggs for sale daily on the farm gate.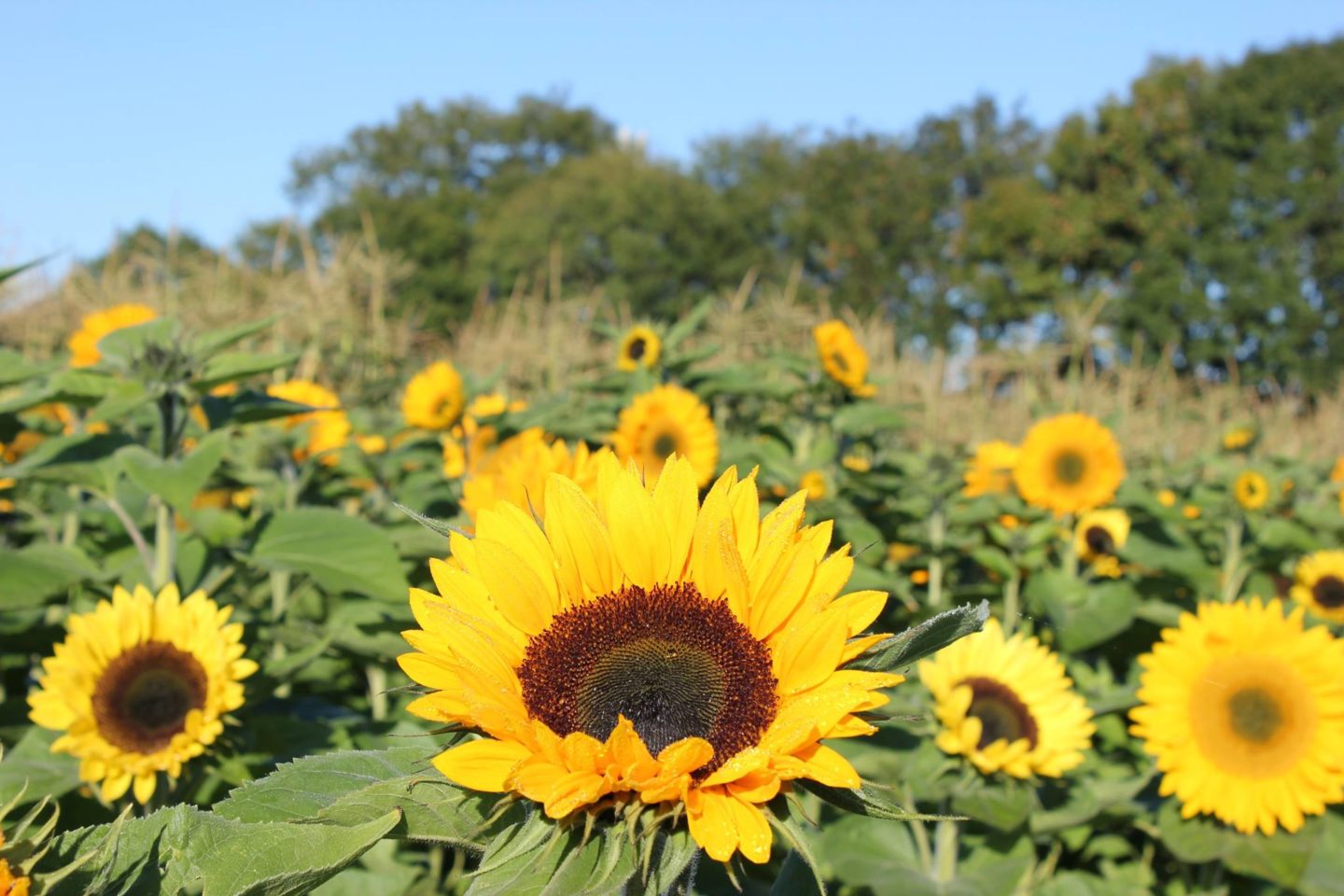 Location : Garsons Esher, Winterdown Road, Esher, Surrey, KT10 8LS
Garsons Farm in Surrey offers two pick-your-own fields for visitors to harvest their own Sunflowers of choice. They bloom in July and August so make sure you mark it on the calendar to pay them a visit.
Garsons is an award-winning farm shop and garden centre with locations all over England. At Esher, it has the UK's largest 'Pick Your Own' Farm which invites visitors to come along and pick a variety of produce to take home with them.
Check out all the latest news on their facebook page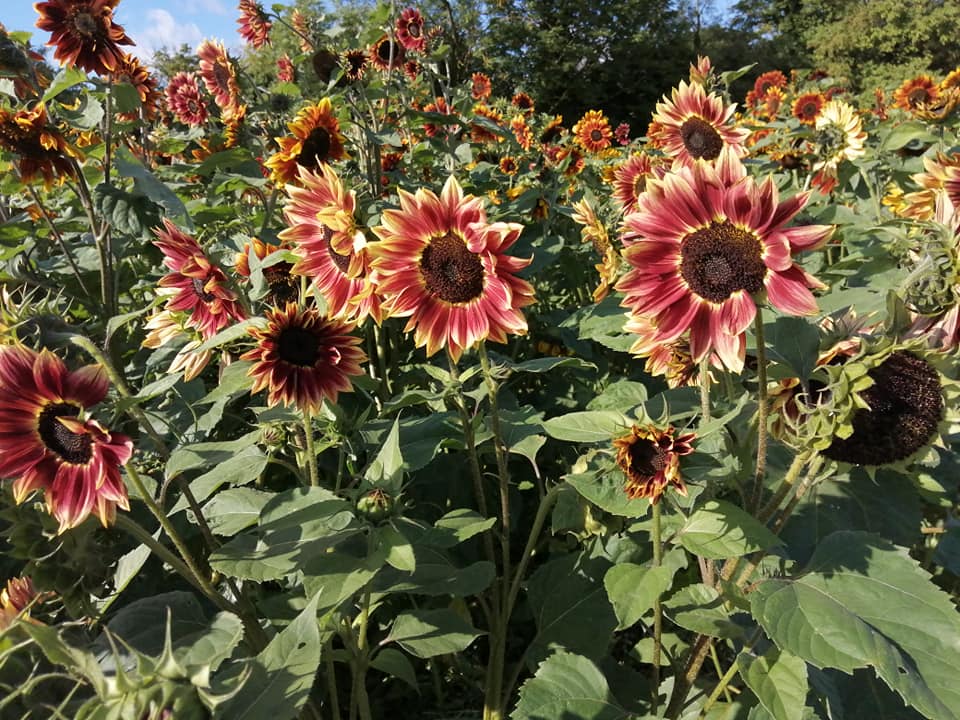 Location : Wood Lane, North Wheatley, Retford, Nottinghamshire, DN22 9BG
Grab yourself some Sunflowers whilst you still can, 50p per stem or 3 for £1, but make sure you bring something to cut them with.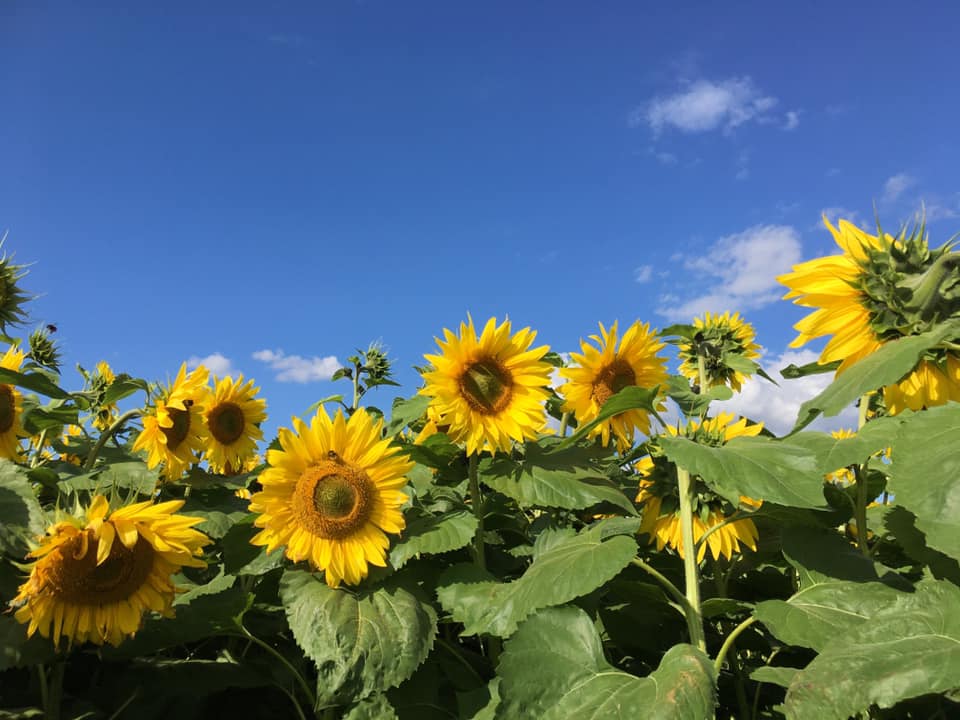 Location : Lower Brailes, Banbury, Oxfordshire, OX15 5HR
They are a family farm in Lower Brailes in the Cotswolds offering Pick Your Own Daffodils & Sunflowers. Open 10-1pm & 6-7pm everyday this week. Remember scissors
& wellies!!!! It has rained so there will be mud. Sorry no dogs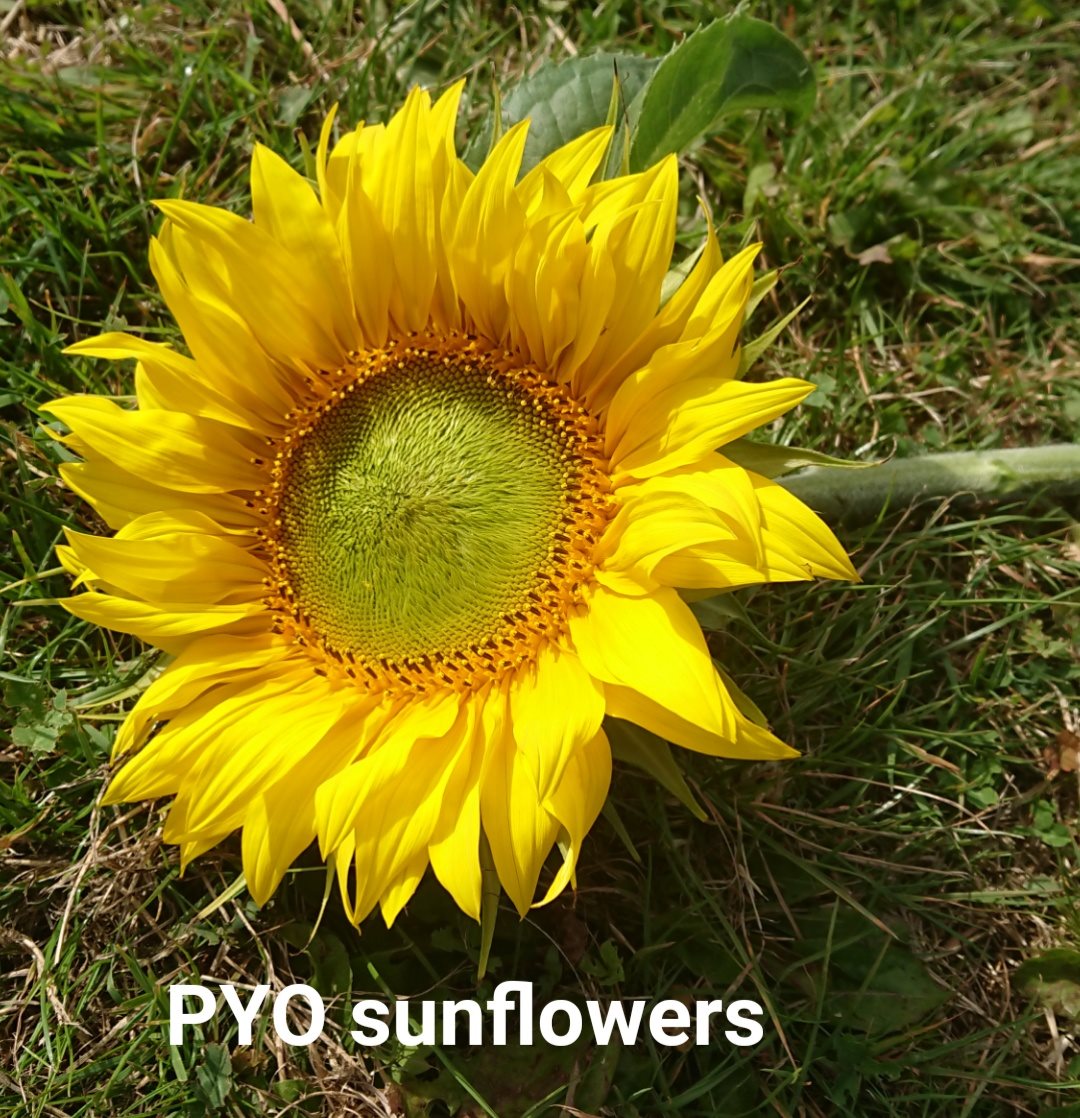 Location : Oundle Road, Chesterton, Peterborough, Cambs, PE7 3UA
We have several sunflower rows, at different stages of growth. The earliest seeded rows are coming towards the end of blossoming, but are perfect for bird feeders. The later seeded rows will be in blossom soon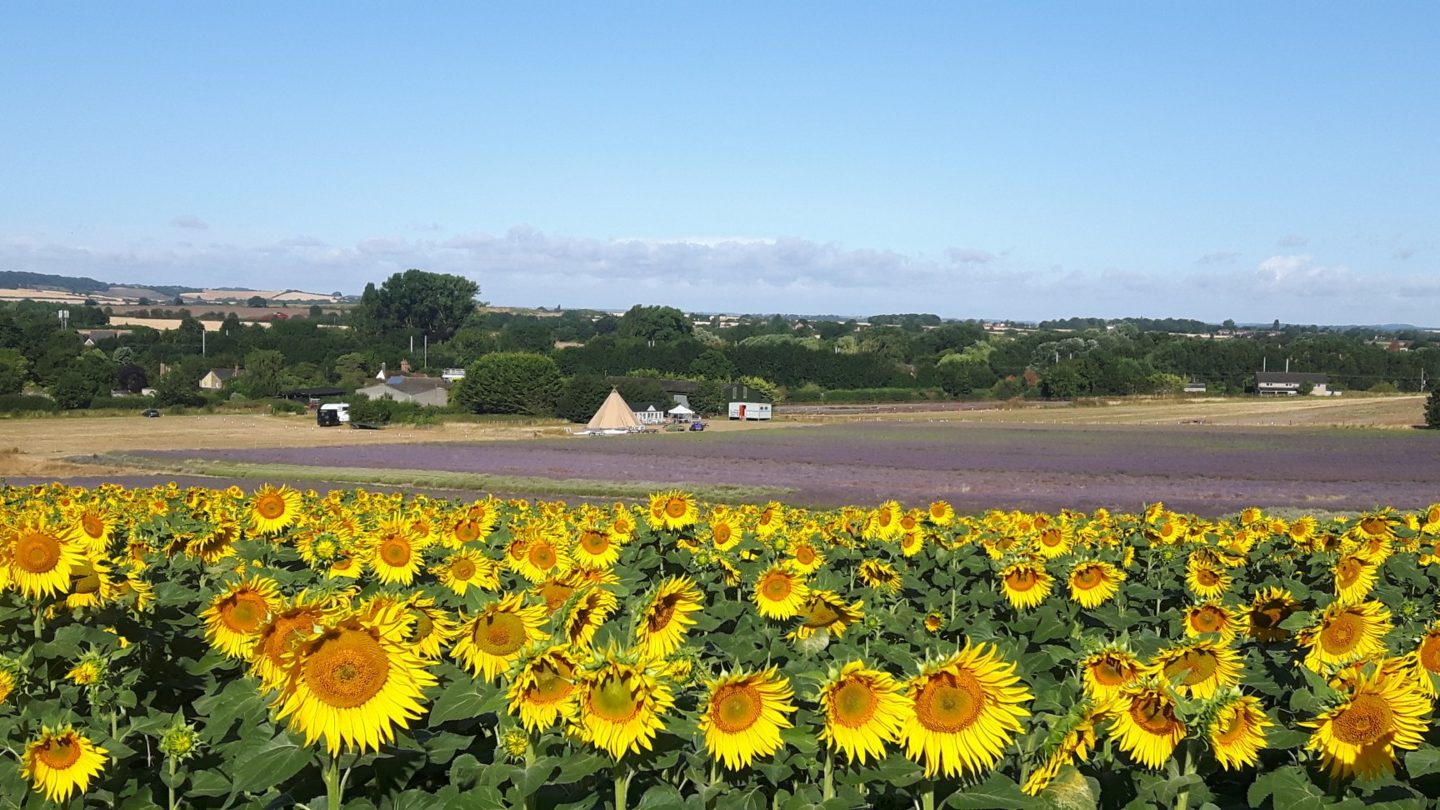 Location : Cadwell Farm, Ickleford, Hitchin, Herts, SG5 3UA
Hitchin Lavender is best known for their beautiful lilac lavender, but in August the fields next door are filled with beautiful sunflowers which are just as stunning.
Sunflower stems are charged at just 50p per stem, so you can have a stunning centrepiece for just a few pounds.
Check out all the latest news on their facebook page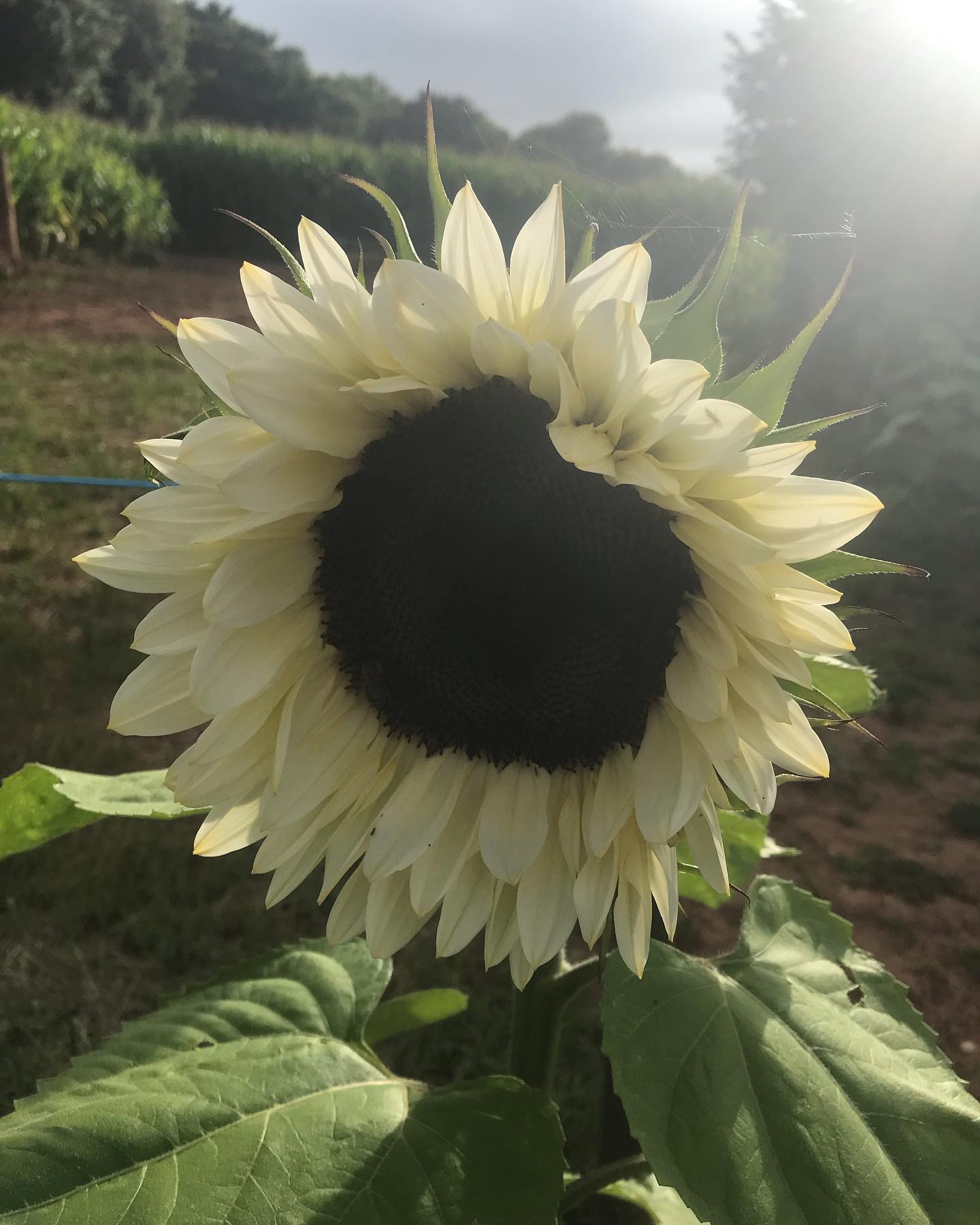 Location : The Jolly Group Fields, Silverton, Exeter, Devon, EX5 4DU
The sunflowers are now coming into bloom, Hooray!! This now means that there are 5 acres of flowers!
Sunflower Update
They now have more varieties starting to flower. They're blooming fabulous! Go down and pick them whilst they're still there! 1 free sunflower per adult ticket.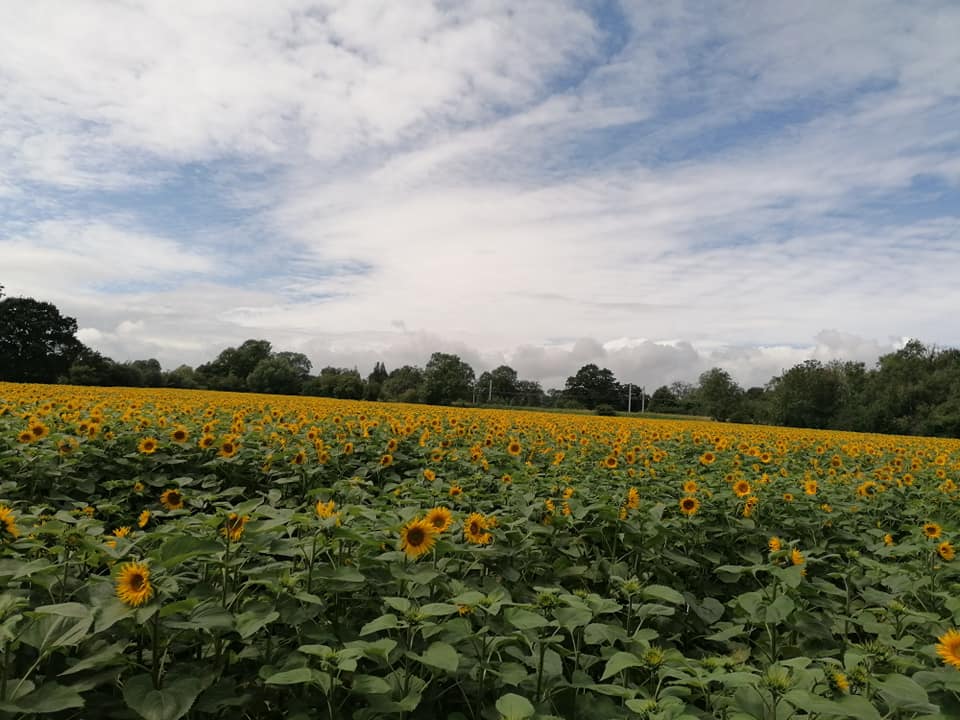 Location : Near Chippenham, Wiltshire, SN15 4LJ
PICK YOUR OWN SUNFLOWERS OPENING FROM WEDNESDAY THE 11th AUGUST
– Near Chippenham, Wiltshire, SN15 4LJ
– Opening from the Wednesday 11th August for approximately 10 days. Opening hours will be 10am – 7pm everyday. Opening until 9pm on Saturdays
Field location is just outside Chippenham, Wiltshire & is within 5 minutes from junction 17 off the M4. Postcode to field – Peckingell, SN15 4LJ. Google maps will take you to the entrance. There will be ample signage.
Pay on exit of the sunflower field. PYO sunflower stems are £1 each and pick as many as you like. All payment methods accepted, even PayPal(must have the PayPal app on your phone to use PayPal). Sunflower seeds from last years crop will be available to purchase in 1kg bags at £1.80 each including vat
Please bring your own cutting equipment to cut the sunflowers, their stems can be very fibrous & tough to cut. Therefore using a pair of secateurs is advisable but scissors, pocket knife and even a simple serrated key will do the job! Please wear appropriate footwear to the field
Large car park available. Plenty of space across the whole field if you want to avoid others. Toilets available. Picnics allowed. NO DOGS ALLOWED – except assistance dogs. Lots of different photo opportunities to be had within the field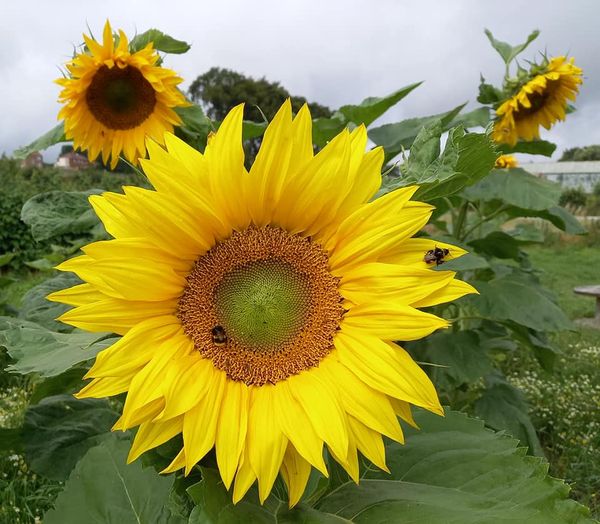 Location : West End lane, Horsforth, LS18 5ES
Further details to follow for 2022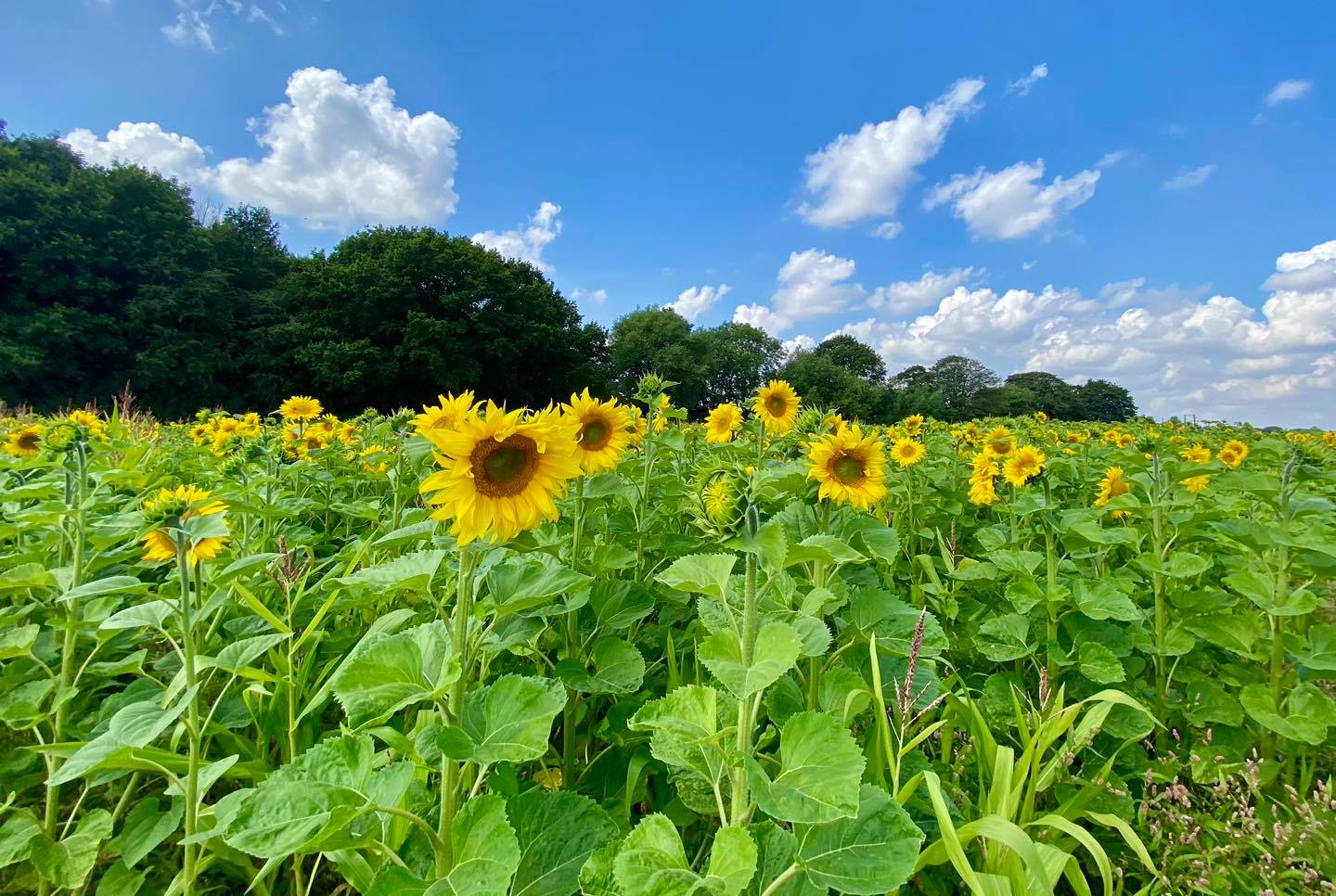 Location : Winwick Lane, Croft, Warrington, ​WA3 7ED
Welcome to our 'Pick You Own' Sunflower experience! Visit our huge sunflower patch and choose the perfect sunflowers to take away and enjoy! Tickets are £1.75 per person for adults and children (infants under 18 months are free) and each ticket includes one complimentary sunflower to take home, with additional sunflowers costing £1 each.
NB – The patch opens in all weathers and we advise everyone to wear wellies. Please bring your own cutting equipment with you (e.g. secateurs or sharp scissors).
They're currently taking bookings to visit up to Mon 23rd August, but depending on the amount left this may be extended.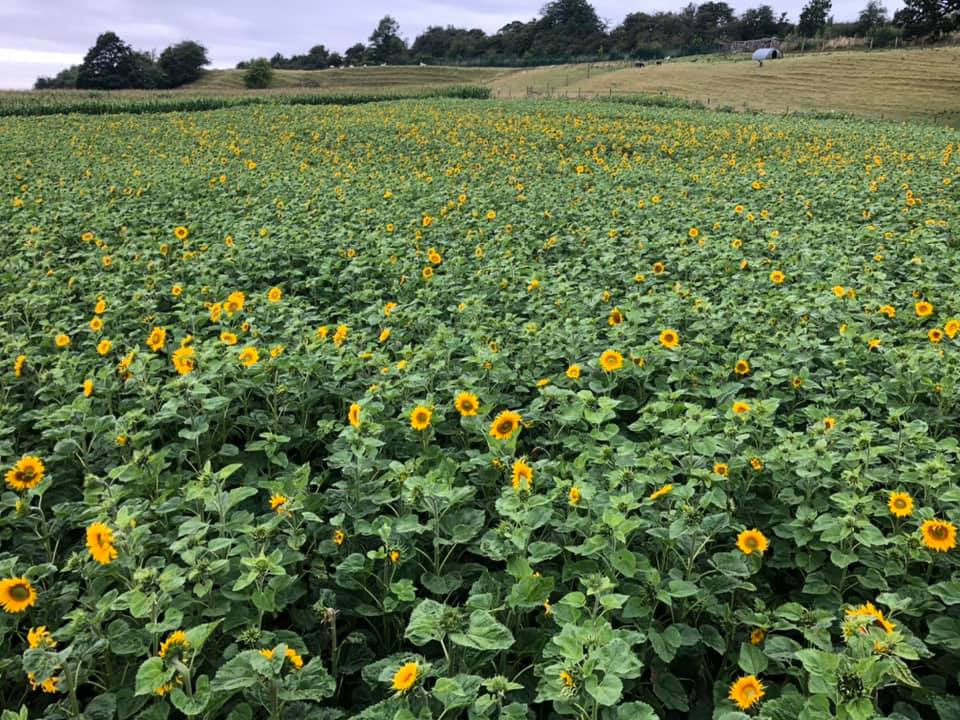 Location : Raines Hall Farm, Sedgwick, Kendal, Cumbria, LA8 0JH
Sunflower season is here
Pick your own is now available as one of our activities from 50p per stem. Book your entry tickets at www.lakelandmaze.co.uk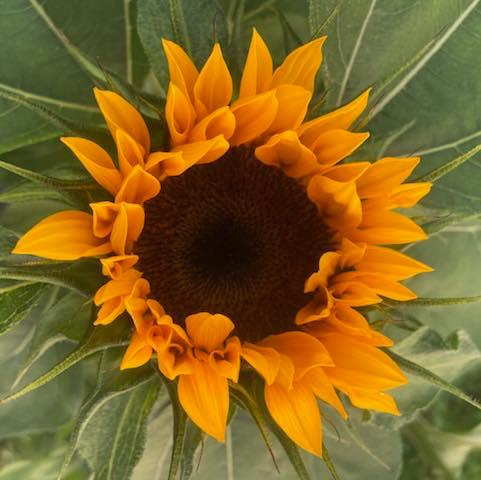 Location : Beehive Lane, Galleywood, CM2 8LX
Lots of Sunflowers available for PYO, limited stocks this year so don't miss out! £1.50 a stem.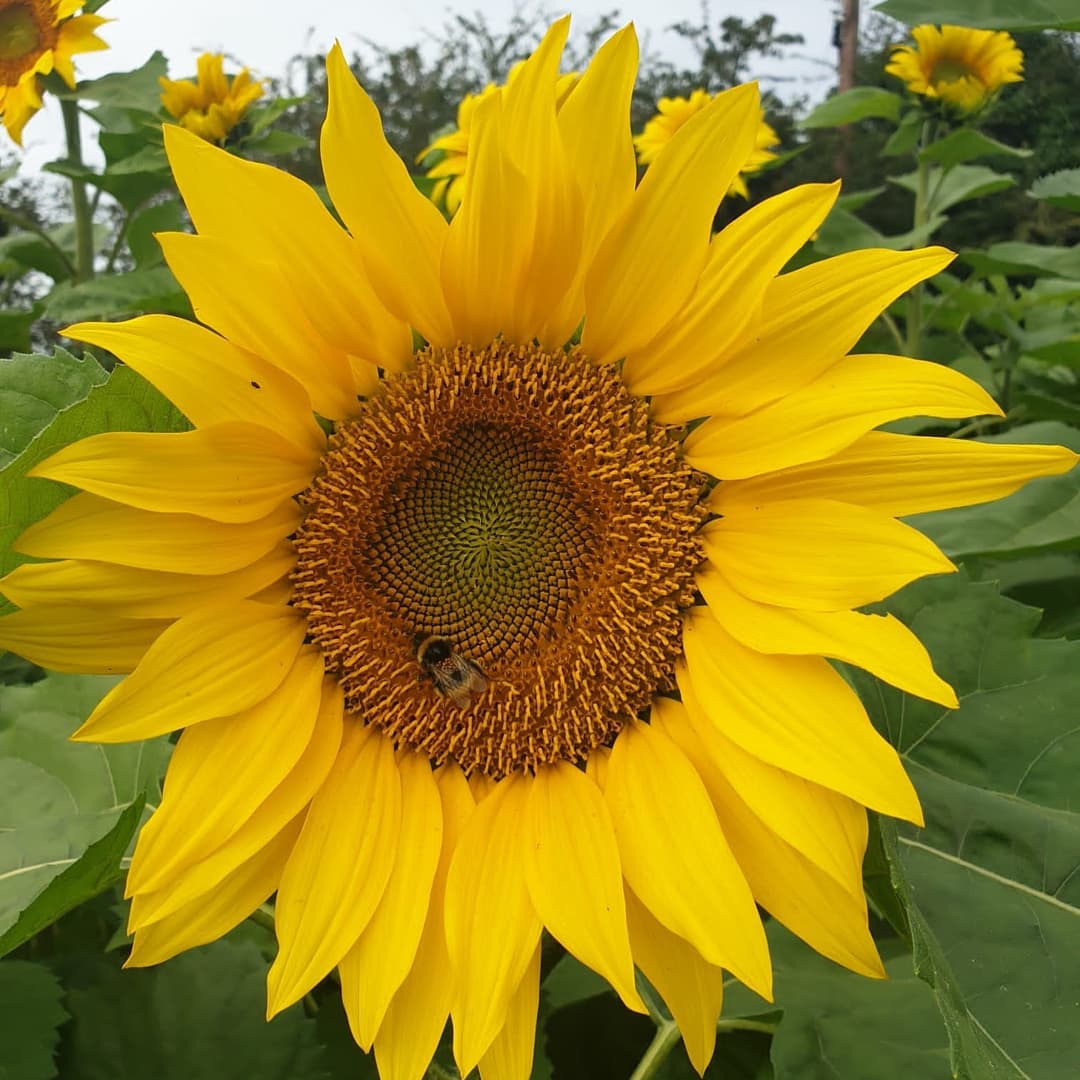 Location : Soldiers Road, Norden, Corfe Castle, Wareham, Dorset, BH20 5DU
Considering growing Sunflowers for PYO, instead of just being able to take selfies and purchasing pre-cut, check back later in the season for updates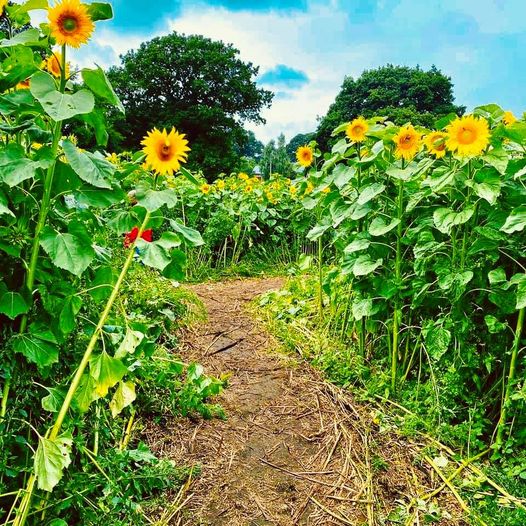 Location : Shellow Lane, Macclesfield, SK11 9RS
As from August 2021 Cheshire now has its very own Sunflower Maze and Picking available to members of the public.
Set in the heart of the beautiful Cheshire Countryside, Gawsworth, Macclesfield is now the home of a 8 acre Sunflower Maze. The site provides a fun filled family day out offering free parking, toilets and onsite refreshments.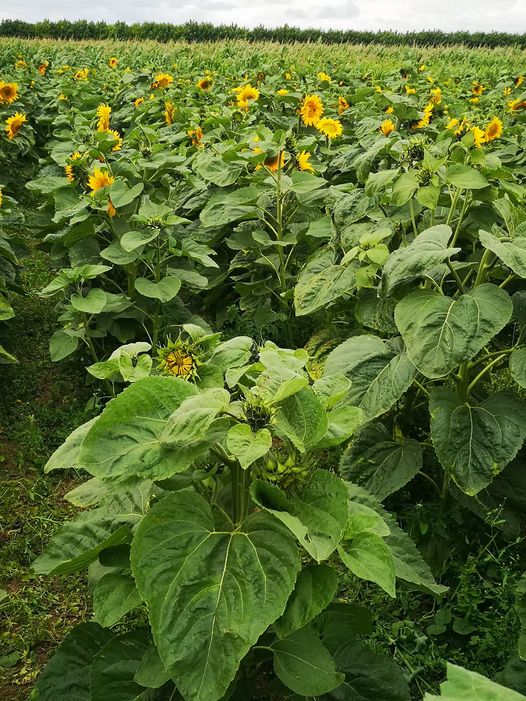 Location : Prickwillow Road, Isleham CB7 5RG
Opened for the first time in 2021 for PYO Sunflowers, looking to expand in 2022, check back later in the season for further updates.
Location : Stockholt Farm, Lillingstone Dayrell, Buckingham MK18 5AF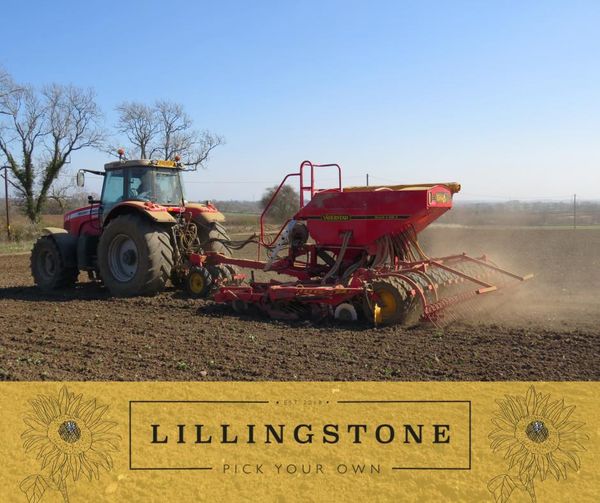 8th August Update
Farmer Tom and his little helper have been out this afternoon crop walking through the sunflowers!
They are growing well! We just need some sunshine now to help them along their way!
We are expecting them to bloom in the next couple of weeks. Keep following for updates. As soon as they start to bloom, we shall let you know! We cannot wait to welcome you to our sunflower experience
Location : Lodge Farm, Kineton, CV35 0JH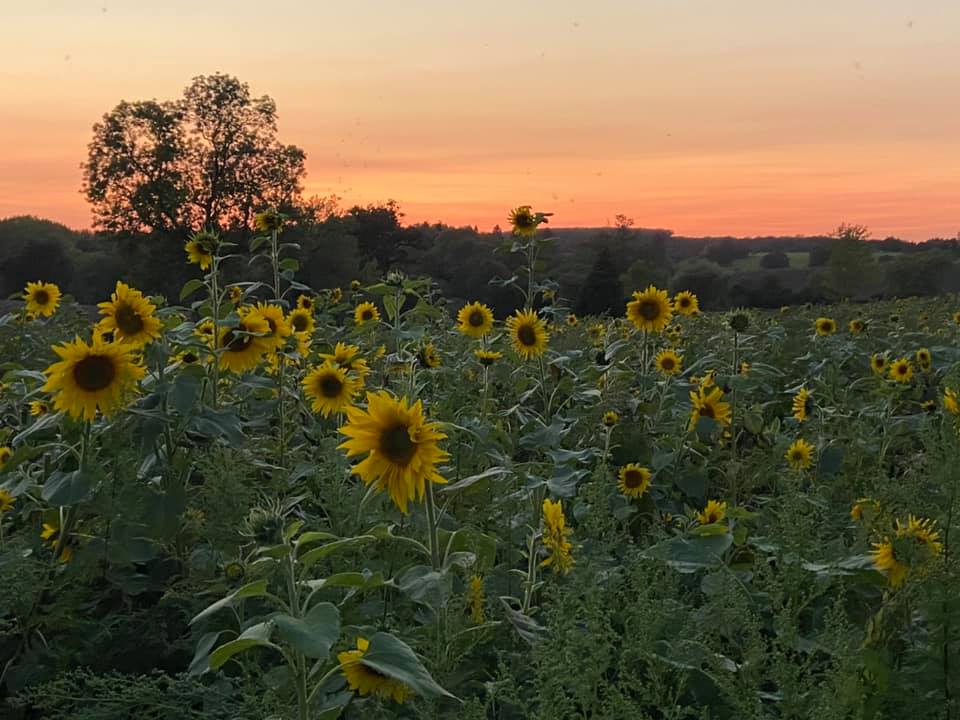 Every Summer, Lodge Farm in Kineton have a pick your own sunflowers, all money raised will go to a specified charity.
You can keep up with the progress of the sunflowers as they grow and find out further information regarding chosen charity and opening times by checking out their facebook page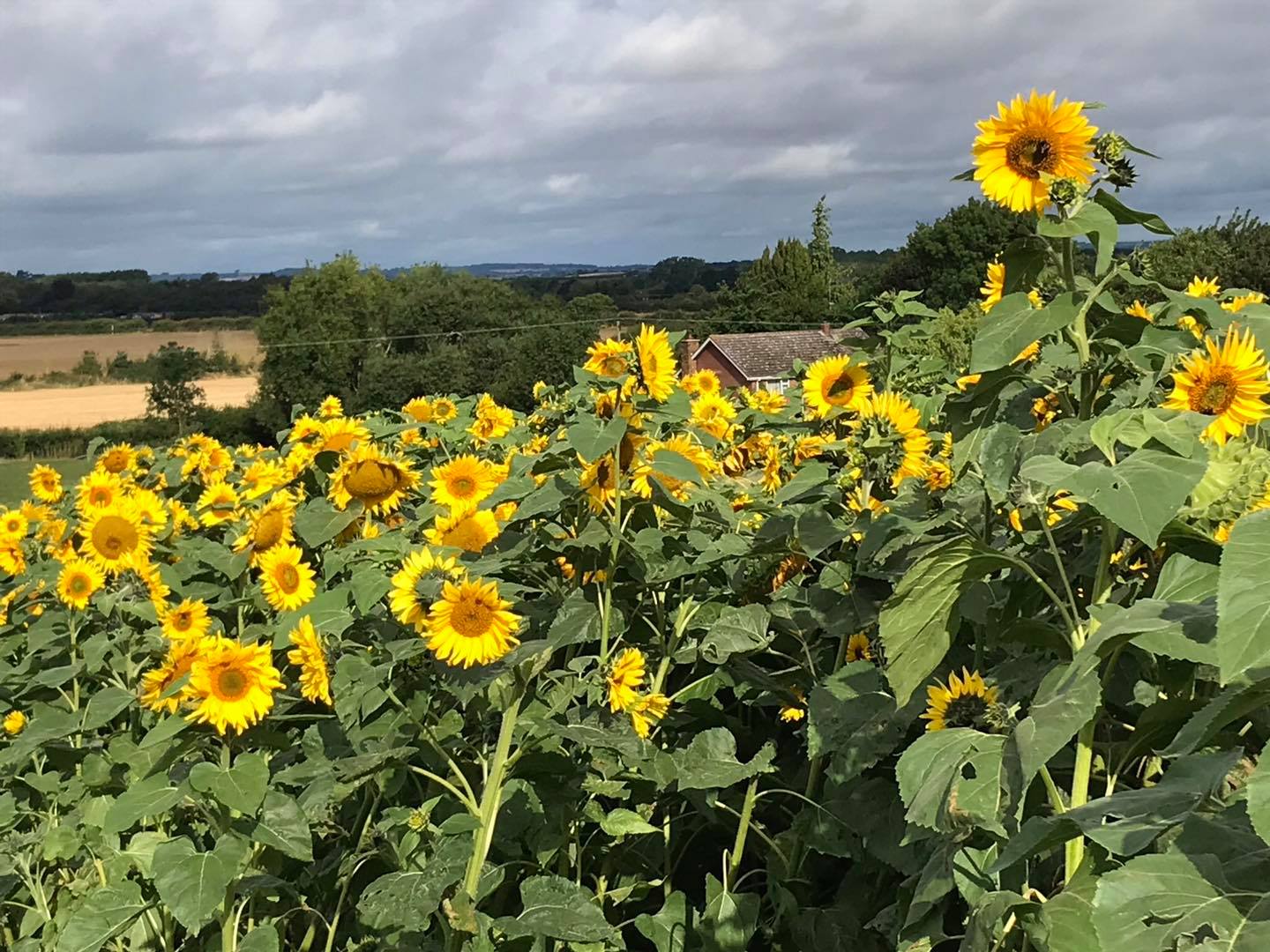 Location : Upper Quinton, Stratford-upon-Avon, Warwickshire, CV37 8LQ
Our PYO Sunflowers is open throughout August and September.
Tuesday to Friday 9am to 5pm. Saturdays 8.30am to 4.30pm. Closed Sundays and Mondays
THIS IS A CASH ONLY EVENT. Minimum £1.00 per stem
Donations welcome. All money raised will go to a local charity.
Bring your own secateurs or cutting implements, wellies advisable.
Location : Main Street (B4027), Stretton-under-Fosse Rugby, Warwickshire CV23 0PE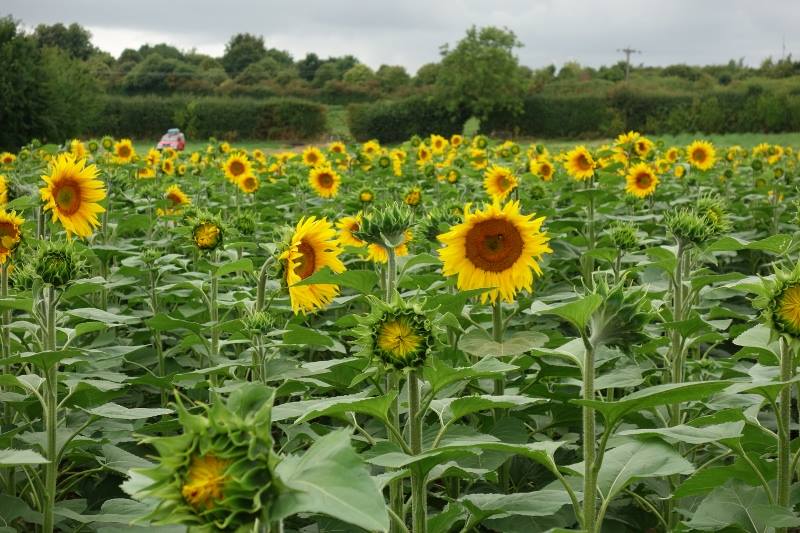 Malt Kiln Farm offers families a chance to soak up some sunshine while filling baskets of fruits and flowers while they're at it. Tucked away in the village of Stretton-under-Fosse, Malt Kiln Farm has an abundance of fruit and vegetables to pick as well as a field dedicated to sunflowers.
Check out all the latest news on their facebook page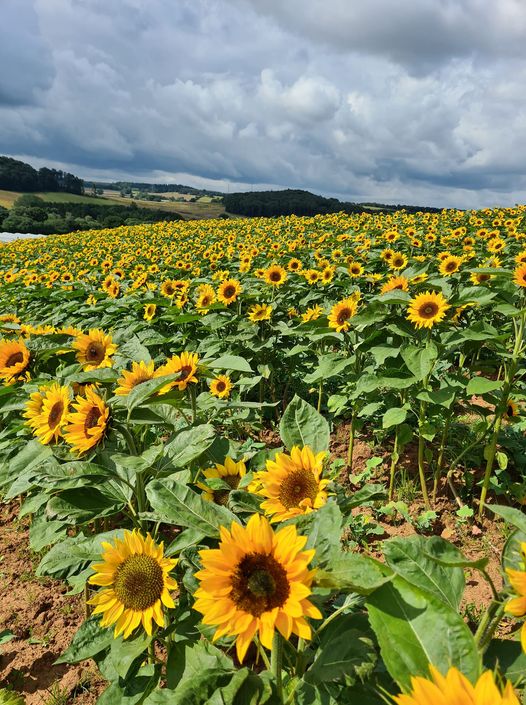 Location : Watling Street, Hints, Tamworth, B78 3DF
Why not brighten your day with sunshine?
Our home grown cut Sunflowers are simply stunning. £1.00 each or 6 for £5.00. A gorgeous gift too!
Maze Moon Sunflower Patches
Location : Lower Rainham Road, Rainham, Gillingham, ME7 2YA
Faversham Maze Moon and Sunflower Patch
Location : Tettenhall Way (behind new Aldi by M2 slip road) ME13 8ZB
Maidstone Maze Moon and Sunflower Patch
Location : Old Chatham Road, Sandling, Nr Maidstone, ME14 3BE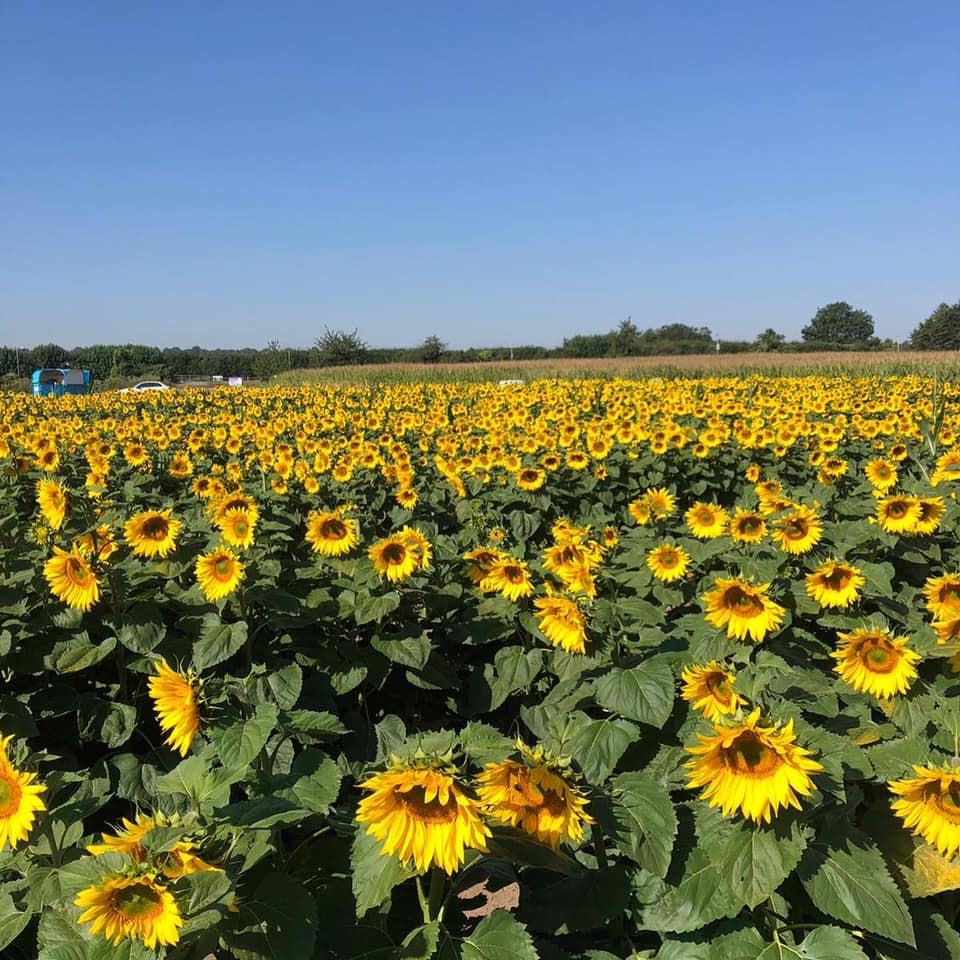 This year Maze Moon is expanding! Offering a choice of three Maize Mazes in different areas.
Each site with its own unique maze design and theme. All of the sites will also have pick your own sunflower patches with 15 varieties of sunflower this year!
They have introduced a pre booking/ticketing to control numbers after some busy periods last year. The Plan is to open 22nd July and then Thursday-Sunday throughout the summer holidays.
Don't forget to check out their facebook page for all the latest info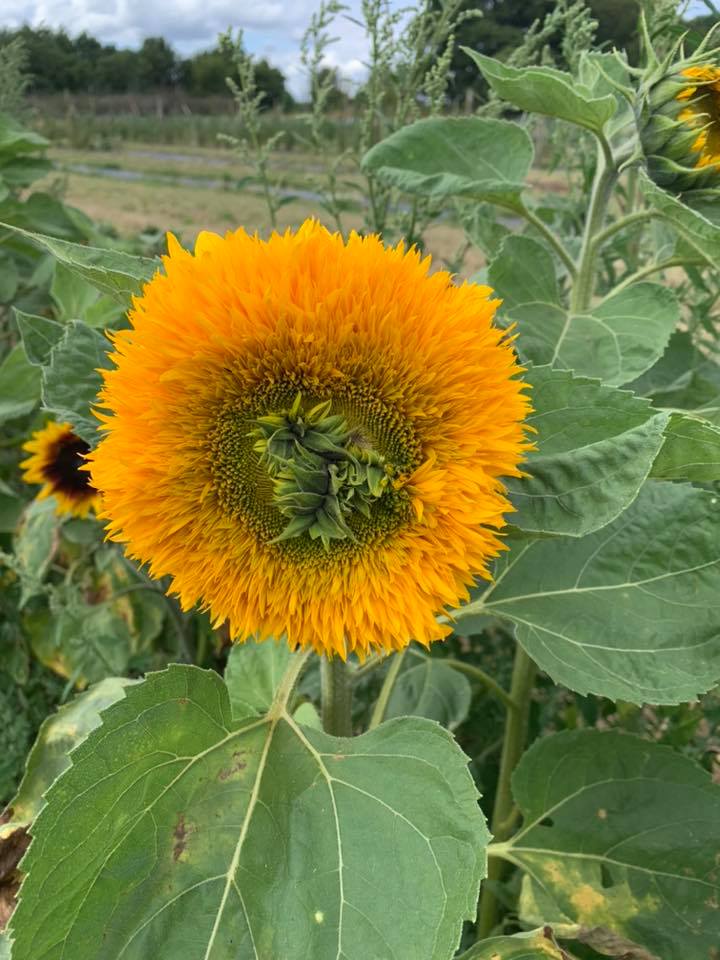 Location : Broomfield Fruit Farm, Ifield Road, Meopham DA13 0QH
Our plums, strawberries, apples and the start of our sunflowers are ready. We're hoping the sweetcorn and some pears will be ready next week.
Alongside the PYO, we now have pigs you can see and you are more than welcome to take a walk around the farm and enjoy being outside!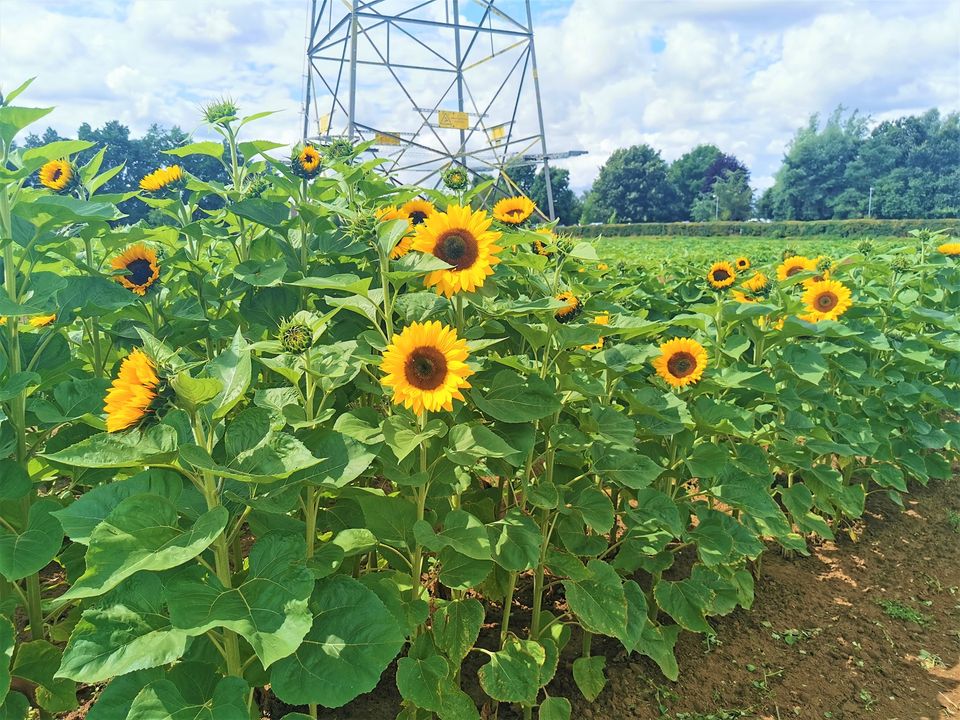 Location : Kingston Road, Frilford, Abingdon, OX13 5HB
The pick your own fields are OPEN…
An admission ticket will be required to enter the fields and pre-booking is advisable, as tickets will only be available on the door if they have spare capacity.
Sunflowers: £1 per stem – Minimum 1 stem to be picked.
You will be asked to purchase the sunflowers you wish to pick on arrival at the entry kiosk before entering the field. Please pay using a contactless card. Cash will not be accepted.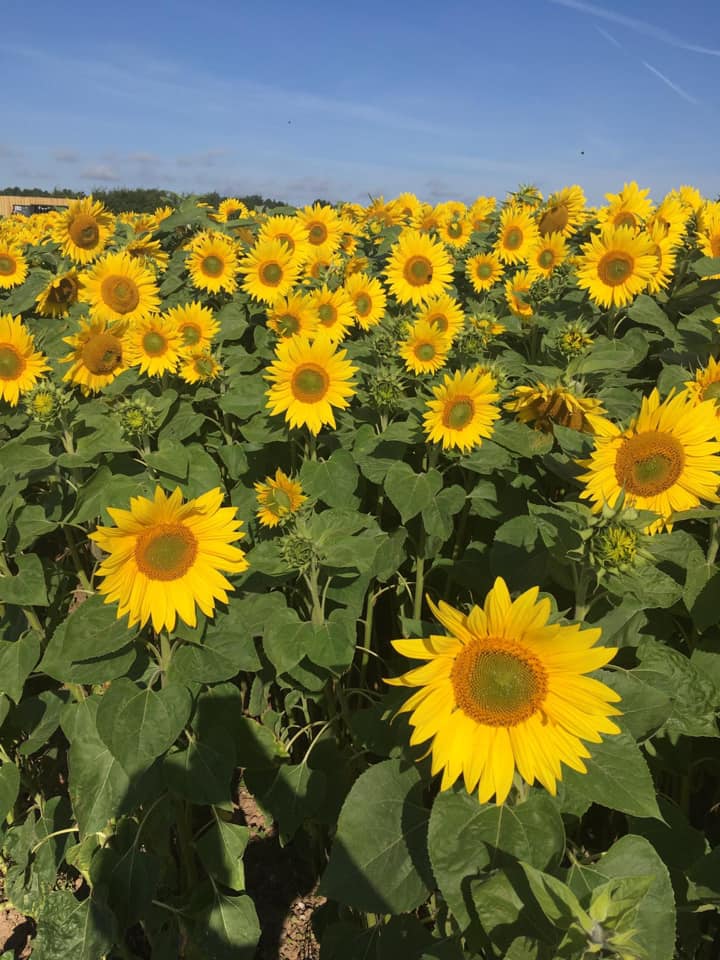 Location : Oaks Lane, Oxton, Southwell Nottingham NG25 0RH
Good evening! What a beautiful weekend it's been, with lots of lovely visitors! 🌻
We just want to say that we are now most likely in the last few days of opening, so we'd really encourage you to come down to the field soon if you are thinking of visiting, as we won't be able to announce the final day with much notice! It could possibly be Wednesday, but we'll have to wait and see in the next couple of days how the sunflowers are doing!
Have a lovely evening everyone!
🌻🌻🌻🌻🌻
Wednesday 18th will be our final day of the Sunflower Experience.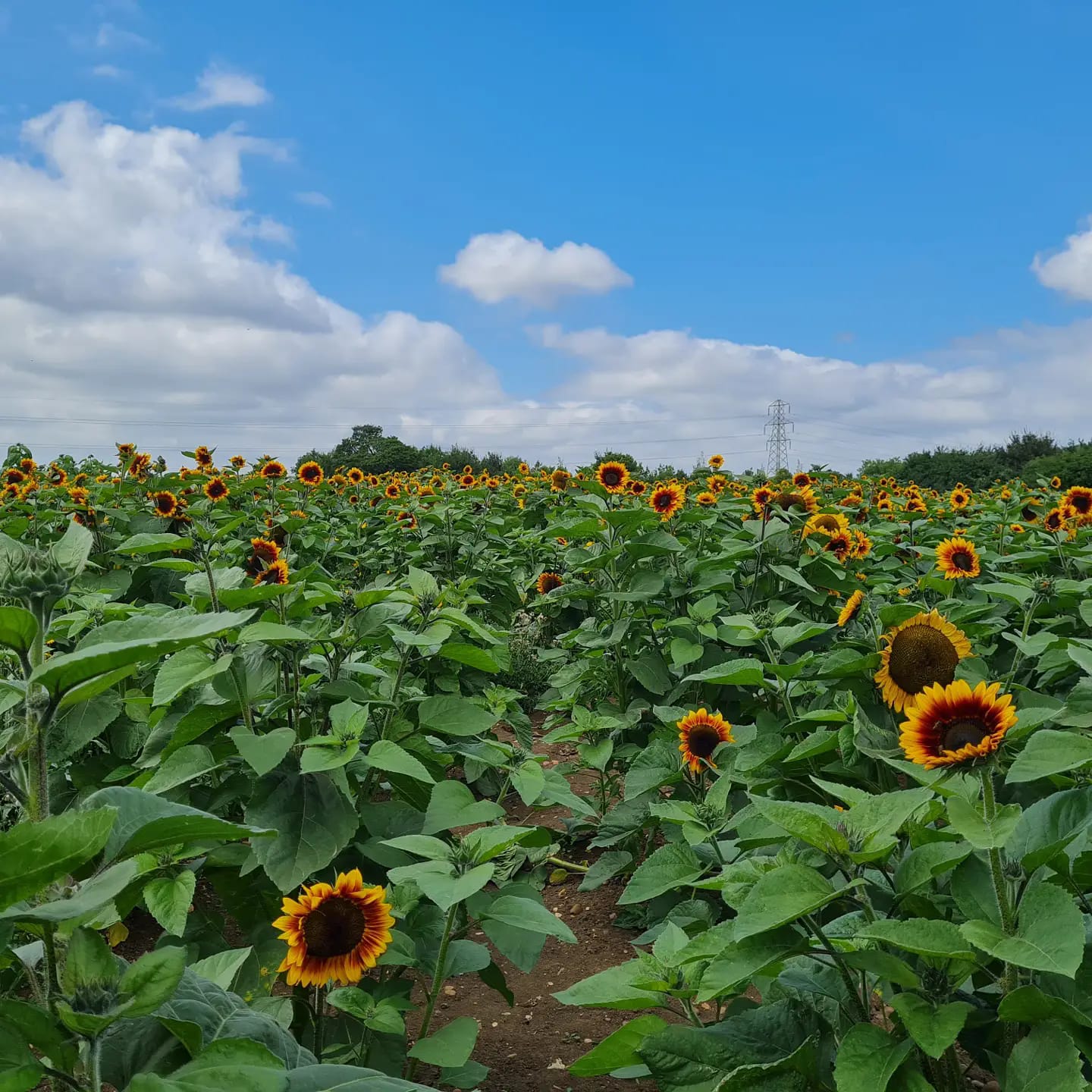 Location : Over Farm, Over, Gloucester, GL2 8DB
Is there anything more joyful than a field of sunflowers? Our sunflowers are now starting to bloom and we are absolutely thrilled to be able to welcome you all to come along and pick your own.
Entry is £2 per person (excluding babes in arms) and stems are £2 each Secateurs will be provided to adults only upon entry.
Please note that if you have already purchased a PYO fruit timeslot you do not need to book entry for PYO Sunflowers as well, you simply need to pay for the flowers you pick.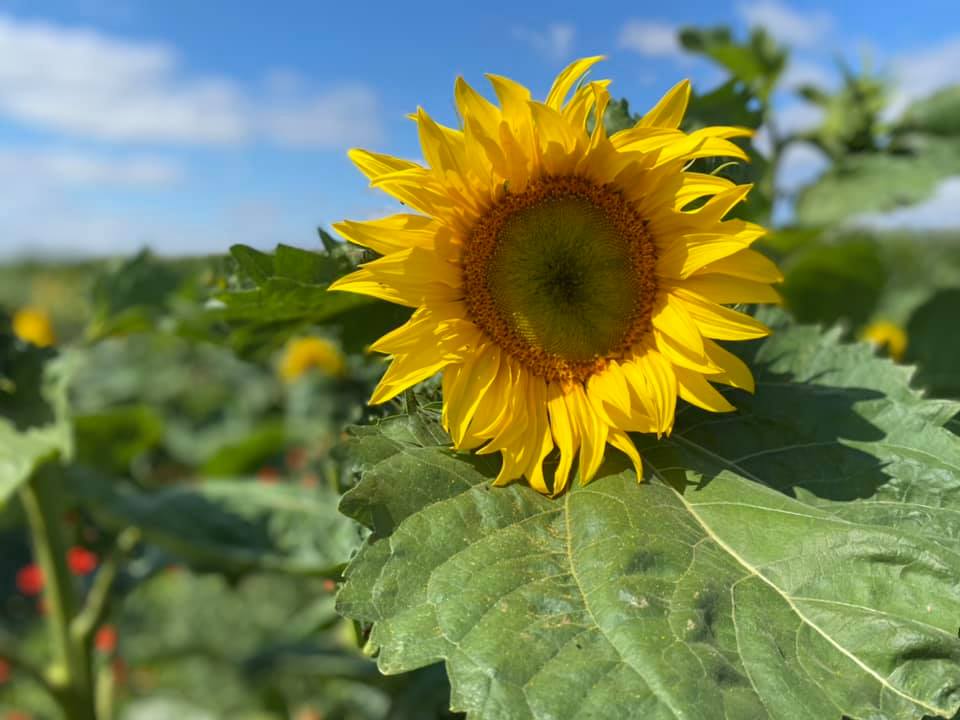 Location : Kettering Rd, Moulton, Northampton NN3 7XA
The sunflower field will be open from Monday 23rd August. Tickets are available to purchase now.
​They are looking forward to opening the sunflower field again this summer. They have planted even more sunflowers for you to enjoy this summer, with the sunflower field being almost 10 acres. There will be some surprises in amongst the trails to keep your eyes open for too! They will have a dedicated 'picking patch' so you can cut your own flowers to take home with you (not included in entry price).
​The sunflower field is enjoyed by both young and old, with entry to the play patch included with your entry fee. The play patch includes our tractor tyre sandpits, a bale tower and other family fun games to enjoy.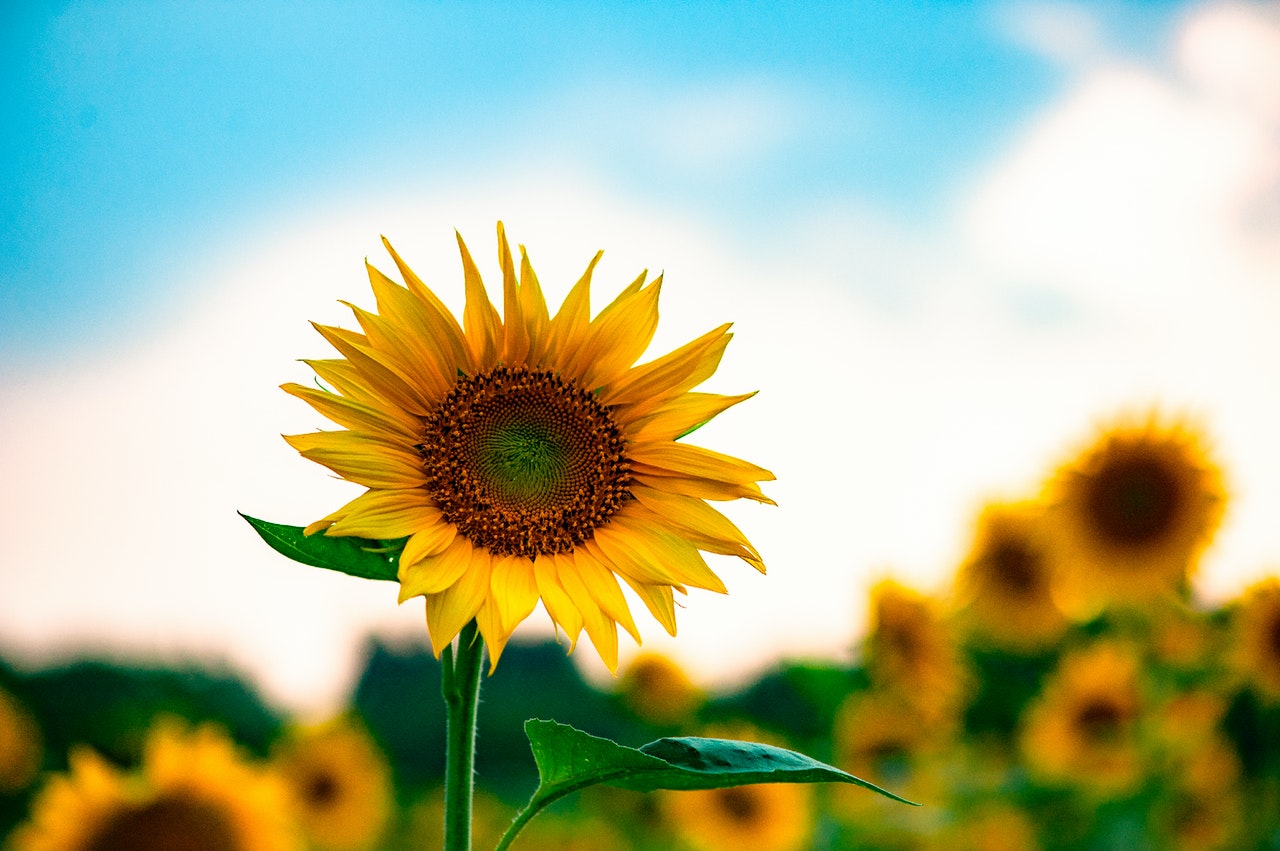 Location : Pyle Farm, Trudoxhill, Near Frome, Somerset. BA11 5DL
They have planted a field of sunflowers right next to the ice cream parlour. During the last few weeks of August, the sunflower field will be ready to pick your own.
Entry to the Sunflower field is through pre-booked tickets. Tickets are £1 each, and everyone over 2 years requires their own ticket. Your £1 ticket is redeemable against your sunflower purchase on the day. You are welcome to pick as many Sunflowers as your would like
The field will be open 11am to 6pm on picking days. Sunflowers are charged at £1 a stem. This is payable as you exit the field.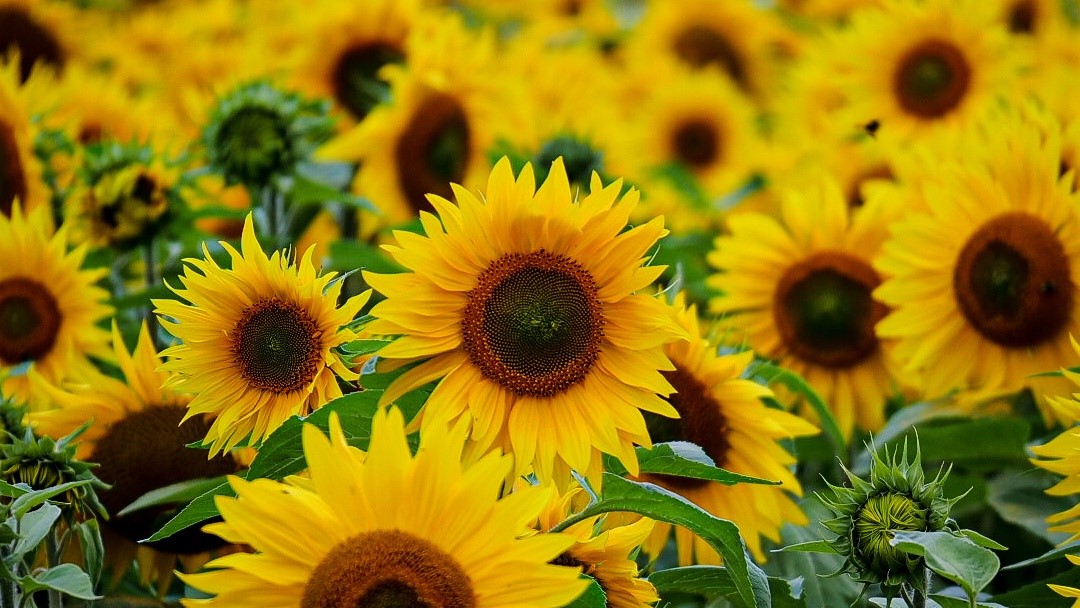 Location : Mount Hill Farm, Stratford Road, Wicken Milton Keynes, MK19 6DG
Our sunflowers are blooming and looking fantastic!
The Great British weather may not be playing ball, but at the Patch MK there is sun all around to enlighten your day!
Now finished for the 2021 season, time to think abut the pumpkins!
Picking Patches
Fordingbridge Maize Maze and Sunflower Patch
Location : A338 Ringwood Rd, Bickton Manor Farm, Fordingbridge, Hampshire, SP6 2HA
Location : Switchback Farm, Switchback Road North, Maidenhead, SL6 7QJ
Location : The Globe Roundabout, A4, Bath, BA2 9BB
Location : A48, Culverhouse Cross, St Nicholas CF5 6SF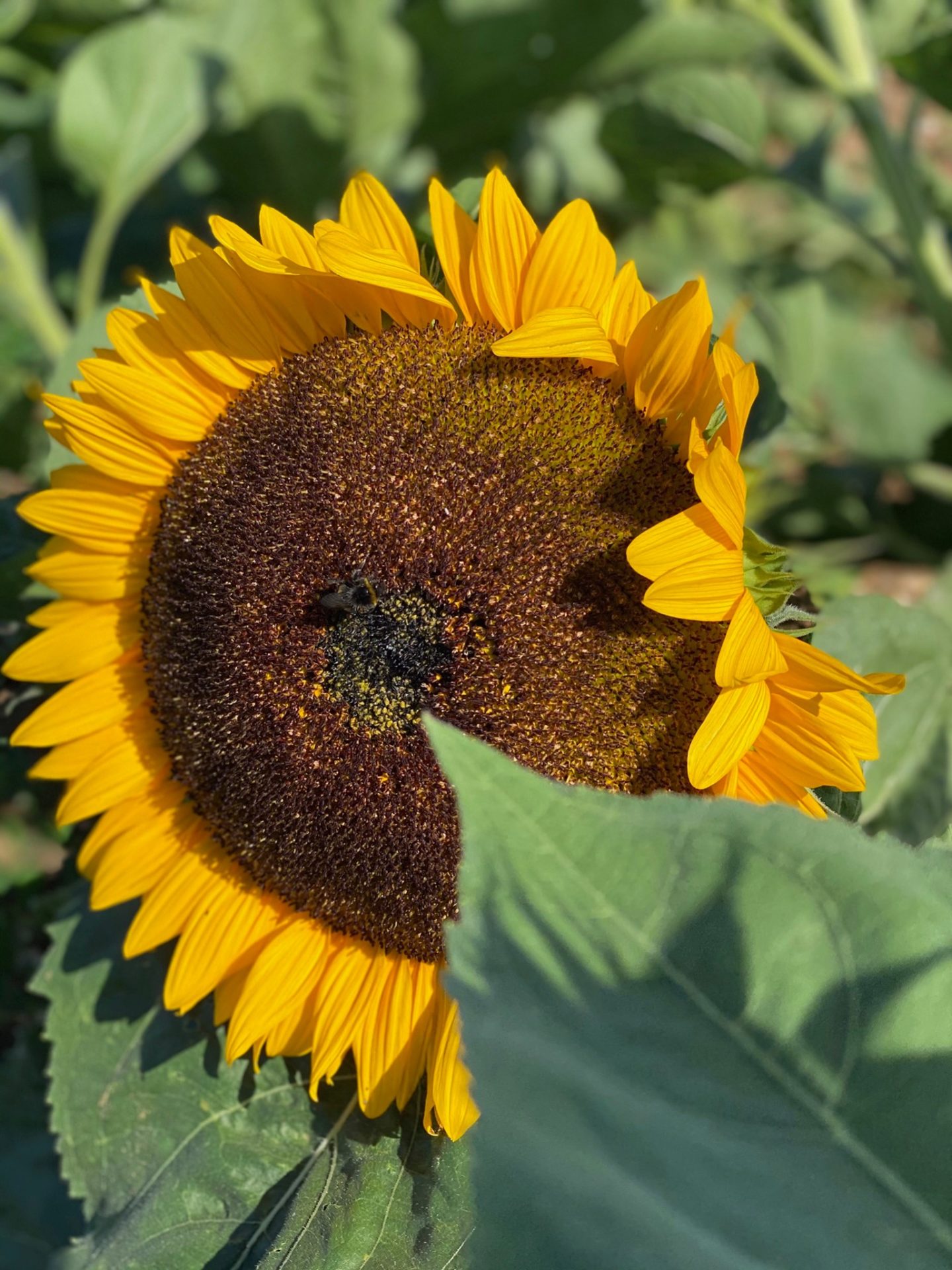 The picking patches are all home to a 4 acre maize maze and sunflower patch, with plenty of free parking and lots of space to picnic, run around, stroll and play. There are portaloo toilets and baby changing facilities on each site. Drinks and snacks available or bring a picnic.
2021 opening dates and times: 7th- 30th August 2021 9:30am – 4pm daily (last entry 3pm) FREE PARKING
Tickets available soon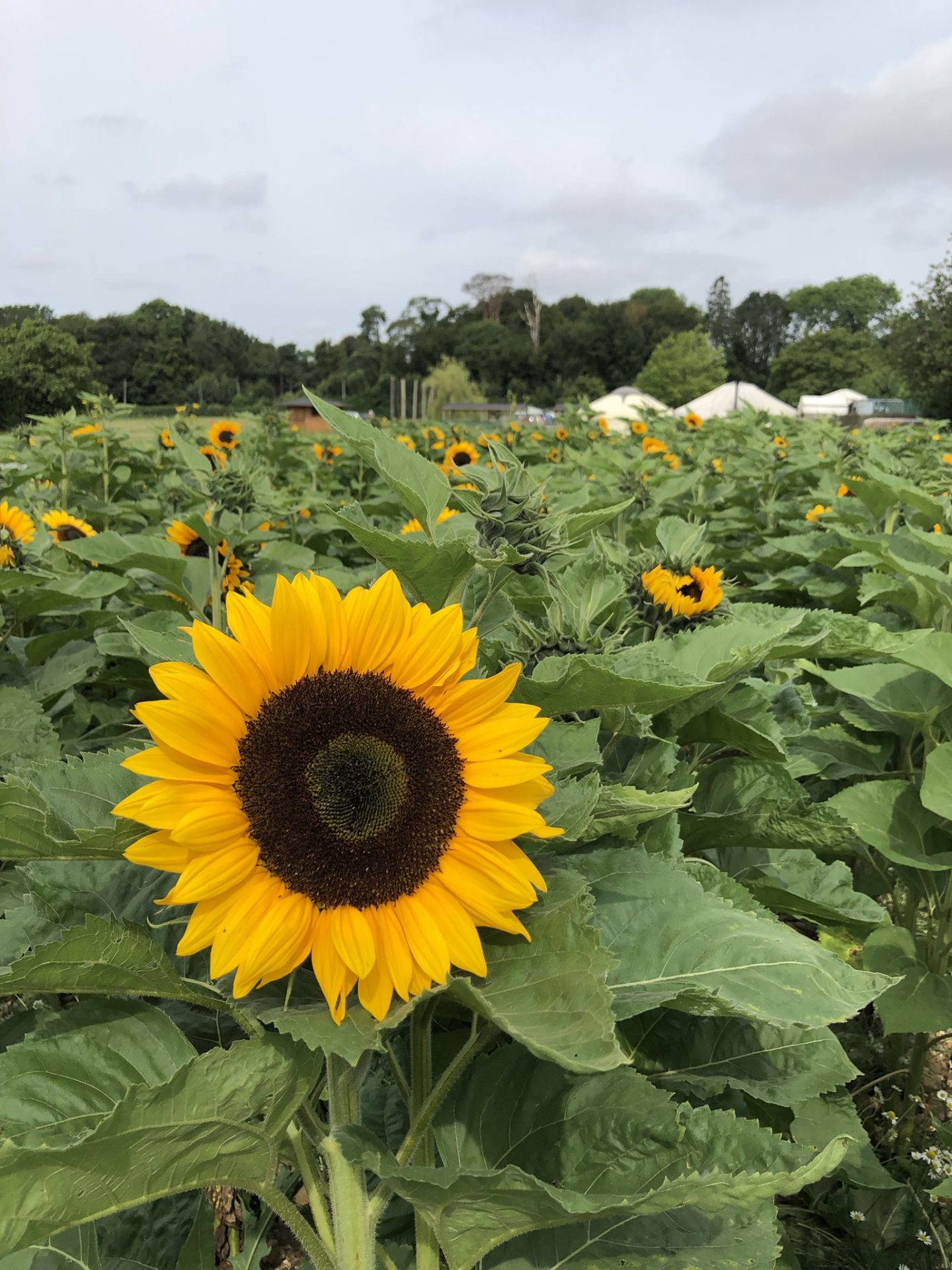 Location : Peterley Lane, Great Missenden, Buckinghamshire. HP16 0HH
Peterley Manor Farm offered PYO Sunflowers during the 2020 season, but in 2021 the sunflowers were pre-cut to purchase, check back later in the season to find out whats available in 2022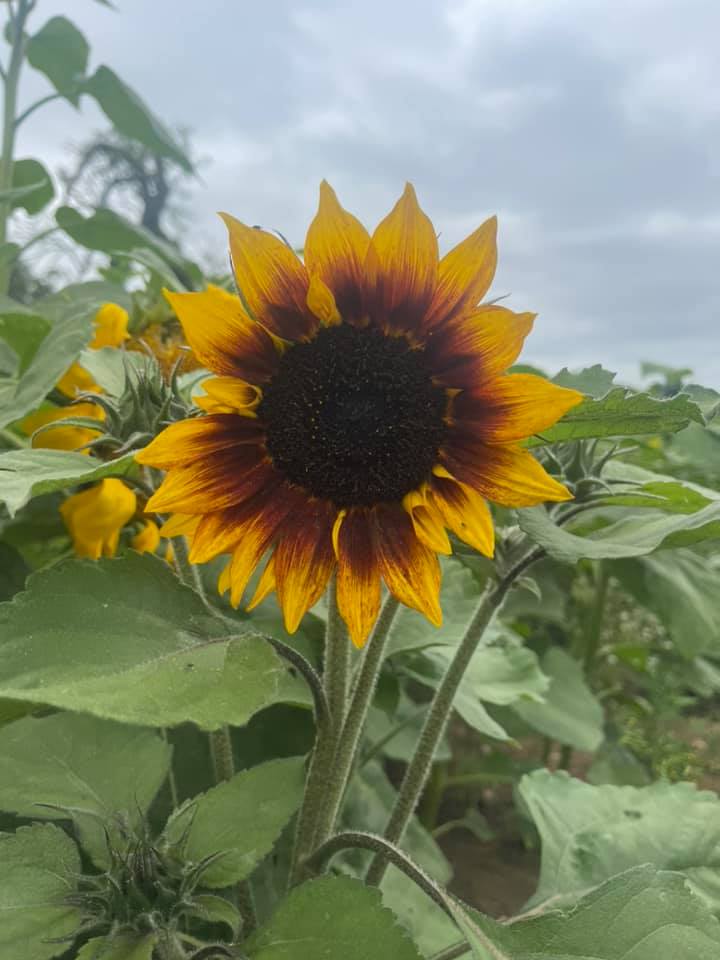 Location : The Long Shoot, Nuneaton, CV11 6JG
Sunflower trail update:
We are opening on Wednesday the 1st of September.
They will be open the same hours as our shop through to the end of October (last entry is an hour before the shop closing time). The sunflower trail is free to do but any flowers picked are charged at 50p per stem.
Please like and share! And don't forget a coffee and cake in our new cafe!
🌻🌻🌻🌻🌻🌻🌻🌻🌻🌻🌻🌻🌻🌻🌻🌻🌻🌻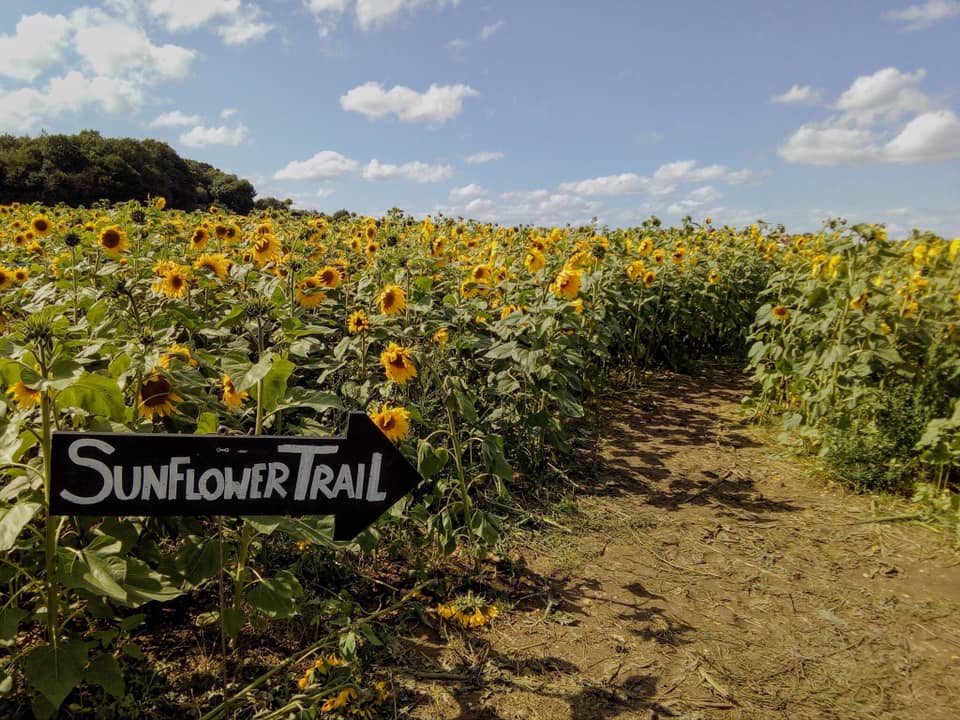 Location : The Pop-Up Farm, M1 Junction 9, St Albans AL3 8HT
The Pop-Up Farm is a small, family-run farm that hosts a number of pop-up farming festivals throughout the year, including the Sunflower Festival. Located on the M1 close to St Alban's.
Each year in August this sunflower field in Hertfordshire blossoms for you to see a sea of bright yellow. The farm has a stunning sunflower field complete with sunflower sommeliers who are there to teach you everything you need to know about this stunnning flower. You can stroll along the sunflower trail, take some fantastic aerial photos from the photography platform and pick your own flowers to take home.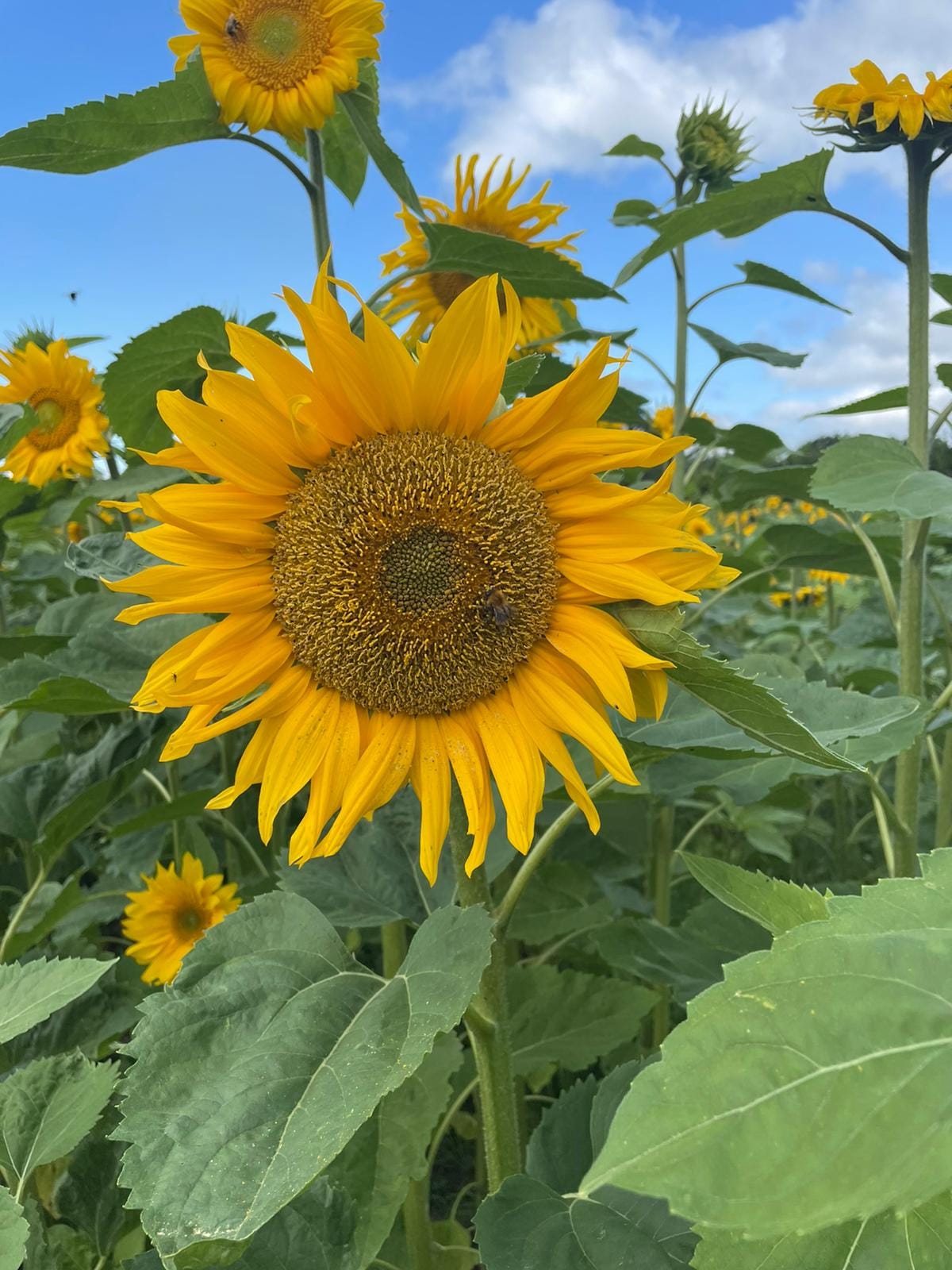 🌻🌻🌻🌻
SUNFLOWERS!
🌞🌞🌞
Our field full of sunshine is in full bloom! Pop down to pick up your own dose!
🌞🌞🌞
📆 Open Daily, but check on their fb page to make sure there's still some left!
🕙Open until 5pm
✂️ Bring your own scissors or secateurs
🪙 £1 entry per adult, kids under 12 years go free
🪙 £1 per stem picked
🐶 Well behaved fluffy friends are welcome but please respect our field
📍 Find our new site with what3words: blueberry.prickly.bounded
Based between Osmaston and Wyaston follow our sunflower signs from Osmaston 🌻 (Google maps is no longer correct)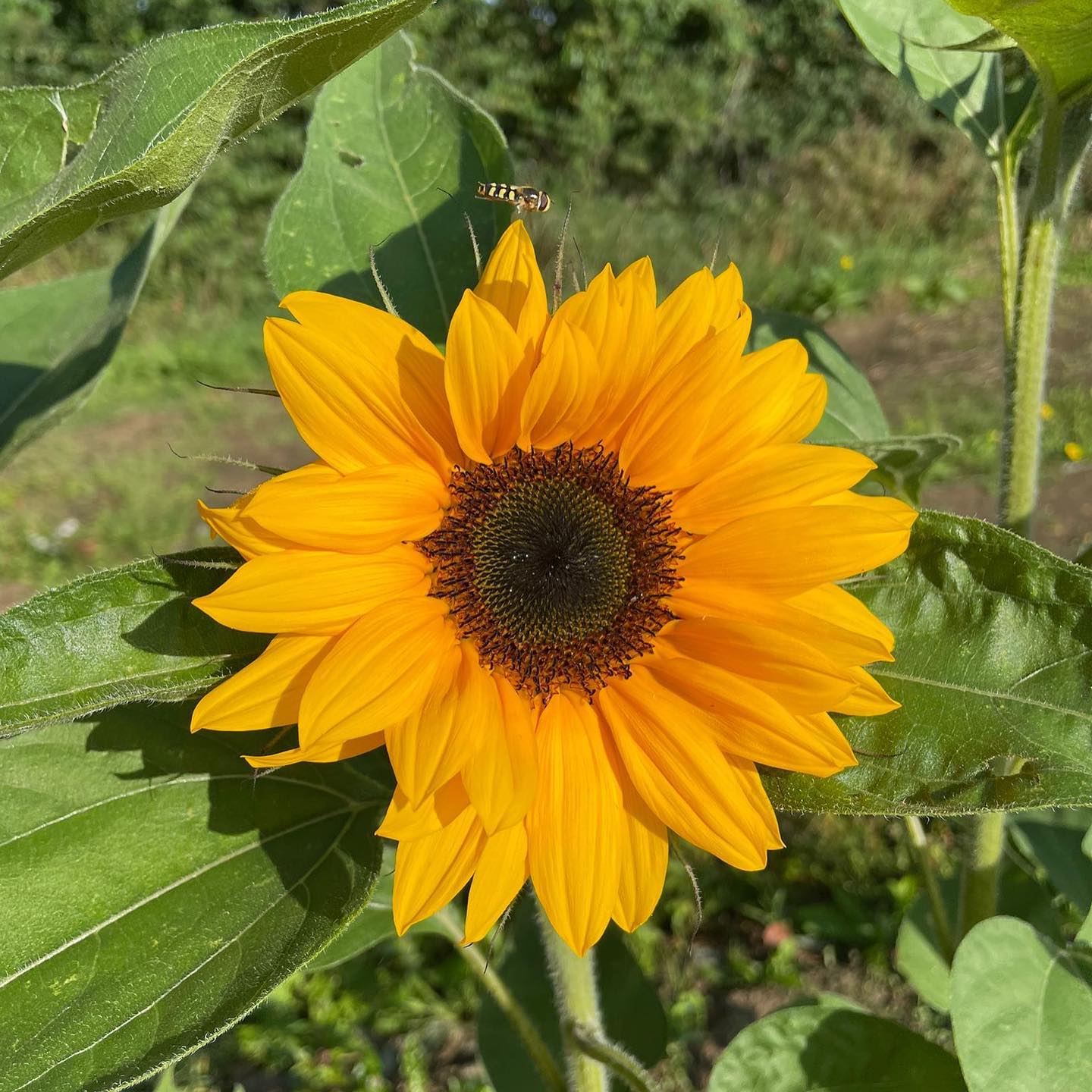 Location : Pound Ln, Stanton St. John, Oxford, OX33 1HF
PYO SUNFLOWERS
Bring your own secateurs or borrow a pair from the farm shop for a £2 deposit! Sunflowers are 75p a stem – we have a decent amount ready for you to pick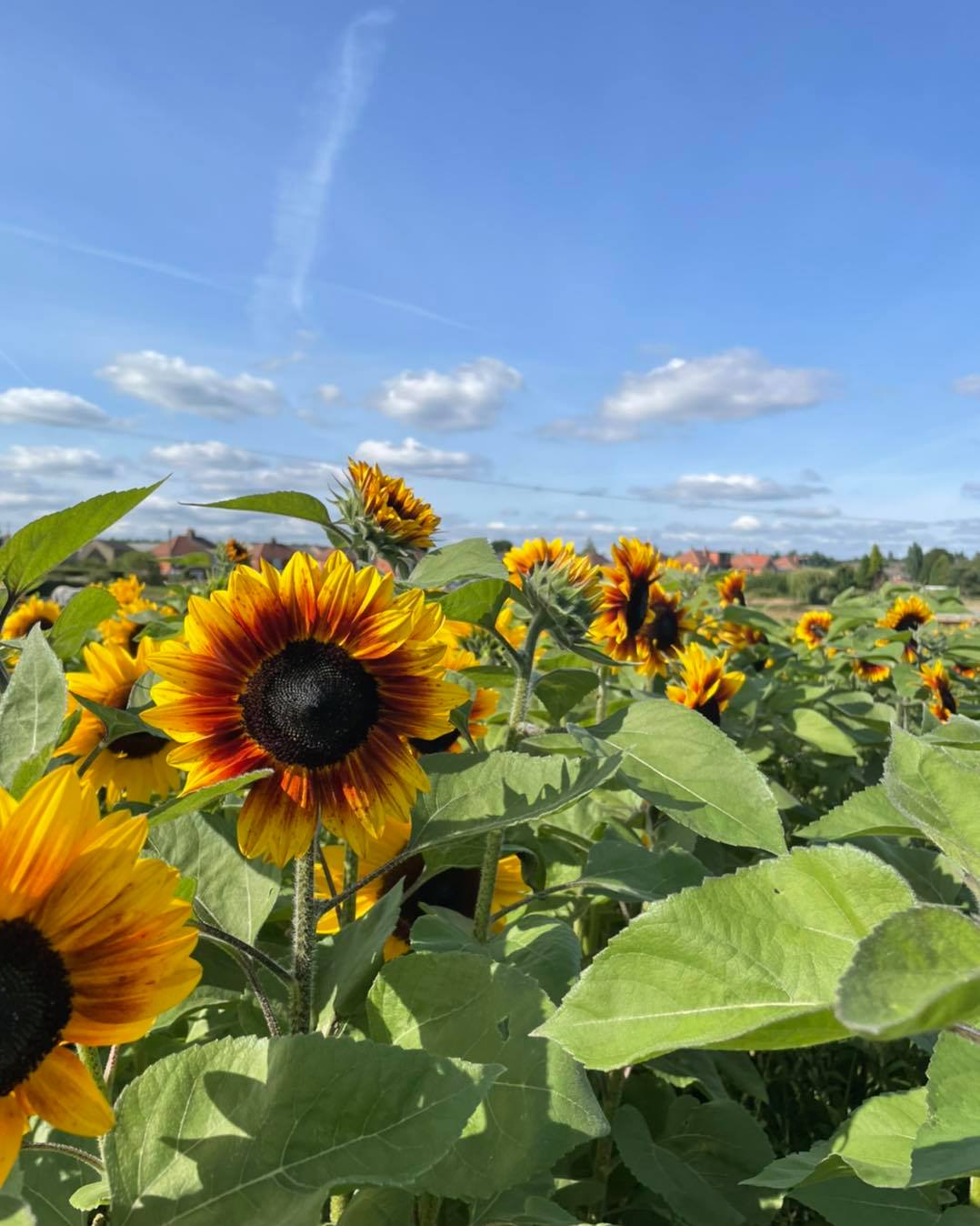 Location : Ardsley Reservoir, Wakefield, WF3 1EE
The sunflower patch is opening!
We will be open 10-4.30 for picking. Please keep an eye on our Facebook page for daily updates of patch opening dates and times.
Two varieties available to pick
Please bring your own
No booking required or entry fee
£1.50 per stem.
We accept cash and card
Farm shop will be open
Refreshments available.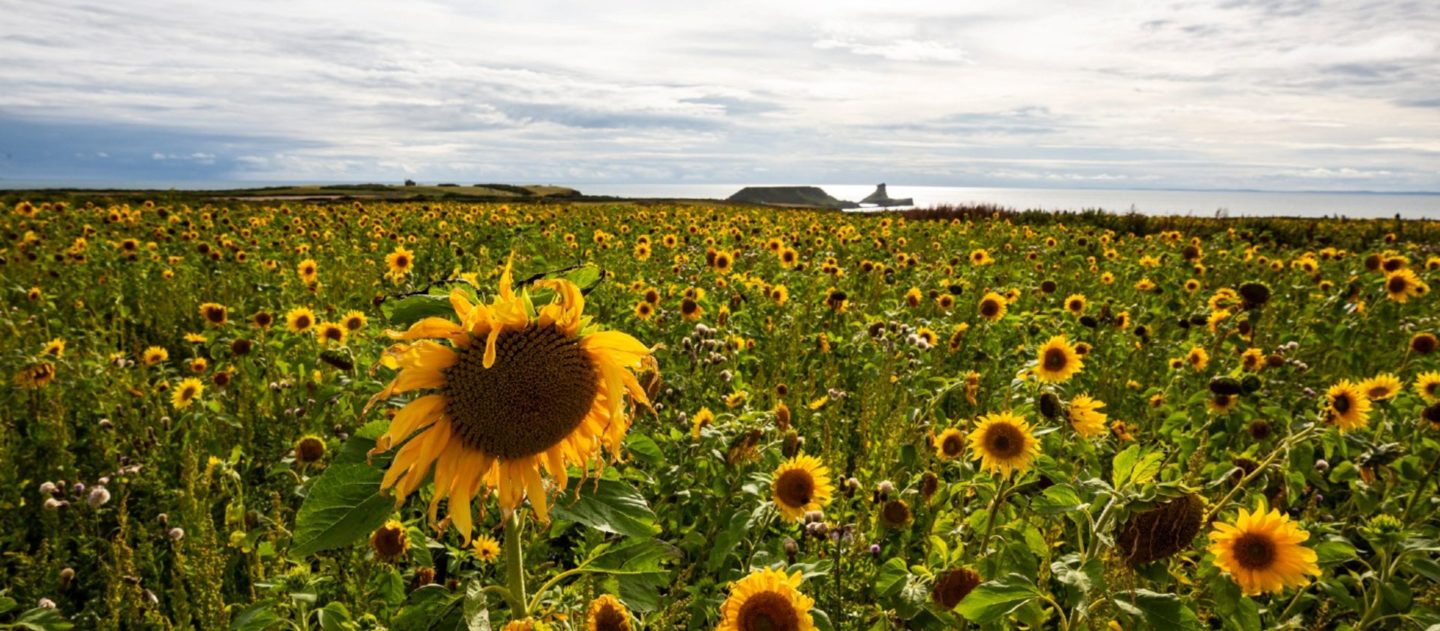 Location : Rhossili Bay, Heelis, Kemble Drive, Swindon SN2 2NA. Use the postcode SA3 1PR to get there and you will find a National Trust car park
Rhossili Bay, Wales usually has hundreds of breathtaking flowers each year, however they were unable to plant any last year due to the pandemic, but it looks like they will be back this year, but on a slightly smaller scale
Located along the beautiful South Gower coastline in Wales, Rhossili Bay transforms into a golden sea every August. Under the protection of the National Trust, the fields are next to the National Trust site at Worm's Head.
Rhossili Sunflowers ( Gower Christmas Tree Farm)
Location : Poundffald Farm,Three Crosses, Swansea, SA4 3PB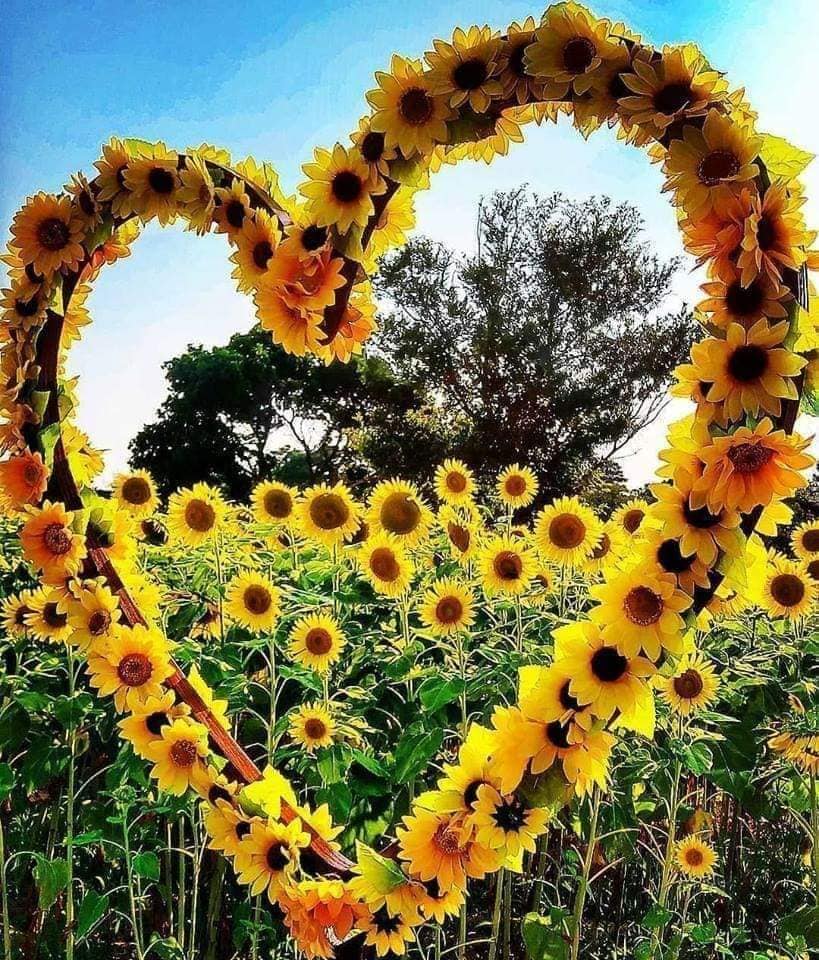 The sunflowers fields at Rhossili come into bloom every year in around July time, where nearly 400,000 sunflowers are grown. they grow over 10 varieties and colours, set with the iconic Worms Head and Rhossili Bay in the back ground it's a great day out
They offer PYO sunflowers, you can pick bunches and take home from the PYO field (feel free to bring secateurs) so you can make your own displays. The nature /gruffalo trail, 5 acres of sunflowers (no pyo in this field) a trail amongst the sunflowers where you will find animal wooden sculptures and marked on your trail card as you wander around. Also nestled in the trail filed is the sunflower arch and heart where you"ll get your perfect sunflower pictures or even get engaged, which 5 couples did in 2020.
Opening times will be from 9:30 till dusk. Shut on bad weather days, to to know more on a daily basis, please, follow the Facebook page or search for #rhossilisunflowers if you're travelling.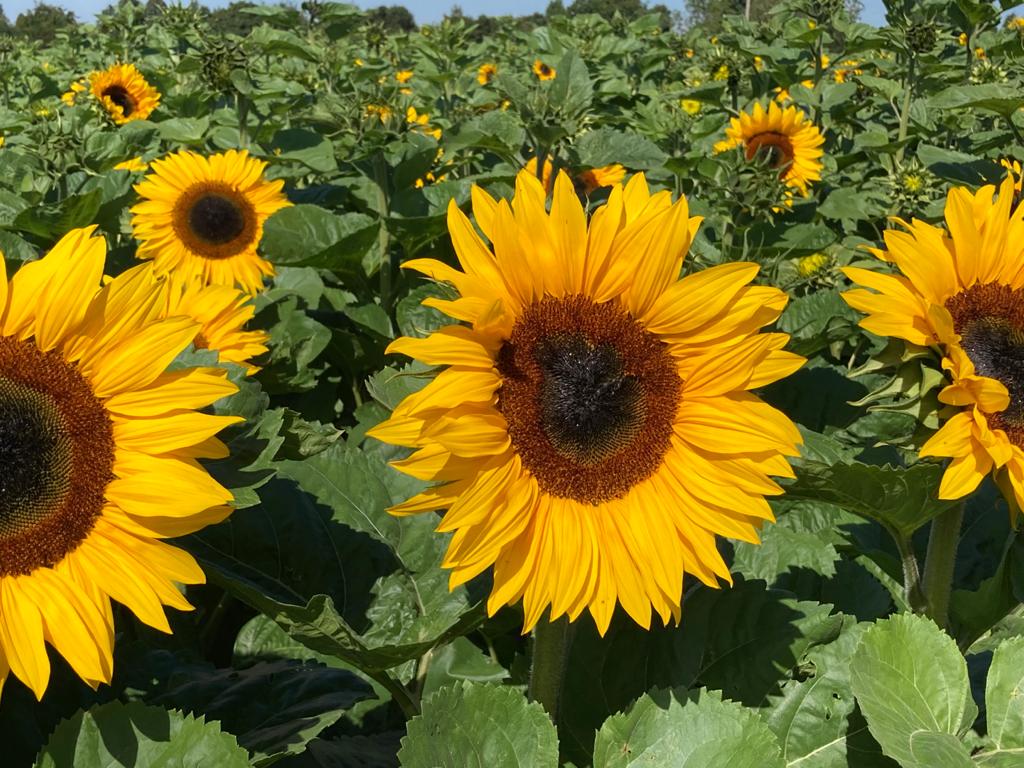 Location : ½ mile east of Rogate Village, A272, Rogate, GU31 5EG
Rogate Sunflowers is half way between Midhurst and Petersfield on the A272 and is a great family day out for all ages.
No pre-booking required, FREE entry
6 stalks for £5
Cutting & bundling areas, Children's play area, Sit on tractor and play haystack
Daily picked sweetcorn for sale
Delicious local delights ☕️🍰🧁🍦 by Wild Kite Coffee
Location : School Farm, West Drayton, Retford, DN22 8DB
The Sunflower Experience
Take your pick from the vibrant mass of sunflowers and bring your own piece of happiness home
Just £1 per stem, they also have our bee maize maze ready for you to get lost, farm shop with fresh produce, takeaway drinks and snacks including local Thaymar ice cream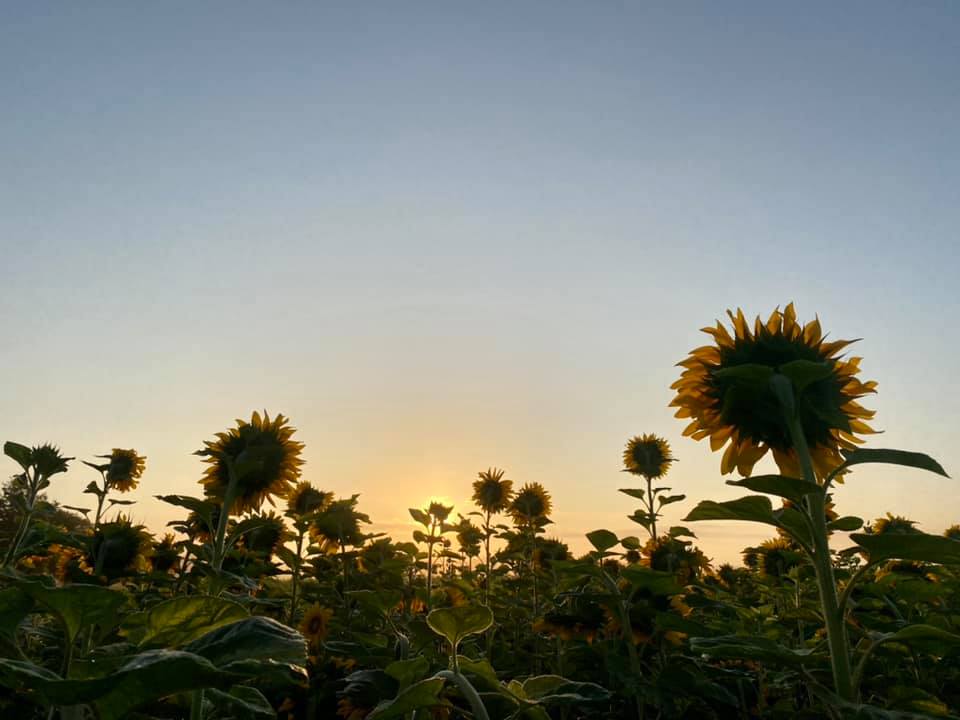 Location : Sopley, Christchurch, Dorset, BH23 7AZ
Sopley Farm is on the edge of the New Forest, they grow nearly 20 varieties of fruits and vegetables. Some are grown for Pick Your Own, and some for selling ready picked through the farm shop and at farmers markets across the south of England.
They currently have a great selection of PYO Sunflowers in both Yellow and Pink.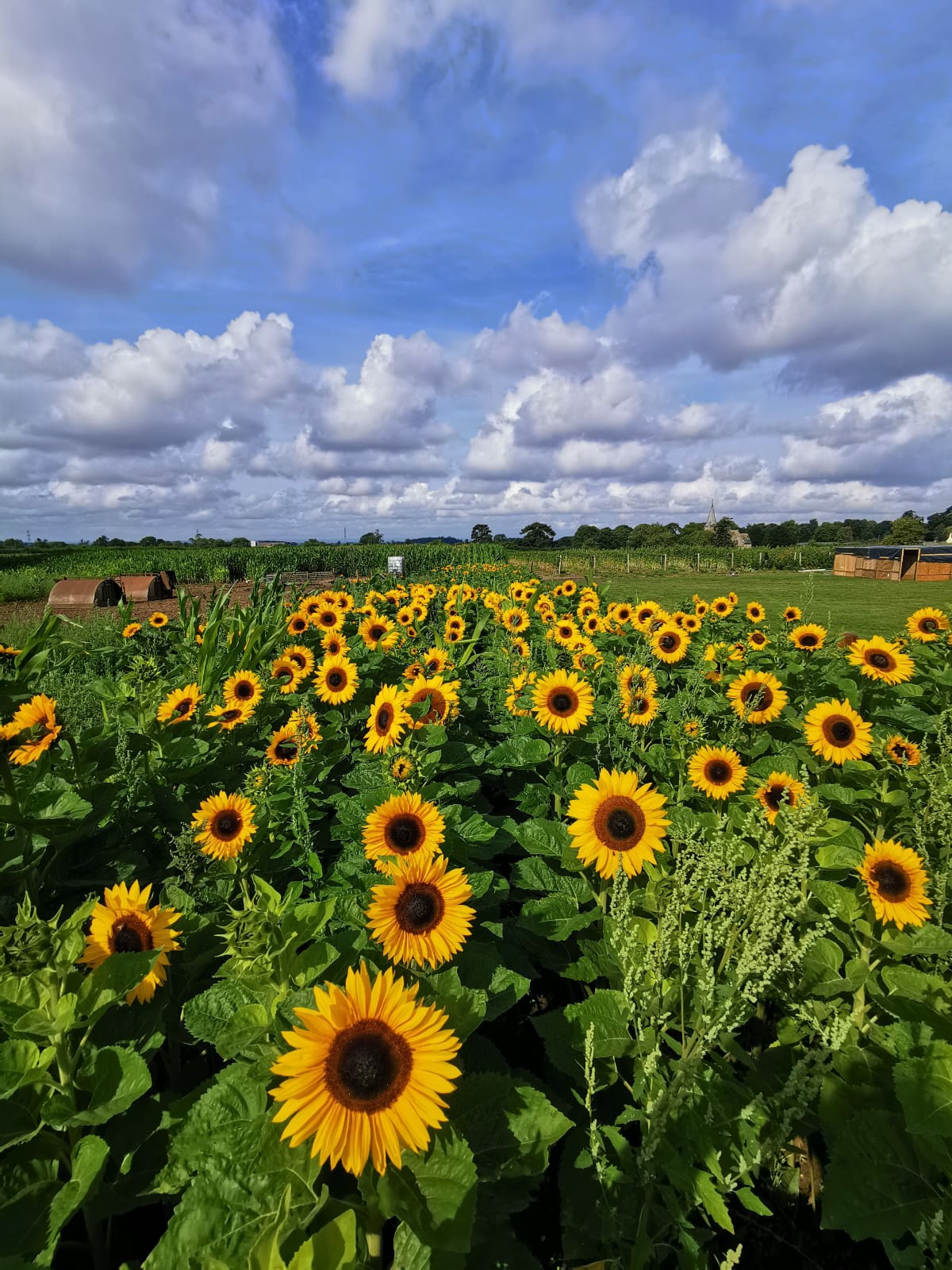 Location : Church Farm, Sessay, THIRSK, YO7 3NB
A RAY OF SUNSHINE
Our beautiful PYO sunflower field is now OPEN!Come along too see our field of golden yellows… its quite a sight!£1 Per head – pick as many as you wish! **Secateurs provided with a returnable cash deposit**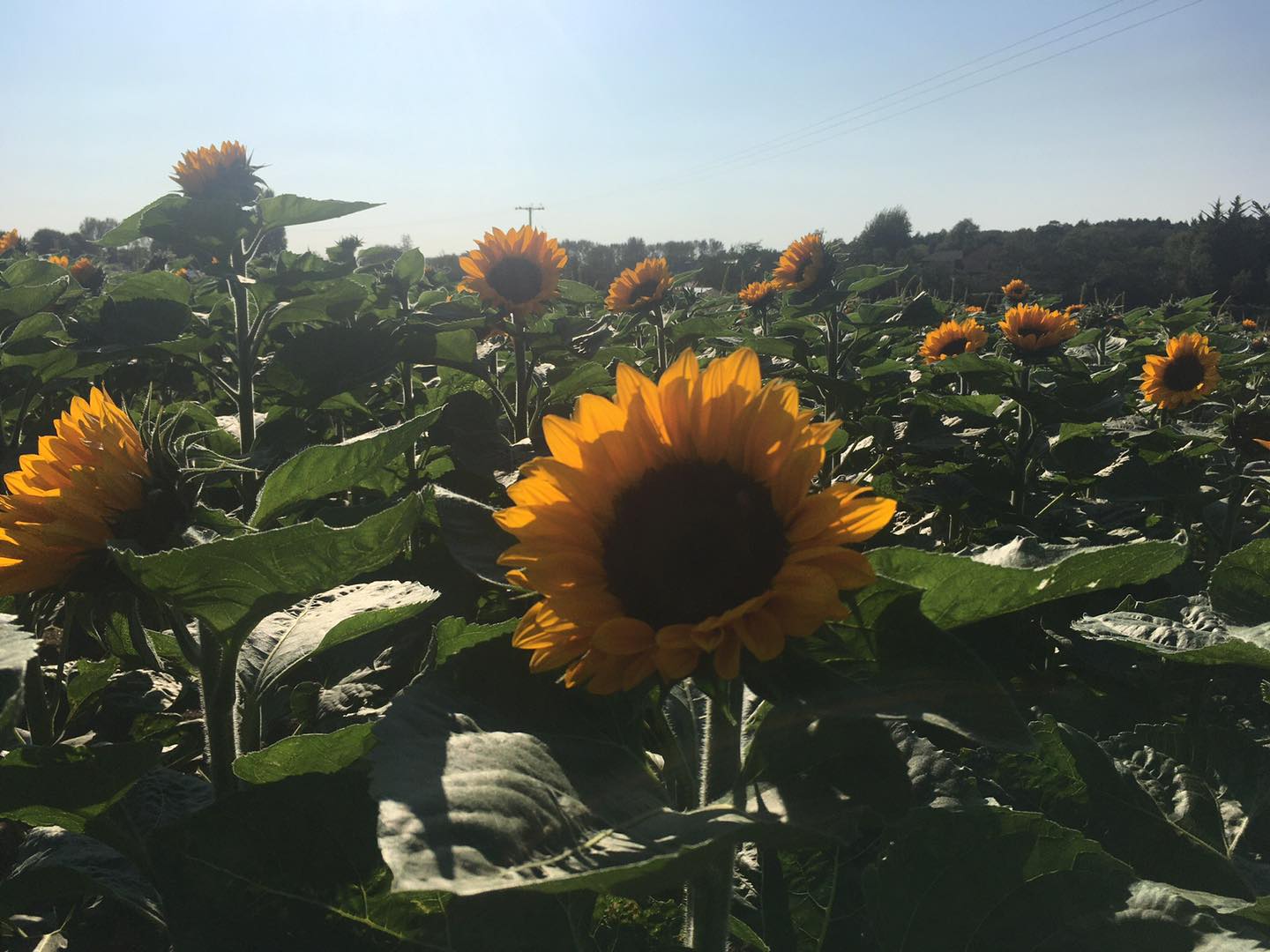 Location : Birchwood Road, Wilmington, Dartford, Kent, DA2 7HD
Make your way to Stanhill Farm throughout August and September and you'll be met with a breathtaking sight of growing sunflowers. Best of all, you can take home a bunch with you on your way out. There's no entry fee but you'll be charged £1 per Sunflower stem.
Check out all the latest news on their facebook page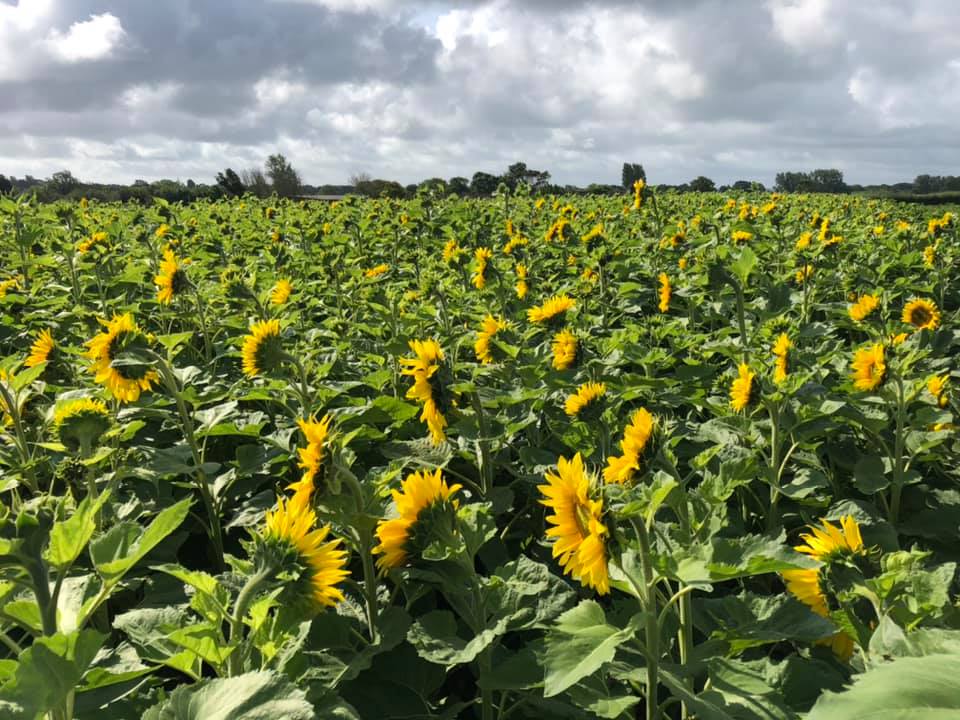 Location : Meon-Bye Farm, Triangle Lane, Titchfield, PO14 4HB
Sunflowers !
Exciting news… our Sunflower field has once again been busy blooming and will be open to the public for PYO !!Entry into the field is £5 per adult and includes the cost of 6 stems.Under 16s enter for free when accompanied by a paying adult.Additional stems are available for 50p each.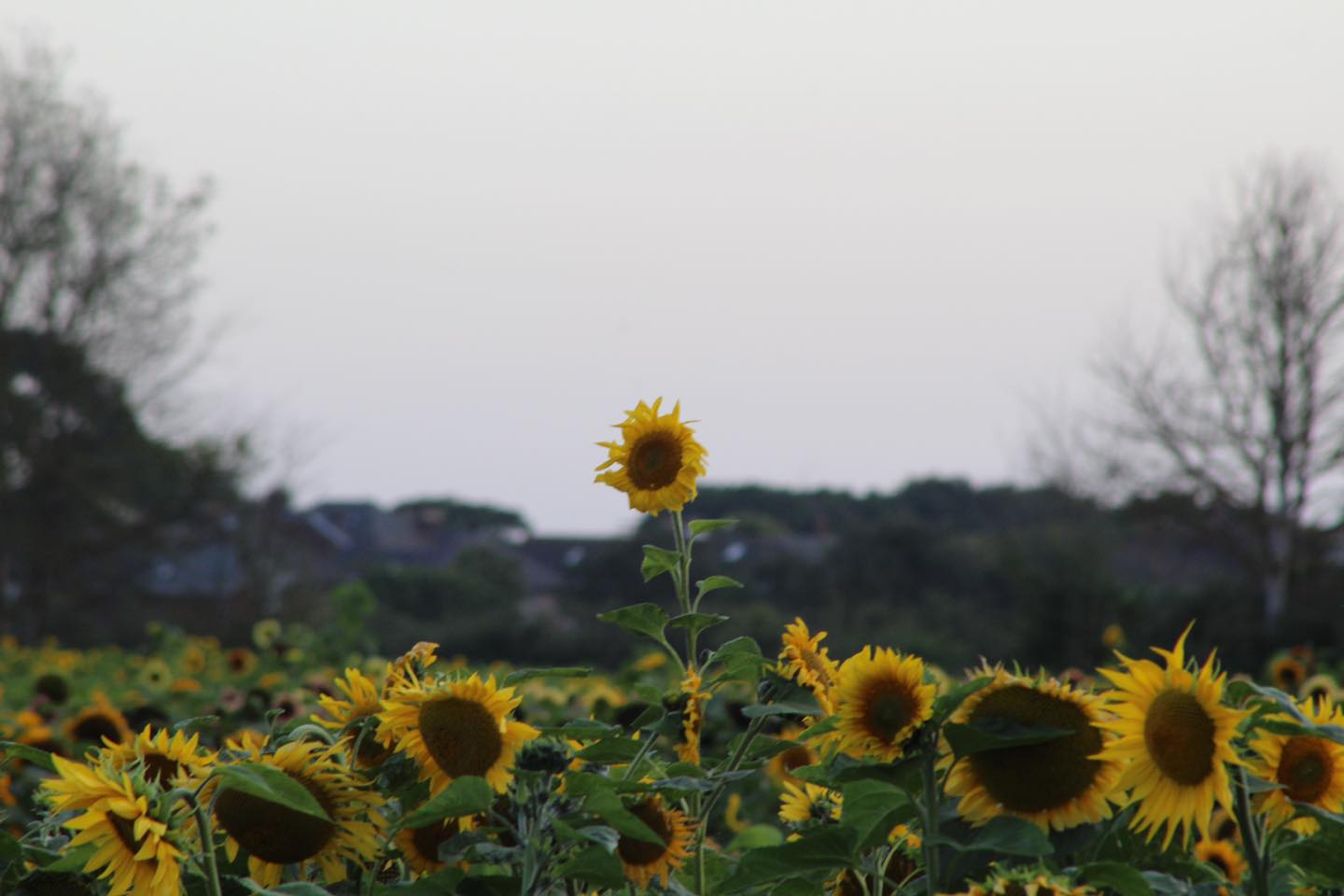 Location : Copse Lane, Hayling Island, Hampshire PO11 ORJ
Sams Sunflowers are now open, free onsite parking, open daily 10am -6pm for the latest updates CLICK HERE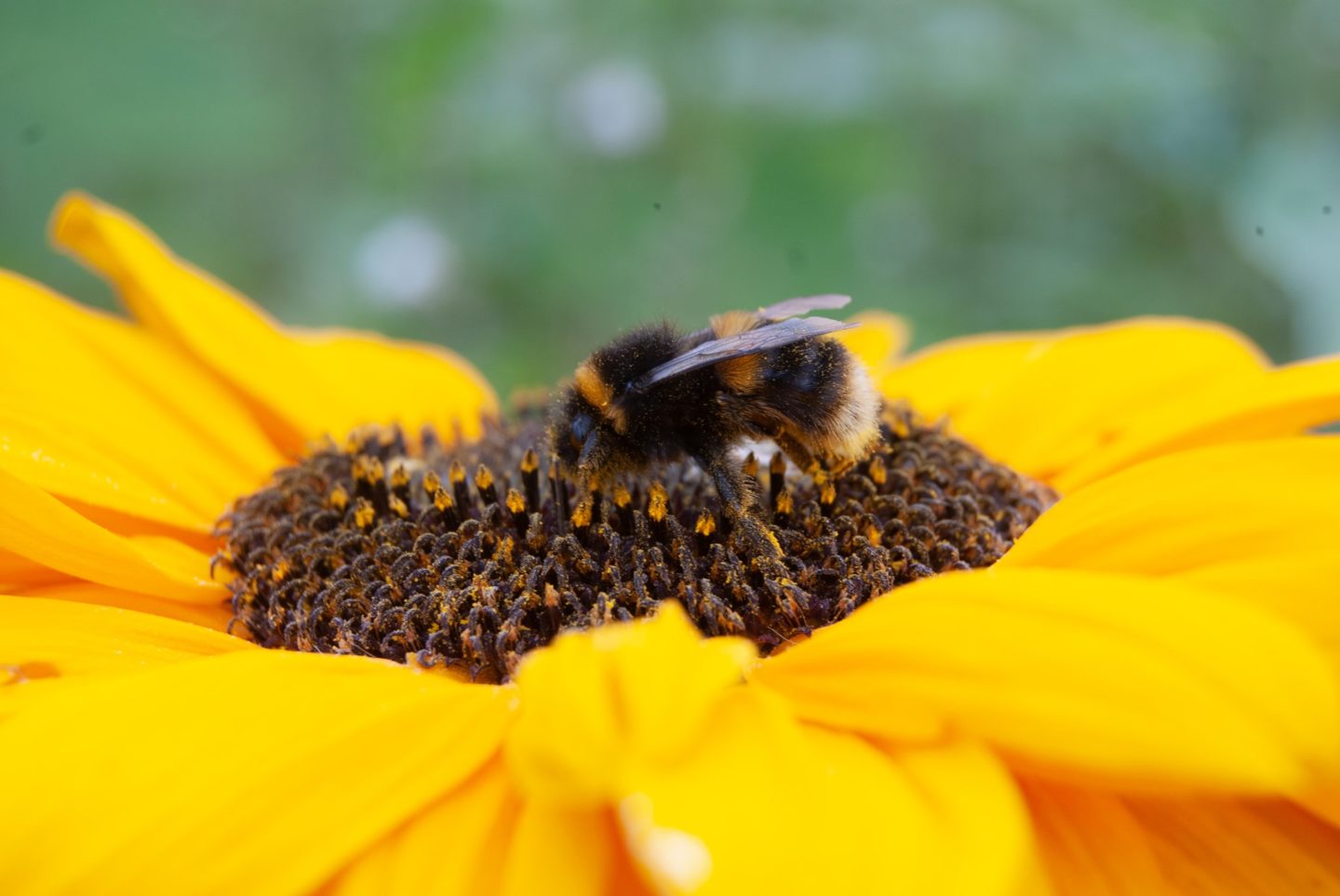 Location : Strawberry Fields, Lifton, Devon, PL16 0DE
Coming Soon PYO SUNFLOWERS!
Come and join us this summer for pick your own sunflowers! This year's event is extra special… we have multi coloured sunflowers!
FUN FOR ALL THE FAMILY
Capture memories here at the Strawberry Fields Sunflower patch. This year we are bringing to you our biggest pick your own sunflower event to date!! NEW to 2021 we have multi-coloured sunflowers lighting up our fields just like a rainbow…
The perfect opportunity to capture your own photos with our blooming rainbow sunflowers.
Sunnyfields Sunflowers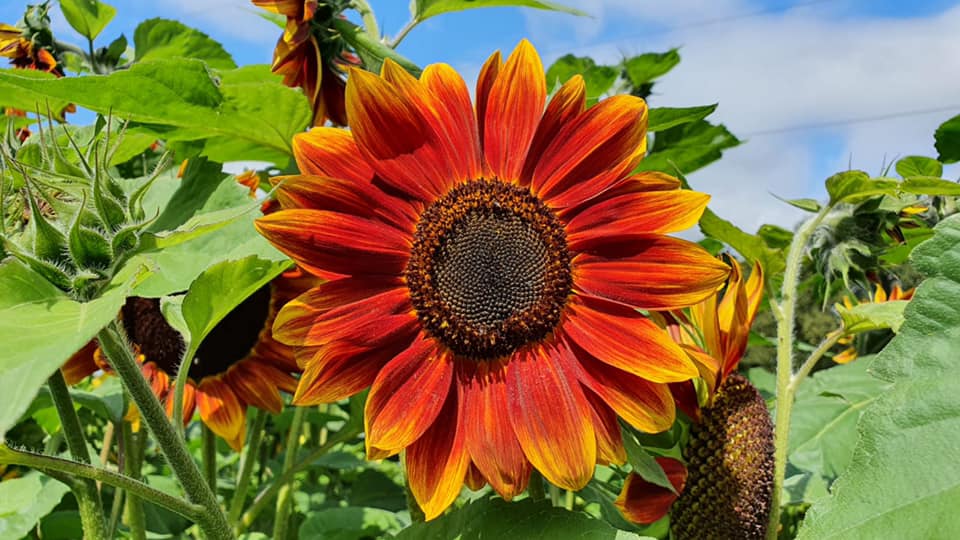 Location : Jacobs Gutter Lane, Totton, Southampton, SO40 9FX
YES, it is SUNFLOWER TIME 🙂
Sunflower Time @ Sunnyfields Farm is a sunflower experience, which is OPEN every day (weather dependant) until Sunday 5th September. No booking is required.
Sunflower Time is about viewing and taking pictures with the wonderful varieties of sunflowers on display, as well as making happy memories with loved ones down on the farm. There will be a sunflower hunt to keep you entertained and refreshments to keep you going.
Sunflower Time isn't a Pick Your Own, as we keep the Sunflowers for everyone's viewing. If we have plenty, we hope to have some for you to buy and take home.
The event opens at 10am, last arrivals at 3pm and closes at 4pm.
Entry on the gate will be £2 per person with under 2's going FREE. Dogs on leads welcome.
Please enter the farm, from the road, using the Pyramid Field entrance and then follow the Sunflower Time signs with the farm post code being SO40 9FX.
The site has hard tracks around the fields, with cut and rolled grass in between the sunflower runs. Therefore, depending on the weather throughout August, most areas will be accessible for wheelchairs and pushchairs.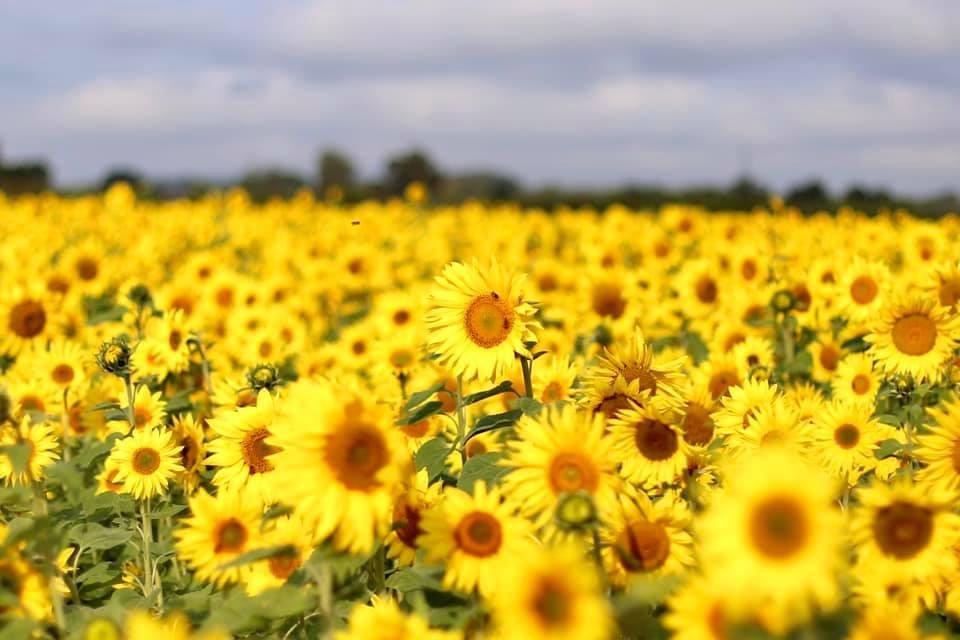 Location : Adjoining the A38 between Taunton and Bridgwater For SatNav please use postcode: TA2 8RG
No booking needed, just come along 11am – 5pm
Entry £5 per person, to include 6 "pick your own" sunflowers. Under 5`s free.
Bring suitable footwear and a pair of secateurs to cut your flowers.(The fields are a bit rough, the stems are quite tough.)
Spend as long as you wish in the fields, enjoy the views and watch the wildlife, bring a rug and have a picnic, enjoy the day.
Location : St Endellion near Port Isaac, Cornwall PL29 3TT
An abundance of Sunflowers
come along and pick your own. Open every day.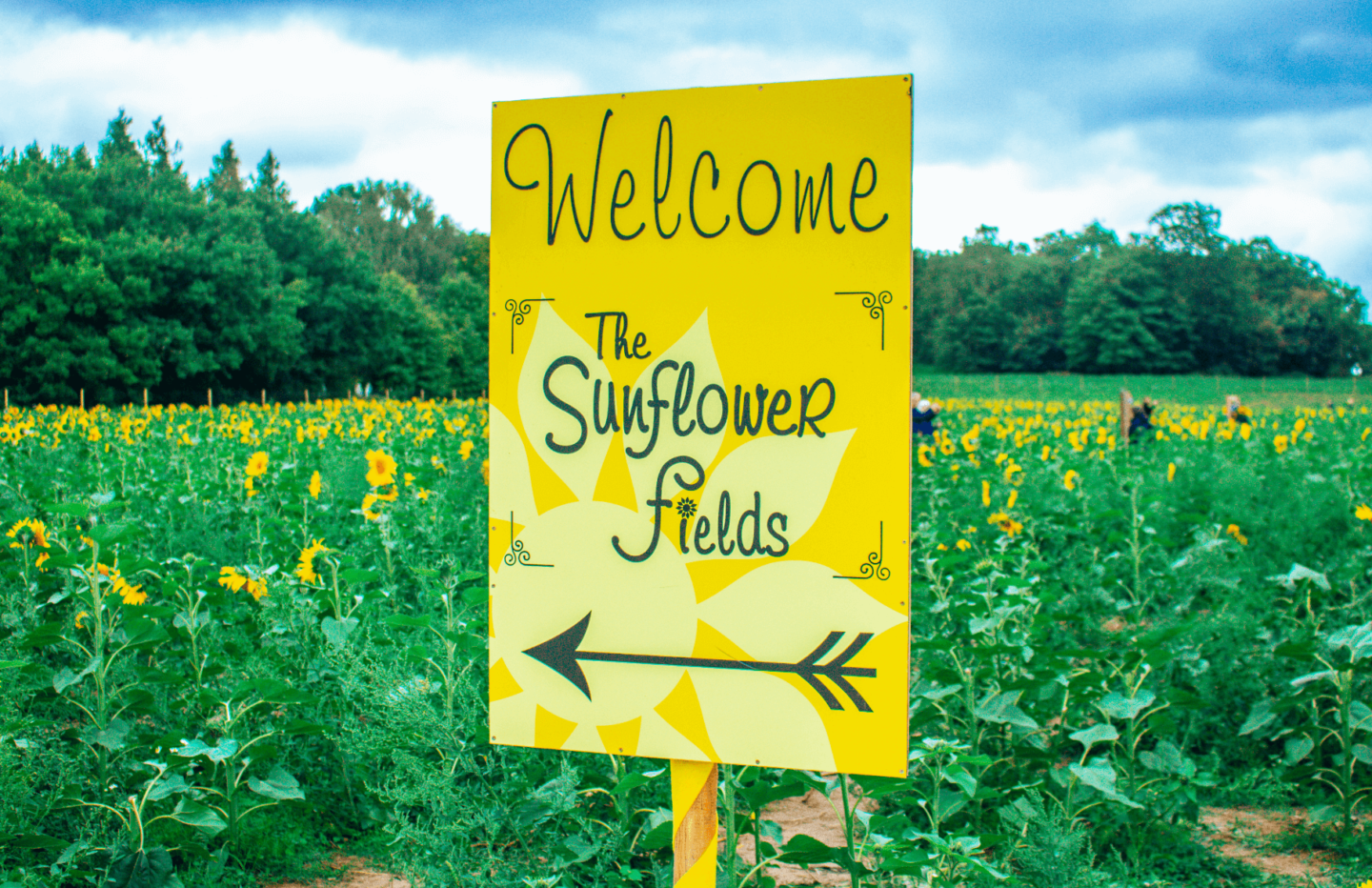 Location : Tulleys Farm, Turners Hill Rd, Turners Hill, West Sussex, RH10 4PE
Daytime Experience – Capturing Memories. The daytime experience is perfect to catch those special moments. They have over 20 photo opportunities to capture the perfect summer selfie.
Sunset Sunflowers – New for 2021. Sunset Sunflowers will be taking place on the 27th, 28th & 29th August Enjoy a cocktail, relax and watch the sunset and capture the special moment with your loved ones.
For further information CLICK HERE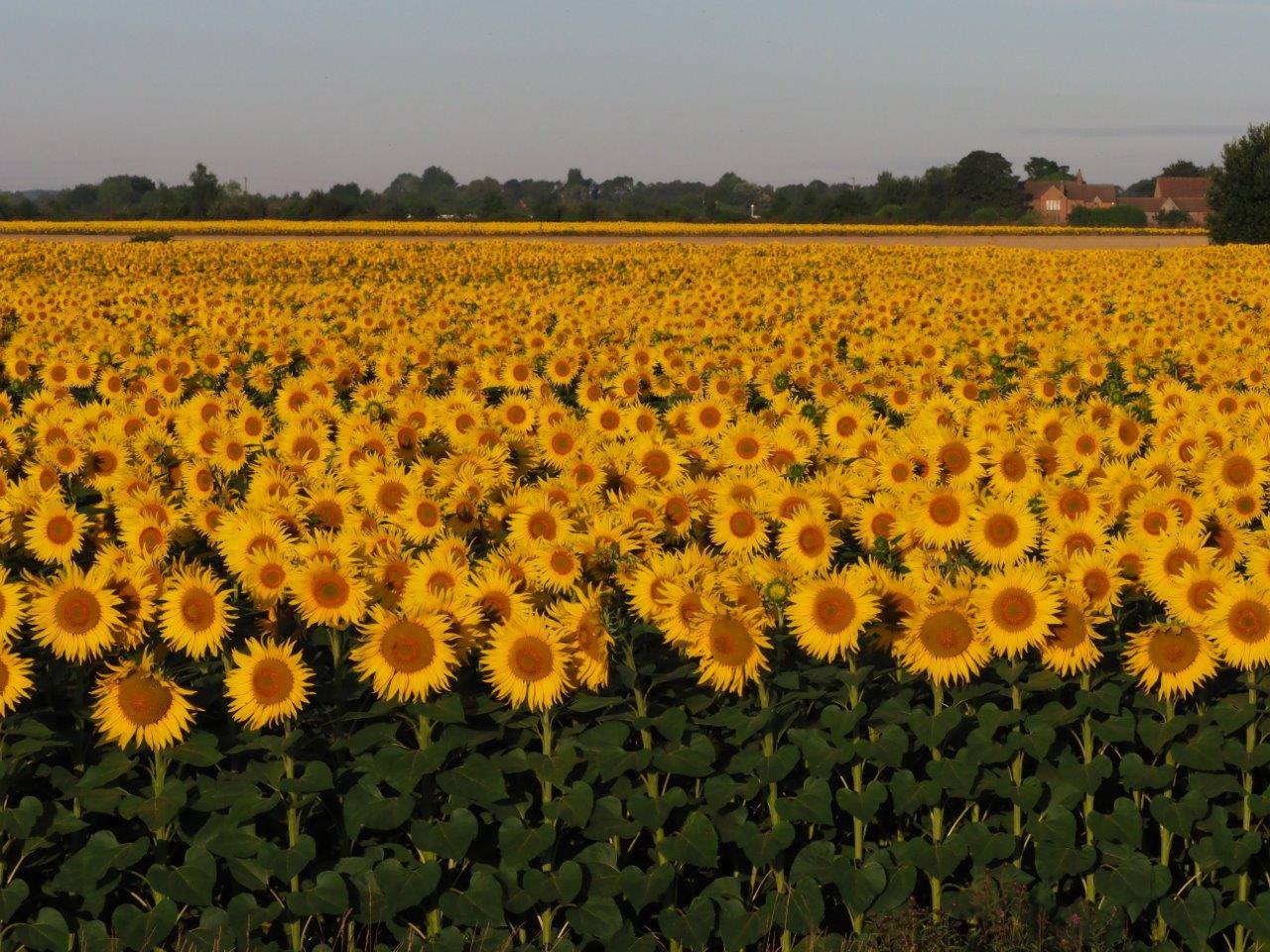 Location : Deeping St Nicholas, Spalding, Lincolnshire, PE11 3DG
Vine House Farm grows more than 100 acres of Sunflowers, with many being used for bird seed. During August they have Sunflower Walks you can take part in, not only do you get to walk amongst the magnificent Sunflowers, but also learn about the farm and all its produce. Harvesting usually begins in September, so try to plan a visit before then.
Last year unfortunately the walks were not able to take place, so keep an eye out for this years information on their facebook page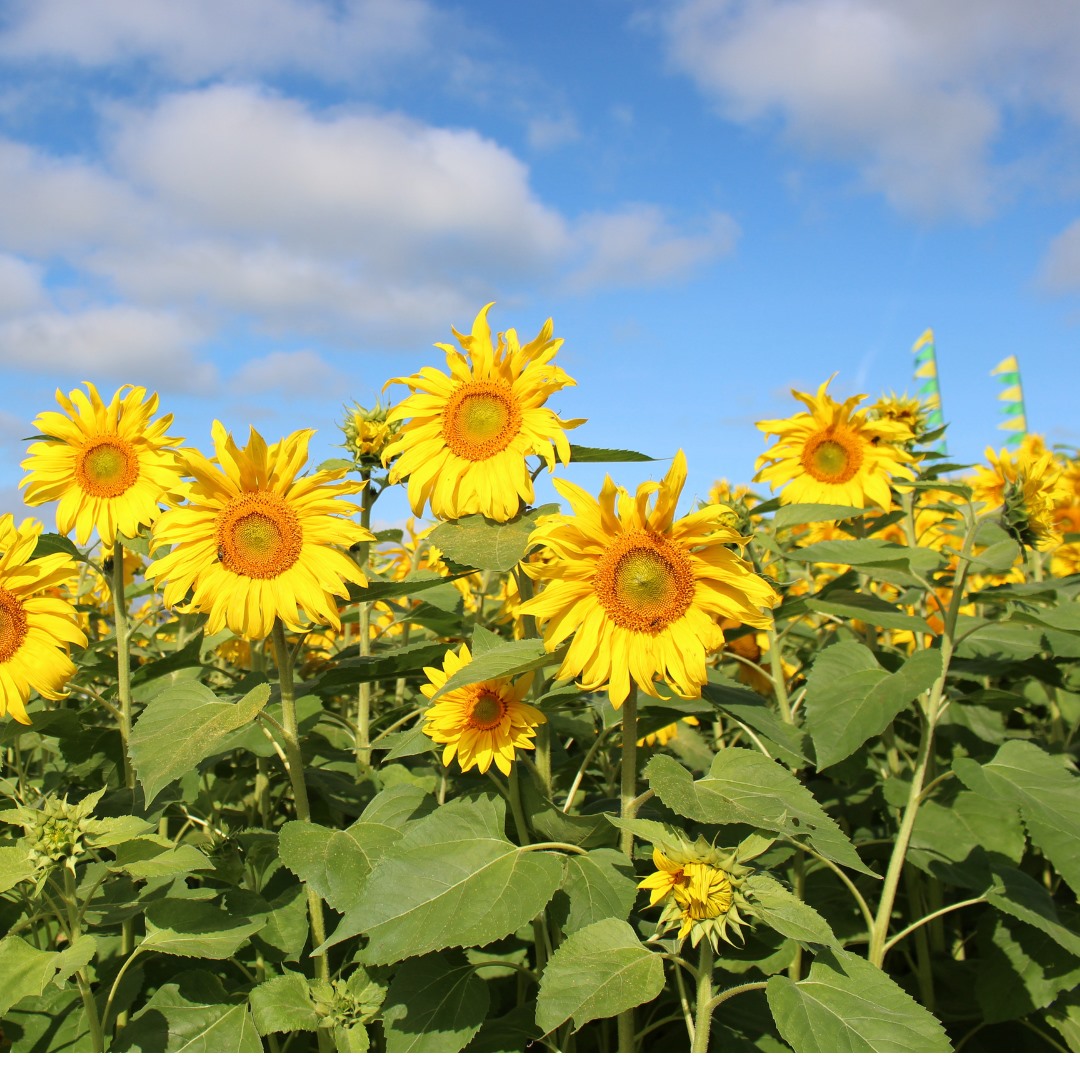 Location : Walby, Crosby-on-Eden, Carlisle, Cumbria, CA6 4QL
OPEN NOW – Walby's Sunflowers, the Sunflower Field is open and ready to welcome you!
Earlier this year they made the exciting decision to try their hand at planting their very own sunflowers! In April, they planted the seeds over 2 acres next to the Pumpkin Patch, they are now over 2m tall. With lots of photo opportunities, you can even Pick Your Own Sunflower to take home (additional charges apply, £1 per sunflower or £5 for 6 sunflowers)
So come on down and visit the Sunflowers!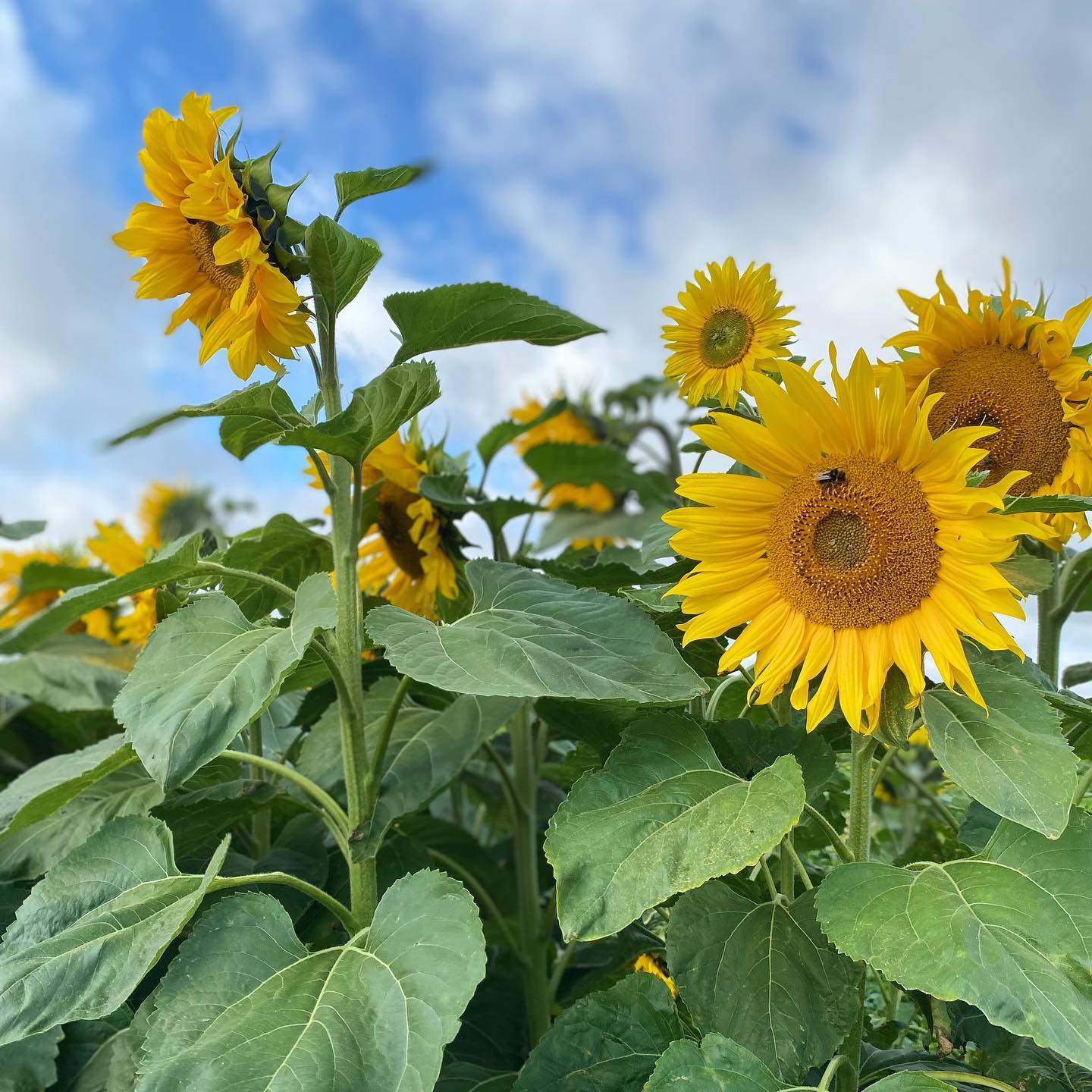 Location : Rectory Farm, Wappenham, Towcester, NN12 8SQ
☀️Good morning! And the sun is shining☀️
Our sunflowers are waking up & following the morning sun 🌻 And our cute little call ducks are enjoying their morning swim 🦆💦
We're open from 10am until 5pm, tickets available via www.wappenhamfarm.co.uk or just turn up 🌻🐝🌾
🐷🍩🌻🐝🐓🚜Sunflowers available until 29th August.
Location : Williams Den, Castle Farm, World Hill, North Cave, East Riding of Yorkshire, HU15 2LS
WILLIAM'S SUNFLOWER EXPERIENCE.
TICKETS ON SALE NOW
We're looking forward to welcoming you to our first-ever William's Sunflower Experience.
When our sunflowers are in full bloom they create the perfect backdrop for amazing photos and of course picking the sunflowers for home will brighten anyone's day.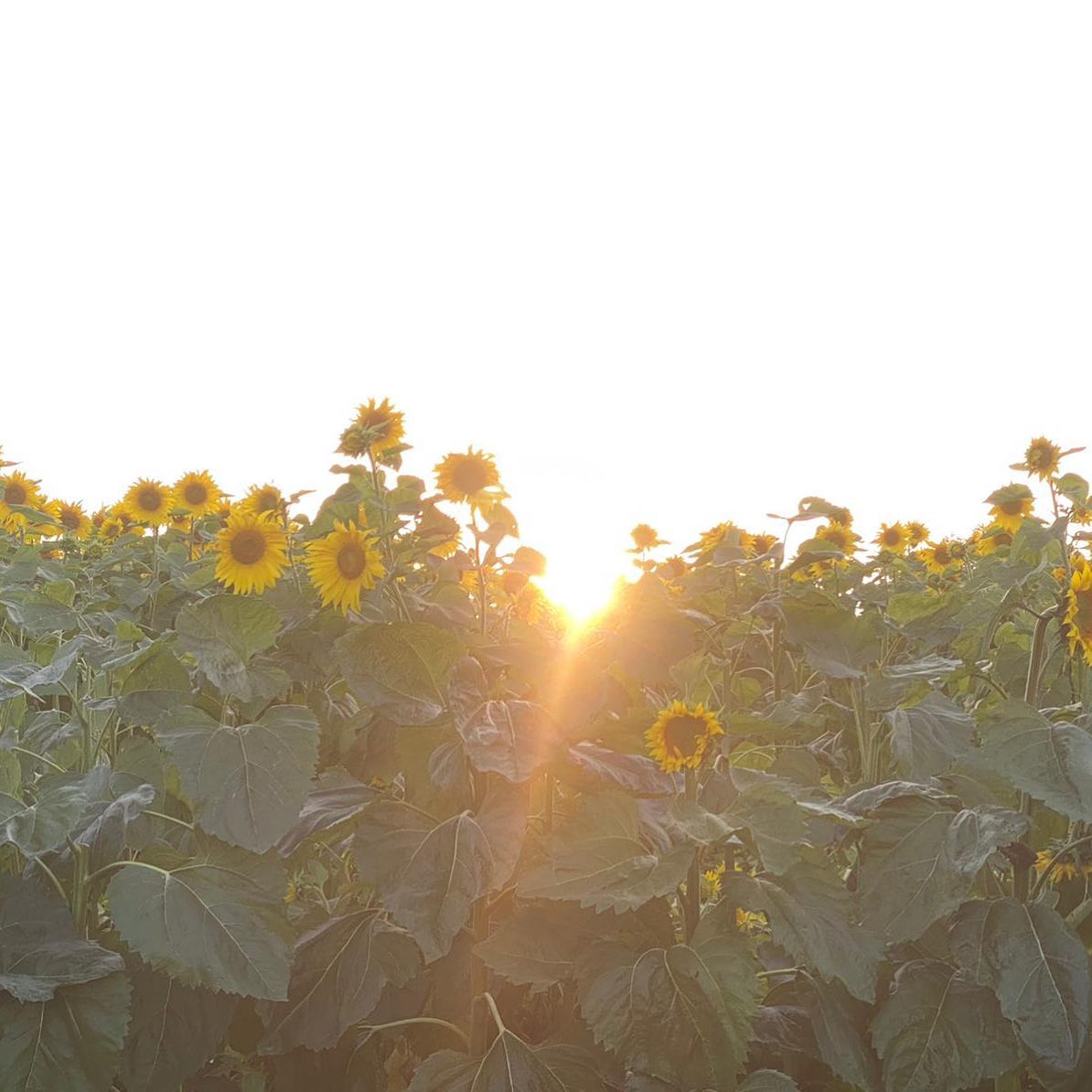 Location : Opposite Pooty Pools Farm, Radley Green Road, Roxwell, Chelmsford, Essex, CM1 4NW
Tickets will only be released a few days in advance as they see how the flowers are doing. They hope to have flowers until the end of August, possibly beyond. Please see social media for release updates.
There is a picnic area and a small maze for children, and visits from My Little Drinks Van and The Tin Canteen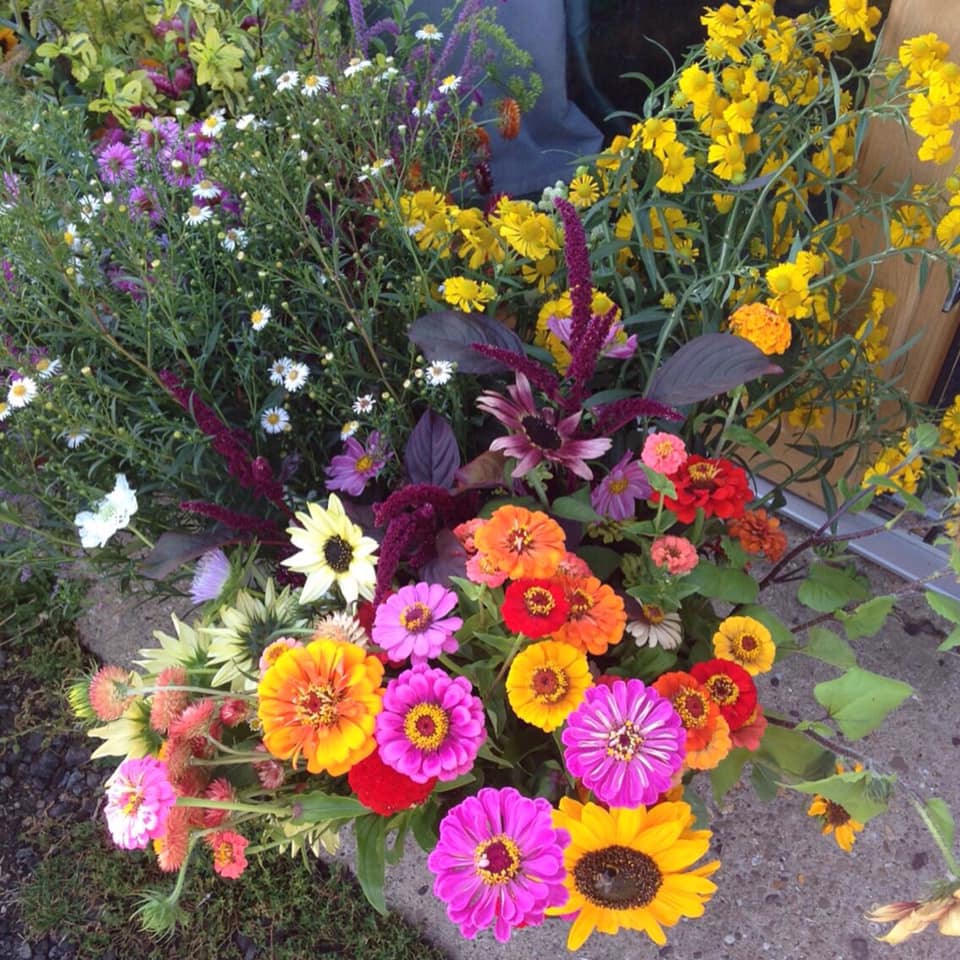 Location : Loddington Farm, Linton, Maidstone ME17 4AG
If you would like to have a choice of flowers, not just Sunflowers, then eco-friendly florist, Blooming Green, could be your answer, every Saturday from Late June to End of October you can make an appointment to go and pick your very own bouquet of flowers and foliage for £20
Check out all the latest news on their facebook page
FAQS
WHEN DO SUNFLOWER FIELDS BLOOM
Sunflowers start to bloom during mid-summer to early autumn, so you're most likely to start seeing them in July.
HOW LONG DO SUNFLOWER FIELDS BLOOM?
Sunflowers are usually in bloom for 3-4 weeks, and the fields will have planted them at different times, so you should be able to visit for eight to 12 weeks and still see them in bloom.
Some bloom as early as mid July, whilst others will continue to bloom into September. The months of July and August are when they are at their best, so try to plan your visit for then. (do check before visiting as the changeable English weather does sometimes delay the timings)
Looking for more Sunflower Fields, check out Best Sunflower Fields in Ireland