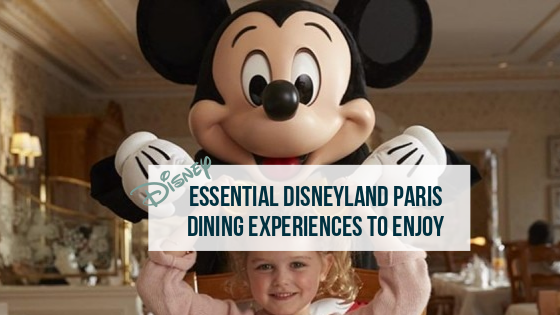 Essential Disneyland Paris Dining Experiences to Enjoy
Disneyland Paris announced a phased reopening of the resort as of 15th July 2020, starting with both theme parks, Disney's Newport Bay Club hotel and Disney Village.
The phased reopening will introduce enhanced health and safety measures implemented for both Cast Members and guests. Theme park capacity will be limited to comply with governmental requirements, Disneyland Paris will manage attendance through a new online theme park reservation system available as of early July and subject to availability.
To provide guests with maximum flexibility, new booking conditions are now available. Find information about the reopening of Disneyland Paris.
No trip to Disneyland Paris is complete without a Disney dining experience or two. There are so many wonderful themed restaurants all around Disneyland Paris. No matter your budget or the type of dining you are looking for, Disneyland Paris has it.
From Toad Hall to Pizzeria Bella Notte find quick service with a fun Disney twist; or fantastic buffets in Agrabah or Crockett's Tavern for as much as you can enjoy of your favourite cuisine. There are some essential Disneyland Paris dining experiences that everyone must do at least once for the perfect day at the park. Here are my favourites.

Walt's American Restaurant
This fine dining restaurant serves American food with an upscale flare inspired by Europe. It's a Victorian style restaurant that fits in perfectly with the Main Street setting; and the decor is a fitting tribute to Walt Disney's life and work. Walt's nostalgic and inspirational table service restaurant is the essential Disneyland Paris experience and very important for any Disney history buff, or Walt Disney enthusiast.
Casey's Corner
The Quintessential Main Street dining experience is the corner cafe known to grace the central plaza of Disney Parks around the globe. Casey's is another corner quick service restaurant inspired by Casey at Bat, Walt Disney's 1946 adaptation that spawned a similar diner in Magic Kingdom. This version is more charming and vintage looking for a home run quick service experience.

Character Dining at Disneyland Hotel
In general, it's safe to say that any character meal will suffice as essential Disneyland Paris Dining. You will have a lot of opportunity and the experience relies on convenience as much as any other factor. However, If you can dine at the Disneyland Hotel The view of Main Street from Inventions cannot be beat. This character buffet is one of the best and a must do for Disneyland Hotel guests.

Dinner in Disney Village
Another must do essential Disneyland Paris dining experience is to have dinner in the Disney Village. This is a vibrant outdoor shopping mall with terrific themed restaurants, like Annette's; This classic American diner is a blast to the past with 1950s theming, juke boxes and delicious malteds.

Gibson Girl Ice Cream Parlor
Main Street USA is sort of a rite of passage for any Disneyland visitor. Which is why there are so many essential experiences here. Wherever your adventures take you, your starting point is always in this early 20th century, midwestern American town.
There is a romance and a nostalgia to it that perfectly primes you for the fantasy that lies ahead. One place that is particularly inspired is The Gibson Girl Ice cream Parlor. The perfect place to stop for a treat before you reach the many gateways in the central plaza.
If you are just looking for something small to eat, check out Disneyland Paris Snacks That Top Our List Of favourites