October Half Term in Norfolk this year runs from Saturday 23rd October – Sunday 31st October, so all of the local attractions will be offering a Halloween Theme, so if you are looking for somewhere to go this half term check out these fantastic Norfolk Halloween Events.
Family Halloween Events Norfolk
Belle Aire Holiday Park
Location : Beach Rd, Hemsby NR29 4HZ
Everybody Welcome to East Coasts Biggest Festival of the Dead…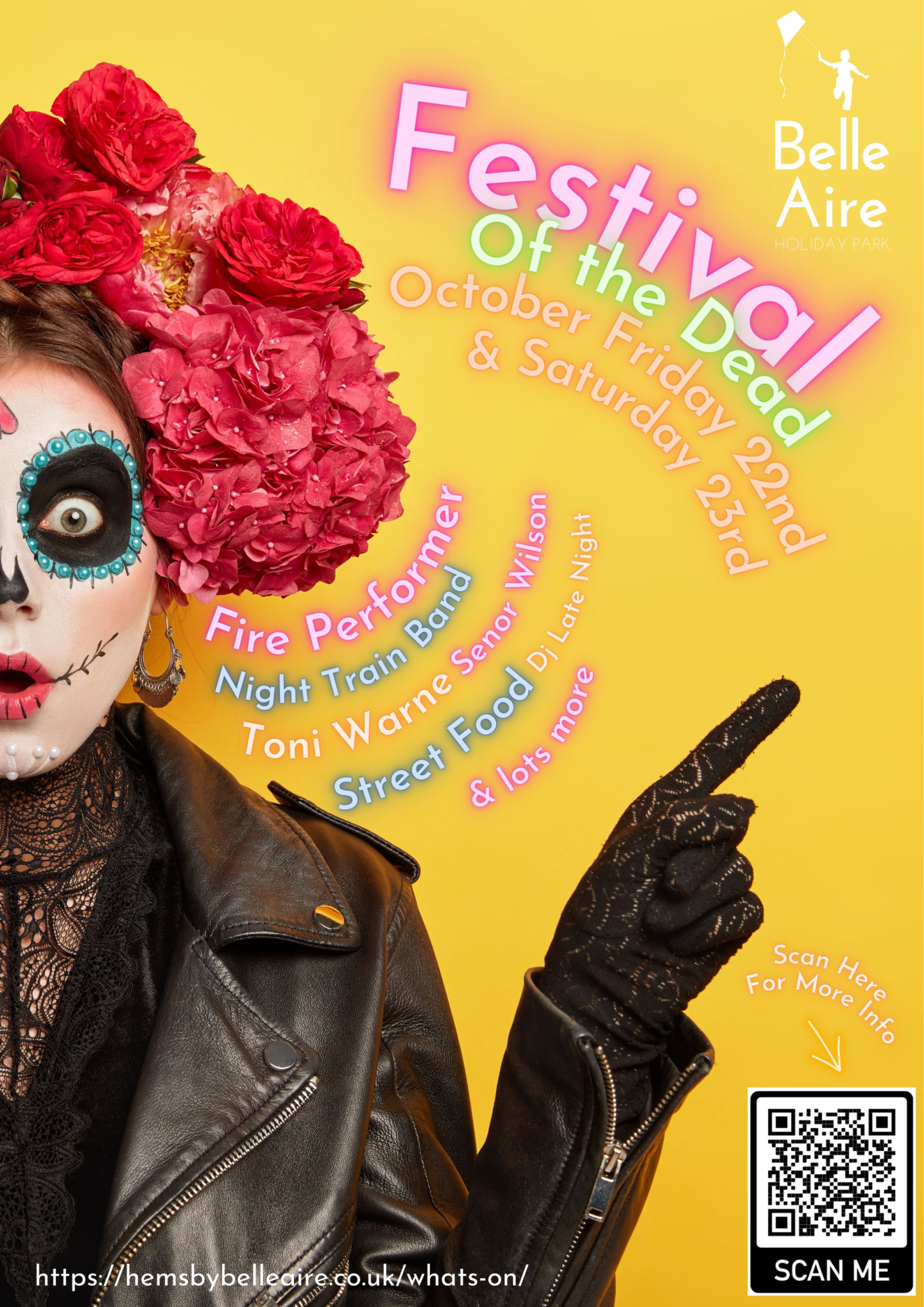 6pm till Late Friday 22nd October. Friday – Party Night with visual performance and the fantastic party band Night Train. 1pm till Late Saturday 23rd October
Saturday Daytime – Pumpkin carving workshops, candy skull art creating, piñata party
Saturday Evening – Party Night with visual fire performance, fantastic party performances by Toni Warne and Señor Wilson and DJ Late night. Featuring a hoard of characters, creations, music, acts, food & drink Belle Aire Holiday Park brings you New for 2021 – Festival of The Dead.
From giant skulls and skeletons, wondrous circus acts and carnival theme, Festival of The Dead is a party like no other. Expect full carnival pageantry so come dressed to impress not only the dead, acrobats, fire performer, dancers, singers, bands and beautiful decorative art and costumes.
Festival of the Dead is a contemporary event infusing elements of carnival, circus, theatre and unadulterated partying.
Join us for a Monster Party…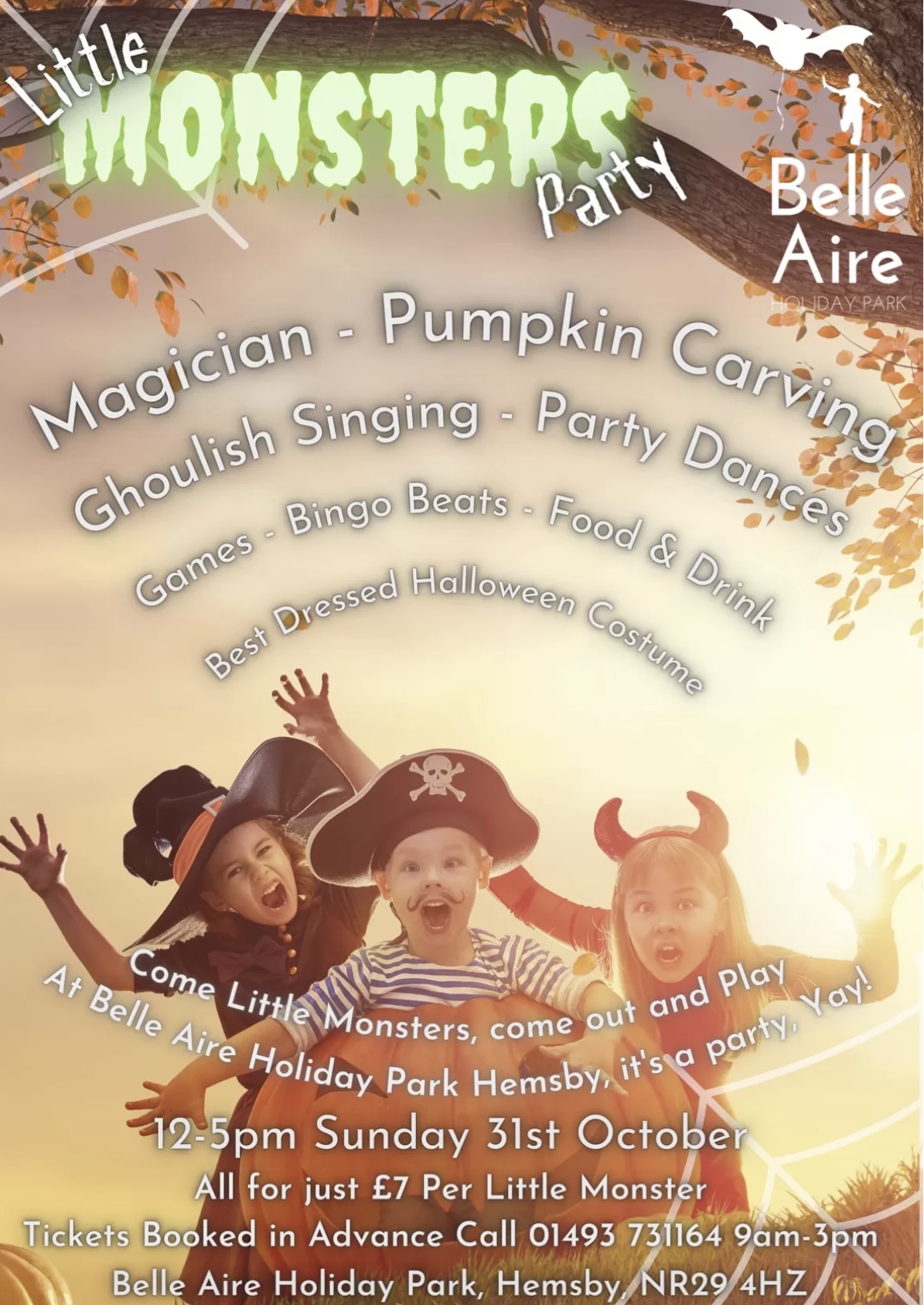 Magic – Pumpkin Carving – Goulish Singing – Party Dances – Games – Bingo Beats – Food & Drink and Best Dressed Halloween Costume.
All this for just £7 per child. 12 Midday till 5pm Children aged 4 to 14 (Must be accompanied with an adult)
Opening Dates/Times/Prices : For further information CLICK HERE for festival of the dead and CLICK HERE for Little Monsters Party
Bewilderwood
Location : Horning Rd, Hoveton, Norwich NR12 8JW
Snagglefang's Season of Sneakery 16th – 17th and 23rd – 31st October
More info about this sparkly event coming soooooon!
The Glorious Glowing Lantern Parade 16th – 17th and 23rd – 31st October
Start your adventure at Hazel's Hideaway where you can craft your own Boggle Bindle Lantern to help light up the woods, before embarking on a journey of terrific tales & magic…
After dusk, explorers will venture deep into the woods lit by Slitherigrubs in lanterns and spot the WILD and wonderful creatures of BeWILDerwood as they peep out to see you! Look out for Boggles in the marshes and listen to the Twiggles in the trees, see the Thornyclod making marshmallows in his mud kitchen, Hazel casting spells high up in her witch's house and Crocklebogs doing curiously crockleboggly things!
They just love to see everyone celebrating this magical time of year with their spooktacular costumes, so don't be afraid to dress up as a nice witch, BeWILDerBat, Creepy Crawly or even a Crocklebog!
Opening Dates/Times/Prices : For further information CLICK HERE
Fire On The Water
Location : The Waterways, North Drive, Great Yarmouth, NR30 4EW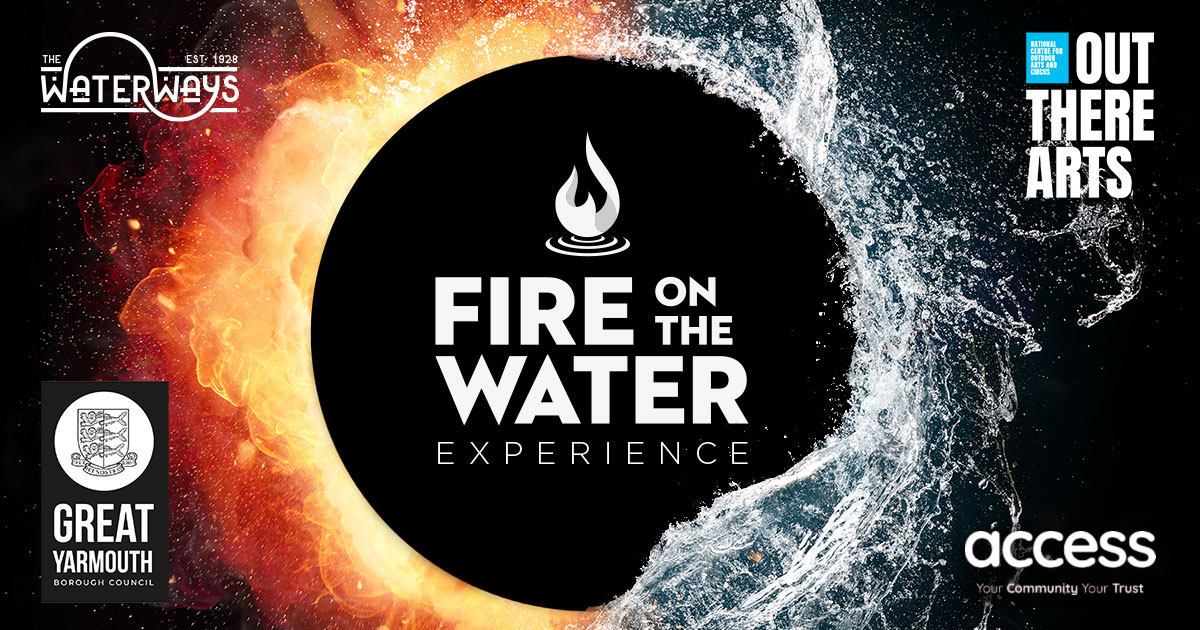 BRAND NEW FOR 2021
Visit Great Yarmouth and experience the magical, blazing display of fire installations & sculptures.
The producers of the Out There Festival and Great Yarmouth Borough Council present to you 'Fire on the Water' – An immersive experience with dramatic outdoor arts, hypnotic water projections and shining installations, glowing embers leap and twirl in the night, warming the hearts of all who spectates.
As the chosen location of the immense and mesmerising event, the Venetian Waterways will be transformed into a spectacular scene that will provide amazing cross-site visibility and offer plenty of car parking space, wheelchair accessibility and suitable space for visitors to adhere to social distancing guidelines.
Opening Dates/Times/Prices : For further information CLICK HERE
Hippodrome Halloween Spooktacular
Location : St George's Rd, Great Yarmouth NR30 2EU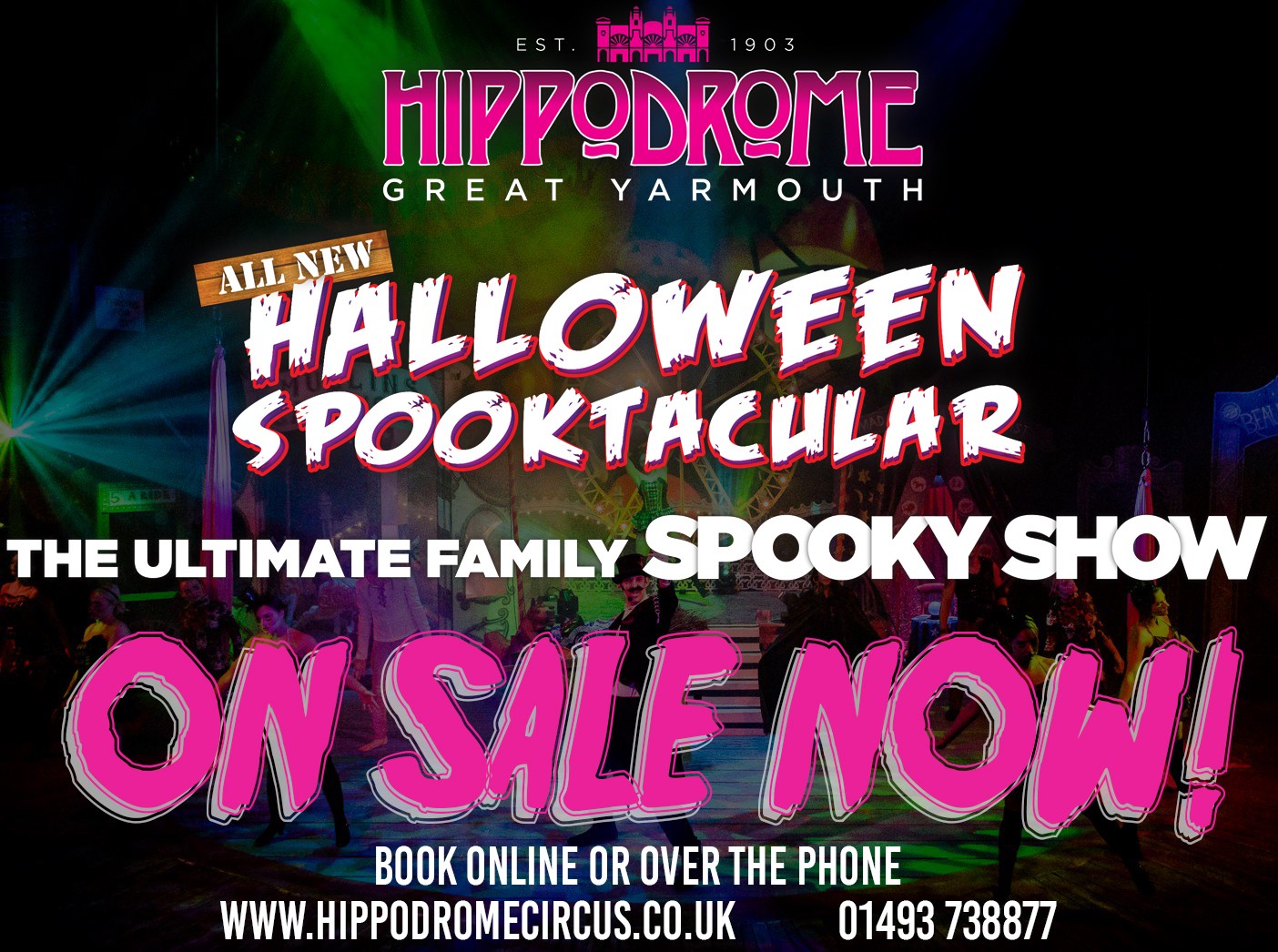 Jack Jay and Johnny Mac return for another Spooktacular Adventure for all the family this October half term.
Every Halloween, the Hippodrome transforms once again, but this time not everything is as it seems.
The show joins Jack Jay and Johnny Mac on a Spooky adventure, whether they are trying to save the Hippodrome's international cast against evil, mysterious characters, or just getting up to no good , all families are encouraged to get their fancy dress costumes ready for their biggest Halloween Party yet!
Opening Dates/Times/Prices : For further information CLICK HERE
Hirstys Halloween Hoot
Location : Yarmouth Road, Hemsby, Norfolk, NR29 4NL
Pick a Pumpkin – Carve it on site – Get your face painted – Enjoy all our other play equipment. All the Funpark equipment is available, and every day we award prizes for the best costume and best pumpkin. Join the Pumpkin Queen for a walk through the maze to scare away all the crows!
Come along and have a real family fun day out
Opening Dates/Times/Prices : For further information CLICK HERE
Pantostein – Gorleston Pavilion
Location : Pier Gardens, Gorleston-on-Sea, Great Yarmouth NR31 6PP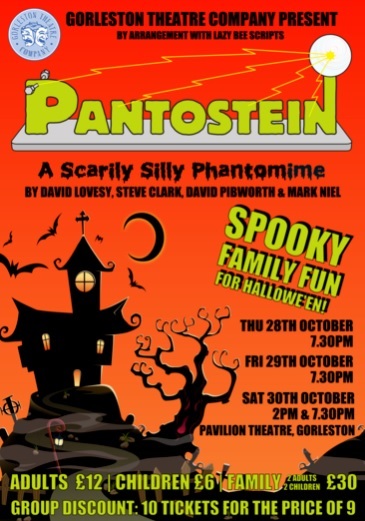 The most gruesome pantomime of them all! Follow Boris and Bertha as they investigate creepy goings on in Cemeteria, a mountain top village in the heart of Transylvania, where dark secrets and mad scientists dwell side by side.
Dracula, Dr Frank N Stein and Igor, as well as the Werewolf, all play their part. All the elements of traditional family entertainment are here: songs, laughter and unspeakable violence.
A brand new script full of fun, slapstick, and things that go bump in the night! Fun for all the family
Opening Dates/Times/Prices : For further information CLICK HERE
Pensthorpe Wicked Wildlife
Location : Pensthorpe Rd, Fakenham NR21 0LN

Join us (if you dare!) for our fangtastic Halloween event this October half-term!
Discover the grim and gruesome side of nature on our Wicked Wildlife trail around the park, perfect for ghouls and boys of all ages!
What's more, this year we have a terrifyingly fun-packed activity programme, with pumpkin carving/decorating*, a mini pumpkin trail, free craft activities and free junior wildlife tours into the depths of the park.
For serious thrills and hair-raising fun, don't forget to book your slot into the Hootz Haunted House and WildRootz indoor and outdoor play areas- its dens, tunnels, zip-wires and slides will be spookily decorated for added fun!
The best bit? Our Wicked Wildlife trail is FREE and included in your admission price!
Opening Dates/Times/Prices : For further information CLICK HERE
Pettitts Animal Adventure Park
Location : Church Road, Reedham, NR13 3UA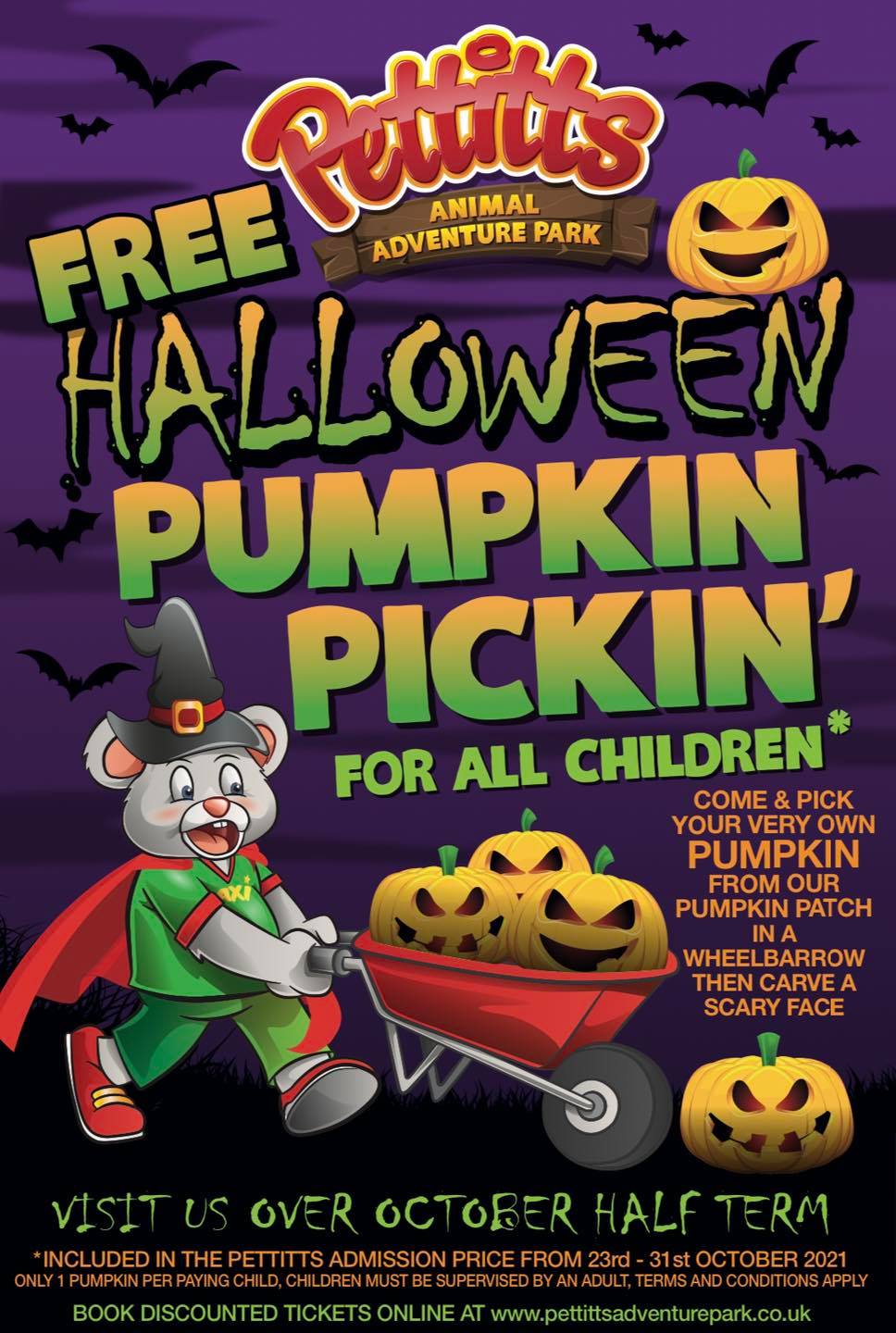 Looking for some SPOOOOKY Halloween fun this October half term? Pettitts Pumpkin Pickin' is back for 2021! 🎃👻🎃
Visit Norfolk's Premier Family Park and enjoy FREE Halloween Pumpkin Pickin 🎃 from 23rd – 31st October as well as our Spook-tacular rides, animals & attractions for a family fun day out! 🎢🦝🦘
All paying children gets to pick a pumpkin from our Pumpkin Patch, take it to our carving area using our little wheelbarrows where our carving team will be on hand to help you create, carve & keep your spooky pumpkin! 🎃👻
Opening Dates/Times/Prices : For further information CLICK HERE
Pleasurewood Chills
Location : Leisure Way, Lowestoft NR32 5DZ
The region's much loved Halloween celebrations Pleasurewood Chills make a fangtastic return for the 2021 season this October half term. There will be fun to be had for all the family with all your favourite rides, shows and attractions, plus more spooky themed events alongside. Further announcements will be made in the coming weeks. Keep up to date online and on the social channels
Shrek will be holding meet and greets at the Castle Theatre at intervals on Wednesday 27th October as part of the Pleasurewood Chills half term celebrations.
Do you dare brave Hob and the Hell Express?
Experience the Extreme Scream this half term at Pleasurewood Chills
Recommended age for the two scare mazes is 12+
Opening Dates/Times/Prices : For further information CLICK HERE
Roarr! Dinosaur Adventure
Location : Lenwade, Norwich NR9 5JE
Spooky fun across the Park including storytelling, immersive exploration adventures with the Dinomite gang, Halloween crafts, pumpkins and spooky fun! Your Dippy medal will protect you from anything that goes bump in the night! Meet Dippy and friends in Dippy's theatre or join in with some spooky disco dancing at Dippy LIVE. If you want the best Halloween fun this half term, then dress up and come to Roarr! Dinosaur Adventure.
Opening Dates/Times/Prices : For further information CLICK HERE
Sealife A-Scarium – Great Yarmouth
Location : Marine Parade, Great Yarmouth NR30 3AH
Sealife A-Scarium – Hunstanton
Location : Seagate Rd, Hunstanton PE36 5BH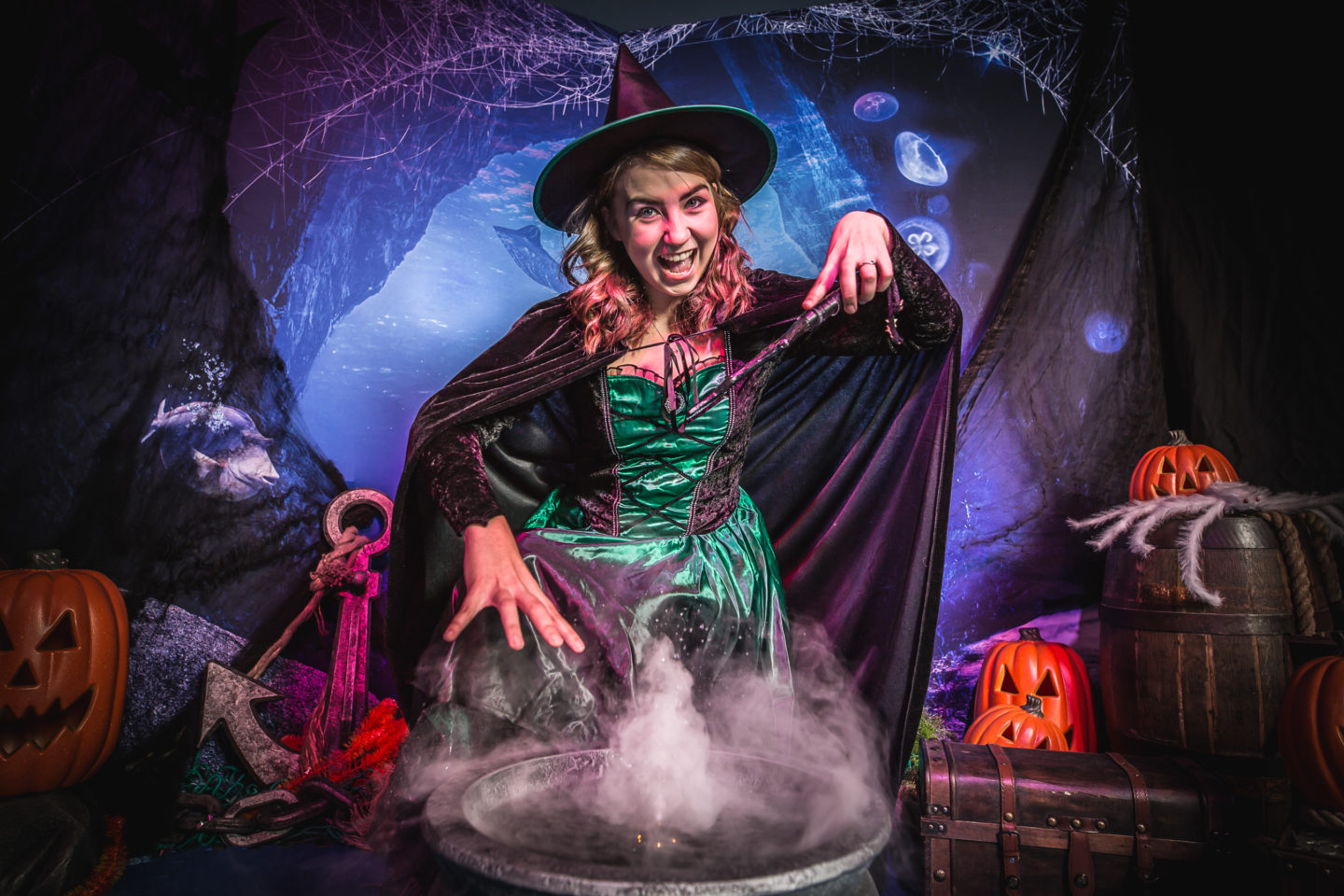 Join the Aquarium as it turns to Ascarium this October!
The Sea Witch is back for 2021! Follow an immersive trail to help her find her missing potion ingredients, which are hidden throughout the depths of the tanks, and discover some of the spookiest creatures of the sea as you explore…
Make your way to the Witch's lair where she will cast her spell to open her treasure chest revealing a special reward!
Opening Dates/Times/Prices : For further information CLICK HERE for Great Yarmouth and CLICK HERE for Hunstanton
Wroxham Barns Pumpkin Festival
Location : Tunstead Rd, Hoveton, Norwich NR12 8QU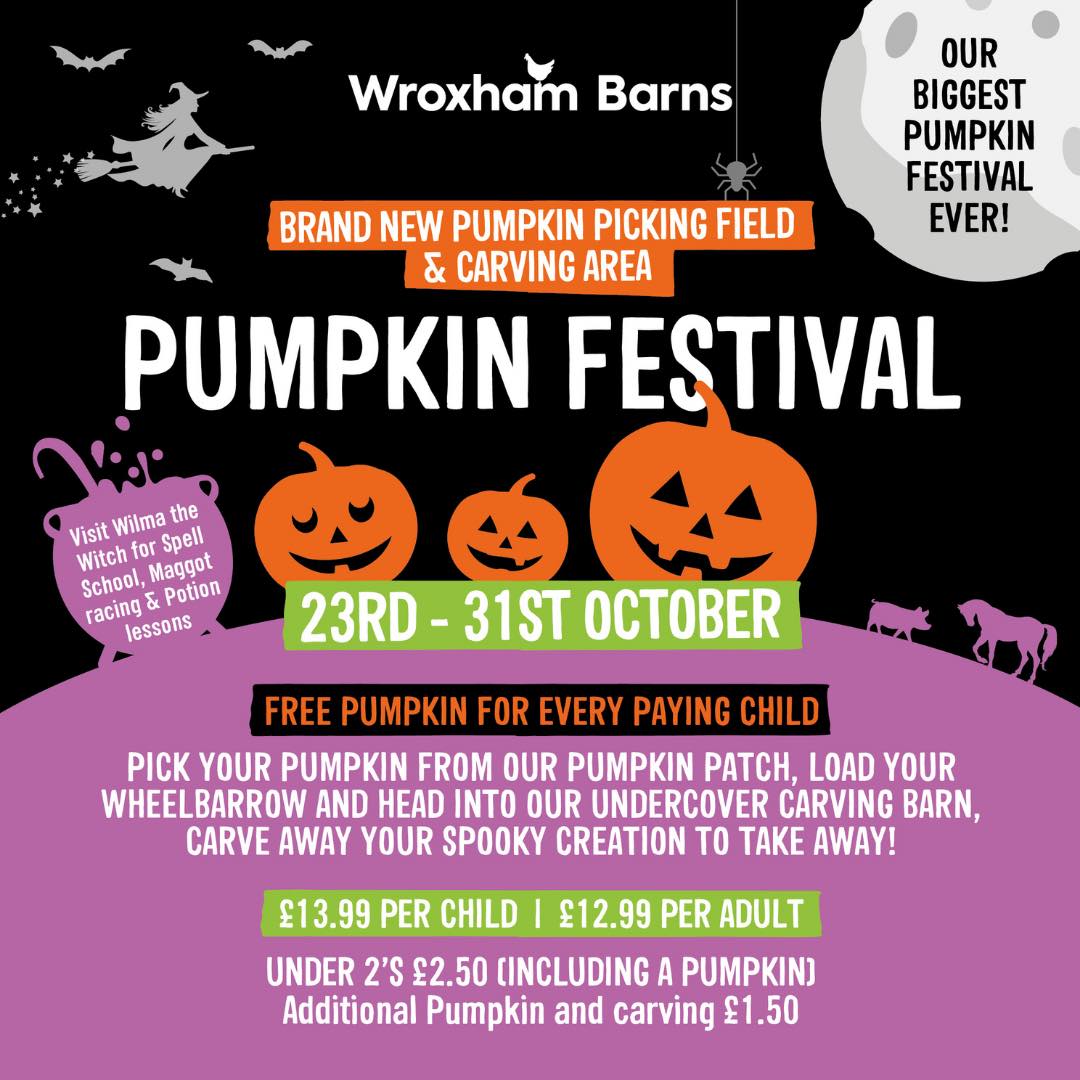 Wroxham Barns Pumpkin Festival is back for another year BIGGER & BETTER than ever before with a BRAND NEW PUMPKIN PICKING FIELD and thousands of Pumkins.
Tickets include unlimited access to Junior Farm & The Fun Park, plus a FREE Pumpkin for every paying child, along with spell and potion school with Wilma the Witch!
During your visit to Junior Farm & Fun Park Pumpkin Festival you can collect your FREE Pumpkin for each paying child from our Pumpkin Patch, carve it in our Carving Barn as well as enjoy lots of hands-on activities along with attending Wilma The Witch's potion school. Remember your tickets also include all the fun of the Farm
Opening Dates/Times/Prices : For further information CLICK HERE
Adult Halloween Events Norfolk
Halloween is also a time for the tweens, teens and adults to have some fun! There are some great scare attractions in Norfolk for you to enjoy
Nightmares in Norfolk
Location : South Runcton, Kings Lynn, PE33 0EW, Norfolk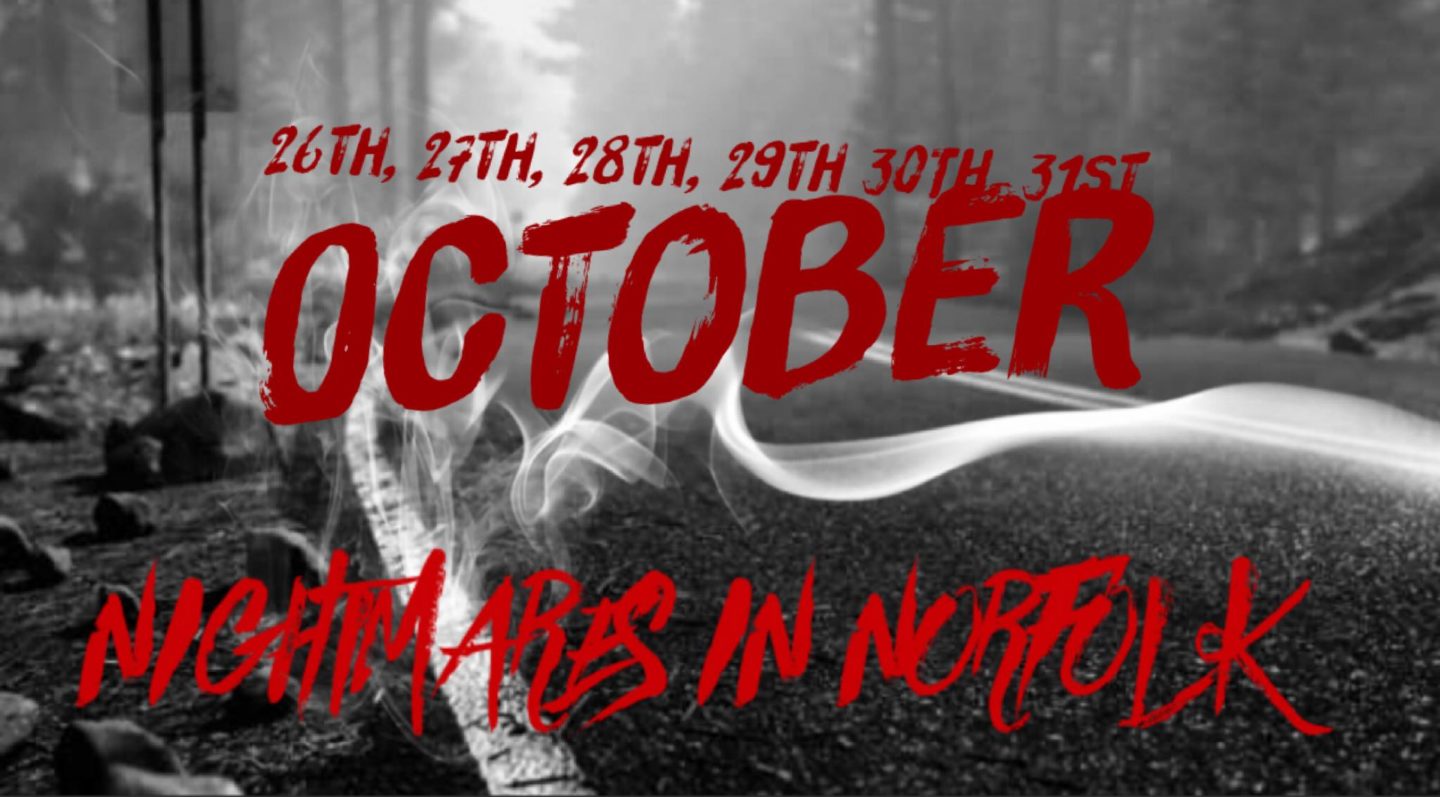 Step into the live action of horror mazes of Norfolk's most terrifying scare attraction Nightmare in Norfolk. Can you find your way to escape a deadly challenge as you and your crew will have to escape scare mazes in one big walkthrough for 2021
Who's ready for the ultimate lineup, come face to face with zombies, demons and your friendly neighbourhood ghostbusters as you brave the depths of hell to survive!
2021 line up! 🎃
Central Park Scare Zone!, Demons Undead Nightmare! (Ghostbusters), Saw Returns, The Nun Scare Zone, 28 Days Later, Legends Of Horror, Monster Mash Up, Mr Smileys Playground
So come meet evil clowns and brave jigsaws games, chucky, chainsaws, it all awaits you for 2021!
27th-31st October is recommended for those 13 and above due to mature themes.
Opening Dates/Times/Prices : all the info can be found HERE
Pleasurebeach Fairground Frights
Location : S Beach Parade, Great Yarmouth NR30 3EH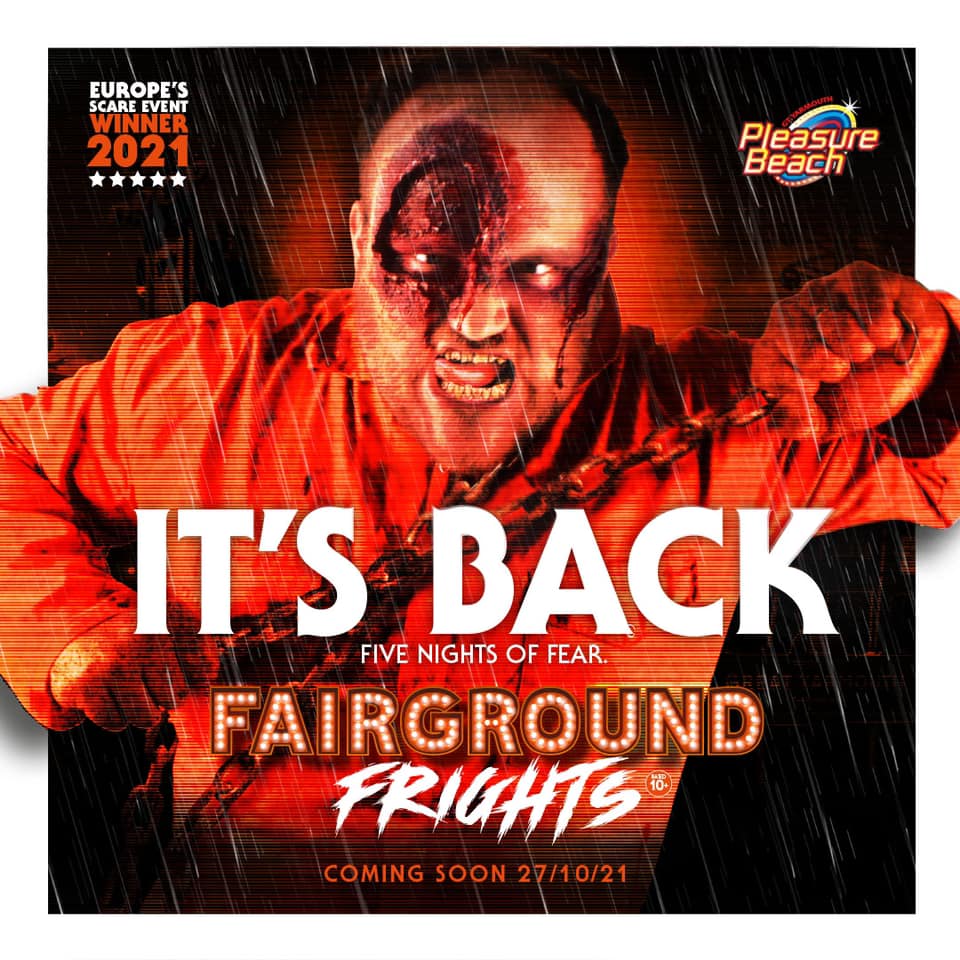 The award-winning Halloween event returns for 2021! Given the success of "Fairground Frights" in 2020, they've have decided to continue to grow the event into a second year.
There will be five nights of fear running consecutively from Wednesday 27th October 2021 to Sunday 31st October 2021. Each night will begin at 5pm and finish at 8pm. You're advised to arrive early to maximise your time / experience.
Tickets will be released on Friday 1st October via their website. As this is a limited capacity event it's strongly advised that customers book their admission tickets in advance to avoid disappointment.
Opening Dates/Times/Prices : For further information CLICK HERE
PrimEVIL
Location : Roarr! Dinosaur Adventure NR9 5JW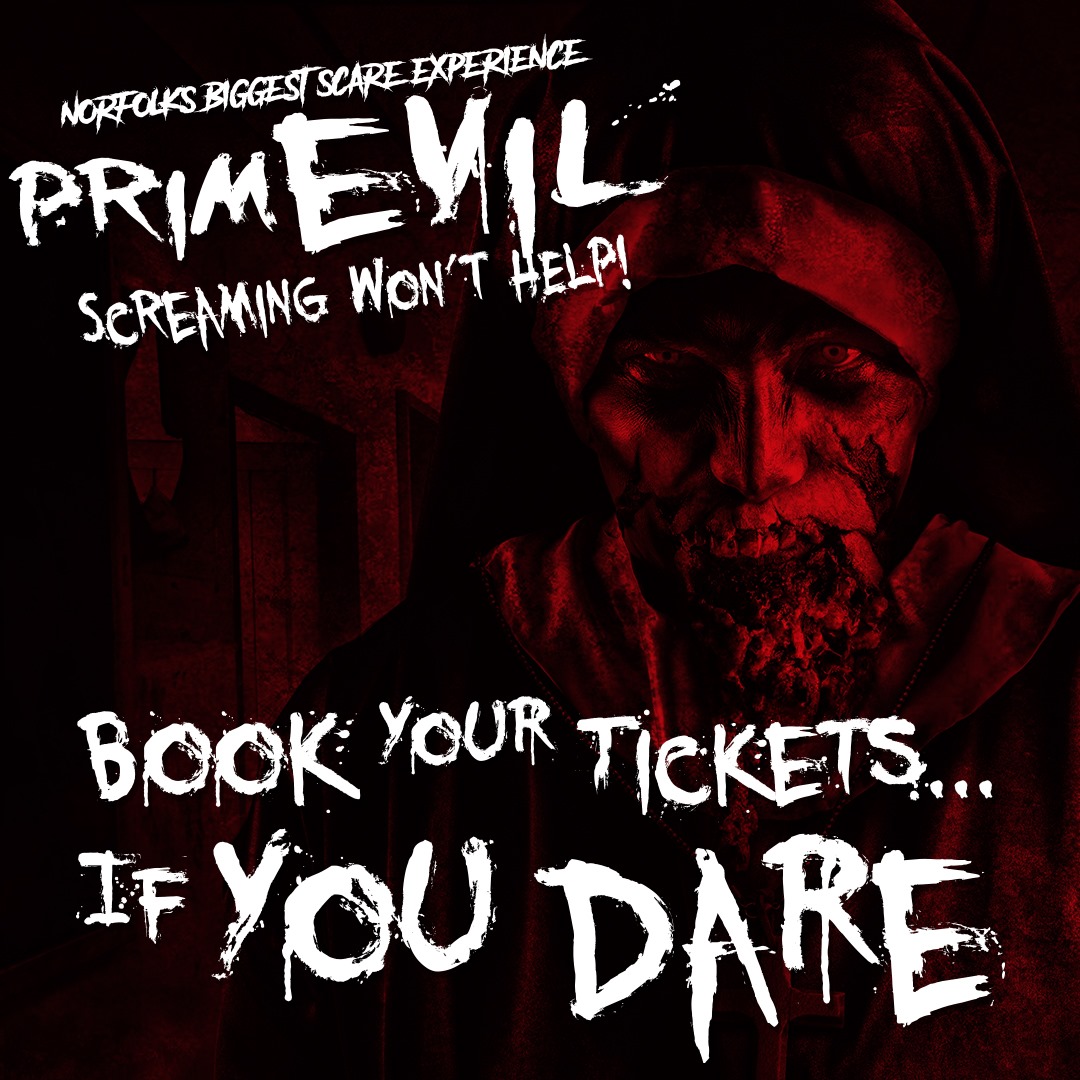 Norfolk's Biggest Award Winning Scare Experience. With five terrifying haunts full of scares, street performing actors, bar, street food vendors and plenty of entertainment on what is our 12th year of fear!
Our haunts promise to entertain you with surprise rooms, obstacles, corridors and non-stop twists and turns and jumps around every corner! Form your scare squad and take on the challenge of Norfolk's biggest and best scare attraction!
Attractions include CIRCUS OF TERROR – FREAKED OUT, THE CRYPT – REPENT YOUR SINS, INSANITORIUM – INFECTED, MAYHEM MANOR HOTEL – BLACKOUT and ROUTE 666
Gates open at 6pm, last entry is 9pm, park closes at 11pm
Opening Dates/Times/Prices : all the info can be found HERE
So Many Norfolk Halloween Events taking place this year, which one will you be visiting ?