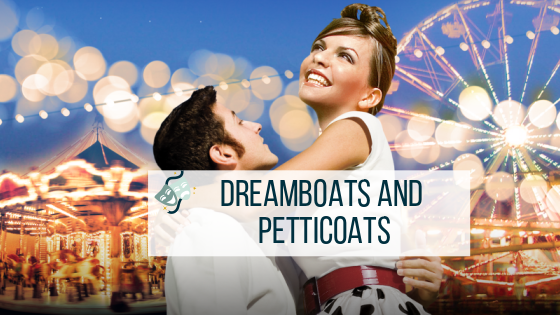 Dreamboats and Petticoats – Norwich Theatre Royal
Last night Neva, Xene and I went along to the opening performance of Dreamboats and Petticoats, that is showing at Norwich Theatre Royal until Saturday 12th August. I didn't know much about the show other than it has been a HUGE success in London and even my nan had been to see it. I LOVE the music of the 60s and who doesn't want a happy, feel good love story!
The story begins with Grandad Bobby (Jimmy Johnston) showing his Fender guitar to his grand-daughter and retelling the story of how he got the guitar and spent 10 minutes as the lead singer of a band, before he was dumped for the cooler, older boy Norman (Alastair Hill)
The story then goes back in time to that moment and we see young Bobby (played by Alistair Higgins) at his audition, and the story continues detailing his love for Sue (Laura Darton) but eventually realising that the actual girl for him, is his best friend Ray's (David Luke) younger sister Laura (Elizabeth Carter).
The show was electric, it was filled with feel-good, toe-tapping songs throughout, which had the entire audience on their feet, including a fair few people doing the twist right there in their seats.
This show is timeless, the songs have been passed down through generations, I remember them all as my dad was in a band during the 60s, and the tunes have been passed down to my own children, through movies and cover versions. We listened to classics like Bobby's Girl, Hey Baby, Let's Dance and Dream Lover, to name a few.
The entire show is played live by the musicians within the show, for that authentic 60s sound, they are nothing short of brilliant.
Dreamboats and Petticoats is written by Laurence Marks and Maurice Gran, people may know them from such popular TV shows as Shine on Harvey Moon, The New Statesman and Birds of a Feather. The script is extremely funny and the entire audience were engaged, probably one of my favourite performances to date at the theatre.
If you are a fan of 60s music and you are looking for a great evening out, then book your tickets now, as they are selling very fast.
Evening performances take place at 7.30pm on Tuesday 8th August -Saturday 12th August.
Matinees performance on Saturday at 2.30pm.