Hot tub holidays have traditionally been viewed as a couples-only affair. This is slowly changing, with more and more families choosing to experience the relaxing benefits of a warm soak.
Bubble breaks are becoming more popular in the UK and many families are looking for luxury lodge accommodation with hot tubs. In the UK, an outdoor hot tub can be the centrepiece of an active getaway – a great alternative to a traditional beach escape.
Read on as we highlight the best lodges with hot tubs for hot tub breaks with your whole family in every part of the UK (England, Scotland, Wales and Northern Ireland) and the family activities you can enjoy at each of them.
Best Family Lodges with Hot Tubs in England in 2022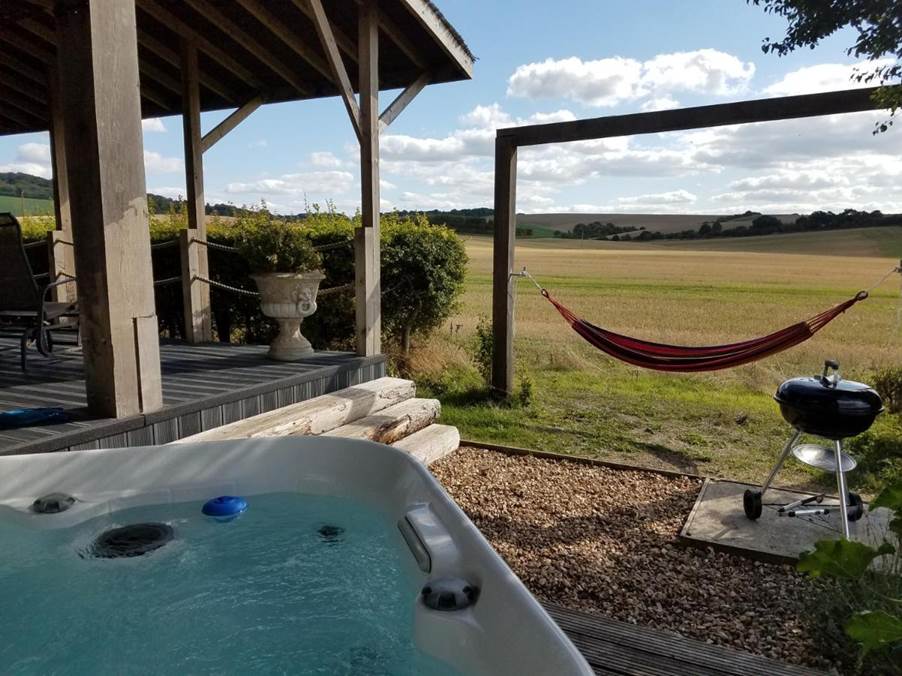 If you're looking for family holidays that are both luxurious and secluded, the Chilterns View is the perfect place for you.
Nestled in the Lake District of Wallingford, have a pleasant time with the entire family on your own private hot tub overlooking the gorgeous Chiltern Hills in the picturesque Ewelme village where you can truly take delight in the natural beauty.
This hot tub lodge is surrounded by beautiful countryside, a perfect place for a relaxing break. Even though the famous Shepherd's Hut Pub is just a short drive, you can have the option to cook a special dinner for your family in the lodge's fully equipped kitchen and BBQ facilities.
Here you can find the full list of lodges with hot tub in the UK or keep scrolling to discover the very best in 2022.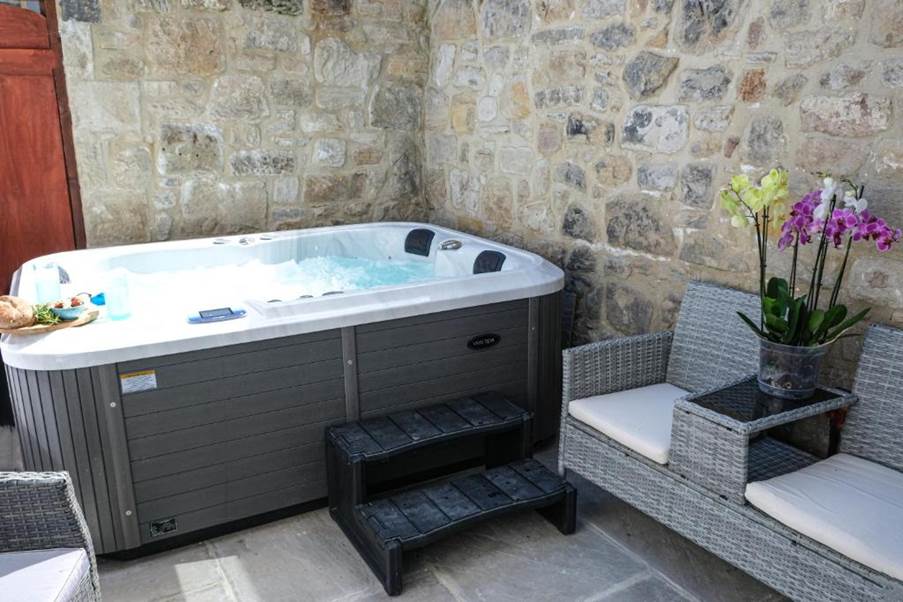 The Rockpool in Amble is a perfect destination for a family weekend getaway for unwinding and relaxing, while the private hot tubs are the perfect finishing touch to a perfect holiday.
Just a minute walk from the beach, the beachfront property provides impressive sea views from the patio or terrace.
This pet-friendly holiday home is equipped with 3 bedrooms, 2 bathrooms, bed linen, towels, a flat-screen TV, a dining area, and a fully equipped kitchen.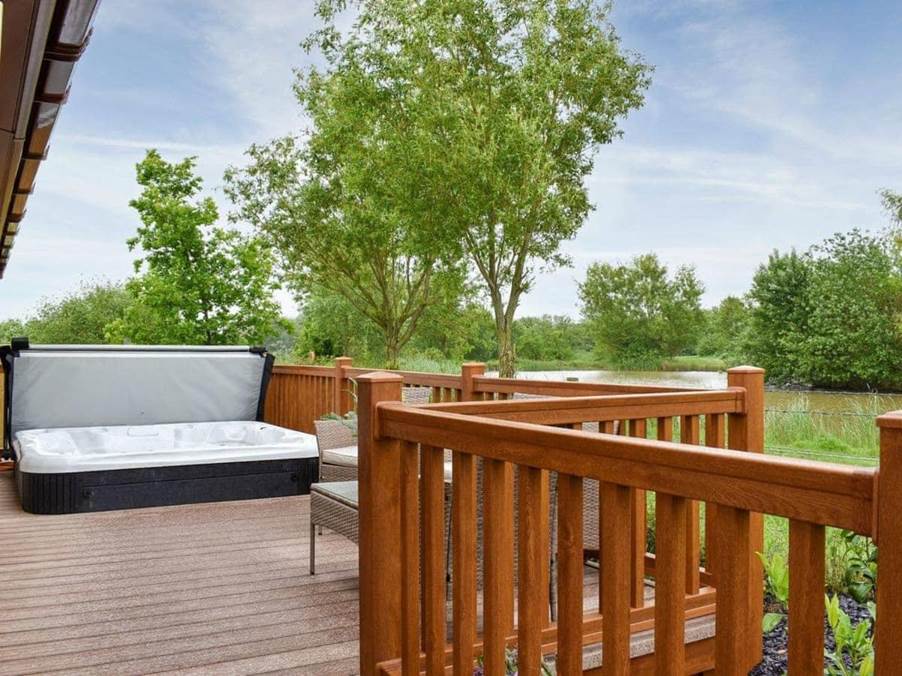 Lake View Lodge is an excellent family lodge located in Hankelow in Cheshire which is home to a myriad of parks and playgrounds and is known as the green village for its expansive flat grass area.
Surrounded by green, it's an ideal place for families who wish to play sports and games and to mix the youngsters and older kids with the older adults.
This holiday home is equipped with 3 bedrooms, a TV, a fully equipped kitchen, and an outdoor hot tub with a lake view!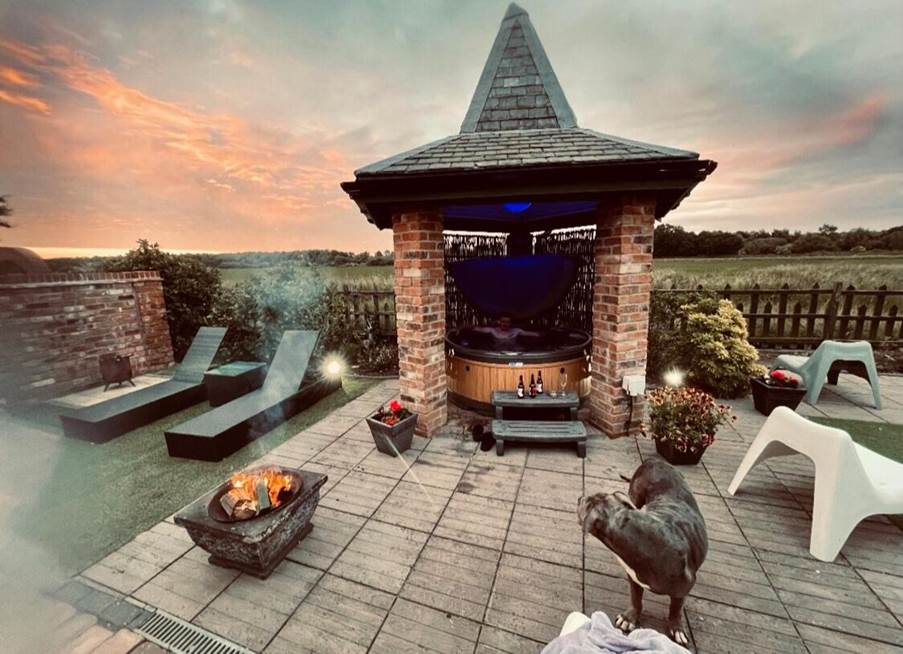 If you're looking for a family getaway that combines the best of both worlds – the tranquil countryside and the city – then Lincoln Cottage is the perfect place for you.
Enjoy hot tub holidays at this 5-star, pet-friendly property featuring stylish, self-catering rooms with all the amenities you need for a comfortable stay, including a well-equipped kitchen. The highlight of the property is its wood-fired, bubbling hot tub.
Set in the beautiful countryside on a working farm, but is only a couple of miles from the city of Lincoln. There are plenty of walking and biking trails nearby, so you can explore the area at your leisure.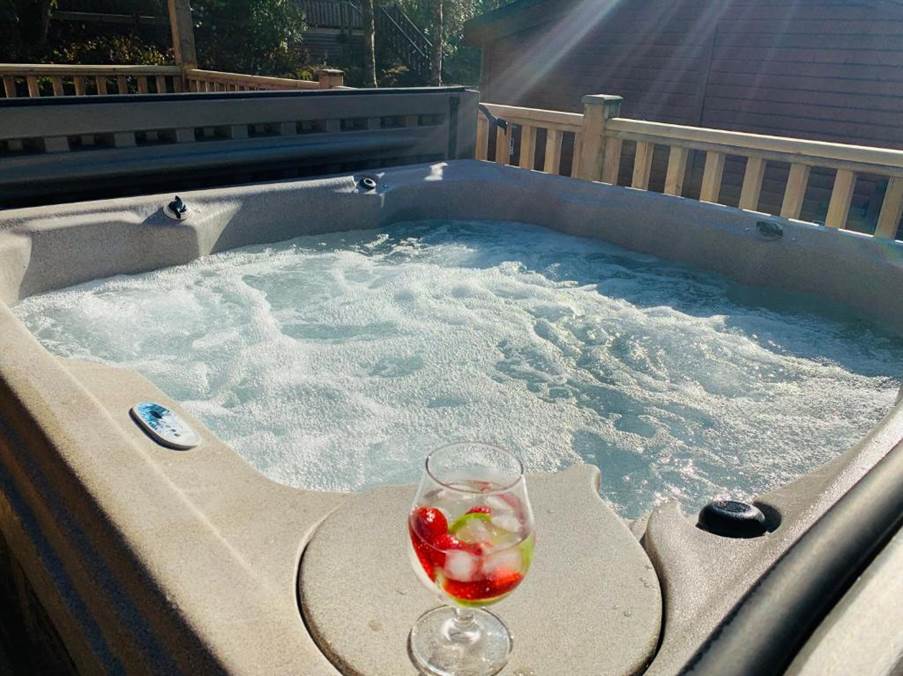 This luxury lodge with a hot tub is just a minute's drive away from the largest and one of the prettiest natural lakes in both theLake District and in England, Lake Windermere.
Aside from treating your family with the lovely nature views and landscaped garden terraces, you can together splash out in the indoor heated pool, spa centre, sauna, and outdoor hot tub.
Within easy reach from this family lodge, you can easily explore Lake Windermere which is a magnet for visitors to the Lake District National Park. You and your family can explore the lake by going around on foot, taking boat tours, or going paddle boarding, windsurfing, or hiking all the way from the village.
Family lodges with Hot Tubs in Scotland
This vacation home is a 20-minute walk from a beach. Located near Glasgow and Stirling in Cove, Argyll and Bute area, Knockderry Lodge -Private Luxury House with an outdoor hot tub, sea, nature, and relaxation features a balcony with garden views.
Set in an amazing location overlooking the mouth of Loch Long, this beautifully designed villa holiday home has 2 bedrooms, 3 bathrooms, a dining area, and a fully equipped kitchen.
This holiday home also has access to barbecue facilities, as well as a patio with lake views. If you are travelling without the kids, make sure you enjoy a Glasgow whisky tasting. It would be rude not too whilst in Scotland!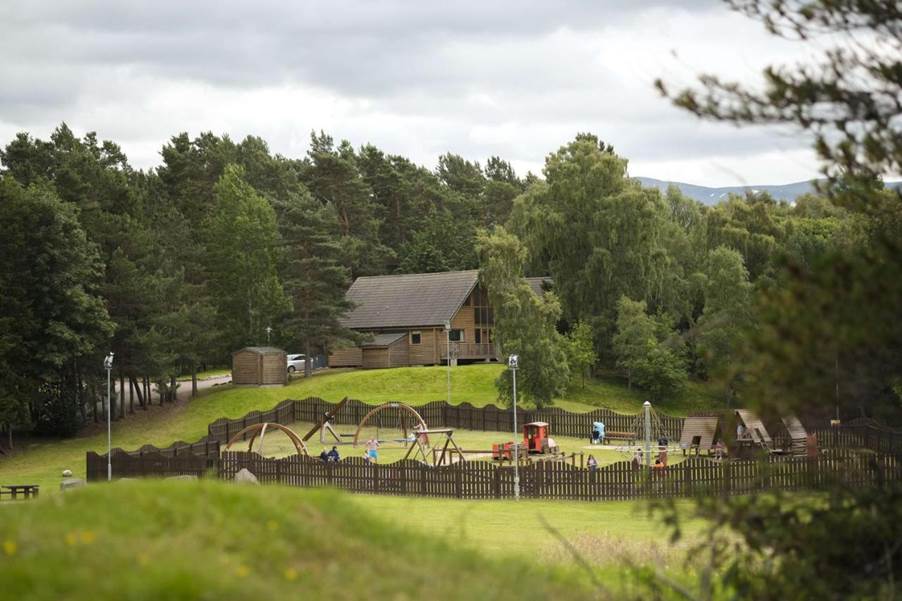 Set in Cairngorms National Park, each Macdonald Aviemore Resort apartment boasts spectacular forest views, an indoor heated swimming pool with a water slide, a Leisure Centre with a hot tub, and a spa pool a fitness centre, as well as a sauna and children's play area.
This family-friendly woodland lodge features 3 bedrooms ideal for up to six people, which are fully equipped with a kitchenette and a private sauna bath.
Restaurants are found within walking distance of the resort where you can enjoy a meal with your family or friends. Enjoy woodland walks, hiking, and other fun activities for a family break.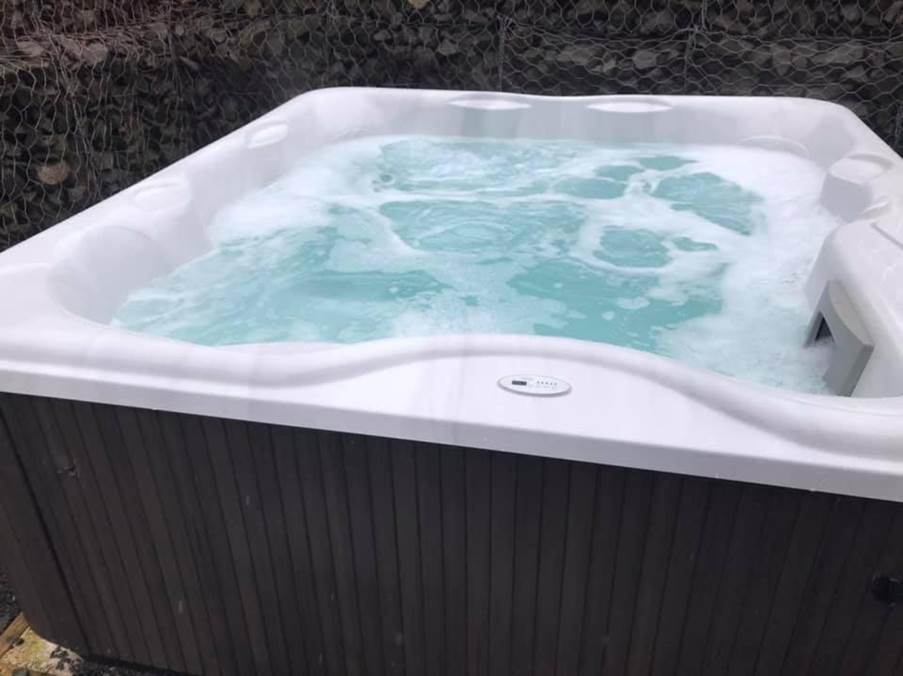 Balmaha Lodges and Apartments provides comfortable accommodation with ample amenities in a prime location of Balmaha.
This Balmaha Bay lodge features 2- and 3-bedroom lodges with outdoor hot tubs suitable for family-friendly holidays. So after a busy day exploring the area, hiking, cycling, and canoeing nearby, there's nothing more relaxing than soaking in a bubbling hot tub.
This family lodge also provides a children's play area.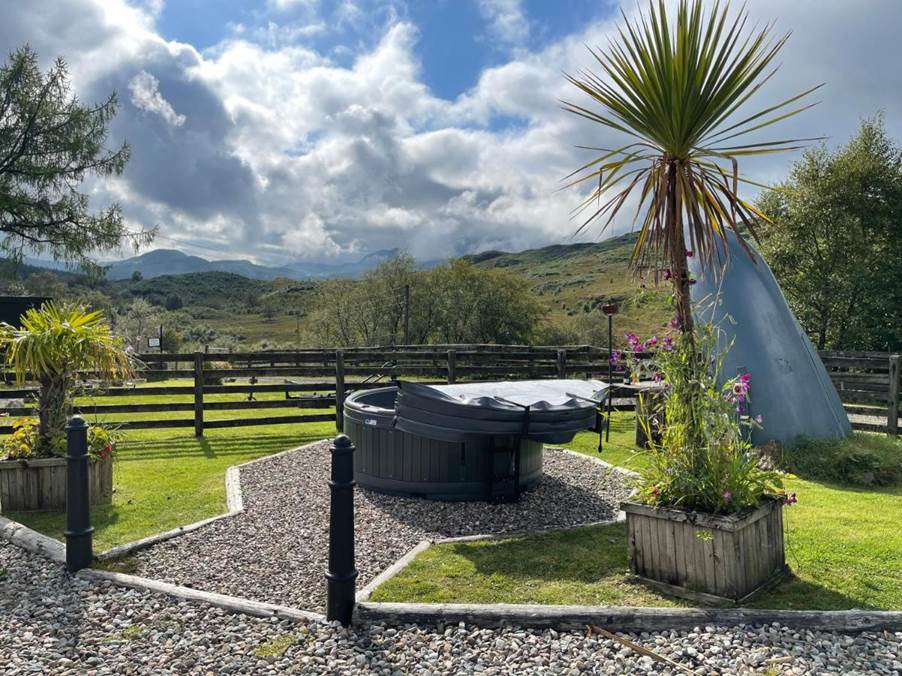 The Garrison of Inversnaid is a holiday home created in 1719, offering modern and cosy studio apartments that are surrounded by uninterrupted fresh mountain air and views that stretch as far as the eye can see. The whole area is filled with fun activities for family getaways or travelling as a group of friends.
Located in the Loch Lomond and Trossachs National Park, this converted barn not only provides modern comforts like fully-equipped kitchens but also features beautiful furniture that subtly captures the building's rustic origins.
Take advantage of the ample outdoor space where your family can come together at the communal barbecue grill or while chatting around the Scandinavian hot tub when it comes time to chill under the clear blue skies above this majestic part of Scotland.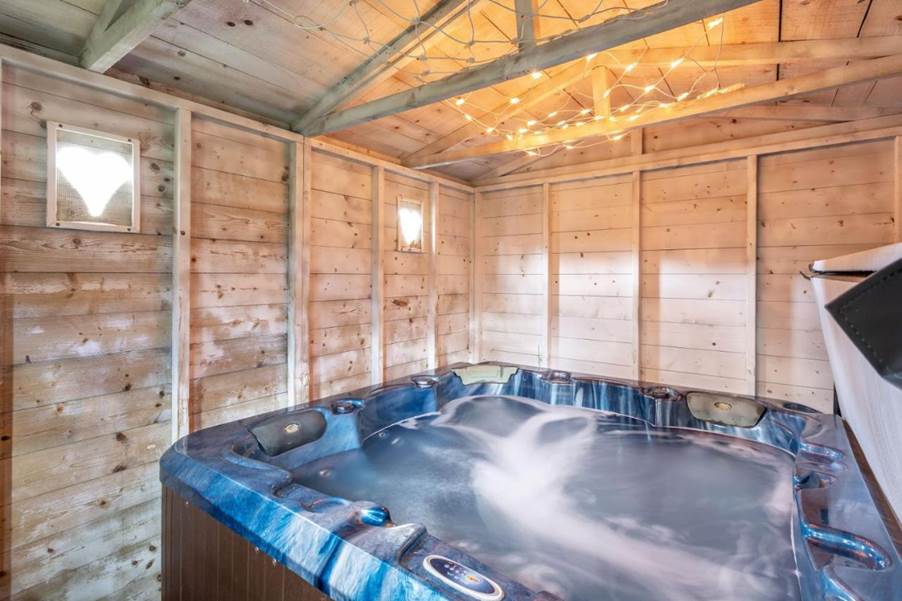 Lomond Luxury Lodges features a spacious garden with a children's play area, grocery delivery, and in-lodge beauty and spa treatments.
Offering 3 bedrooms with a choice of private hot tubs, saunas, and spa baths, this 5-star lodge also includes a fully equipped kitchen and private bathrooms in each self-catering lodge.
Ideally located near the village of Drymen in the Loch Lomond and Trossachs National Park, the entire family can dine together from any of the numerous lines of pubs and restaurants which is a few minutes away from the luxury lodge after a whole day out in the park or forest walks.
Family Lodges with Hot Tubs in Wales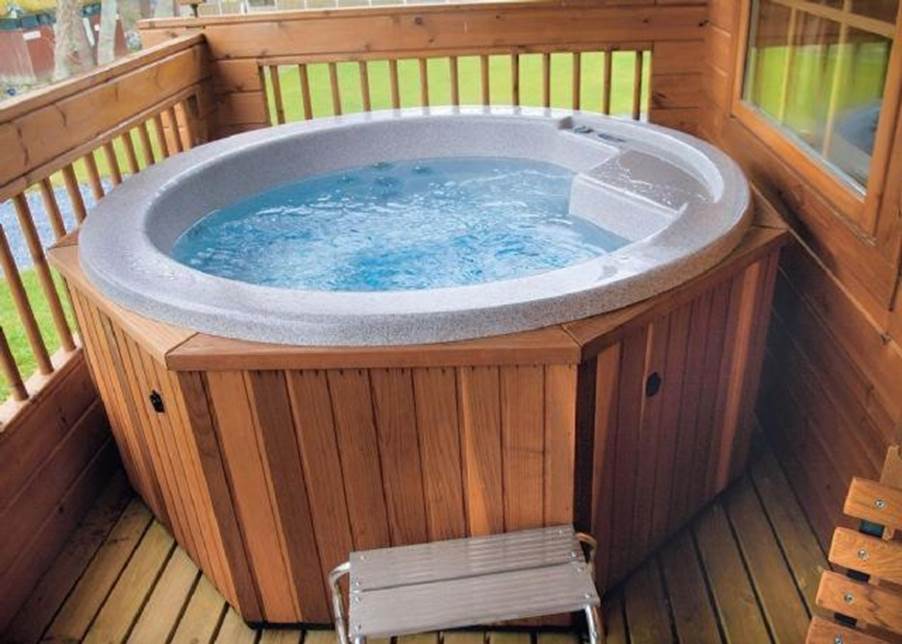 This chalet is located near one of two naturally beautiful small beaches in the area as well as hiking trails and fishing spots perfect for families and friends to enjoy a walk or picnic.
Situated in a cosy neighbourhood that's 27 km away from Shell Island, this log cabin boasts spectacular garden views and free private parking on-site.
Luxury 3-bedroom, 3-bathroom lodge with a hot tub also comes with a flat-screen TV, an equipped kitchen with a dishwasher and a microwave, a washing machine, a garden, and a patio.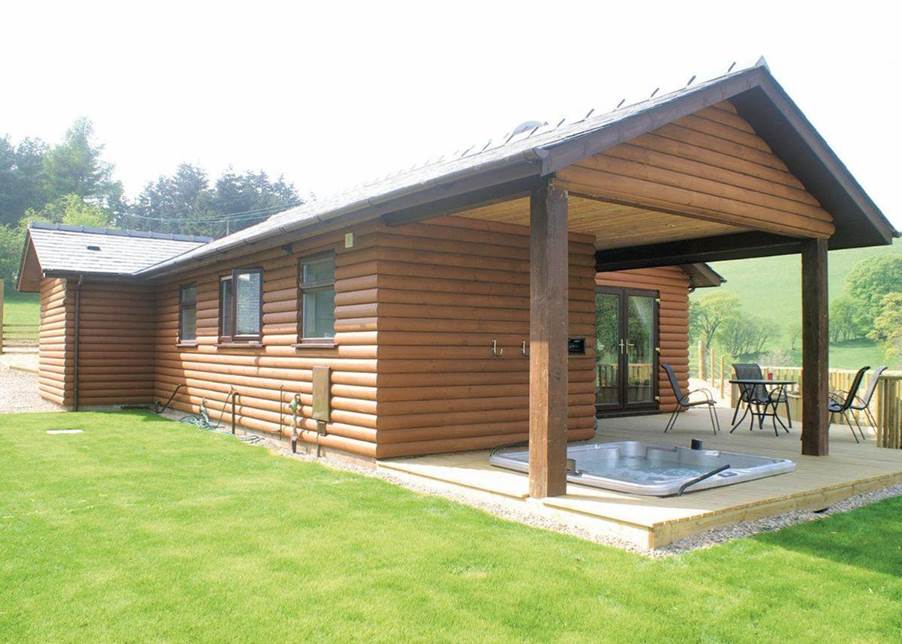 Set in Bleddfa Pencader Powys, Lower Fishpools Holiday Log Cabins offers self-catering holiday luxury cottages and log cabins.
A barbecue area, as well as an outdoor hot tub, are available to guests either for family holidays or a romantic break.
You can visit an abundance of sites such as Bleddfa Hall, which stands on the outskirts of the Bleddfa River.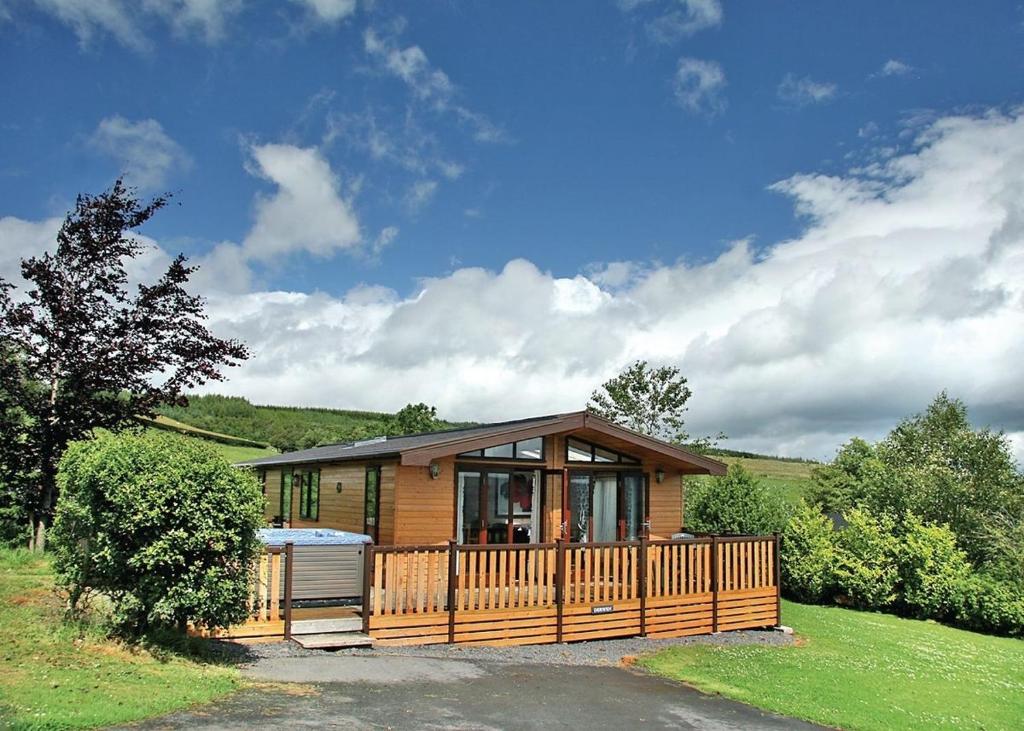 Another lodge that proves the addition of an outdoor hot tub makes all the difference is Belan Bach Lodges.
Located in Llanerfyl, you'll find that all of their cosy rooms come with every amenity imaginable including a TV with satellite channels, a kitchen, and a bathroom.
Belan Bach also provides mini golf as well as a ground-source heating system and an on-site fishing stream for guests to enjoy.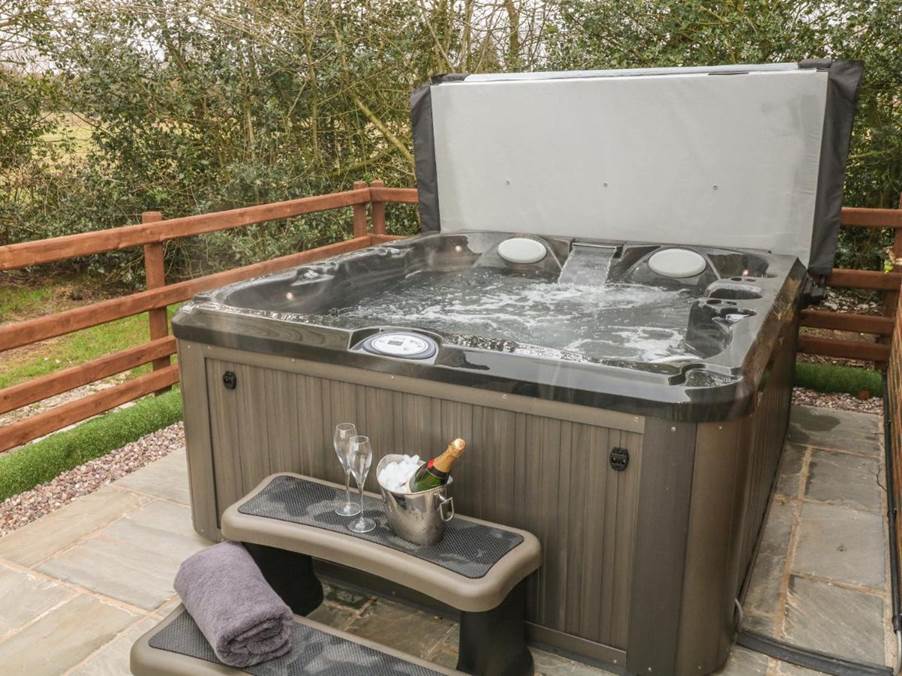 Saddlers hot tub lodge offers more than just a romantic hideaway but also a rural retreat with a modern style in Stone, in the Staffordshire region.
This holiday home provides a great place to unwind with lovely views of the garden and the enclosed lawn with a seating area and a decking area with a private hot tub.
The all-ground property is equipped with 2 bedrooms, a kitchen with dishwasher and woodburning stove, a TV, a seating area and 1 bathroom– of course, with a hot tub.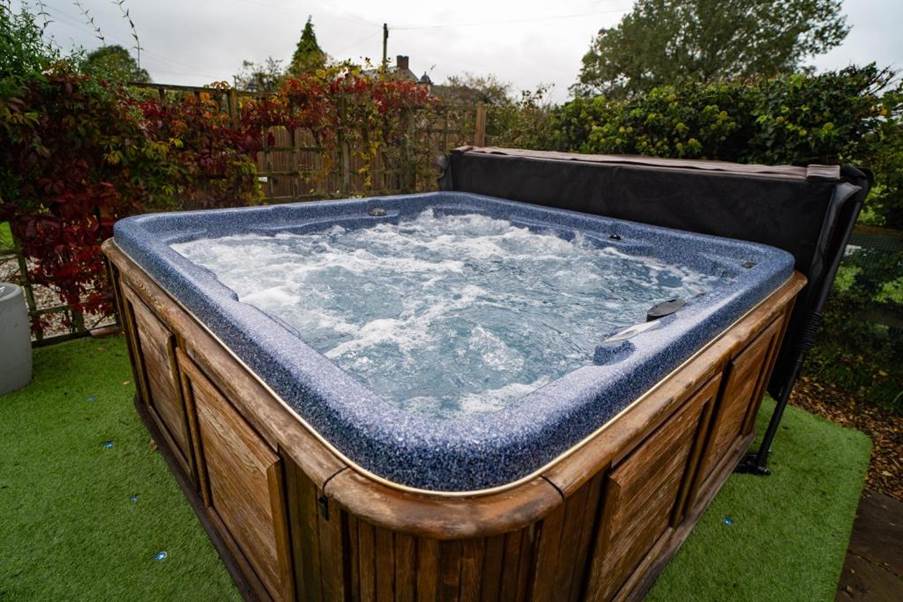 Experience staying in a traditional Welsh farmhouse surrounded by beautiful countryside in North Wales. Welsh Cottage with hot tub is the perfect place to relax and escape the hustle and bustle of everyday life with its quiet cottage garden and a brilliant outdoor hot tub.
This holiday home offers 4 bedrooms, a living room with a flat-screen TV, an equipped kitchen with a dining area, and 2 bathrooms with a hot tub and a washing machine.
Set in the quiet Welsh farmlands, close to the English borders of Holt, Farndon and the Roman city of Chester, Welsh Cottage provides a rural setting for a tranquil family vacation.
Family lodges with Hot Tubs Northern Ireland
The Studio Castlerock offers accent accommodation in a fold-form British country house near Conlig, just a few miles from the Giant's Causeway.
Located in the village of Castlerock on the north coast of Northern Ireland, wake up every day with the sights and sounds of Castlerock's tidal pond and grassed borders, then at its side looking out over large private lawns with mature trees.
Immerse yourself in view of the water from a private balcony with a hot tub while relaxing with a glass of wine or swim by the nearby beach for a refreshing dip with the entire family.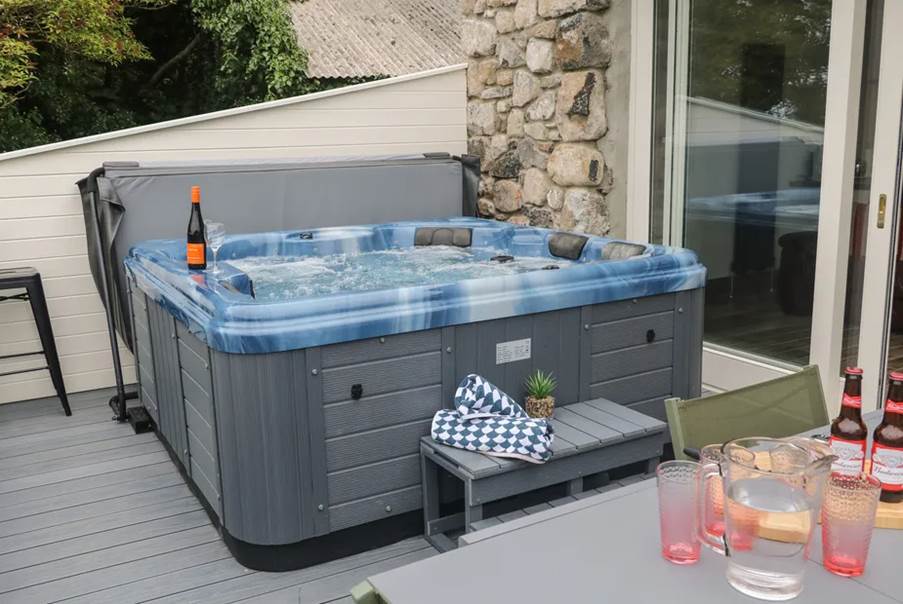 Nestled idyllically in the heart of Northern Ireland, here is Limavady's charming Old Shop Cottage.
Set amidst the serene countryside, this exquisite guesthouse-come-holiday home offers a social retreat from city life with a fully equipped kitchen, 2 bedrooms, and an outdoor space that includes a spa bath and an outdoor dining table.
This single-storey cottage is a quaint holiday home that overlooks open farmland where the entire family can indulge in alfresco dining on the decking with a luxurious seat in the outdoor hot tub amidst rolling hills.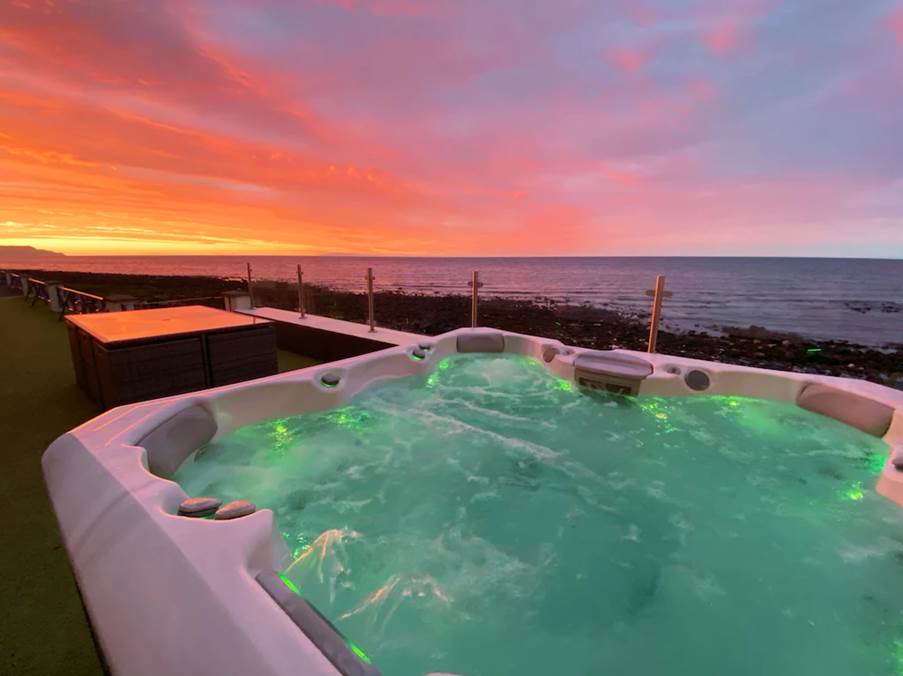 A stunning two-acre seafront property with 4 bedrooms, a large garden, and close proximity to the sea, this is a perfect getaway for any family looking to enjoy time together.
This beautiful house has many fabulous facilities including its own paved beach where children and pets can safely swim.
The lovely scenic cove of Portballintrae is just a short drive away, where visitors will be able to experience the world-famous Titanic Caves while taking in the beauty of one of Ireland's less touristy vacation spots.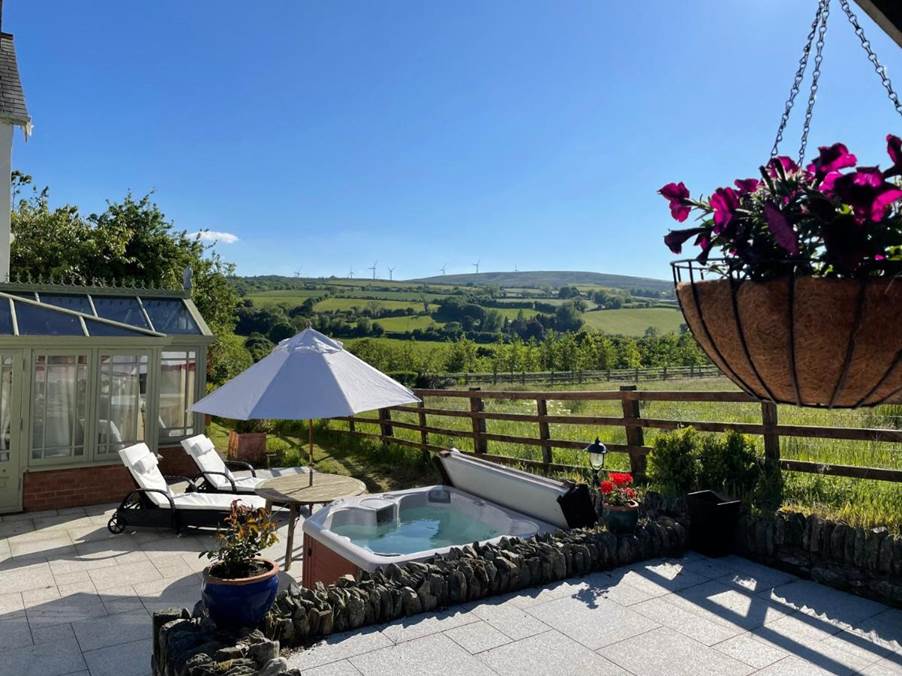 This chalet-style bed & breakfast offers good lodging for couples travellers, smaller families and small groups on vacation.
Brackfield Chalet in Killaloo offers access to a self-catering chalet with a private bathroom, sauna, and hot tub.
You can enjoy unique moments spent relaxing and unwinding in the sauna and/or hot tub.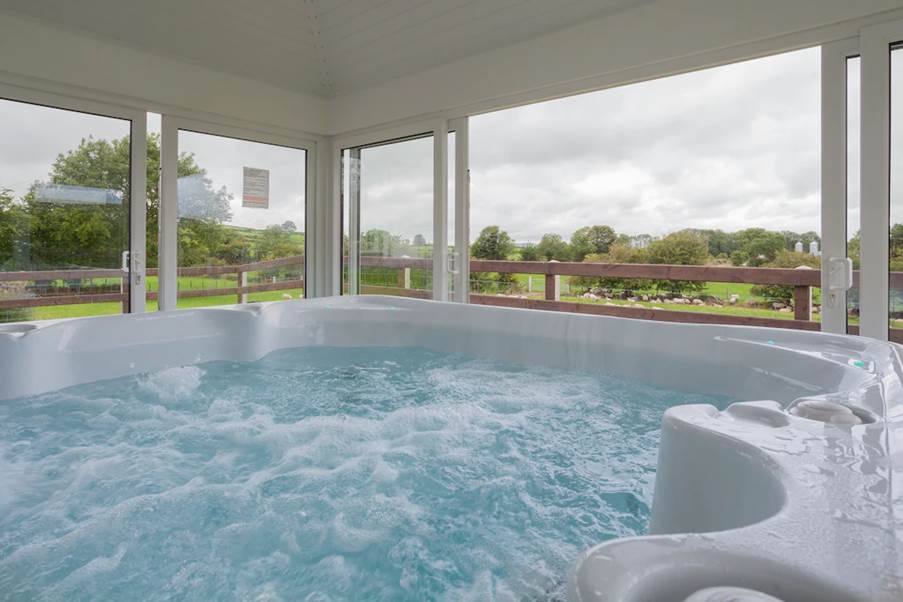 Snowdrop cottage is ideally located for a family get-together with a steak house and pub only 10 mins walk, a spa 15 min drive and a range of attractions including horse riding, golf, and rock climbing nearby.
This beautiful house features 5 bedrooms, 4 bathrooms, 2 reception rooms and a large kitchen and living area with granite worktops and a gas range cooker.
Enjoy an escape to the country with spectacular views of the Mourne Mountains & private hot tub with the entire family.
Hot tub holidays in the UK don't have to be just for couples, they can be a great family holiday opportunity as well. With a trend towards more active holidays, hot tubs offer a luxury and leisure experience.
When you stay in a lodge with a hot tub, you don't have to worry about having to drive anywhere to find a swimming pool or nearby beach where you can relax. Instead, you can soak in your own hot tub right at your lodge, so you can relax and watch your kids play whenever you want to.