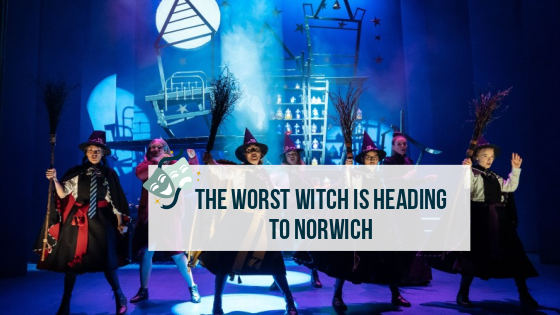 The Worst Witch Is Heading to Norwich
Long before Harry Potter there was Mildred Hubble, an ordinary girl who found herself in an extraordinary place – a school for witches, I used to love to read about Mildred's adventures when I was a little girl, and have been sharing them once again with Eowyn 35 years later!
If you are looking for a great show to take the children to during the Easter Holidays, The Worst Witch will be flying in on her broomstick to Norwich Theatre Royal from April 16 to 20.
Jill Murphy's The Worst Witch stories have sold more than five million copies worldwide and have been made into numerous films and TV series.
Featuring all of Jill Murphy's beloved characters, this original story is directed by Theresa Heskins (2017 UK Theatre Award for Best Show for Children and Young People) and features specially written music, breath-taking magic and plenty of Mildred's unique brand of utter pandemonium.
Audiences will meet jealous Ethel Hallow, who is always out to spoil Mildred's fun, and Miss Hardbroom who is opposed to all fun in general, and just as Mildred sparks some inevitable mayhem which is certain to upset them both, an old enemy returns with a plan for revenge that could threaten not just Miss Cackle's Academy for Witches but the whole world.
Playing Mildred Hubble is Danielle Bird (The Hypocrite), while taking the roles of Agatha and Miss Cackle is Polly Lister (The Snow Queen). Rachel Heaton (Passing) plays Miss Hardbroom, Rebecca Killick (Pink Mist) plays Maud, Rosie Abraham (Peter Pan Goes Wrong) plays Ethel and Anna Crichlow (Common) plays Enid. The cast is completed by Molly-Grace Cutler as Miss Bat/musician, Megan Leigh Mason as Miss Drill/musician, Emma Lau as Drusilla and Meg Forgan as Fenella/musician.
The production offers spellbinding entertainment for all ages, but especially the seven-plus age range. From a spooky set, to fast-paced action, quick costume changes and even a superb aerial sequence, it will cast its magic over you so buckle up for the broomstick ride of your life."
The Worst Witch, Tuesday 16-Saturday 20 April at 7pm, and Wed, Thur and Sat matinees at 2.30pm. Tickets £10-£23.50. Discounts for Friends, Over-60s, Under-18s and Groups.
To book, log onto www.theatreroyalnorwich.co.uk or call the box office on 01603 63000