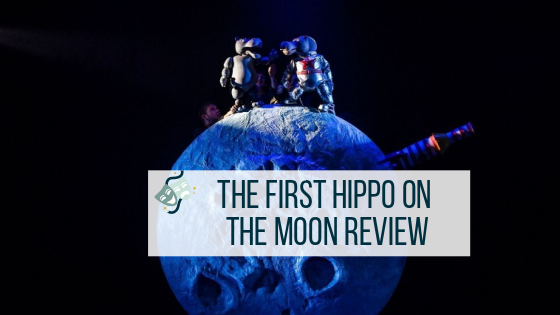 The First Hippo on the Moon – Marina Theatre
Viggo and I were invited along this morning to watch David Walliams fabulous story The First Hippo on the Moon, performed by Les Petits Childrens Theatre, which is currently showing at Marina Theatre, Lowestoft.
The puppets for The First Hippo on the Moon have been created by Nick Barnes and Finn Caldwell who have previously collaborated on War Horse and The Lorax.
If you are familiar with the story, you will know it involves two Hippos, who both want to be the first to reach the moon. The story follows Sheila the jungle Hippo who builds a rocket with the help of her jungle friends, versus the enormously rich Hercules Waldorf-Franklin III, who she had gone to school with and he had stolen her Moon dream.
He has all the money and all the technology, but Sheila has a group of friends that help her build a rather snug rocket, and with the help of the rocker fuel, that most of us know better as Poo, she is able to rocket to the Moon!
It was a brilliant show, lasting one hour with no interval, which was a perfect amount of time for Viggo aged 3, there were a few school classes, probably reception, year one and they all LOVED it especially when there were lots of bottom noises and the mention of Poo!
I love it when story books are brought to life and this one certainly does that, with lots of fun and humour, a perfect morning or afternoon treat for your little one.
The puppets were brilliant, I loved the Giraffe and Ostrich, the scenery was great and everyone looked completely immersed in the story, if you have a David Walliams fan, then this is definitely a show for you.
It is at the Marina Theatre until Saturday 29th April, so if you are local, grab your tickets NOW, if you are not in the East, there are plenty more dates and venues, you can check them out here.