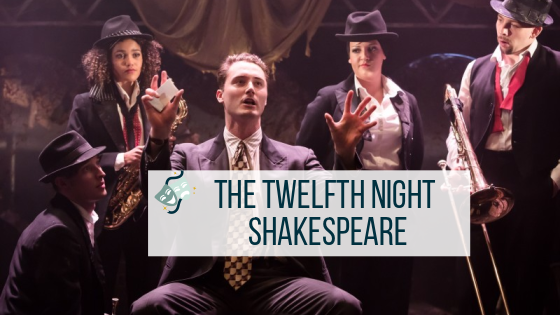 Twelfth Night – Shakespeare has an update!
Neva and I were invited along to Norwich Theatre Royal for an evening of Shakespeare (with a modern twist) This week they are showing performances of Twelfth Night and Romeo and Juliet. We saw Twelfth Night, and it was certainly a memorable evening!
When you think of Shakespeare you imagine a very stuffy, boring play that you can hardly work out the language and you are lucky if you manage 30 minutes without nodding off, well this was NOTHING like that, take the Twelfth Night, flip it on it's head, add in Mad World, cross dressing and a whole lot of upbeat music and you still won't come close to picturing the delight that awaits you!
A tale of mistaken identities, seduction and transformation, Twelfth Night is re-imagined in the 1920s where prohibition is rife and Europe is still reeling in the wake of war. Fusing the radical spirit of Duke Ellington, Django Reinhardt, Ella Fitzgerald and Louis Armstrong with an innovative approach to staging and actor-musicianship, Twelfth Night is a dizzying and beautiful version of Shakespeare's perfect play.

Both productions directed by Paul Hart (former Propeller associate), Artistic Director of The Watermill Theatre.
Neva has studied some Shakespeare for her upcoming gcses, but I will admit I never studied him when I was at school, as my young, trendy English teacher thought that it was all outdated mumbo jumbo, so concentrated on 'edgier' plays such as Kes – I was living in Barnsley so it was all about going down t' pit!
However I have always been fascinated by the plays and the influence Shakespeare had on the world.
This version was utter brilliance, the cast of only ten were outstanding, my particular favourite was Mike Slader as Aguecheek, who had a Rik Mayall presence about him, and judging by the people's reactions around me, I was not the only one he had caught in his spell. Not only were they all amazing actors and actresses, but their musical abilities were amazing too. Lauryn Redding as Sir Toby Belch was hilarious and the man you dread meeting when out at a party! Peter Dukes as Malvolio totally pulled off the suspenders and yellow stockings and was a delight to watch.
An utterly wonderful evening that will have you booking tickets to see them in Romeo and Juliet, to see if they are as amazing, which I'm guessing they probably are.
They are currently touring, so check out here for details of when and where you can view this amazing production, you will not be disappointed
Twelfth Night is taking place on Friday 7.30pm and Saturday 2.30pm, Romeo and Juliet is showing Wed 7.30pm, Thur 2.30pm & 7.30pm, Sat 7.30pm