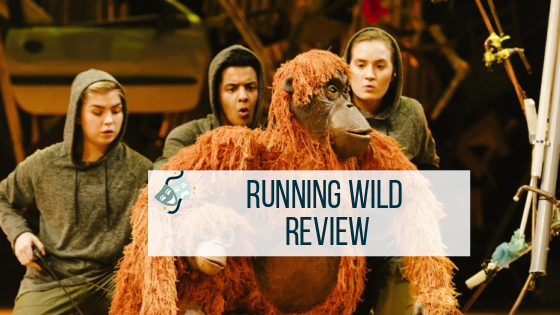 Running Wild at Norwich Theatre Royal
Last night Neva and I were invited along to the Norwich Theatre Royal to the opening night of Michael Morpurgo's Running Wild, an adaptation by Samuel Adamson presented by The Children's Touring Partnership.
Neva is a HUGE Morpurgo fan, and when she first saw that Running Wild was coming to Norwich, she made me promise to take her!
If you are not familiar with the story, and go along thinking it will be all happy and jolly, you will be in for a shock! From the first scene we are witness to loss and tragedy, so take your tissues with you, as certain parts are extremely emotional, some in a happy way, others, not so.
The young lady who played the character Lily was Annika Whitson, she was nothing short of outstanding, aged only 12, she was an absolute star, and made the entire story real.
Oona the elephant was brought to life by four people, the way they moved together as the elephant was mesmerising, and the noises they made, especially her heartbeat made you forget that it was in fact a puppet. Such an amazing set of puppets designed and directed by Finn Caldwell and Toby Olie of Gyre and Gimble.
The tiger was enchanting (and a little scary!), the Orangutans were completely adorable, the noises emanating from their puppeteers was perfect, it was difficult to tell if the sounds were recordings, until you look closely and saw their mouths moving, exactly as you would expect their animals to sound, the movements that they used were faultless, which added to the entire atmosphere that transported you to the heart of the Indonesian jungle.
Running Wild is showing in Norwich until Saturday 29th April, so if you are local, I would urge you to book your tickets NOW, it is one of THE best performances I have seen, it is suitable for all ages, although it does contain tsunamis, hunters and guns, so if you are considering taking a child, please give some thought to their disposition. It is recommended for aged 6+.
This is definitely one not to miss!