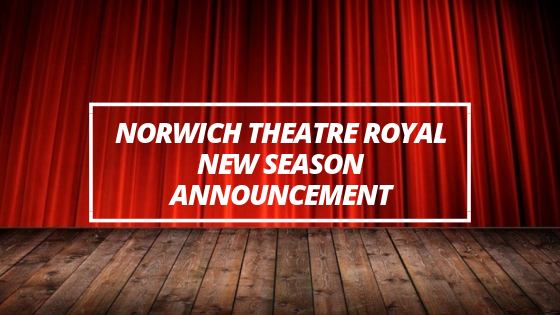 New Season Announced at Norwich Theatre Royal
As I am sure you are all aware by now, I ADORE going to the theatre, especially Norwich, it has such a wonderful atmosphere and such amazing shows, and the new season's announcement is no exception…
Everyone's favourite star Peppa Pig returns on September 18 & 19 with her friends in the brand new live show Peppa Pig's Adventure.
Music fans are in for a host of treats with The National Gilbert & Sullivan Opera Company returning with a double bill of Trial By Jury & The Sorcerer on September 21 and Ruddigore on September 22. 
Life is A Dream is the title of the vivid contemporary dance production Rambert will be bringing to the stage on September 27 & 28. Kim Brandstrup, choreographer of Rambert's award-winning Transfigured, returns with this full-length work of parallel stories of alienation, vengeance, tenderness and redemption.
The Ministry of Science makes a return with its explosive on-stage experiments on October 10, designed to educate and entertain.
Cirque Éloize presents the critically-acclaimed Cirkopolis, featuring an extravaganza of jaw-dropping feats guaranteed to thrill audiences of all ages on October 13 & 14. It mixes classic acrobatics, tightly choreographed dance numbers and some original video projections.
The Comedy About A Bank Robbery arrives from October 16-20. Billed as 'Ocean's Eleven meets the Marx Brothers', it comes from the same Mischief Theatre stable as smash-hit comedies The Play that Goes Wrong and Peter Pan Goes Wrong, both of which have entertained Theatre Royal audiences in recent years.
From laugh-out loud comedy to one of Shakespeare's darkest tragedies
The National Theatre's Macbeth will be on stage from October 30 to November 3. Directed by National Theatre artistic director Rufus Norris, this new production propels Shakespeare's classic into a post-apocalyptic world of anarchy and uncertainty.
Family fun is available with David Walliams' Awful Auntie from November 8-10. A tale of young Stella's battles against her frightful Aunt Alberta, it comes from the award-winning producers of Gangsta Granny which proved a big hit with local audiences last summer.
Glyndebourne Tour 2018 returns in its traditional autumn slot to present Verdi's La Traviata on November 13 & 16, with a Behind The Curtain event on November 15 giving a glimpse into the staging of an opera, and Massenet's Cendrillon (Cinderella) on November 14 & 17.
Northern Ballet returns with The Nutcracker, a magical pre-Christmas treat from November 21-24, performed to Tchaikovsky's enduring score which is played live by the Northern Ballet Sinfonia.
The Full Monty returns from November 26 to December 1. Based on the popular film, it tells the tale of six out-of-work Sheffield steelworkers with nothing to lose and features songs by Donna Summer, Hot Chocolate and Tom Jones. Its all-star cast includes the Norwich return of Gary Lucy (Footballers Wives), Andrew Dunn (Dinnerladies) and Louis Emerick (Coronation Street and Brookside).
Matilda The Musical, from the Royal Shakespeare Company, is based on the much-loved story by Roald Dahl. Adapted by Dennis Kelly with original songs by Tim Minchin and directed by Matthew Warchus, it has won over 85 international awards and will take in Norwich on its first UK tour. Matilda is an extraordinary girl with a vivid imagination and a sharp mind whose talents are constantly belittled by her cruel parents and headmistress. Dreaming of a better life for herself, she dares to take a stand against these oppressive forces and takes her destiny into her own hands. Booked in for a five-week run in the city, from July 16 to August 17 2019, it is sure to be next summer's hottest ticket.
The theatre's series of Classical Music Concerts continues with some of the world's finest musicians, conductors and soloists appearing in a rich programme of symphonies, concertos and orchestral masterpieces. The Czech National Symphony Orchestra, already booked for April 15, will make a second appearance on December 2; the Russian State Symphony Orchestra performs on October 7; the Flanders Symphony Orchestra on March 17 2019; and the Russian Philharmonic of Novosibirsk on May 19 2019. Plus there will be a performance of Odes to St Cecilia from one of the world's most renowned period instrument orchestras and choirs presenting works by Henry Purcell, Benjamin Britten and Handel, on November 25.
The theatre will also be offering more of its popular one-night shows with the RAF In Concert Centenary Tour presenting a selection of rousing military music , big band numbers and timeless classics on September 29; Fast Love, the George Michael tribute show, showcasing all the  singer's greatest hits on September 30; Britain's Got Talent dance stars Flawless on November 6; and Sixties Gold with six acts (The Searchers, The Merseybeats, The Fortunes, Steve Ellis, Vanity Fare and P.J.Proby) whose 50 hit records defined the music of a generation on November 11.
Local dance school the Anglia Region Theatre School presents Cinemotion on September 23, with over 300 young performers dancing though the magical world of movie music; and the theatre's annual Open Day on August 11 will give the public the chance to access-all-areas to find out what happens onstage, backstage and front-of-house with lots of fun family activities, tours and talks.
Shows at the theatre which have very recently been announced and where tickets are already on sale include the voice of the Moody Blues Justin Hayward – May 28; comedian Jimmy Carr – May 13; author and journalist Misha Glenny: McMafia – May 18; singer and guitarist Nils Lofgren – May 29; comedienne Sarah Millican – June 18; comedienne Sara Pascoe – September 16; country singer Nathan Carter – September 20; and Scottish pop duo The Proclaimers – October 11.
The theatre's Creative Matters Seasons will also continue in Stage Two with a series of events during May which will focus on people living with dementia.  Headlining the season is five-star award-winning production Cockamamy on May 31; A Little Bit of Light by Norwich-based Glass House Dance on May 24; The Nature of Forgetting from Theatre Re at The Playhouse on May 9; plus film showings of Lady in the Van (cert 12a) on May 15 and Mr Holmes (PG) on May 26; and workshop and participatory events and activities as well as a drop-in Dementia Friendly Coffee Morning on May 11.
I cannot wait for this new season of entertainment, there really is something for everyone.