Who doesn't love a sweet treat? Valentine's day is the perfect opportunity to enjoy something sweet with the people that you love.
We all know that Valentine's day is a time of sharing our love for the people we care about the most, and while many people like to head out to celebrate, there is something quite nice about cooking up something special at home.
Mickey Mouse Valentines Day Brownies
If you have a partner that loves Disney, why not combine the two? A valentine's sweet treat combined with a Disney theme could be the way to your partner's heart.
This brings me to this incredible recipe that I think the whole family will love. The Mickey Mouse valentines day brownies happen to be some of the most delicious things you will eat.
A wonderful sweet treat that showcases a much-loved Disney character while embracing all of the themes of Valentine's day.
The perfect brownie that everyone in the family will love, and is something that you can bake together with ease. Without further ado, here is everything you need to know to recreate this recipe at home. 
Ingredients needed to make Mickey Mouse valentine's day brownies 
There are a few different elements to help you create this recipe. But here is a list of everything that you need to create these tasty treats. 
1 ½ cups of unsalted sweet cream butter, softened
2 cup sugar
1 ⅓ cups brown sugar
4 large eggs
6 tbsp fresh-brewed cooled coffee
4 tsp pure vanilla extract
1 ½ cups of Hershey Cocoa powder
2 tsp instant espresso grounds
1 ½  cups of flour
2 tbsp cornstarch
1 tsp baking powder
1 – 4in Mickey Mouse cookie cutter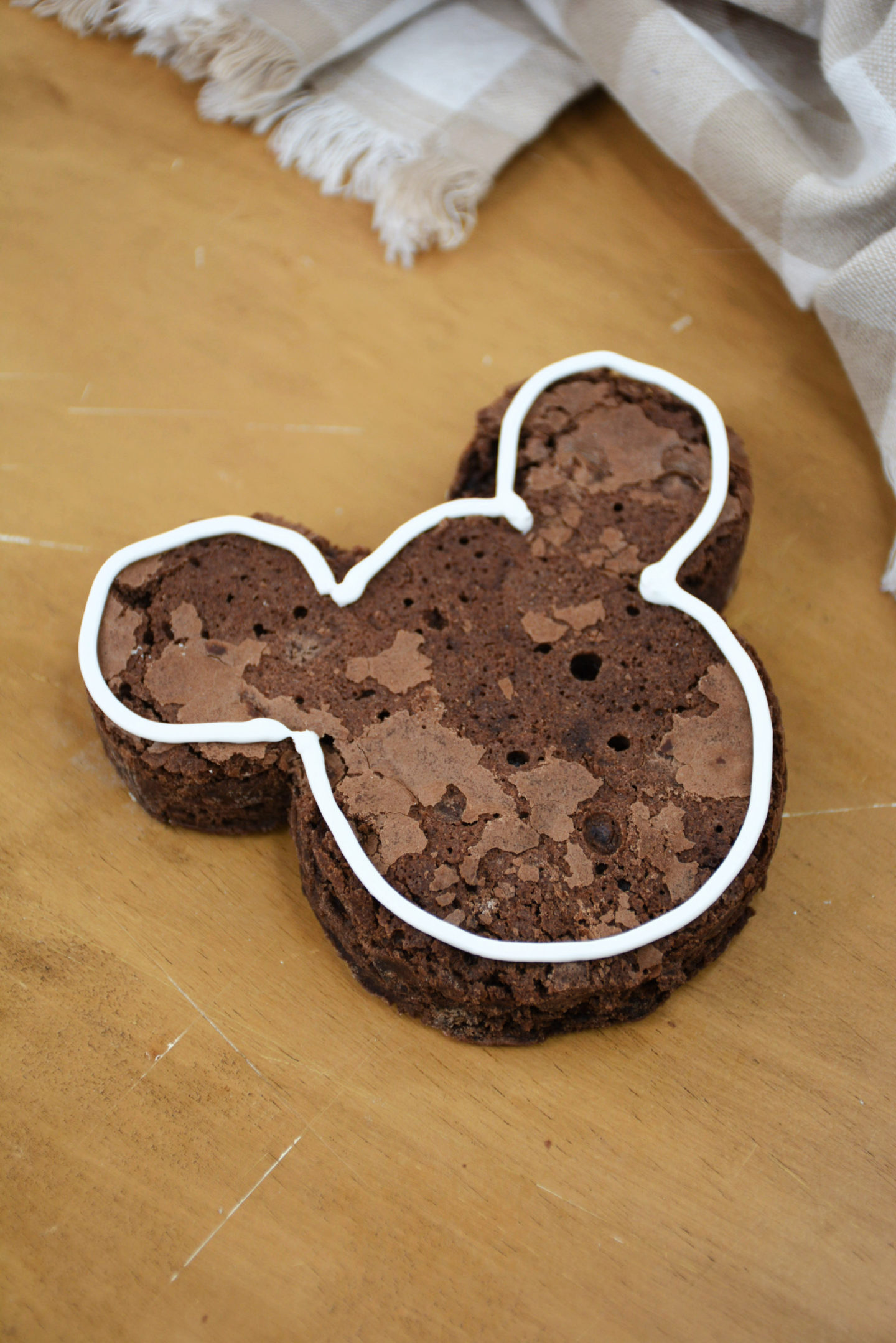 White Chocolate Frosting 
1 cup of unsalted sweet cream butter, softened
12 oz of white chocolate, melted and cooled
1 cup of powdered sugar
1 tsp pure vanilla extract
2 cups of Valentine's Day sprinkles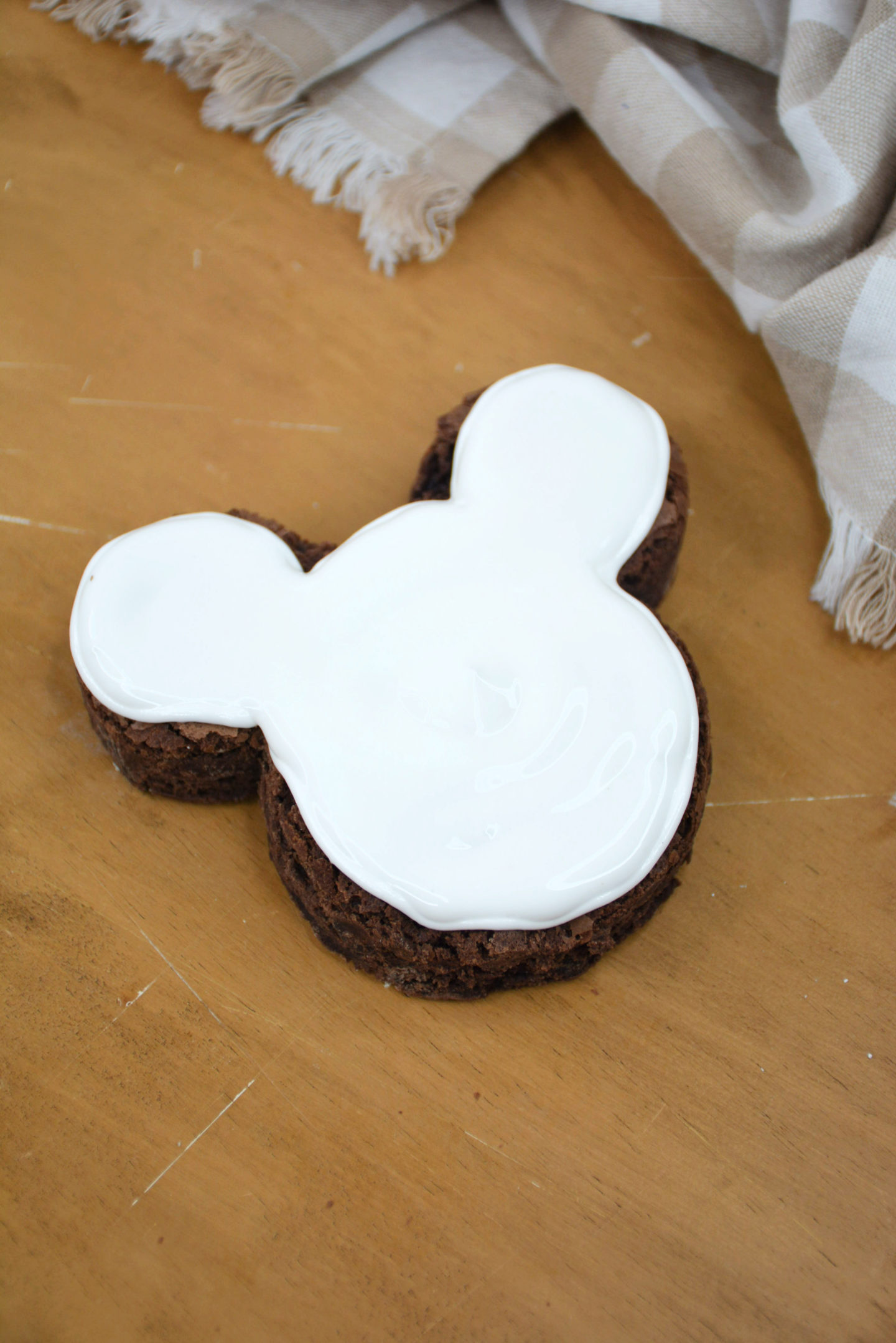 How to make Mickey Mouse Valentines Day Brownies 
First of all, preheat the oven to 350 degrees and spray a 12×19 cookie sheet with pam spray.
Cover the pan with parchment paper. The baking spray helps keep the parchment paper in place.
Using a large bowl, beat the butter, sugar, brown sugar, eggs, coffee, and vanilla until combined and fluffy.
In a medium bowl, whisk the cocoa powder, espresso grounds, flour, cornstarch, and baking powder together until combined.
Take the dry ingredients and then gradually beat them into the wet ingredients. This will give you your brownie batter.
Spread the brownie batter onto the cookie sheet.
Bake in the oven for 22-26 minutes or until a toothpick in the center comes out clean
Once you remove it from the oven make sure you allow it to cool completely.
Using the Mickey cookie cutter, cut out 12 brownie mickey's and place them onto a wire rack
Using a standing mixer, beat the butter and vanilla until light in color. Then take your melted white chocolate and beat the into the mixture as well.
Lastly, beat in the powdered sugar until combined and smooth in texture.
Scoop the frosting into the disposable piping bag and cut the tip off then pipe an outline around the edge of the brownies.
Fill in the center with the frosting and smooth with an angled spatula.
Sprinkle some valentine's day sprinkles on top
Enjoy!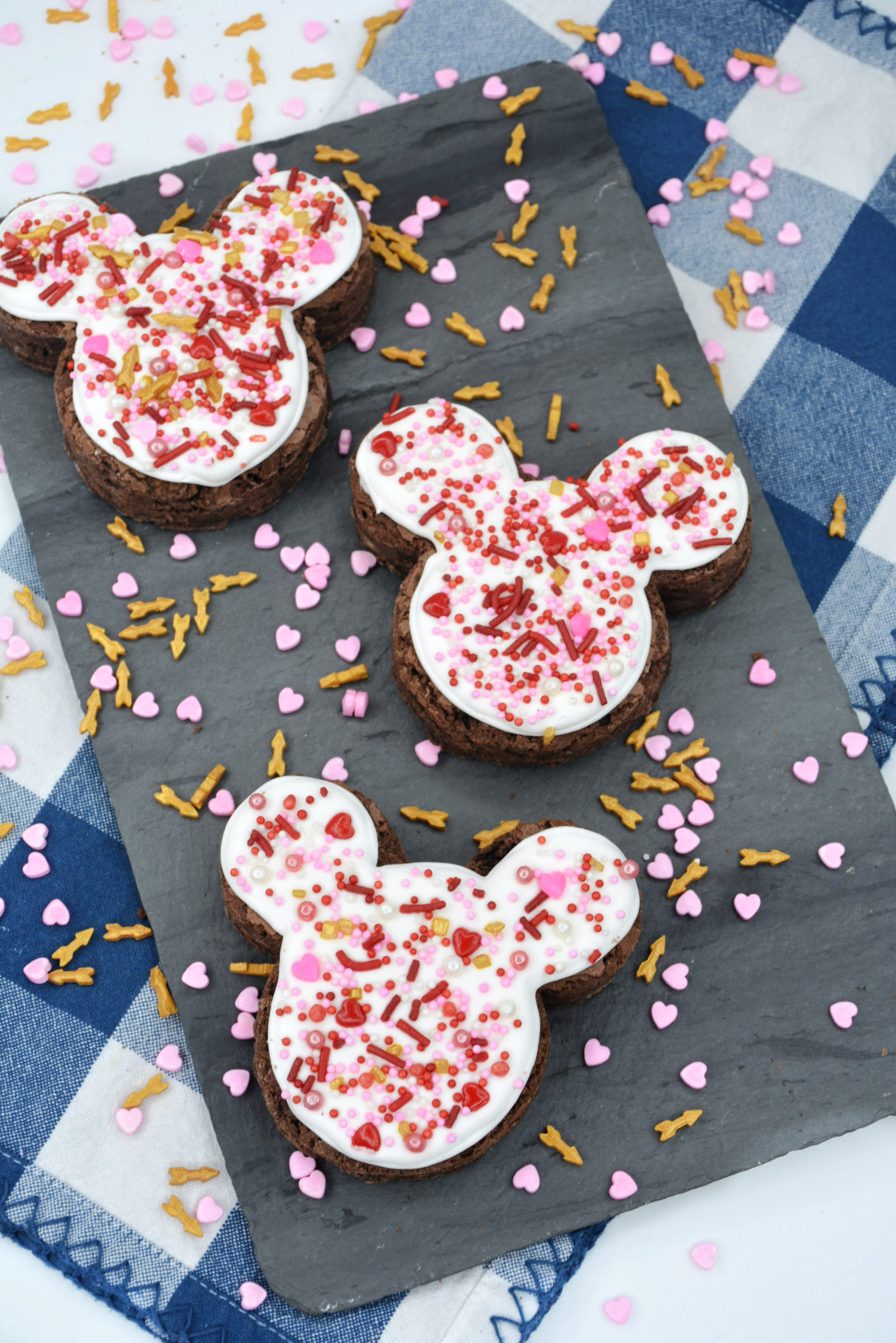 Recipe notes and tips
This is a lovely and simple brownie recipe to follow and you may have younger members of the family wanting to get involved. I wanted to share with you a few extra notes and tips to ensure that you can recreate these at home with ease. 
Make sure that you give the brownies enough time to cool before you add the frosting. Adding the frosting to warm brownies will cause the frosting to melt away and create one big mess. Don't rush this stage.
If you don't have a stand-alone mixer then you could use a handheld electric one instead. Furthermore, you could whisk this but be mindful it may take some extra time.
Make sure you pre-heat the oven before adding the brownies to cook. This helps the brownies to be cooked all the way through.
Variations to try
Like with many recipes there will always be variations to try. Here are a few suggestions. 
You don't need to stick with Mickey or Minnie versions of these brownies. You can get as creative as you like. As it is Valentine's day why not use a heart shape cookie cutter instead? Or you could even use a cookie cutter in other Disney characters to create a few different options.
If you prefer, you could use white or milk chocolate to drizzle onto the brownies instead of the frosting.
Decorate these brownies however you want. You could even add food colouring to the frosting and let the kids go crazy decorating them in different ways.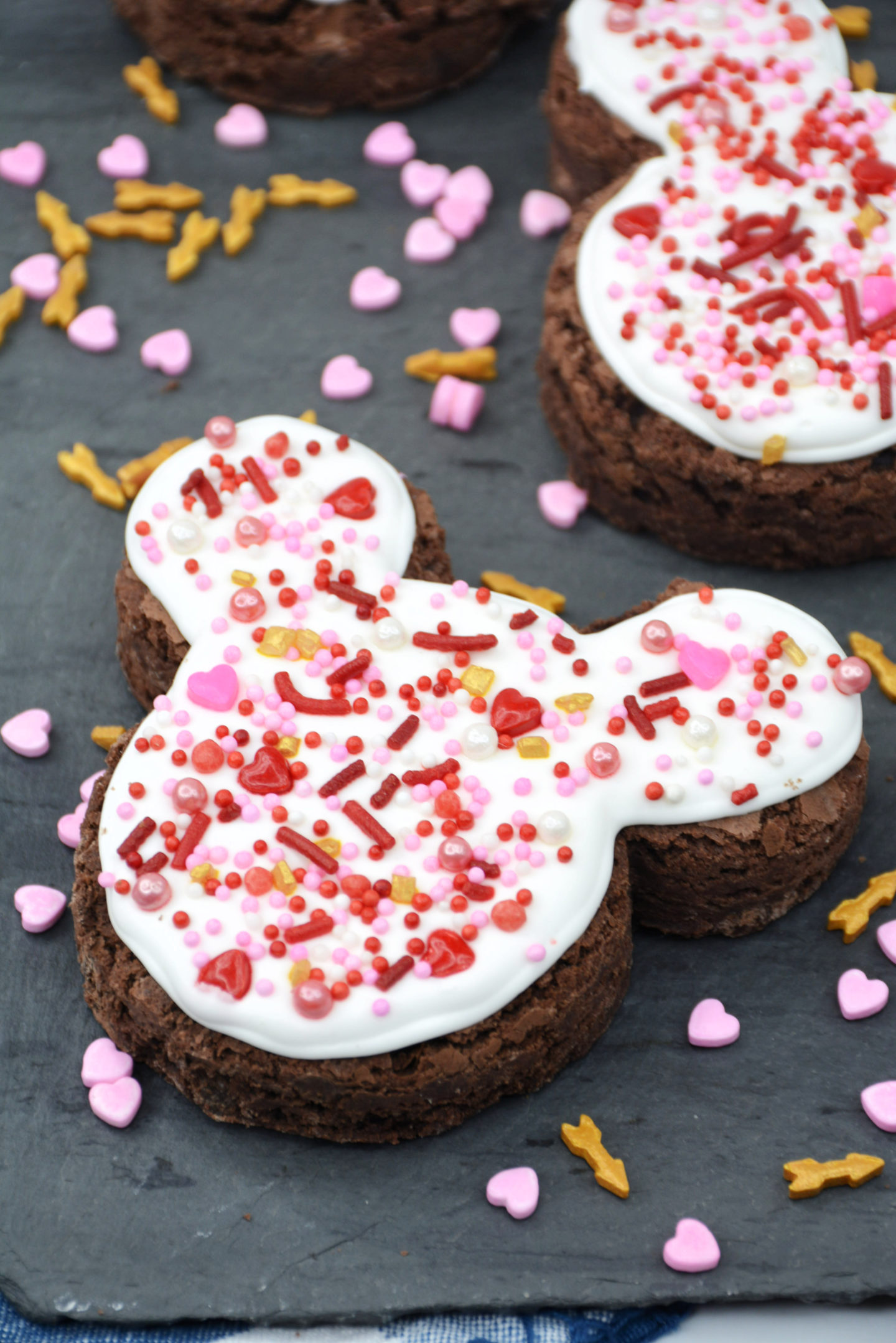 FAQs
Of course, there will always be questions that everyone might have when it comes to trying a few different recipes. With the Mickey Mouse valentines day brownies recipe here are some of the common questions that you might have. 
How should I store the Mickey Mouse Valentines Day Brownies?
They are best stored in an air-tight container and in most cases, it would be ideal to store them in a cool dry place. You could store them like this for a few days. 
Can I freeze the Mickey Mouse Valentines Day Brownies after they are cooked?
Yes, you can, they do work well frozen. You might want to decide if you are freezing a whole batch or individually. It can be easier to freeze individually as it is more convenient to only defrost the ones that you need. 
Enjoy your Mickey Mouse valentines day brownies.   
Don't forget to check out all the Fantastic Disney Recipes for you to try at home