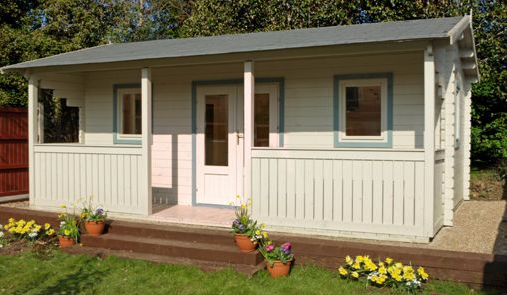 Giving the Garden a Little Love
As I have mentioned before we are very lucky that we have a large garden, which is perfect for the children to play in, luckily nearly all of them are outdoorsy, no matter what the weather.
I think if Kaide was allowed he would still be playing badminton in the snow and Eowyn spends her entire life cartwheeling, quite often bumping into tables and chairs in the house, so I am always encouraging her to go outside!
One thing that we are considering is a summerhouse or log cabin that way the children can still be outside, or take a much needed break away from each other, without getting soaked or turned into an icicle, I have also known a few people whose older children have actually moved into the log cabin, I am not considering that (well, not at the moment!) for any of them, but a cosy cabin to sit in and still enjoy the garden in the middle of winter or some shade during the summer months would be wonderful.
There are so many choices, and I was surprised at how reasonable they are, and certainly a lot cheaper than a house extension!
I was also amazed at some of the places you can buy them from, for example Lionshome has SO much choice on its website I am pretty sure I could furnish and decorate the entire house and garden, just from this one site.
First we have to move the ginormous Oil Tank as we are in the process of switching over to gas, but that does mean there will be a large concrete base, perfect for a Summerhouse/Log Cabin, or a greenhouse, the sensible part of me says the greenhouse so I can grow lots more vegetables, but the thought of a relaxing place to hide away from the children is also VERY appealing!
Even better, I have just had a look and Lionshome also have greenhouses, so I am sorted either way!
Do you have a Greenhouse or a summerhouse, which would you recommend ?
This is a collaborative post