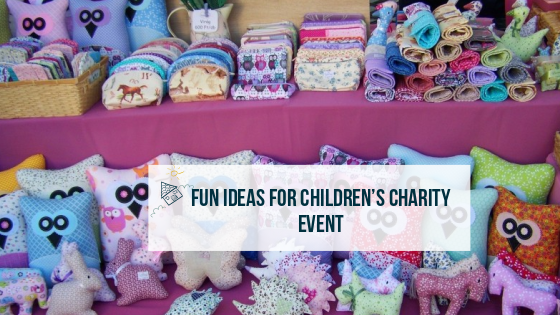 Fun Ideas for Children's Charity Event
Children are naturally blessed with an instinctive kindness. Whether it's a homeless person in the street, or a news story about the need for charity support for the Rohingya people, children will often react with deep and heartfelt sympathy.
A purist would suggest this is a spirit worth emulating, while a cynic would say it's because they don't know better. Either way, there is something there that can be turned into the best kind of fun memories. The ones where at the end of the day, you know you've had more than a good time, you've actually done something good for the wider world.
Events, parties, games, and good times aren't just a thing for charitable good times here. For slightly older children they also offer a chance to get some small feeling for what organising an event can be like.
Putting together invitations, drumming up interest, and all the other aspects of occasion planning. But what kind of event exactly could you find yourself putting together?
Well whether you're raising money for something as local as underprivileged friend's sports day equipment, or as global as the aforementioned Rohingya appeal, all of the following could be great fun and even greater memory makers!
Craft Fair
In addition to being naturally generous, children can also be naturally creative. Glue, glitter, and paper-mache can combine to create some wonderful, and enduringly artistic outcomes.
Arts and crafts skills learned at school, combined with one or two trips to Youtube or Wikihow, could leave you with more than a few fun afternoons.
There's much enjoyment to be had putting together an array of items that other children, parents, or even neighbours in the street would be more than happy to part with charitable cash for, and success in this arena could inspire future crafty patterns of behaviour, in the good meaning of that word!
Sponsored Challenges
When people think of sponsored challenges, they usually think of the obvious things. The fun run. The sponsored swim. Maybe an egg and spoon race if people are willing to think on the edge of the box.
But if you want to go fully outside those annoying cuboid walls, there are so many more contest ideas. How about a sponsored boomerang toss? A sponsored poetry recitation? Sponsored three-legged walk? Sponsored football kick-ups? Sponsored Clarinet recital?
If there's any event that is physically challenging, or requires a particular set of skills that your child enjoys showing off, this could be their chance to shine so that someone else in the world can have a better time.
Bake Sale
Most children know very well the kinds of foods they do and don't like, and too often it comes out of a newsagent's sweet rack. A bake sale though could be an opportunity to teach them a little about what actually is involved in food preparation, why hygiene is important, what flour does, and how and why certain foods are good/bad for you.
Add in the creative flair that many children will bring to the affair, turning a simple day's baking into the crafting of shapes, stories, and creatures that could even unnerve the befevered imaginings of Lewis Caroll, and you have yourself recipes and ingredients for a good time well spent.
Escape Room
If your child loves to create stories, enjoys twisting and tunnelling around a good brain teaser, then maybe they could turn a room or two in your home into an escape room for the evening.
Obviously there are limits on just how elaborate this could all be, but if you can find some willing participants who would be happy to a charitable good time, this could be a great chance to indulge your child's best forms of creativity. Tell a story. Place the clues. Put together some challenges to be faced by other kids or even one or two adults.
Planning an event is a thrill in itself, but knowing it will be a charity endeavour with a good and noble goal at the end could make it even better. With a little planning and a gentle guiding parental hand, this is a chance for a child to really feel accomplished, skilful, and noble. Not to mention a whole host of fun times to be had in the preparing!